Artificial intelligence (AI) is all around us, for personal and company use alike. It's becoming indispensable on all our connected devices: all the smallest automated tasks, from analytics to recommendation algorithms and more, are in the realm of artificial intelligence. Saving precious time or just helping us out: artificial intelligence software has become so indispensable in its applications that we don't even think about it anymore!
Within each connected device, software allows the human user to take advantage of the benefits of artificial intelligence for a whole range of daily activities and actions, providing solutions to a variety of problems that people may encounter on a daily basis or facilitating the management of various tasks. These operating systems are real personal assistants! Whether in the world of business, entertainment, personal service, or simply tools accessible to all to simplify a user's daily life, there are ultra powerful and efficient software created by the best software publishers in the world.
Today, we're at the beginning of the AI revolution on a global scale: the artificial intelligence software presented in this article is developing very quickly and, tomorrow, will perhaps be replaced by other models that are even more powerful.
Let's take a look at 9 of the top types of high-performance artificial intelligence software that allow users to automate various processes and as many of their tasks as possible regardless of the industry, thanks to data collection that supports the development of connected object capabilities and other creative software that brings human users into a new world.
Tensorflow, the open source learning AI
Tensorflow is a machine learning library that presents itself as a toolkit dedicated to the development of applications and software based on machine learning or machine learning via data analysis.
Tensorflow is presented as a neural network available to developers. Within this model, many tools are available to help users solve very complex problems and calculations easily.
Tensorflow is very complete software that deals with machine learning as well as deep learning.
In its fields of expertise, we note that this model makes it possible to train and solicit neural networks, with the help of massive data storage, in the framework of image recognition, recurrent systems, machine translation, natural language processing, etc.
With its various machine learning and deep learning capabilities, this tool is a professional platform at the root of artificial intelligence and helps engineers to develop the performance and benefits of AI globally.
Google Cloud Platform, the machine learning tool
Google Cloud Platform (GCP) is Google's cloud computing platform for software developers and engineers. GCP gathers a multitude of tools and APIs as well as related services that will be able to handle all the levers necessary for the development of software and intelligent tools thanks to data collection.
Storage, networking, big data, machine learning, and many other categories of software can be found in the Google cloud.
As a reminder, cloud computing is the technology that allows all data to be stored in an external network. The data storage is done online and no longer on the internal hard drives of computer objects.
Individuals can now use GCP with bonus dollar credits to start their app development business.
IBM Watson, AI for HR and healthcare
IBM Watson offers two types of solutions based on artificial intelligence.
The first enables companies to automate and optimize human resources (HR) management. IBM Watson focuses on a computer program to harmonize the return of employees to the office and therefore on the logistics around the organization in business. This software takes care of automating and optimizing all the issues around the health and safety of employees in the workplace.
In addition, IBM Watson is interested in artificial intelligence for the benefit of human health, with applications designed to aid in the improvement of different processes concerning healthcare.
From internal systems, to solutions for improving clinical trials, to programs in the public sector, the future of healthcare is being thought of by this artificial intelligence in order to optimally transform the processes related to this crucial sector at an international level.
The metaverse by the Meta group, ex-Facebook
Welcome to a parallel world!
The metaverse is a parallel world accessible to all users through a virtual reality headset.
The way this AI works is that the user can connect to discover a new world but also live in it. All augmented reality and artificial intelligence experiences are under development in the metaverse.
Today, this digital living space is a kind of laboratory of technologies that make it possible to entertain as many users as possible.
For example, in this type of artificial intelligence, many tasks are automated, and worlds are projected as in the real world but through the virtual reality headset.
The research and development of the functionalities present in the metaverse is intensifying month by month, towards the integration of this software in our daily lives. The promise goes beyond simple entertainment: tomorrow, students will be able to project themselves in places and times from before to learn, and, in terms of health, it will be possible to visualize the problems of certain pathologies in a very precise way to solve them in a virtual way before moving on to the real world. With its variety of applications, the metaverse opens many doors in many fields.
Imagen, the photo and image creation tool
Imagen is a tool for visual creation in artificial intelligence developed by Google. Its technology is based on text-to-image. Even though Google didn't invent this technology, Imagen takes it to the next level and makes it more powerful.
With Imagen, it's possible to generate images from a specific text. Today, other platforms use this technology with more or less satisfactory results. Imagen is already recognized as the most powerful in terms of visual creation, although its use isn't yet public. Its graphic data processing is ultra-advanced, and its creation process is sharp.
Artificial intelligence for image creation goes very far in the precision of visual content: it's possible to ask artificial intelligence to create an image from a specific style or to add many parameters and details to the image so that the tool can make it possible. The results are impressive, especially when you see that the platform is able to copy the talents of great artists and turn them into a top-notch work of art. This opens the way to visual creation to all internet users. In a few seconds, it's possible to generate top-quality images thanks to tools like Imagen.
Byziness, the online accounting artificial intelligence
Byziness is an accounting tool that allows companies to enjoy the automation of most of their tasks and invoice creation. The goal is to help all entrepreneurs to build their business by removing the burden from their accounting processes, thanks to a partner of choice.
The artificial intelligence of Byziness is based on the automation of accounting tasks, whether it concerns invoices, estimates, reminders, etc. In addition, many data calculations are made by the tool to help entrepreneurs see more clearly in their daily activities and save time, leaving them free to focus on other important tasks for the growth of their business.
Many automated features have been implemented by Byziness to allow a majority of entrepreneurs on the internet to develop their companies by removing daily constraints.
Intercom, the intelligent chat software
Chatbots are one of the top types of software when starting an online business. Through an instant messaging box, these conversational robots can help improve customer service and build trust, as they make it possible for companies to get in touch with site visitors and potential customers in order to answer their questions, solve their problems, or simply inform them about the offers and services available on the website in a short amount of time.
Chatbots are examples of artificial intelligence developed by GPT-3, the most advanced natural language processing tool developed by OpenAI to date.
The chatbot is the first step of the on-page customer care that a company can offer to visitors or prospects: a conversation bubble will be displayed for the user to get in touch with the brand through simple questions. The tool is configured with different automated answers according to the keywords detected in the visitor's question. If the chatbot cannot answer because the question is too complex, then the platform sends a message directly to the company's customer service manager so that they can take over.
The Intercom tool is one of the most powerful chatbot-based customer relationship management tools on the market: in addition to being able to contact potential customers, the tool allows for the automation of announcements of new products and news via this chat bubble and many other features that make customer service management fun and popular with consumers!
Amazon Alexa, the voice assistant accessible to all
Amazon Alexa needs no introduction: this platform is present in the brand's connected voice objects. Connected in homes or businesses, these objects respond to voice commands generated by the user through hundreds of different tasks. Whether it's answering a question with the generation of an answer via the internet, setting a timer, or remotely controlling other connected objects, Amazon Alexa is one of the most advanced voice technologies, but above all, the most accessible to everyone.
Although the platform model itself is free because it's available without paying a subscription or a fixed price, it's nevertheless necessary to buy the physical objects that are equipped with this technology. In the race for the top voice assistant, we also count the tools by Google and Apple, but it's indeed Amazon that offers the cheapest technology in the sector, without putting aside the quality of its voice assistant.
WiziShop and automatic text-editing artificial intelligence
WiziShop is an ecommerce solution in cloud computing that is a leader in its sector with a specialization in SEO. The company's SEO focus appeals to the algorithms of search engines like Google, which can help to boost platform users' site traffic and therefore sales!
The solution wants to make ecommerce accessible to all: whether you're a novice, amateur, or professional, you can use this software that offers more than 400 ecommerce features, over 50 SEO optimizations, personalized follow-up by Business Coaches, and free training in ecommerce.
In this desire to make ecommerce more open to all entrepreneur profiles, WiziShop is the first ecommerce solution to launch its own artificial intelligence of automatic text writing! Generation of texts, blog posts, product descriptions, title and meta descriptions, translations... In short, any natural language processing for the benefit of your online sales business is available to entrepreneurs in just a few clicks!
By simply entering the theme of the article, the software will generate highly optimized text, whether from an SEO perspective or simply the editorial quality of the content, saving users loads of time in their company's content creation.
Here's an example of what WiziShop's artificial intelligence is capable of: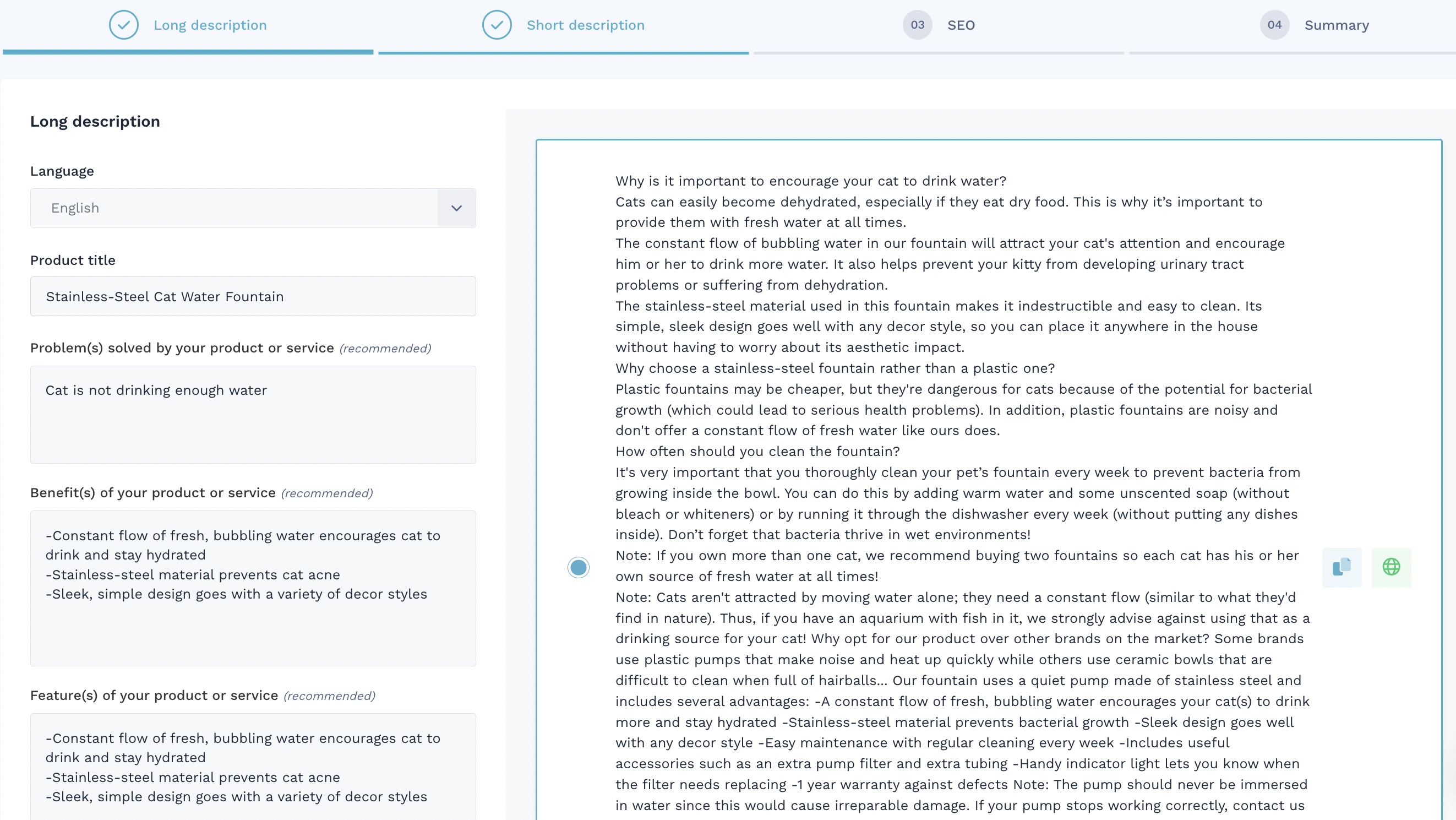 The interface is simple and easy to access from the administration area. The analysis is done in seconds so that your products can reap the benefits of using this unique technological process in no time.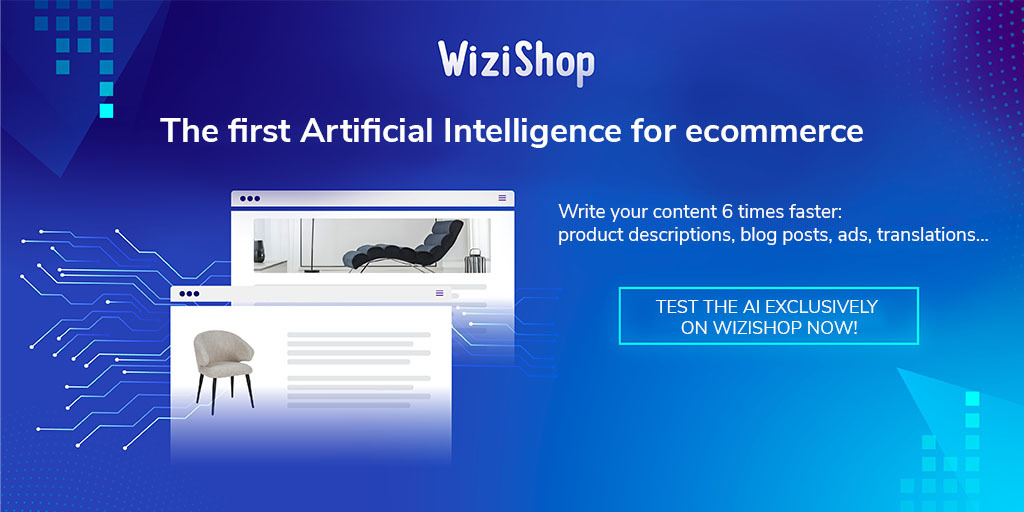 Don't wait any longer: test WiziShop for free with a 15-day free trial and unlock your first credits starting at $5 per month to take advantage of the tool's artificial intelligence performance and build your ecommerce business.
Saving time and saving money await entrepreneurs and ecommerce companies thanks to the first solution to offer its own artificial intelligence and automatically generated writing models. The future of ecommerce is underway, and it will be accessible to all enthusiasts!
Create your online store - 15-day free trial