Artificial intelligence is all around us. Over the years, technologies have developed, and AI has appeared in many areas of our lives.
What are its areas and how can these intelligent technological advances help us every day?
In this article, we'll take a look at some examples of the smart innovations and applications that accompany us on a daily basis and that we can no longer do without today.
What is AI: a focus on artificial intelligence
Definition: what is artificial intelligence?
The term artificial intelligence encompasses all the techniques and machines that allow technology to accompany human action. These are innovative technologies that have been programmed to automate actions to make them easier in everyday life.
These types of artificial intelligence software are often pre-configured in order to accomplish a specific task.
In recent years and thanks to the innovations that have punctuated the history of artificial intelligence, research has accelerated around how AI works, and today, our daily life is full of programs and intelligent machines in order to make business work or everyday life easier.
What do we call the process of artificial intelligence?
When we talk about artificial intelligence, we can talk about several techniques and objects depending on certain configurations and innovations.
Artificial intelligence has become a large category of different types of objects and software. Artificial intelligence was originally designed to make it easier and faster for humans to perform repetitive tasks or complex calculations. Today, artificial intelligence groups together a multitude of objects, which take learning and understanding to the next level.
Machine learning is one of the latest innovations related to artificial intelligence: we speak of machine learning when the software or the machine uses data in the process to learn and improve. Many operating systems use this technology today. For example, this is the case of video streaming platforms such as Netflix or YouTube, companies that avail of the user's history to recommend programs that'll please them.
Deep learning is used for various technological needs. Deep learning goes further in artificial intelligence. It gives the machine the ability to reach a greater complexity in its functioning. This technology is based on a neural network model that feeds the machine's deep knowledge. An example of deep learning is any tool or system involving the recognition of human faces, such as for unlocking phones, tagging people on Facebook, or surveilling people passing through airports.
Where is artificial intelligence used?
Today, artificial intelligence has many benefits, and that's why it's all around us. The first place where artificial intelligence can be found is the search engine: with a question, a key query, the machine is able to come up with results that will answer the query in a few seconds. Moreover, these objects are also composed of machine learning: the data collected by search engines make it possible to increasingly refine the proposals presented to internet users.
Video or audio streaming software, autonomous driving, navigation systems, voice assistants, facial recognition... All these objects that we don't even think about anymore, that have entered our daily life for good, are all examples of artificial intelligence.
What is the best artificial intelligence: 9 examples of AI
Search engines: the first AI
Search engines like Google are one of the first artificial intelligence innovations on the market. The model is simple: the user types in keywords, and the search engine is configured to provide the user with the best answers related to their query. This model is therefore configured by humans to respond to a specific request automatically.
Over the years, search engines have developed new intelligent tools and applications to perfect their offers, while helping businesses and individuals in their daily lives. Google Shopping Ads, image search, video response, etc. All these functions are designed to facilitate navigation and the daily life of internet users.
On the user's side, all their queries, their Google search preferences or their history are types of data that can be used to improve the machine's performance. Artificial intelligence and machine learning are two features that define the properties of search engines.
Social media networks: recommendation algorithms
Social media networks are also equipped with artificial intelligence. Each social media network bases its process on what are called algorithms: these are software programs configured internally to provide users with an optimal experience. Social media networks are designed to allow users to subscribe to accounts that interest them but also to discover the news that they are likely to appreciate. To do this, the algorithms are based on the user's history and consumption habits in order to refine the selections and to always offer optimal content to the user.
For example, if a Facebook user has the habit of commenting on or sharing publications related to surfing, the algorithm must be able to propose publications outside of the user's subscriptions related to surfing.
Algorithms found on social media applications also allow users' posts to move up in the selections of other accounts. The more engagement a post generates, the more it'll be highlighted in the algorithms of people likely to be touched by that content.
Ecommerce: robots and chatbots at the service of the customer
In ecommerce, artificial intelligence is a widely used element in customer service for small and large companies alike. In order to automate the greatest number of actions that can be time consuming for the entrepreneur, innovations have multiplied to help ecommerce business owners in their daily tasks.
As far as after-sales service is concerned, many companies don't hesitate to use artificial intelligence in the form of chatbots to be able to answer users' recurrent questions efficiently without a human needing to be present.
In the form of automatic messaging, a bubble is displayed on the customer's space with a writing section. The visitor will write their question, and the chatbot will answer instantly based on the keywords entered by the visitor. This kind of intelligent tool is pre-configured by the ecommerce entrepreneur, in order to answer basic questions such as delivery times or opening hours of a physical store. Then, for any other more complex request, after-sales service chatbots give way to the human response.
The chatbot's action allows the ecommerce entrepreneur to focus only on the complex problems encountered by users and thus to reduce the number of recurring requests.
Autonomous cars: artificial drivers
Science fiction is being brought to life: cars are gradually beginning to be equipped with the functions needed for autonomous driving. Although some motorists previously only dreamed about it, the dream has become reality: more and more vehicle models offer semi- or fully autonomous driving.
In short, the car drives itself. This technology is possible thanks to artificial intelligence. The car is therefore configured to analyze its environment in real time and make the best decisions to travel safely without the need for human action.
Vehicles and public transport already have this type of system (tramway, metro). In the future, buses and other cars will be the object of the use of artificial intelligence in the service of human daily life.
Navigation: facilitating travel from point A to point B
Speaking of transportation, AI technology has done wonders for improving travel in general. Regardless of the distance you're traveling, you no longer have to depend on another human or printed maps and directions to help get you where you want to go.
Navigation-related applications created by Apple, Google, and other companies allow you to simply type in your destination and receive guided directions in real time on how to get there. With the assistance of machine learning, these smart tools are able to understand and identify traffic patterns and changes to suggest routes that prevent you from encountering congestion and roadblocks.
Voice assistants: AI technology by voice
More and more households are getting voice assistants. This type of AI is created in order to manage the most actions possible in your daily life thanks to the voice because the object is connected to the internet. It can perform personalized actions according to the user's requests and control other connected objects in its environment.
Voice assistants can be found in a computer, phone, or another device. These connected objects facilitate daily actions in the home but also bring together many tools in one place: with a voice assistant, it's possible to listen to a podcast, program a timer, and send messages to loved ones who have the same system, with voice alone.
Banking: AI for added security and better customer service
Another early adopter of AI technology, the banking industry uses a variety of smart tools to allow customers to more easily and safely conduct transactions online. With the help of AI, consumers these days rarely need to enter a physical bank, as they're able to perform many banking operations from their mobile devices. Whenever you log in to your online banking account on your computer or smartphone, deposit a check via your phone, or receive a low-balance alert from your bank, AI is in action.
One of the top examples of AI applications in the banking industry is to detect potential fraud. For example, if a user conducts a transaction from a new device, the bank may send a notification to alert the user of this activity. In addition, smart tools are employed to determine if a transaction seems normal compared to the user's usual activity and will either approve the transaction if all appears well or decline it if unauthorized credit card use is suspected.
Finally, smart technology allows banks to obtain and manage important data that can help them to better understand their customers and analyze their financial strength, preferences, and needs. This in turn makes it possible for them to suggest offers and products that are going to be more relevant.
Medicine, health: AI to accompany us in our daily lives
In addition to helping the daily lives of billions of users, artificial intelligence is improving the performance of medicine by allowing users to monitor their health and obtain health-related data in real time.
With connected watches in particular, it's possible to detect pathologies or anomalies related to the user's health: unstable gait, insufficient oxygen in the blood, falls, insufficient oxygenation during exercise, heart rate that's too fast or too slow, etc.
With this data collected and read by smart devices, medical monitoring can be refined, more precise, and it's possible to react more quickly in case of an emergency. This is the case of the Apple Watch configured to automatically alert emergency services in case of a fall.
Automatic writing: AI as a powerful writer
Artificial intelligence allows complex actions to be automated. The genesis of its existence was built on this possibility in order to allow humans to spend more time on tasks that the machine couldn't perform.
Writing text is now an integral part of it because software has been perfected through the collection of billions of data: this information has allowed technologies to be trained over time and to provide highly relevant automatically generated content. Natural language processing and formatting are very powerful: marketers are increasingly using the potential of artificial intelligence.
With the requirements of SEO, in order to reach the top spots on search engines, writing on the web has become a business issue. Many business owners find themselves confronted with the complexity of such content creation.
Writing with AI not only allows you to create sentences, but also, thanks to complex configurations, to offer content that's already optimized for SEO. In addition to texts with a high editorial quality, paragraphs are also written according to the future expectations of search engines.
This revolutionary tool, especially in ecommerce, can be used on a daily basis with the WiziShop ecommerce solution: the platform is the first ecommerce solution with an in-house AI tool!
Facilitate the writing of a number of different types of text for your online store with this intelligent feature using GPT-3 technology. For example, you can use it to write product descriptions for your product pages, create an article to share news or tips for visitors to read on your ecommerce site's blog, write copy for your advertisements, translate an article or other text into a different language, and more!
Take advantage of a 15-day free trial to test the solution and enter the future of ecommerce with the only AI solution on the market.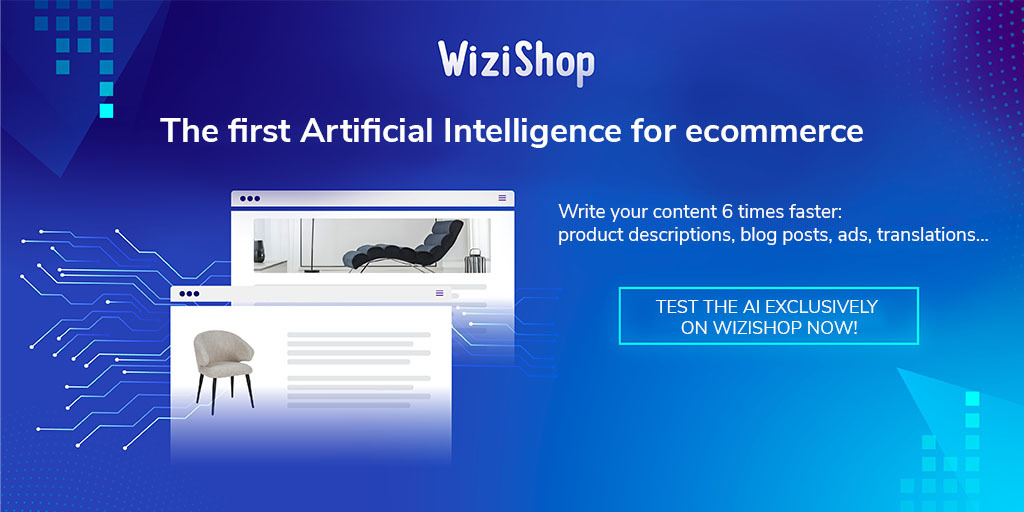 Create your online store - 15-day free trial