The end-of-year holidays and Christmas in particular represent the most intense time of the year in terms of commerce and ecommerce. In order to succeed in this crucial season, internet sellers must build an impeccable marketing strategy in order to attract as many consumers as possible and prepare a flawless campaign of offers.
Social media networks, email marketing, Ads campaigns: dozens of levers are available to ecommerce businesses in order to reach the most people possible and to install a convincing Christmas spirit to achieve your objectives and to succeed in this important period.
Christmas: the most important commercial period
This period is conducive to sales. The revenue opportunities are thus consequent for e-traders..
As an e-retailer, this is a very busy period: inventory management, order preparation, shipping times to receive your gift in time, not to mention events linked to the ecommerce calendar such as Black Friday, Cyber Monday, or the arrival of winter.
You also have to take mobile optimization into account to satisfy your audience of mobile users who will do their Christmas shopping on smartphones and tablets.
In short, there are many commercial actions to think about to prepare your ecommerce business for the Christmas season!
Ecommerce content marketing and communication require many operations to promote your business at the end of the year: publish an article about gift inspiration on your blog, launch an advent calendar contest or giveaway, share information about express delivery, etc.
These are all operations you should think about. To help you better prepare for Christmas, here's a guide to inspire you.
What to sell at Christmas: product and service ideas
With so many people flocking to shopping streets and stores this Christmas, it's easy to understand why consumers are turning to the web for their Christmas shopping. With the arrival of COVID-19, the link between consumers and stores is even stronger. Maximize your brand's efforts on this ideal moment to boost your conversion rate!
To cope with this craze, you need to get your sales site and your teams ready for this period that's great for generating sales. And when it comes to the Christmas period, it's never too early to plan your dedicated strategy: start preparing your elements now!
To help you, here's a list of tips to prepare your ecommerce business for the Christmas rush and make your sales successful!
1. What to sell on the ecommerce market and how at Christmas
To start before the Christmas rush, what is your main objective? It'll likely be to sell more. Yes, but this may not be enough to serve your cause. In fact, to prepare for this period, create clear figures and objectives for your intentions: "I want to increase my sales by 20% compared to last year," "I want to clear out the stock of a certain item before the end of the year," "I want to change my image to prioritize the selling of my more premium products"... It's up to you to decide what the main objective of your next Christmas is!
Then, you can position your brand's Christmas marketing strategy by giving it an outline, by determining your target, and perhaps a slogan: "The race for Christmas gifts," "The magic night of Christmas," "A Christmas at low prices," etc. As you can see, it's all about telling a story, about bringing a direction to the Christmas that you propose to shoppers.
From there, you have the basis to focus your communication and marketing, define your strategy in terms of offer and prices, and create the promotional visual content adapted to this idea to share with your audience on social media networks such as Instagram, Facebook, etc.
Unboxing experience, promotional offer displayed on your platform, dedicated digital catalog in a special tab, flash offer and announcement with email campaign... Bring your signature to all these elements to personalize your brand proposition.
2. Adapt your online store temporarily
The Christmas period allows you to provoke a special feeling during the customer's navigation. However, be careful to choose your Christmas style carefully: with taste, with finesse, you'll adapt your promise to customers who are looking for a certain elegance in the top of the range. In contrast, doing more and bordering on a kitsch offer will bring a plus that'll immerse your customers in your atmosphere while presenting products accessible to all.
The adaptation of your ecommerce doesn't stop at the design of your site. You must also facilitate the navigation of your visitors. For this, you'll need to identify two types of visitors:
For your prospects who don't know what they want to buy

, a section reserved for Christmas shopping will undoubtedly help them find ideas. By displaying it at the top of your homepage and by personalizing your tab on your menu, you'll maximize the chances of reaching this undecided target.

For your prospects who know exactly what product (or type of product) they're looking for

, you need to offer them a powerful and optimized search engine that won't leave any query unanswered. In addition, in your tab, in your menu, propose specific subcategories to facilitate the navigation of all potential buyers.
Modify your homepage, your banners, and your slideshow, so as to direct your visitors towards your special offers, your gifts, your best sales, everything you want to highlight.
Finally, on your product pages, if the stock is low or out of stock, you need to display similar and popular products that can retain the internet user: there's nothing like offering an alternative and predictive shopping to entice potential buyers.
3. Give assurances about delivery times
You'll have to develop a sense of urgency in your marketing to encourage your visitors to order as soon as possible. For this, you can, for example, introduce a countdown on the homepage as well as on the important pages to indicate how much time is left before Christmas and especially, before the end of your promotions.
You must especially specify the deadline for ordering to receive the gifts in time and this, from your homepage. For example, a message like "Order before 2 p.m. on Friday, December 19th to ensure delivery before December 24th!" will save you from the complaints of those who didn't receive their orders on time.
In addition, if it's shown that the shipping time is one week, this information may put off many consumers but also the latecomers. Think of the latter and anticipate them by offering them an express delivery option (next morning) so that your customers can receive their purchases up to the last minute. Even if this offer has an additional cost, it'll likely benefit a great number of people.
Note that many buyers prefer to pick up in store or at a parcel pick-up point during the holidays. If you have a physical store, don't hesitate to offer in-store pickup, via click and collect in particular. Plan a welcome in the spirit of Christmas online and offline: by visiting your point of sale, the internet user could very well be tempted by another product when arriving at the checkout to collect their order.
Place small objects from your stock directly on your counter and on the way to the checkout to increase your chances of inflating your average cart value.
4. Run promotions and take advantage of Black Friday
The average shopping cart is usually higher during the holidays. Therefore, you can afford to make commercial gestures to convince buyers, without reducing margins too much. Free shipping or exceptionally long return times are the most coveted promos and can work in your favor. These two types of offers can convince the most undecided shoppers to take the plunge.
You can also take advantage of the popular holiday marketing concepts of Black Friday and Cyber Monday to entice your audience to make a purchase. In the United States, Black Friday is the day after Thanksgiving and traditionally marks the kick-off of holiday shopping for e-tailers. Cyber Monday is the Monday following Black Friday.
These two purely marketing approaches allow e-retailers to offer people exclusive seasonal promotions: the whole world lives at the rhythm of exceptional online offers. Be careful, however, not to make a global promotion on your entire site in order to protect your margins. You run the risk of losing money on some of your products.
5. Urgency is your friend! 
Capitalize on the craze around the holidays but also around the deadline itself: shoppers should have no doubt that they shouldn't wait to do business on your ecommerce website.
So, use as many elements as possible to get in direct contact with your prospects but also with your loyal customer base: text, emergency bar, personalized pop-up on the homepage, posts on social media networks, emails sent throughout the period... Use a plethora of marketing tools to make your offers known!
Email marketing is one of the best ways to reach your audience and encourage them to shop at your store by offering high-quality content. Your different newsletters will allow you to present your promotions such as free shipping or a special advantage if they order in advance, but also to share your bestsellers and the products you want to highlight during the period. For this, you can use last year's bestsellers as well as the popular products of the moment. Your offer will be even more attractive!
To be able to innovate and stand out from the crowd when it comes to the design of your holiday newsletter, don't hesitate to find inspiration on sites like Pinterest or Behance, which allow users to browse the universe of hundreds of content creators. To go even further with this seasonal marketing idea, the Really Good Emails website will be the best ally when you aim to create unique newsletters with great content.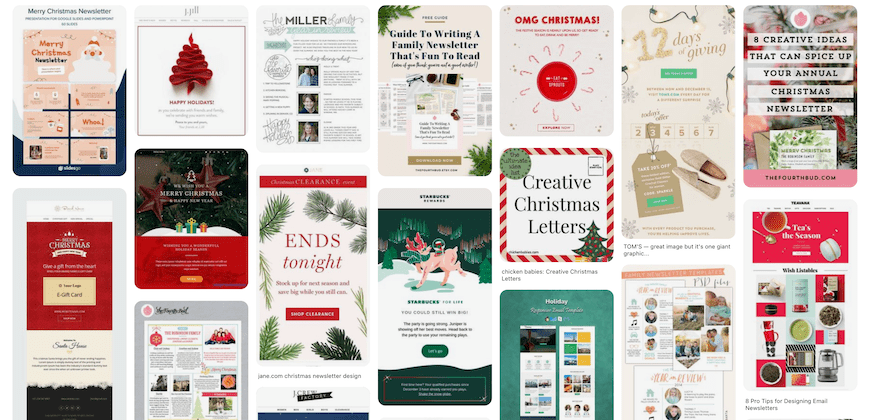 6. Customer service that reassures
Christmas gift buyers have many questions, especially about the possibility of returning a gift if they don't like it or if it was received twice... It's essential to set up reactive and attentive customer service, available to your visitors. They should be able to find your contact information, your terms and conditions, and the FAQ very easily.
Offering a live chat service is also highly recommended. Note that it may be necessary to reinforce your team to answer an increase in questions asked by internet users.
To avoid receiving tons of messages from your prospects, don't hesitate to create a blog article or a prominent ad on your homepage to summarize your steps for your customers during the Christmas period. The more information you provide on your channels, even on your social media networks, the more likely you are to reassure your prospects.
7. Your online store must perform well
Your website must be efficient! Loading time must be reduced as much as possible, as mobile devices will become more and more preferred for connected shopping, and retailers offering an optimal mobile service will stand out from their competitors. 
Finally, you must offer a sales funnel that converts on mobile as well as on computer. It would be a real shame to lose users enticed by your offer, so close to the goal!
At WiziShop, mobile browsing is a priority. We've optimized the sales funnel in order to offer a high-performance solution on all mobile devices.
Try WiziShop free for 3 days
GET YOUR FIRST MONTH FOR JUST $1
8. Optimize your Ads campaigns
To boost your visibility and increase your online sales, once you've established your key objective, work on your Ads campaigns to optimize your online presence, especially concerning retargeting.
Retargeting will bring your products back to the screens of prospects who are interested in your products or who have already viewed your ads. The conversion rates of this type of advertising campaign are very satisfactory and can serve ecommerce businesses during the holiday season, especially through emailings.
Your Ads campaigns are also going to be central in your strategy: by betting on Google Shopping but also on Ads, you'll be able to push your products according to the most searched keywords during the Christmas period. Take a look at Google Trends to see the best queries for last year and this year.
But before you change your campaigns, check your inventory and anticipate your orders with your suppliers. Go back in time based on the statistics and sales of this year and last year during the same period.
Make a reasonable estimate of the quantity of items that you'll need. Make sure that your best sellers are available. Increase the level of stock you are alerted to in order to replenish on time... These are tips that will help you avoid out-of-stock situations as well as unsold items.
9. Anticipate the post-holiday period through loyalty
The holidays will have allowed you to get new customers in ecommerce, and to retain these newcomers, several marketing techniques are available to you.
You can offer vouchers or coupons for a certain amount of purchase to be used on a next order (Examples: $5 for purchases of at least $50, $10 for purchases of at least $100, etc.).
A little thing that you may not think of, but which is simple and quick to set up, is to add a little personal touch with a greeting card inside each package. If time permits, you can even write a small handwritten thank-you note. It's a great way to encourage the buyer to come back and visit your website regularly; especially if this greeting card is accompanied by a small promo code or a small free gift.
Finally, offering, at the time of purchase, additional promos or coupons for any winter sales that follow the Christmas holidays should help to inflate the amount of the shopping cart and encourage shoppers to return for future orders…
Boost your Christmas sales: your to-do list
Of course, to communicate during the Christmas season, you can stir your audience in a fun and efficient way.
Here are some ideas you can undertake:
s

hare an article about gift ideas on your blog,

launch an Advent Calendar contest or giveaway every day in December,

launch multi-product Shopping Ads campaigns,

send an email to present your promotions for the holiday season,

create an article presenting your Top 10 original gift wrapping paper designs and take the opportunity to tell shoppers about your seasonal wrapping service,

etc.
Also don't forget to reassure people visiting your site by specifying the deadline for orders to be sure to receive their gift in time, on Christmas Eve.
After a deadline, create a sense of urgency by highlighting express delivery and highlight your Christmas offers for last-minute orders.
Always remember to check the performance of the mobile version of your website. Smartphones and tablets are very popular for searching or buying a gift.
Finally, create the Christmas visuals that you'll publish on your social media networks, including Instagram, Facebook, etc. in time to be effective with your brand's social commerce strategy.