A long-standing tactic used by retailers in traditional commerce for brick-and-mortar shops, visual merchandising helps to attract consumers' attention and get them to stick around.
Lavish window displays, intoxicatingly delicious scents wafting throughout the store, products grouped together in such a tempting way that visitors feel as if they simply
must have everything in the collection… These are just a few of the merchandising strategies used in physical commerce to craft an inviting atmosphere that draws buyers in.
If you have an online store, you still need to find ways to catch the eye of your potential customers, encourage them to purchase, and provide an experience that makes them want to return again and again. This is where ecommerce merchandising comes in.
In this article, we'll explain what ecommerce merchandising is, describe the benefits of using it, explain its key elements, and finally provide you with some helpful tips to perfect your own strategy!
What is ecommerce merchandising?
Ecommerce merchandising is the manner in which you arrange and display the products you sell online. The major aim of this strategy is to optimize the shopping experience, providing enticing visuals and making it easier for visitors to find what they're looking for, which in turn will encourage them to purchase from your online retail business.
With a great ecommerce merchandising plan in place, your customers should have an enjoyable, consistent experience, regardless of how or where they arrive on your website. By performing market research and tracking shopper behavior on your site, you can devise an effective plan and implement actions that'll persuade potential buyers to click "Buy now!"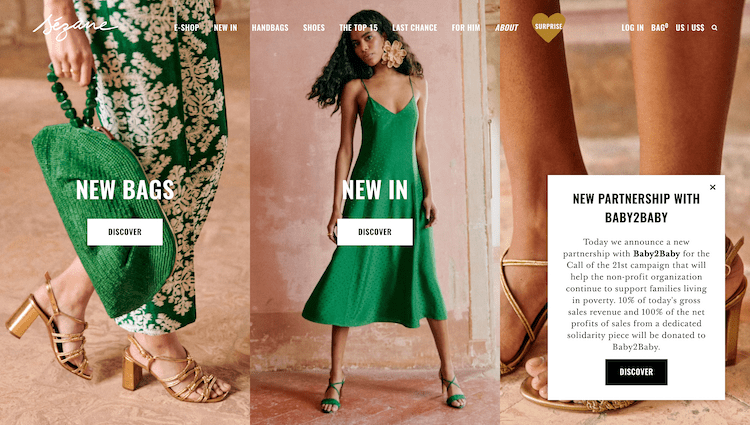 Effective homepage merchandising by Sézane with highlighted products, an easy-to-navigate menu, and clear CTAs
What are the benefits of ecommerce merchandising?
With the ever-increasing growth of online shopping, visual merchandising for e-merchants has never been more essential. These days, consumers have a wide range of options from which to choose when it comes to purchasing anything from clothing, home décor, candles, and sporting goods to pet supplies, groceries, furniture, musical instruments, and much more on the internet.
In order to stand out from the competition, it's imperative to provide your visitors with a unique shopping experience. By displaying your offerings in a clear, uncomplicated, visually appealing way, you're much more likely to catch the eye of your target audience and encourage them to stay on your website. This in turn can help reduce your bounce rate and boost your click-through rate and average order value (AOV).
Furthermore, with effective ecommerce merchandising, there's a better chance that visitors will want to spend more time looking at your products and return for future visits. Over time, you'll be able to strengthen customer loyalty to your brand and boost your average customer lifetime value.
In addition, adding elements like strategically placed call-to-action (CTA) buttons, email reminders, and reorder buttons allow you to more easily influence the buying habits of your visitors and multiply your conversions, whether they involve purchases, email signups, ebook downloads, etc.
Key elements of successful ecommerce merchandising
When it comes to ecommerce merchandising, there are several key elements designed to attract shoppers, keep them on your site, and incite purchases.
Homepage
A high-quality, professional homepage is important for any site, but especially for online stores. It's essentially where you welcome current and potential customers alike, and for some of your visitors, it may very well be the first experience they have with your brand. It's therefore crucial to make a good impression!
Your homepage serves as an excellent opportunity to guide users from the very start of their journey with your shop by implementing a few essential actions:
Use storytelling:

Introduce your brand to people visiting your store by making it clear what you're all about. Share your company's mission statement, include a link to your "About us" page, and provide helpful information concerning what kinds of products and services you offer.

Highlight top products:

Show off your best-sellers to pique your visitors' curiosity and interest. Don't forget to add high-quality photos to make these items all the more appealing.

Share promotional offers:

Do you provide free shipping or have a special sale going on? Let users know by making these offers easy to locate.

Add prevalent CTA buttons:

Being direct is often the best method when you want shoppers to do something. Clear CTA buttons featuring phrases like "Add to cart," "Buy now," "Sign up for email newsletter," etc. can be very effective on a homepage.

Take advantage of user-generated content (UGC):

Social proof is a powerful tool that can boost confidence in your brand. Consider adding customer testimonials and reviews from happy shoppers.
Product pages
Product pages also play a very important role in any good ecommerce merchandising strategy. These are the pages that you'll design specifically for everything you have for sale.
As with the rest of your online store, aim to make SEO a priority for this element. Optimizing these pages for search engines can improve your rankings on Google and increase the likelihood of internet users clicking on your URLs.
Create product pages that'll aid in converting a new visitor into a loyal customer by doing the following:
Add high-quality product images:

Remember that your customers can't see or touch your products in person like they'd be able to with physical commerce. Adding multiple visual elements such as photos and demo videos can help them to better imagine what it'd be like to use an item.

Write detailed product descriptions:

Be sure to include all pertinent details and specifications, such as available colors, sizes, flavors, etc. You'll also want to sell the experience of using the product so that the user understands how buying it would improve their life.

Make use of cross-selling and upselling:

While cross-selling entails displaying products that are related to or complement the item the visitor is currently viewing, upselling involves displaying similar products that are more expensive than the principal item on the page. Both techniques can assist in boosting your AOV.

Boost trust with product reviews:

Just like with your homepage, using social proof on these pages is always a good idea. Add product reviews and perhaps even images your followers have shared on social media of themselves using the item in question.

Include a CTA:

Don't leave any room for doubt when it comes to what action your customers should take! Place a bright red "Add to cart" button on the page to be sure to catch the user's attention.
Category pages
Finally, you'll also want to give your category pages plenty of attention in order to maximize your ecommerce merchandising efforts for your store. Whether you have just a few product categories or many, when you design them thoughtfully with the user in mind, it'll be a lot easier for your customers to find what they're searching for on your site.
Category-based merchandising involves several tactics to make shopping on your website easier and more enjoyable for every visitor, most of which are similar to optimal strategies for merchandising involving product pages:
Use images that help your products to shine:

Just like with your product pages, visual appeal on your category pages is crucial to getting consumers to want to learn more about your offerings and buy your products. Ensure that every product you're promoting in the category features a high-quality image.

Spotlight your most popular item from the category:

Knowing that a particular product is in demand can often prompt shoppers to want to purchase it to avoid missing out. Put the category's best-selling item front and center on its corresponding category page to ensure that it gets the views it deserves!

Include product ratings:

As you're well aware by now, shoppers love to see other people's votes of confidence concerning an item they're considering buying. Adding ratings and/or reviews to your category pages can assist potential buyers in their purchasing decisions.

Add product comparisons:

Having a large selection of goods from which to choose is great, but it can sometimes be overwhelming to shoppers who aren't sure which option is right for them. Include comparisons of similar products on your category pages to make it easier for your customers to understand their differences and determine which item best fits their needs.

Share relevant promotions:

If you have a special offer that relates to a product category, say 50% off all items in said category, for example, be sure to tell people about it on the category page. Don't forget to include all important details of the offer so that your customers have all the information they need right away.
Ecommerce merchandising tips to increase sales
1. Make your website navigation as smooth as possible
These days, consumers have a plethora of online shopping options available to them. This means that if they think that your site's the least bit frustrating to navigate, they probably won't stick around for long. They'll instead leave your store and opt to purchase elsewhere, leading to a higher bounce rate and a loss in sales for your business. Prioritizing easy, clear navigation for your website is crucial to ecommerce success.
While being different is often beneficial in online sales, your site's layout isn't necessarily the best place to apply these traits. Shoppers like knowing what to expect, so using a layout that makes sense and is familiar to them can make it much easier for them to know where to look (e.g. menu at the top of the page, cart button in the top-right corner, search bar just underneath this button or in the top-center area of the page, etc.).
When people visit your site, regardless of the page they land on, they should be able to navigate it intuitively and locate the desired product, page, contact details, or information without any hassle. Focus on getting the basic design down first, start adding the products and promotional offers you want to highlight, and then add elements that provide extra visual appeal, such as CTAs, arrows, and banners to further guide those people visiting.
Of course, when working on your store's navigation, you can't forget about mobile users!
Today, you only have to take a look around you, whether you're riding the subway, eating in a café, or sitting in the park, to know that mobile phones are everywhere. While people use them for all kinds of reasons, a decent percentage of their usage involves buying goods on the internet.
It's therefore important to make sure that your customers browsing your site from their mobile devices have just as pleasant an experience as they would when doing so from their laptops. Verify that your pages load quickly and that everything from your categories to your FAQs are well organized and simple to navigate.
2. Optimize the search feature
It's simple: the easier and faster users can locate the products they're looking for on your site, the likelier they are to make a purchase. By optimizing your store's search feature, you'll be able to better assist your visitors, suggest products, boost customer satisfaction, and earn more sales.
So how do you design a search feature that converts?
First, you'll want to avail of predictive search, also known as "autocomplete," which involves providing users with a relevant suggestion automatically as they type in the search box. When combined with natural language processing (NLP) algorithms, good predictive search can correct spelling errors and typos involving punctuation or omitted characters, identify synonyms to suggest relevant results, and offer results in multiple languages.
Another way to improve your search feature is to personalize the results. When a customer types something in the search box, you can first list the products that are likely to be more suitable for them, based on their user history. Furthermore, rather than just displaying text results in the search box, you can embed product listings for visual appeal.
Filters and faceted search can also facilitate the searching process on your website, especially if you offer goods that have a wide range of features. If you sell skincare, for example, and a user searches for "facial moisturizer," you might show facets for "skin concern," "price," "volume," "star ingredient," "morning/night," etc.
Finally, even if your catalog is pretty extensive, there's always the chance that you won't have the exact product that a visitor is searching for. Rather than providing them with a "no results" page with a simple line like "Sorry, this product cannot be found," suggest a few similar products that may fulfill their needs to increase your chances of a conversion.
3. Provide personalized product recommendations
As personalization is one of today's major ecommerce trends, it's no surprise that it's such a big part of ecommerce merchandising, specifically for providing customers with personalized product suggestions that they'll appreciate. In fact, the offering of personalized recommendations is one of the top things in the list of what ecommerce customers want.
Based on what users have previously purchased from your online store and clicked on, what items are most popular on your site, what goods users currently have in their cart or have abandoned in the past, and what personal information they've added to their customer account, you'll be able to recommend products that are most likely to target their specific wants and needs.
You can generate personalized product recommendations with an algorithm that makes it possible for you to group similar goods and suggest an item or multiple products that complement the one that's presently drawing the attention of your customer. These suggestions might appear on the product page the user's currently viewing, in an email reminding them about an abandoned item, or via a popup that displays at checkout.
For example, say that you sell travel-related products, and you have a potential customer searching for a backpack on your site. They click on the product page for a backpack that catches their eye and discover a variety of types of high-quality visual content, including photos that show the item in detail and a video demonstrating a person walking while wearing it, along with an informative product description.
As they scroll further down, they see an image slider with similar backpacks and/or complementary goods like travel pillows, phone chargers, umbrellas, etc. Simply based on seeing these recommendations when they're in the mood to buy, the shopper selects both the backpack and a phone charger and finalizes the purchase, increasing the total amount of their order from your store!
The role of customer data in ecommerce merchandising
The importance of customer data in your ecommerce merchandising strategy cannot be overstated!
Customer behavioral data is a great resource that'll allow you to analyze shoppers' actions on your site to determine their preferences and adapt your business accordingly so as to better meet your customers' needs, particularly when it comes to using personalization. E-merchants today are fortunate in that there are all kinds of methods available to collect customer data that can be of real value.
For example, you can encourage customers to create an account with your store. You'll then be able to track the paths they take on your site and review actions such as what they buy, what products they add to their list of favorites, and when they leave an item in their shopping cart. This in turn will make it possible for you to improve the recommendations you offer and better guide them on their journey on your website.
In addition, you can avail of a tool like Google Analytics to analyze the traffic on your site and get helpful insights concerning your general customer base. This platform allows you to examine data involving metrics such as your AOV, where your customers are based, the average amount of time they spend on your site, and more.
It's also advantageous to perform market research on a regular basis to collect data on your general target audience. By learning about your niche's top trends, including hot products, customer preferences, etc., you'll be able to improve your offerings and better attract new customers.
Now that you've learned all about the benefits of ecommerce merchandising and the best strategies to implement, why not get started with your own adventure in web sales today?
When you use the WiziShop all-in-one-solution to build your online store, you'll have everything you need to ensure that you're on the path to success. Sign up now and enjoy access to a knowledgeable team of Business Coaches, 50+ SEO optimizations to boost your rankings on Google, an array of design templates to create a stellar homepage, the option to add on our powerful AI feature to simplify all your content creation needs, and more!
Create your online store - 15-day free trial