On the internet, one of the main obstacles to sales concerns the distance between the product and its buyer. When internet users consider making a purchase on an ecommerce site, they can't touch the product nor take it in hand. Their only support is a description associated with visuals.
This is what we call the product page.
It must not only serve to convince the potential buyer but also to improve your SEO.
The product description on this page deserves your full attention, and it requires particular care. To guide you in this step, a few well-informed tips wouldn't hurt!
Keep reading to discover our advice on how to craft a stellar product description that convinces your site visitors to click "Buy Now!"
What is a product description?
Before we talk about what you'll need to do to write a compelling product description, it's important to understand exactly what a product description is.
A product description is the text that describes the item in question on the product page. It details what the product is and explains why the shopper would want to buy it.
Even if your ecommerce business sells a well-known product, it's still a good idea to include a description to ensure that you're giving site visitors all the information they need to help persuade them that the product is right for them.
A powerful product description serves to educate and entice current and future customers alike, always written with your target audience in mind!
In addition to increasing sales and helping you to get customers in ecommerce, a well-crafted product description can also boost your rankings on search engines. It'll improve your SEO not just by providing useful information in the text but by encouraging more conversions—both these actions aid in increasing your credibility in the eyes of Google.
How to write a product description
To write your own product description and perfect your online sales site, start by applying the following steps.
Know the product inside and out
First of all, to present your products well, it's essential to know them perfectly.
Just as a good salesperson in a store needs to be knowledgeable about their items, you can't properly sell products or services if you don't know all the features.
In other words, you must know everything about your merchandise!
When the internet user browses your product page, they must obtain, at a glance, all the most relevant information about the item in question in the description:
W

hat is the material used for its design?

What is its use?

What accessories are included or excluded from the sale?

Does it require special maintenance?

How is it worn or used?
To be able to talk about all this to your customers in a perfectly clear way, knowledge of the product is essential. So remember to find out about the following:
t

he main characteristics of the items presented on your ecommerce site,

their usefulness,

how to use them, and

their complementarity with other articles present on your store.
Put yourself in the customer's shoes
Because the internet shopping experience is very different from that of a physical store, when it comes to online sales, no salesperson is present to guide the customer.
In a traditional store, the advisors are there to guide the buyers in their choice. On the internet, this unfortunately isn't the case!
To make up for this lack, a good product page and its product description must be able to replace the expertise of a salesperson.
As with any other aspect of your ecommerce content marketing, for your product description to be effective, it's essential to show empathy and to put yourself in the shoes of your potential customers in order to anticipate their questions.
To be effective when writing your product pages, I strongly advise you to do the following:
P

ut yourself in the shoes of consumers to anticipate their objections.

Structure your sales arguments.

Anticipate your customers' questions and answer them.

Be transparent to reassure your visitors.

Guide your potential buyers in the use of your products, which means confirming the act of purchase to limit the number of returns.
Write the most complete product description possible
Because no salesperson is present to inform the customer on the internet, your product description must be as complete as possible, to limit possible questions.
This means that you must be clear, exhaustive, and transparent.
Here are some of the types of information that can appear in your product descriptions:
d

escription of your item: its usefulness, its advantages, etc.;

technical characteristics of the product: its size, weight, dimensions, colors, material, energy consumption, etc.;

list of accessories included and excluded from the order;

advice on how to use the product and any precautions to take;

sales argument demonstrating the benefits of the product or if it's an item that's been widely proven;

instructions for use to be downloaded;

maintenance preferences to improve the life of the product;

the brand's speech if it's a recognized brand, which ensures a stronger emotional bond with the customer; and

mandatory legal information: allergens, products containing alcohol, age limit, labels, Nutri-Score, etc.
According to Wavestone's 2019 New Consumer Trends Barometer and "Shotfarm Product Information Report," 78% of consumers look for detailed information about a product's characteristics, and 87% of them will never buy from a site that's provided them with false information. So be clear and accurate!
To help you create your product pages and write your product descriptions, a training module on copywriting is available on the WiziShop ecommerce solution. It's included for free in the subscription.
This writing style is particularly effective to persuade the user to buy your product and boost your sales.
Create your online store - 15-day free trial
Concentrate on the product's benefits
Although you're probably very well versed in the amazingness of your product, you may have your work cut out for you when it comes to convincing other people to buy it. In your product description, you may be tempted to describe every last one of the item's specifications, those probably won't be enough to sway on-the-fence shoppers.
You should instead focus on telling people about the benefits of your product's features and how these selling points will improve their lives. These days, a business must emphasize the experience of owning the product rather than the product itself in its product descriptions to entice consumers.
When writing your product descriptions, consider how the item may help solve a problem in the customer's life. How can the product make them more productive? How does it reduce or eliminate hassle? How can the product bring them happiness?
Highlight customer reviews
Because recommendations and word-of-mouth are very reassuring factors for potential buyers, consider highlighting customer reviews. It's great advertising!
An excellent ecommerce tip to employ is after each purchase, ask your buyers if they're satisfied. Then, put their reviews on your product page.
In fact, in a 2018 study of U.S. shoppers by Statista, 53% of respondents stated that the presence of product ratings and reviews was one of the most important factors of the online shopping experience.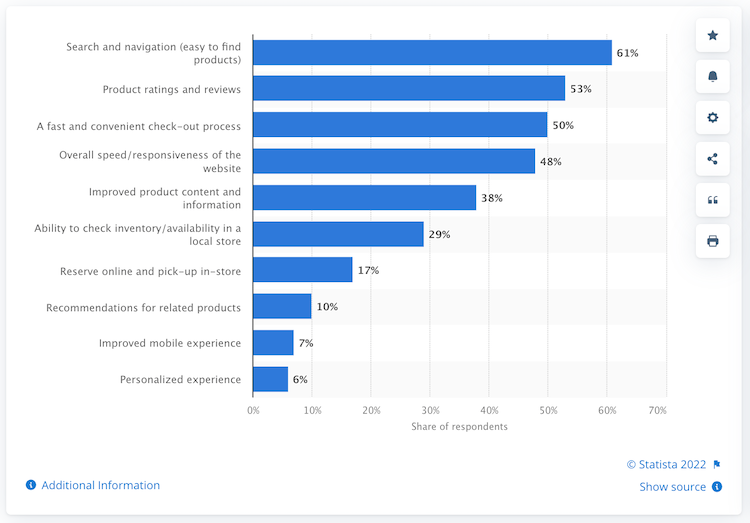 Source: Statista
You can then see why including reviews with your product description is pretty much a must for today's ecommerce entrepreneurs!
As such, on the WiziShop ecommerce solution, you can very easily highlight the opinions of your customers directly on your product pages.
Create your online store - 15-day free trial
Entice with sensory words
If you feel like your current product descriptions are a bit boring, note that you can make them all-the-more dazzling by sprinkling in a few sensory words. These terms are designed to further engage the reader's brain power by describing how people might experience the product in terms of the following:
sight

(ex: "gloomy," "sparkling," "violet");

touch

(ex: "velvety," "soft," "silky");

smell

(ex: "ambrosial," "earthy," "floral");

taste

(ex: "sweet," "spicy," "lemon-flavored"); and

sound

(ex: "crunchy," "melodic," "tinkling").
Some types of sensory words are bound to work better with certain products than others. For example, those associated with taste of course make sense for food items, but they probably wouldn't be the best choice to describe, say, a pair of headphones.
When well used, sensory words help people visiting your website and reading the product description to better imagine using your product, which is a huge step in convincing your target audience to buy it!
When using superlatives, offer proof
Brands often add superlatives to their marketing copy, stating that a product is, for example, the "fastest," "biggest," "quietest," etc. Although these terms can be ultra appealing to consumers, they'll ultimately want to see proof of these claims.
Say that your ecommerce business sells smoothie makers. If you're going to say that your product is the easiest to use on the market, don't just stop there. Explain what makes it the easiest to use and offer evidence of this assertion.
Without ample proof or justification, shoppers are likely to find your descriptions inauthentic and may start to lose trust in your brand. Don't feel pressured to use superlatives in your descriptions if you don't feel like you can back up a certain claim. Your online store's catalog can still easily intrigue visitors with clear, descriptive, and honest language.
Work on the product description's SEO
Like any editorial content on a site, the product page contributes greatly to the SEO of your site.
When you write your product description, remember to respect the rules of SEO and optimize it as much as possible to improve your presence on search engines.
To do this, remember to include specific keywords in your titles and expand the description of your products while respecting the correct Hn structure (H2, H3, ...).
In addition, don't forget to fill in the meta description tag on your pages to encourage more clicks in the search results.
Another important point: Copy and paste is strongly penalized by Google. You must write unique content in your descriptions to appear in the top results of search engines. You thought you were simply copying the description provided by the manufacturer? Forget about it!
And if you aren't into writing yourself, there are professionals who specialize in this task. Don't hesitate to turn to them and outsource the writing of your website.
Ensure that your description is easy to scan
It's very possible that potential customers visiting your website may be in a hurry. Increase your chances of earning a sale by making your descriptions scannable so that people can quickly determine if the product best suits their needs.
So, what techniques can you use to make your descriptions easy to scan and more appealing to potential buyers?
Start by making sure that your product titles clearly describe the item in question. The visitor shouldn't be left confused as to what the product is after glancing at its title. In addition, add lots of white space on the product page. While you want to provide people with a sufficient amount of information, you don't want to overload them with text and distracting sparkly banners.
You can also check your font size. Be sure that potential customers can easily read it without having to squint.
Finally, don't forget that the use of bullet points is an excellent tactic in any text, be it your product descriptions, blog posts, or other pages on your site! They help to break up blocks of text and help make your text more visually appealing to readers.
Bonus tips to boost sales on your product page
These techniques aren't related to writing, but they can boost your sales, so it's important to mention them.
Bonus 1: Provide quality photos
Of course, the creation of a product description requires impeccable writing. However, the written description alone isn't enough to sell the goods.
Don't forget that the customer can't actually touch the item. Therefore, they must have quality photos so that they can almost feel the material with their fingertips.
To do this, offer your visitors quality photos, allowing them to see the product from different angles. This is a very important notion, in order to remove any question from the head of the potential buyer. The quality of the photos is crucial and decisive in the intention to buy.
To encourage the conclusion of the sale, think of integrating the following into your product pages:
photos of the item from different angles,

a zoomed-in image to better see certain details of the product,

a photo associating the item with a person using it,

explanatory diagrams if the item has a specific use,

images showing the possibility of transforming the article according to one's choices (if it exists, for example, in several colors or different materials), and

labels or quality certifications symbolized by logos.
Bonus 2: Present the product in a video format
Next, remember that a photo isn't the only option for presenting a product. If you can, it's even better to add a video to your product page.
In this case, the video format is a great sales lever. Similarly, it's sometimes easier to explain the proper use of a product through a video than through a long written speech.
It makes the usefulness of the item more obvious to the buyer. At the same time, a product video can lessen the complexity of an item's use when it's specific or innovative.
It's a medium that offers an actual demonstration, which is really more meaningful than a text.
As you can see, to write a product description that converts, you need to put some time and effort into it! To get good results, you should spend an average of 30 minutes. You'll also need to thoroughly proofread the page to avoid any spelling mistakes.
Adopt a sales tone without using too much commercial language in order to better attract your target audience.
Finally, remember that this is a text that will be read on a digital medium. Use bulleted lists and dashes to make it easier to read...
Now that you have a better understanding of this topic, work efficiently on your product descriptions and boost your online sales!