Unlike in-store shopping, internet commerce doesn't allow customers to touch the items they are considering purchasing or even to hold them in their hands before finalizing their orders.
To best remedy this, it's essential to post stunning pictures of your items and add a detailed description.
The more information your visitors have, the more likely these people are to place their orders.
For this, video can also be an excellent marketing tool for your brand's target audience. It has a considerable impact on ecommerce sites and is an excellent development vector.
Why use a product video?
Did you know that 7 out of 10 consumers say they prefer to learn about a new product or service through video rather than text?
In fact, 90% of consumers say that this format is a valuable tool in making a decision.
As a result, 88% of marketers say that their conversion rate increases when they integrate videos into their product pages.
The numbers don't lie: 67% of online shoppers say they regularly look for testimonials to help them make up their mind about a product that they're considering buying, making it a great addition to your brand's ecommerce content marketing strategy.
Different types of videos for your products
Now that you're convinced, you just need to know how to showcase your products to help increase online sales. There is a wide range of possibilities... Here are some ideas:
Product characteristics
The most basic format, and the one that likely first comes to mind, is to add images of the main characteristics of the item. It's, in a way, a video presentation.
This is what most ecommerce sites do. As the members of your brand's audience cannot actually touch the item that they're considering buying, this allows them to get a better idea of the object.
This file can be accompanied by a voice-over presenting all the technical details. It can also display the item in question from every angle, offering the page's visitors a 360° view of what awaits them.
Tutorials
Another technique is to show the product in action. The demo allows the user to visualize the object in operation.
This type of content marketing is a great way to show the benefits of the product in a concrete way while reassuring the potential buyer of its effectiveness.
Widely used by young people, tutorials provide all sorts of answers. According to a study conducted by Think With Google, 67% of millennials are convinced to find a demo video to learn how to do absolutely everything on YouTube.
Sample tutorial with well-known hair stylist Jen Atkin showing the Dyson Airwrap
To create your visual support, identify the moments of potential doubt for your audience and provide them with video answers. This could be a tutorial on how to assemble the product, turn it on, perform a specific action with it, etc.
You can also call upon influencers to help you in this task: by offering them a product placement, your message will be even more impactful!
Product in situation
Very sales oriented, the situation setting video is increasingly used by marketers.
It allows one to realize the benefits of the product and to understand its use perfectly.
It's also an excellent option for all innovative products that aren't well known by the general public. Thus, through the video, the internet user has a concrete vision of what the product is used for.
Samsung presents its Galaxy Watch4 connected watch
Similarly, if the item in question offers several features, the video is a quick way to review or demo all its functions.
From then on, everything becomes clearer in the buyer's head, removing any doubts and purchase delays.
Testimonials and unboxing
What could be more convincing than a positive testimonial from a customer to convince another to buy the product? The recommendation video is an excellent promotional tool.
Did you know: According to Forbes, 90% of online shoppers consult reviews before making a purchase.
Video reviews are a type of very reassuring social proof that can considerably increase the chances of conversion.
James Welsh's review of a Klairs product
Today, most ecommerce sites offer a section specifically dedicated to reviews on each of their product pages.
Why not go even further by posting these video reviews? A good idea to increase your visibility and increase the trust of internet users thanks to this ecommerce-friendly marketing strategy.
Inspiration videos
In the same register as product in-situation videos, inspiration videos allow consumers to project themselves with the product.
Very immersive, they make it possible to see the product in real conditions of use. The inspiration video allows you to share the experience with internet users, almost putting them in the user's shoes.
Need an example to better understand? It could be a GoPro-type montage, for example.
Let's say you sell bikes for riding on snow, take users with you on your snowy rides via an onboard camera. If they're convinced by the experience, they might want to do the same and buy your products!
Storytelling
In order for customers to better understand your brand image and memorize your message, I strongly advise you to tell a story about your product.
This is what we call storytelling. It's about giving meaning to your offer, and why not say more about your reason for being, or possibly your commitments.
More and more buyers are looking for brands that are socially and environmentally committed. If this is the case for your brand, let them know!
Storytelling is also a way to explain your product's purpose. Your video can lift the veil on the origin of your product. From then on, its usefulness takes on its full meaning.
Comparison with the competition
Very often, customers wonder why they should buy one brand's product rather than another when two items seem to serve the same purpose.
For example, why buy one brand of computer rather than another, when both models seem to have almost the same features and are priced almost identically? To answer this question, create a video!
In your video, highlight the main strengths and technical innovations of your item. These are the things that'll make all the difference and perhaps turn the buyer's heart in your favor.
In this case, especially when the topic is very technical, the video is much more meaningful than a simple data comparison table.
Other benefits of product videos
It's undeniable that video is an exceptional marketing tool that encourages purchases.
In fact, 58% of consumers believe that companies that put videos online are more reliable.
Nevertheless, besides helping you to get customers for your ecommerce business, the product video has other advantages.
SEO
The video offers a significant advantage in terms of SEO.
First of all, it allows for greater visibility on search engines.
An increasing number of people are searching in Google's "video" tab. Depending on the query, videos also appear in the standard search tab.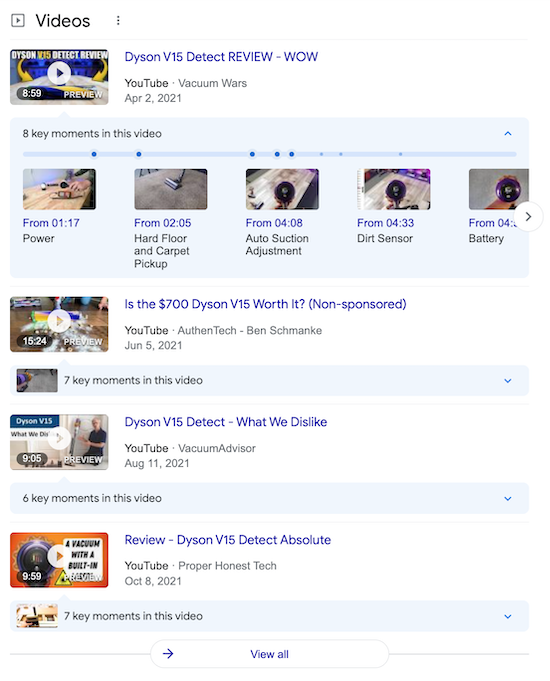 If your product pages don't have this format, your pages will never stand out here.
When you integrate movies on a media, you must work on the metadata: title, description, links, etc. Be punchy and as consistent as possible with the content of your visual medium. Remember to include keywords as well.
Finally, rename the file. For example, use "hiking-shoes-test.mov" rather than "VIDEO1325463.mov."
YouTube optimization
If you choose to publish a video through this social network, make sure you work on your optimization on the platform, as you would on Google.
The number of views is not the only criterion taken into account to make you appear in the top search results.
To find a video on this platform, users type a query into the site's search engine.
Your goal: appear in the top results to be seen!
To do this, consider the following elements for a moment as you would for your classic SEO strategy:
the video tags

, i.e. the title and the description;

the cards

, i.e. the elements that are displayed on the side of the video, making it possible to keep the users there longer and reinforce the links between your different visual supports;

the end screen

, which appears at the end of your video to send the user to another piece of your content;

the tags

, which are embedded keywords, in response to queries; and

the links and shares

, i.e. all the external links likely to refer to your video (link building).
Content to share on social networks
Videos are also a very good medium to share on social networks. Here again, the figures are more than convincing: 8 billion videos are viewed every day on Facebook.
A post including a video generates on average 30% more interaction than a photo and twice as many shares. It would be wrong to deprive yourself of this lever!
On social networks, users are subjected to a pharaonic amount of different creations. To be seen, the challenge is to know how to attract their attention, and videos are undoubtedly the best way to do this.
Very trendy on Instagram, video is the communication medium that generates the most interactions compared to other formats.
On this social media platform, 500 million users consult their stories every day... So ensure that you publish regularly via these ephemeral videos.
On YouTube, 1 billion hours of videos are viewed every day... Users love them. Make them happy!
After-sales service
Finally, as we've seen before, video is a way to bring answers to users' possible questions.
The videos that you create can be used as a tutorial and help customers in the assembly of the product or in its use.
In this sense, they are an excellent contribution to after-sales service, serving as a complement to it.
Today, most internet users look first on the internet to solve their problems before contacting a company's after-sales service.
By putting quality content online to address most of their questions, you'll limit a considerable influx of requests to your customer support.
Videos can therefore sometimes allow you to hire fewer staff or reduce customers' waiting time when they contact your after-sales service, which is a factor that can boost customer loyalty.
Creating videos for your product pages can increase your conversion rate by more than 57%.
Although they require time to be produced and put online, they offer excellent results. It's up to you to reap the expected benefits…