According to statistics provided by Kleiner Perkins specialist Mary Meeker in a report entitled "Internet Trends Report 2017," 82% of consumers don't give a company a second chance when they've been disappointed. In other words, your customers had better be won over immediately if you don't want to say goodbye to them forever! What's more, they're also highly volatile.
Over 90% of them are willing to switch to another company to benefit from a better customer experience. This means that to win over and retain your customers, you must offer them a flawless shopping experience. To achieve this, you need an unbeatable tool: the sales funnel.
Sales funnels are central elements of any online business venture: every online store inevitably has a sales funnel.
As the name implies, a sales funnel is the linear process that accompanies the prospect to the point of purchase, from discovery or initial awareness of the brand or product to finalization of the order.
Opening an online store without considering the benefits of sales funnels means missing out on sales opportunities: in fact, this marketing element is a way of focusing on the buyer, the end customer, the most important person in your business.
How can you create an effective sales funnel and start boosting your sales naturally? Keep reading to discover everything you need to know!
What is a sales funnel?: Definition and marketing features
Throughout the process of acquiring and converting prospects and leads into qualified customers, you need to earn the trust of internet users. In turn, you need to pique interest in your offers and then encourage your visitors to take action and buy.
There are a number of essential steps to follow, which are grouped together in what's known as the sales funnel (also referred to as the "conversion funnel"). In a way, it's a visual representation of the entire customer journey.
How does a sales funnel work?
The sales funnel designates the successive stages that lead an internet user from discovery of an ecommerce site to purchase. This graphic representation helps to identify and better visualize the entire customer journey. Its role? To accompany consumers from the moment they discover the site to the moment they become customers.
A sales funnel is defined by several stages. From top to bottom, the stages correspond to the crucial moments of interaction between a brand and its leads. Potential customers go from an initial encounter with a brand and a product, to a decision to buy, and then on to finalizing their order.
Properly designed sales funnels identify the various stages in the purchasing process. These may vary according to the type of products or services offered by the brand. In other words, each sales funnel is unique. It's a marketing strategy customized to each company.
To move the customer from one stage of your sales funnel to another, you need to do the following:
make yourself visible,
spark your visitors' interest,
encourage their purchasing decision,
help them complete their order, and
build loyalty, maybe even turning them into brand ambassadors.
Note that it's perfectly normal for your sales funnel to narrow over time. For example, you may initially have 100 customers who see your ad. Eventually, perhaps only 3 people will complete their order. Rest assured: this is completely normal!
The aim of a sales funnel is not to retain all your leads and potential customers and turn them into buyers. It's simply a matter of understanding how prospects react, so you can optimize your marketing campaigns. A sales funnel is a tool for understanding, enabling you to perfect your approach and gradually offer prospects the best possible service and experience.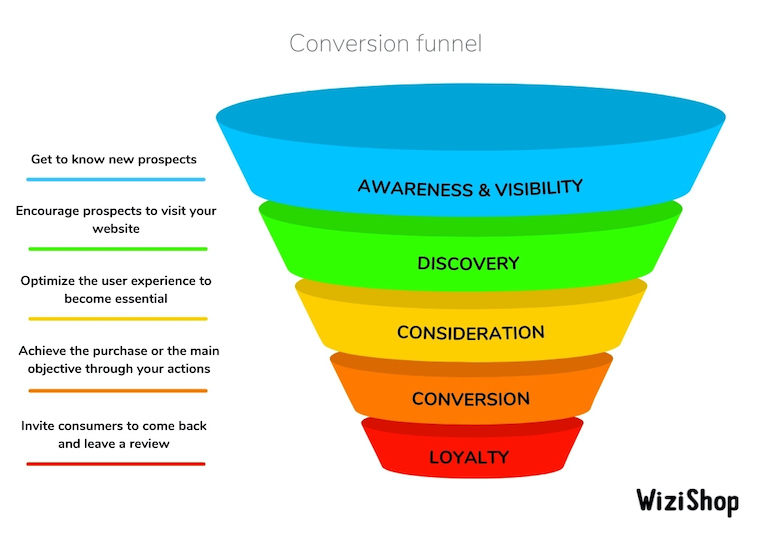 Why create a sales funnel?
Today's ecommerce companies are strongly advised to create a sales funnel, quite simply because consumers have changed considerably. Prospects are increasingly busy, demanding and volatile. They're also better informed, and are eager to buy the best product, at the best price, while building a relationship of trust with the brand, benefiting from individual support during the sales process, and so on.
To achieve this, they don't hesitate to compare offers and change sales companies as often as necessary if they encounter the slightest problem.
Because buying decisions are no longer made the way they used to be, you need to act accordingly. Price is no longer the only decision-making factor. Sales process, efficient sales funnel, free delivery, clear points of contact, customer support, and so on.
The aim of the sales funnel is to identify the various opportunities and disincentives to purchase in order to improve your conversion rate. This valuable information will help you to convince your customers and offer them the items best suited to their needs, as well as relevant additional sales, all in an optimized way.
What are the advantages of a good sales funnel?
Having a good sales funnel can multiply opportunities and ultimately increase sales. In fact, the benefits of a good sales funnel are manifold, and they extend throughout the entire purchasing process. A good sales funnel enables you to do the following:
attract new internet users to your products,
boost your brand image and incite customer interest,
help customers make decisions and encourage action,
improve ecommerce conversion rates and return on investment (ROI), and
Sales funnel and customer journey: Your ecommerce strengths
Sales funnel and customer journey: What are the differences?
The customer journey is complementary to the sales funnel.
The sales funnel represents the steps required for a user to go from being a visitor to an ecommerce site to becoming a buyer or even a regular customer. The customer journey, on the other hand, is the map of the precise path the customer must take to arrive at the purchase and first sale. The customer journey is therefore the personalized version of the ideal path to be proposed to customers on the Internet.
In the context of an online store, the sales funnel will represent a strict framework with key stages essential to conversions to gain customers online:
acquisition,
activation,
retention,
referral, and
revenue.
The customer journey, on the other hand, is concerned with the precise steps involved in your business. These include, for example, social networks, SMS marketing, notification bar, newsletter registration, three-click payment page, etc.
All these stages, which punctuate the customer journey, will enable you to follow the prospect's progress, so that you can improve your offer and understand the points of friction, particularly in the case of shopping cart abandonment.
Why work on the customer journey?
The customer journey will enable you to understand all the details that cause the customer either to follow the order funnel all the way to the end on your online store or to turn away from your brand. While the sales funnel can help you to determine a precise framework around your target audience's actions, the customer journey will define the path taken by the customer.
Let's take an example: you're the owner of an online store and you'd like to attract more new customers to your online store. In practice, you've put in place a number of strategic levers to achieve your goal.
However, your customer journey shows that prospects follow the established path but stop at the payment stage.
Your customer journey therefore points to friction during the purchasing stages of your online store.
The customer journey will allow you to ask yourself the right questions to get into the mind of your potential customer:
How can I make the purchasing process more fluid?
How can I correct the problem in the shopping cart?
Why didn't I get a message from the prospect indicating these problems on my site?
Thanks to accurate tracking of the customer journey, you'll be able to set up better customer service on your website, you'll be able to analyze your sales funnel yourself by putting yourself in the user's shoes, and you'll be able to easily improve your offer.
In ecommerce, the customer journey can be analyzed using analytics tools integrated into your content management system (CMS) or through customer feedback via a chatbot or messages received on social networks.
Creating a sales funnel: What are the 5 key stages?
Sales funnels are made up of several successive stages with different objectives. Each stage or step is important, and you need to use them all in the progression of your funnel to turn them into effective sales levers.
Visitor's discovery of the site and your products
Of course, to maximize sales, you need to be visible. Social networks, email marketing, SMS marketing, search engines, paid advertising, affiliate marketing... Visibility is the backbone of any marketing strategy. It can involve a whole range of different approaches designed to boost awareness, on different media, whether digital or physical.
At this stage, your objective is to reach the largest possible number of prospects, people in your target audience. To do this, don't hesitate to multiply your acquisition channels, for example by doing content marketing or launching emailing campaigns, to increase people's awareness of your business.
This stage isn't about making direct sales. It's about planting a seed in the prospect's mind with your content and then nurturing the idea until a sale is made. Brand image and reputation play an important role in your first steps towards customer conversion.
Use of the customer journey within the sales funnel
Once the consumer has been introduced to your company and products, the next stage involves piquing their interest. What's more, you absolutely must offer them a pleasant experience, to encourage them to continue interacting with your brand. That's why you need to optimize your ecommerce site's user experience for your prospects.
Your visitors must be presented with perfectly structured and organized pages. Your site should enable them to quickly find what they want. In this sense, your display must be fluid, your menus must be accessible, your website must be optimized for mobile, whether for your prospects or for search engines... In short, your sales process and marketing strategy must support your customers' choices to boost your sales.
Acquisition of the future customer's information and contact details
When an internet user visits a website for the very first time, it's very rare for them to finalize their purchase straight away. After all, they don't know you, so they have no reason to trust you right away! To be able to sell your products, you need to be able to follow up and gradually convince them to buy your products. To do this, you'll have to get the visitor's email address.
Your sales funnel must therefore enable you to collect your visitors' contact details. This information will then enable you to complete your database and offer customer emailing with the aim of building loyalty among your contacts.
To encourage your customers to provide you with their email address, include a newsletter registration form on your pages. In exchange for the email address, why not offer them a voucher or join your loyalty program? Any way you can to win them over!
Highlighting of what differentiates your brand from your competitors
For this stage, you need to differentiate yourself from your main rivals. There are a lot of ecommerce sites out there, so you need to convince your visitors to choose you over anyone else! To do this, position yourself as a true expert in your field. Don't hesitate to write blog articles on your site, to demonstrate all your knowledge and the effectiveness of your services.
Referrals, influencer marketing, affiliate links... Use all these tools and software and put forward as many reassuring elements as possible. The more you can prove to your leads that your online store is as attractive as it is trustworthy, the more you'll be able to start building a special relationship with your future customers.
Finalization of the sale and optimization of the sales funnel
Now that you've made good progress in your sales funnel, you need to trigger the act of buying! At this point, the visitor is ready to buy, and just needs a little something to encourage them to go ahead.
Your visitors now know your brand. They trust your expertise. They're just a few steps away from adding items to their shopping baskets... Nevertheless, perhaps there are still a few little doubts and questions in their minds that prevent them from being 100% convinced: "Couldn't I find something cheaper elsewhere?", "Do I really need this product?"...
At this point in the sales process, you need to take the customer by the hand to convince them that their decision is the right one. To do this, feel free to use levers such as setting up commercial offers with ads and calls to action, promoting a free and easy product return policy, or using cross-selling or upselling techniques to increase their average cart value.
Another one of the top ways to help customers make the right decision is to integrate customer testimonials into your site. These are an excellent way of reassuring your prospects, as they're concrete examples of your success.
Once they've been convinced, all that's left to do is confirm their order. To do this, the purchasing process must be simple and clear. There should be no questions left unanswered, and your ecommerce site should offer multiple payment methods.
Finally, don't forget that the sales funnel ends with customer loyalty. Because it's very difficult to win over new consumers, make sure that your buyers will want to come back to you! To do this, take the time to send them a thank-you email, perhaps with a coupon code for their next visit...
Think about your sales, but never forget the people in your target audience, who are at the heart of your sales. Without them, what would your online business be?
How do you build a free, automated sales funnel?
Of course, the sales funnel isn't the only tool you need to master if you want to successfully launch your own business. Having an ecommerce site requires a certain versatility. But perhaps you're not lucky enough to have training in marketing, logistics, or customer relationship management? If so, WiziShop is the ideal solution!
WiziShop is a turnkey ecommerce solution, providing you with all the tools you need to create a sales funnel and a fully operational ecommerce site. What's more, to give you every chance of success, we also provide comprehensive training in the form of video tutorials. This online training covers all aspects of internet commerce, including setting up a sales funnel. What's more, a team of business coaches is ready to help you build your sales strategy and can be contacted whenever you need them.
In addition, you can opt to add on WiziShop's powerful AI feature for a small additional fee to aid in generating all kinds of text content for your online store in seconds, including, for example, product descriptions, titles and meta descriptions, translations, blog articles, etc. This handy tool will save you loads of time, simplifying your efforts involving content creation and content management and allowing you to better lead the way for your potential buyers, guiding them to product purchases on your store.
To be fully convinced of WiziShop's efficiency, you can take advantage of a 15-day free trial on the site. This test period is all you need to start the first tools for building your online store. They'll enable you to configure your shop and start selling your first products. With WiziShop, over 400 different features make it possible for you to fine-tune your brand image and create a personalized, fully optimized sales funnel.
Take the first step of your entrepreneurial adventure and get ready to discover the potential of the top-notch platform that is WiziShop for your ecommerce sales by signing up today!
Create your online store - 15-day free trial
As you can see, the aim of your sales funnel should be to spark the interest and build the confidence of your prospects and leads, encouraging them to take action on your site, eventually lead them to purchase your product or service. A properly executed sales funnel should enable customers to have more and more confidence in you, as they pass through the various stages mentioned above.
Don't skimp on the means, and use this tool wisely to demonstrate your legitimacy, your seriousness, and all your expertise to internet users. Lead them through the buying process, so that they'll confidently choose your store time and time again when they're ready to take the step of making a purchase!