Ecommerce has taken root on social networks. There's not an app that doesn't offer a shopping feature or a link to an ecommerce item.
According to a Harris Interactive study, users aged 13 to 34 admit to making more transactions on social platforms in 2019 than in 2018: 11% more were recorded in just one year.
This aspect of ecommerce is well entrenched among e-shoppers and e-retailers, as it's expected to generate more than $30 million in revenue, 6 times more than in 2010, according to a study by Booz & Company.
In addition, 47% of millennials now include social platforms in their purchasing act, according to a Deloitte study. For 72% of them, their fashion and beauty purchases are conditioned by their discoveries on Instagram.
The rise of the social commerce experience is undeniable. All applications are good to be familiar with to boost your sales and prepare for the future.
What is social commerce?
Social commerce is the act of generating sales via a social network. This practice is complemented by many tools: today, on applications, it's not only a question of commercial transaction but also of customer relationship, after-sales service, a total purchase path from the visit of the internet user to their loyalty.
With the development of social shopping tools on social networks and new ecommerce trends, social commerce represents a highly interesting, even essential marketing plan for product or service sellers.
E-merchants develop their visibility via these applications and offer their items directly on social networks. These sites are no longer presentation pages but full-fledged stores with an additional transaction channel.
However, you still need to have the right methods to successfully convert a community of users into buyers! Here are 5 key factors to help you in the marketing strategy of your social shop.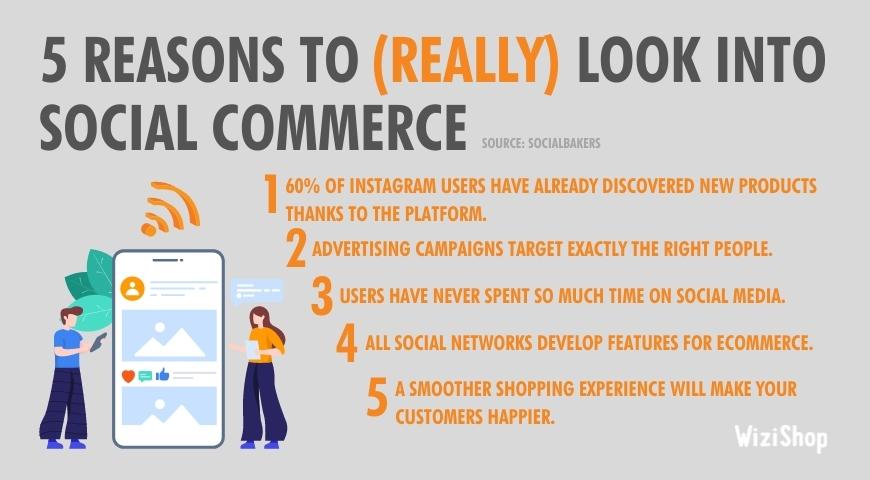 Source: Socialbakers
5 tips and keys to social commerce for your business
1. Sell in a subtle way
Of course, in this social commerce perspective, the objective when using social media for ecommerce is to sell and therefore generate profit. But be careful, you have to be clever and even very subtle!
Social networks are not advertising media like the others. As an advertiser, your posts shouldn't contain messages that force the sale. You must therefore sell in a subtle way through
the creation of a link focused on the human aspect and the customer relationship.
Express your personality, engage in discussion to establish a relationship of trust that will determine your subscriber's final decision.
Don't lose sight of the very interest of social media and the role that it plays in ecommerce, as it entertains while providing information and inspiration to potential future followers, unlike your website, which directly addresses users already interested in your products and services.
According to a survey by Econsultancy, 61% of the 18–34 age group have already made their choice based on recommendations from influencers.
Furthermore, if you want to evolve and develop your popularity, you may have to collaborate with ambassadors, influencers. If your budget doesn't allow you to use accounts with millions of followers, micro-influence will be an ally of choice.
Socialbakers tells us that 60% of the collaborations between institutions and influencers in 2020 on social networks were established with ambassadors with communities not exceeding 50,000 followers. A boon for small businesses!
2. Diversify your networks, but not too much!
Focus on the most relevant and strategic networks in relation to your business sector and pay attention to your ecommerce audience.
Depending on your target, focus on one medium, or two, in order to easily attract the largest number of people, in your country or perhaps your continent to start.
The only rule common to almost all social networks including the notion of commerce is to prioritize the use of stunning visuals, photos, or videos.
3. Social networks: a showcase in its own right
Before investing in the shopping part, the main service of the social network is first to ensure the showcase of your business.
With this tool and the sharing of your content, both professional and personal, you can quickly offer a commercial experience to the users who'll follow your activity on the web.
In the tone of your sharing, although your visuals should highlight your catalog, project yourself in the place of the customer who wants to be brought into a world, your world. Selling is good. Selling and bringing people together is even better!
Keep in mind that each network has its own unique specificities, its own message format, its own codes, its own target... So adapt your messages to the specificities of each medium.
In addition, you should know that the vast majority of these types of social media are used on cell phones.
Another indication: did you know that only 18% of subscribers watch videos on mobile with sound? For the remaining 82%, videos are played... Without sound! Subtitles and comments on or under posts and stories are mandatory when sharing your content.
4. Interact and adapt to your customer base
It's essential to establish a relationship between the company and the targeted community according to the app, to understand buyers' expectations and show that you are listening to your customers' needs.
Be careful, it's the professional who must adapt to the specificities of their target and not the opposite. Position yourself in a relationship of trust with the subscribers and not in a form of pyramidal distancing.
In the same way that a customer doesn't want to enter a store where the shopkeeper is neither smiling nor pleasant, the internet user will turn away from an account that has nothing pleasant.
The world of social media is an excellent business vector, especially since you can create direct and strong links with buyers.
Use their language, their codes while bringing the little something extra that differentiates you from your competitor, but always with the idea of wanting to create a link before selling.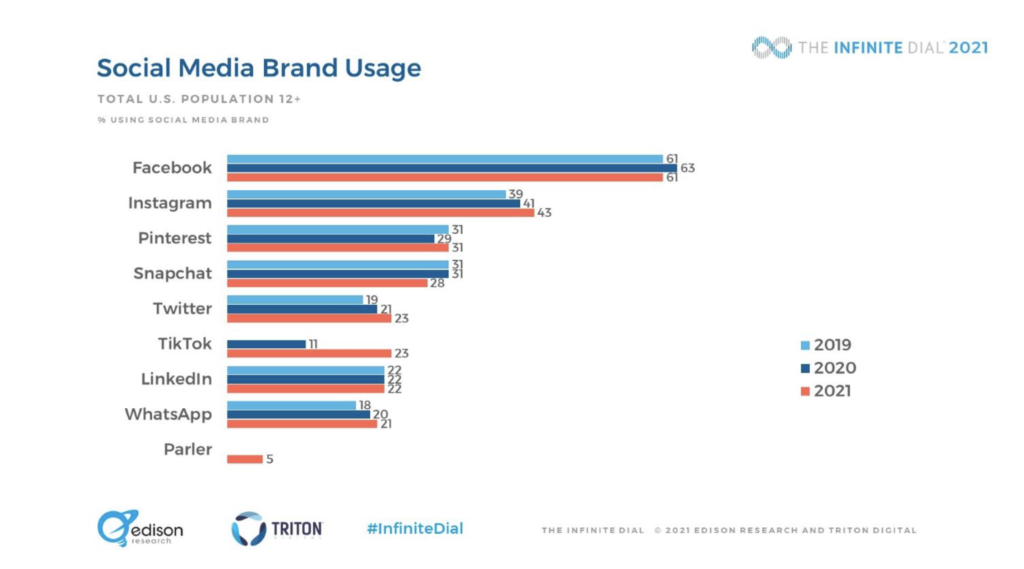 Source: The Infinite Dial report
5. Share your values to promote your products and services
Beyond the commercial animation and the diffusion of your promotions and news, your presence on platforms must be centered around a virtual relationship between the consumers and your company, just like in the real world.
Your content and visuals must be attractive, original, and effective so that users enjoy visiting your pages.
The challenges of the 21st century have also led to the emergence of the need for truth and transparency on the part of internet users. To get closer to the essentials, to consume better, to engage, to militate: virtual communities impose a new paradigm on brands, conscious and responsible.
In many parts of the world, it's no longer just a question of selling for the sake of selling, but selling with an end goal, a good deed, a social act. Moreover, more and more companies are opting for pre-ordering via their profiles in order to produce according to customers' demand, without loss, without stock.
The human being is refocused in the middle of the commercial transaction, and your communication must also align with this momentum.
Present your team, yourself, in motivating, inspiring posts: social commerce is also the gathering of stores that are "mini-media" that create content and share information in order to capture an audience, readers, and viewers. So, you too are your own media.
Winning platforms and marketing strategies
More and more media are interested in these new practices. Take Amazon alone: the giant is investing more and more in the world of influencers. Many accounts present on other media become Amazon ambassadors and share all their favorites directly on their Amazon page.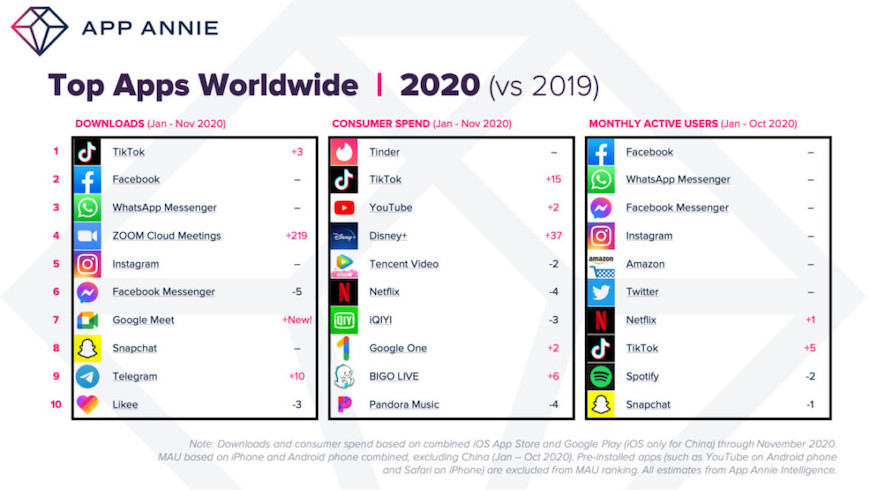 Source: Adweek
Instagram: the different sales levers
This medium is undoubtedly the most popular among e-merchants and buyers. By the very way of its presentation, photos and videos, this network lends itself to the trade of products and services.
Of the 1.22 billion users worldwide, 71% of the registered users are under 35 years old, the preferred target of social commerce. In addition, 50% of registrants follow businesses and brands, and, compared to Facebook, Instagram promises 4 times more engagement, according to Socialbakers.
The icing on the cake is that it's the preferred app for cyber shoppers: for 80% of them, the platform aids them in making the decision to buy an item online.
Opinions, advice, inspiration, proof of quality... Institutions and customers who post their feedback are central for consumers, who are always looking for truth and transparency regarding the products offered.
Furthermore, videos are the most popular. It's moreover through the sharing of Reels, Stories, or IGTV that the algorithm will favor one or another account. The more you play the app's game, the more you'll be rewarded.
In addition, when using Instagram for ecommerce, consider it a good way to get in direct contact with your customers. From the discovery of your items to the return of the product, think of this medium as a 360° commerce platform, even to provide your after-sales service or address complaints.
By sharing content from your happy customers, you highlight the quality of your service and thank your users. A marketing plan widely adopted by the largest accounts all around the world.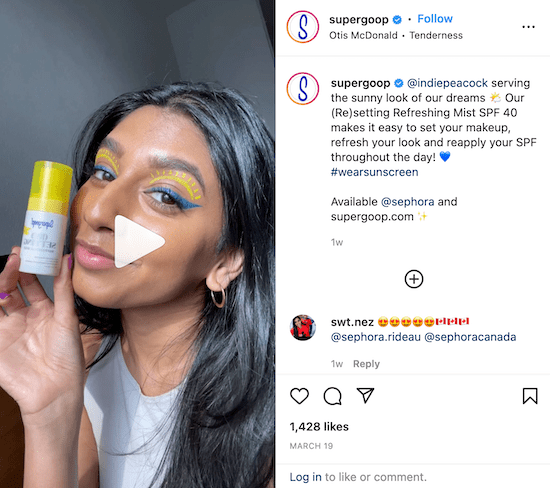 Supergoop! often shares photos and videos of its customers on its Instagram account.
The plus of this year has indeed been Live, which has exploded in these confined times.
Instagram CEO Adam Mosseri claims a real boom in Live in Europe in particular: "The volume of Live (live videos) has more than doubled in Italy, on Facebook and on Instagram, since the beginning of the lockdown. And we are seeing similar spikes in other parts of the globe."
Besides, the big trend of social commerce turning to Live Shopping, those sessions of presentation of items as a connected "tele-shopping." An opportunity to multiply transactions once your community is engaged...
By consider all of these tools, your communication will be exemplary to be able to invest then in the "Shopping" part, this native Instagram feature that allows you to sell products directly via the app, for free. The trick is to have a professional account to unlock this now indispensable commercial channel!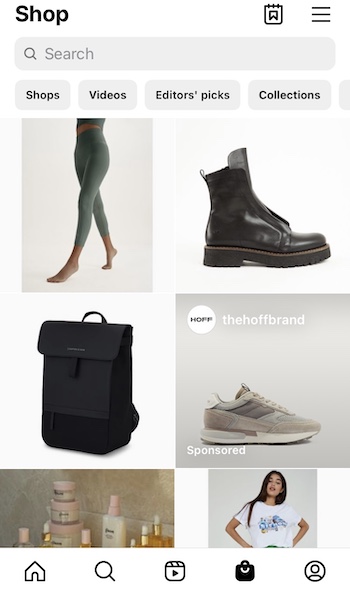 Instagram Shopping
Finally, the last step in this complete journey will be to offer advertising on the feed and in Stories if you feel strongly about it to engage more followers and therefore, more potential buyers!
Selling on Facebook
Facebook is a core app, albeit used by an increasingly older community: according to eMarketer, the largest increase in users in 2019 was in the 65+ age group (2.1%).
In terms of social commerce, the Marketplace tool has changed the game. Beyond the creation of a page dedicated to your ecommerce business and the sharing of new content on your site, the Marketplace tab lists all the items sold nearby.
Inspired by a classified ads site like Le Bon Coin, individuals and professionals can give a second life to their objects or put a new product on the market.
As a professional, the "Facebook Shop" feature is also available, in order to present your items to your community as a link to a native Facebook shopping space.
For this platform, it's better to keep a presence in order to discuss with your loyal customers. Facebook today is primarily used for its instant messenger, Facebook Messenger. Therefore, the use of this channel to propose your offers and news should be included in your strategy.
Pinterest Shopping
The social image bank is setting out to conquer social commerce with a marketing plan that plays on the inspiration board. Like a visual search engine, the articles are inserted into an inspirational universe specific to the interface.
Ads and brand catalogs are inserted into the user's scroll, as if they were to stumble upon a visual adapted to their interests. The content then opens, or a table of several similar pieces, with a price displayed and a purchase button to be redirected to the website's sales page.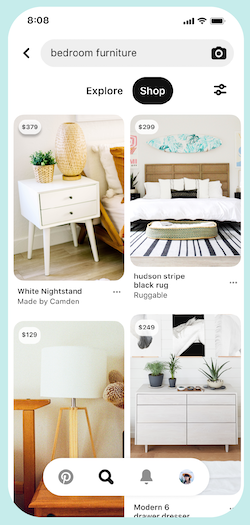 Pinterest Shopping
According to Pinterest, 80% of weekly Pinners have discovered a new brand or product on the platform.
A great conversion opportunity for an audience present to find trendy inspirations, maybe directly on your site?
TikTok for your business
Soon, TikTok will also be a social commerce space. Several possibilities are being studied: this application with a young target audience and thousands of influencers is looking into a way to affiliate the most influential while taking a commission on the transactions generated.
The more that subscribers click, the more that TikTok will be remunerated, just like the "Tiktoker." In this conquest of the commercial, TikTok should propose a panel of tools much wider with, among others, the possibility for brands to present all their items without users having to leave the app.
This video platform is also about to release new formats dedicated to shopping, surfing on the wave of Live and tele-shopping 2.0, as seen before.
And tomorrow?
V-Commerce: augmented reality and phygital (physical + digital) projections
Augmented reality technologies are being deployed, towards the projection of products in the real world. What is already the case in many applications as with filters should flood the internet and connected practices.
Data from International Data Corporation forecasts a compound annual growth rate (CAGR) of the AR/VR market of 76.9% between 2019 and 2024, before exceeding 136.9 billion by 2024. To be continued...
Online games to sell your products and services
Marc Lolivier, deputy director of French organization FEVAD has stated that "Netflix considers that it is the video game Fortnite that is its main competitor."
During the first lockdown, we could already begin to see brands investing in networked games.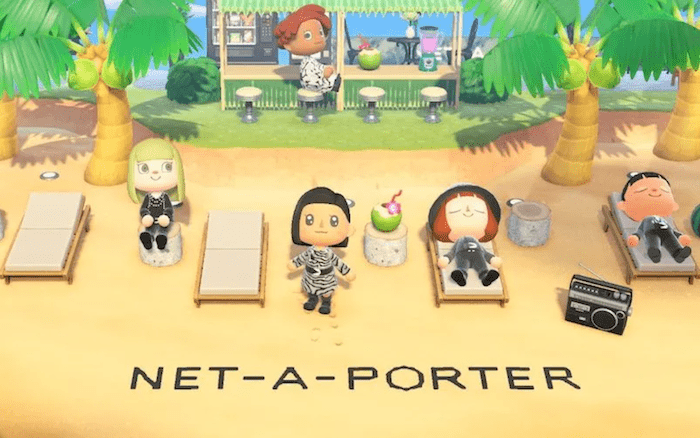 On Animal Crossing, the luxury giant Net-A-Porter created its open island online.
In Animal Crossing New Horizon on Nintendo Switch, it was possible to download clothes and accessories from major fashion brands. Going even further, people offered their activity as stylist or interior decorator in the game, for the game, for a fee.
Because the avatar created in a game is also a new kind of showcase...
Chat platforms will become dominant in customer relations
More than just social platforms to make purchases, chat and conversation networks are at the center of attention since this year 2020.
To keep in touch, users have favored Messenger, Snapchat, Whatsapp. These are the most used media on the planet. Calling or texting are increasingly becoming part of a bygone era ...
Moreover, these are also the preferred means for buyers to share their good deals with their friends. Word of mouth is going digital, and it's paying off for internet commerce. Soon, these chats will be invested by direct advertising. Or is it already the case?
Although social commerce and ecommerce differ in some ways, social commerce has never been so present in digital strategies to boost online stores' sales. A formidable acceleration that allows you to open new channels to grow your own sales exponentially… On the condition that you learn all these new codes, in this new situation.