Valentine's Day is the holiday for lovers. It's also a great time to boost your sales. Looking for campaign ideas for marketing actions to implement on your ecommerce site to bring your potential customers together around Valentine's Day?
The aim is to encourage internet users to buy their Valentine's Day gifts on your site or to make last-minute purchases. For merchants who don't sell love-themed products, this particular event can be a perfect excuse to propose an original marketing operation, to boost their brand image.
To ensure a commercial success during Valentine's Day, discover these 7 simple ideas for marketing actions to set up on your ecommerce site to be successful on this day of love.
1. Offer special deals and promotions
Valentine's Day is a great time for couples to buy gifts. Before February 14th, it'll be very appreciated if you offer special deals and promotions for this holiday.
If you sell products that can be purchased as gifts for Valentine's Day, don't hesitate to create temporary coupon codes or offer entire collections on sale on your online store. Your customers will love your gesture: a marketing move that could also please your single visitors!
For your loyal customers, you can also maximize your traffic during the Valentine's Day period by sending them newsletters or SMS messages alerting them to your special marketing promotion. Discount codes, free gifts for any order over a certain amount, free delivery for a few days, or even delivery by courier offered on Valentine's Day: this day will allow you to boost your revenue immediately after the sale, provided you optimize your sales promotion plan.
2. Think about your site's animation for Valentine's Day
To celebrate Valentine's Day on your online store, you can choose to customize your design, at least temporarily. This time of year is demanding: you need to be original to stand out from the competition. Your homepage can be decorated with the colors of love, heart-shaped drawings, flowers, or passion-themed graphic elements, but note that it's best not to overdo it!
The trends on websites prove that the aesthetic tends toward minimalism. It's therefore best to animate your site, yes, but with precision and economy: for example, you can add a special notification bar in a color that contrasts with your main theme, modify your menu to add a section on Valentine's Day, highlight your content and your blog posts on Valentine's Day on your homepage, etc.
Don't hesitate to create original spaces to add a touch of Valentine's Day: for example, your chatbot could share a sweet little message when the visitor connects to your site... Get creative and spread the Valentine's Day spirit!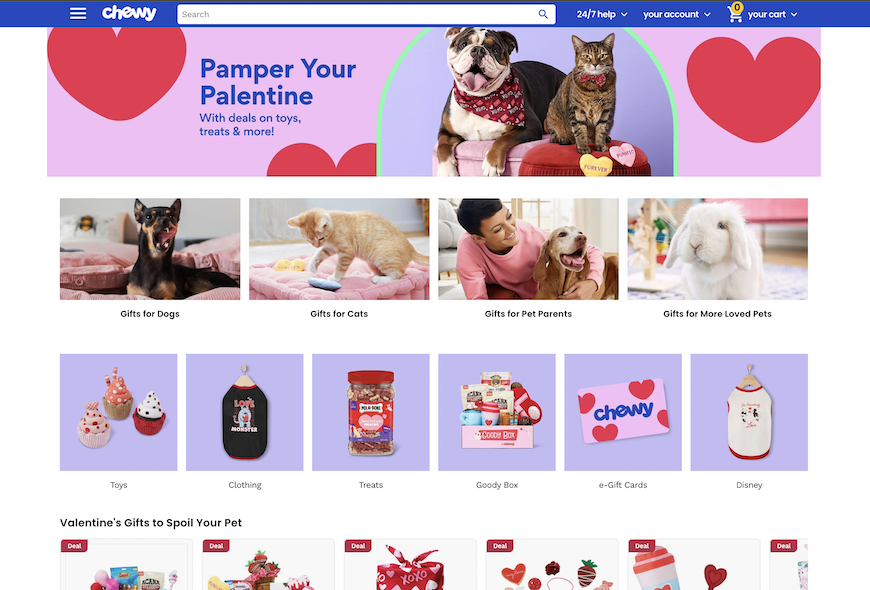 Example with the Chewy online store, which has set up offers for Valentine's Day on its website
3. Launch an ad campaign dedicated to the day of love
If you're planning a special operation around your products or your brand for this particular event, your digital marketing strategy may well turn to advertising campaigns to attract shoppers to your online store.
Shopping Ads, Google Ads, Facebook Ads, TikTok Ads... Between search engines and social media networks, maximize your chances of reaching the people in your target audience during Valentine's Day by creating campaigns around this event.
Among the ads, many formats can be considered to help highlight your catalog through your campaign:
p

romotional videos featuring your products,

text ads targeting specific keywords to announce your special promotional offers,

product photos with current Valentine's Day discounts,

etc.
4. Social media networks: take action by launching a unique operation
If your brand is present on some social media networks and your community of loyal customers follows you in your adventures, why not create a special operation just for them to celebrate Valentine's Day?
For example, you could organize a contest only on one of your social media networks.
Gift the winner with either a prize from your product catalog or a promotional code valid on your entire website. The winner can invite a second person to win the same thing. You can also organize contests as part of your influencer marketing strategy.
Contests are highly valued by users on social media networks and work well for all kinds of holiday marketing as well as for any other time of the year. In addition, they allow you to engage more subscribers on your social media account while building customer loyalty.
The contest is also a pretext to highlight a novelty item or share news related to your ecommerce business. A new collection, a new product, stock clearance, a new offer, new partners, etc. By offering people the chance to win a new item or a new service, you can implicitly promote your new products. Put Valentine's Day to work for your brand image!
5. Email, SMS: send messages to your loyal customers
Thanks to your ecommerce success, you've managed to build a solid customer database. This database should count the email addresses and phone numbers of your customers and/or potential customers who've already shown interest in your brand.
With this valuable data, you can stay in direct contact with these consumers by communicating with them via email or SMS.
These communication levers allow you to reach your high-potential buyers directly. The goal of these channels is to invite people to connect to your website. With the help of your personalized messages, your conversion rate should increase significantly. Personalization is an essential lever in your marketing strategy to keep your target customer at the center of your business.
For inspiration, check out our article on the best Valentine's Day emails to consider using for your future campaigns!
6. Content marketing: Valentine's Day ideas and SEO to perform
Valentine's Day is a hot topic. Although many articles and sites talk about it, make your place in the creation of editorial content around this holiday: to sharpen your SEO strategy, think about writing articles around the theme.
Of course, it'll be easier to highlight the products in your catalog that you want to sell first during this time of year, but if you really want to go further in your SEO strategy, consider offering content that provides a complementary service to your customers.
For example, you could write a post about the most touching words to accompany a Valentine's Day gift or perhaps a post about "How do you choose a gift to give to your other half?"
If you have graphic design skills, why not offer virtual greeting cards with your brand name on them? Or share articles you've written about personalizing products specifically for Valentine's Day? You can use these levers throughout the year, for example, for your Christmas marketing or for a campaign involving year-end marketing promotions.
As you can see, your blog, one of the top examples of content marketing, can be dedicated to this celebration of love, as long as you find the best angles in terms of relevance for your audience for the articles you post. To do this, you can rely on tools such as Semrush and Google Trends to find out more about the keywords that people are searching for.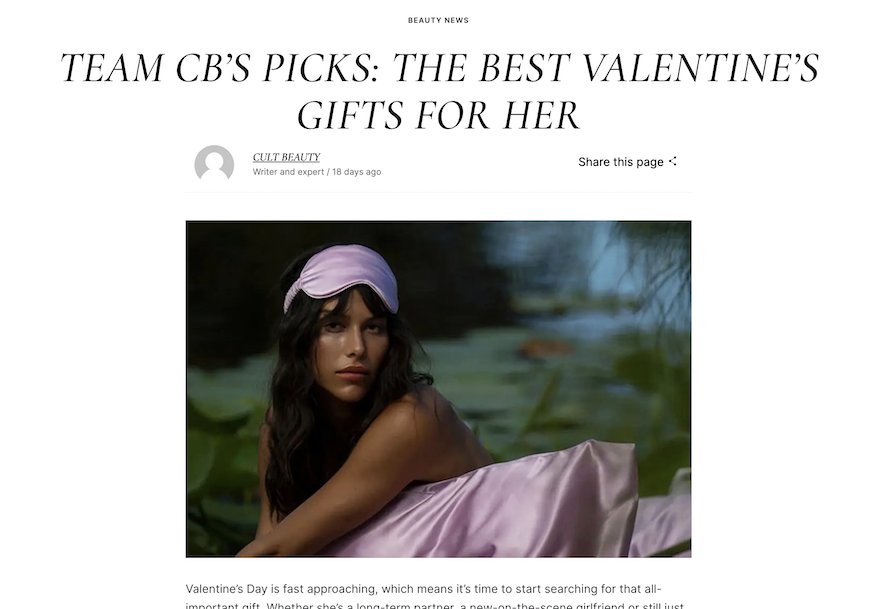 Example of editorial content creation with Cult Beauty for Valentine's Day
7. Valentine's Day: a business for singles too!
Valentine's Day celebrates lovers, but what about singles?
Unlike most retailers during this time of the year, you can focus your marketing strategy on this demographic.
An ideal strategy if you sell products that aren't really suitable for gifting between lovers, show that you're thinking about the single shoppers by using all the tips above but adapted to this specific target audience. Considering unattached consumers in your communication to create original, sometimes unusual, content can give your brand a different image from that of your competitors.
An opportunity not to be missed and a well-honed marketing strategy by following all our tips so that, on D-Day, all your customers can say "I love you."