The world of artificial intelligence (AI) has been abuzz since the arrival of OpenAI's ChatGPT, the latest technological revolution that's shaking up industry codes. Experts agree that this innovation is as significant as the first smartphone to hit the market, heralding the start of a new era.
ChatGPT is a language robot with complex intelligence, capable of generating relevant and varied texts. Although limitations remain, its system is already winning over the hearts of millions of users around the world at a high rate of speed, opening up exciting prospects for professionals and private individuals alike.
What are the features that make OpenAI's ChatGPT so unique, and how can it be used to its full potential? Let's take a look at the main features of this cutting-edge technology, already indispensable in the daily lives of a large number of people all over the world.
FAQs: The ChatGPT app explained
Why is it called ChatGPT?
ChatGPT is short for "Chat Generative Pre-trained Transformer," with the GPT aspect referring to the method that the tool uses to process information. This technology model uses deep learning to assess the importance of words and phrases included in users' requests.
What is ChatGPT?
ChatGPT, OpenAI's natural language processing (NLP) system, is a revolution in the field of AI. Based on deep learning, it's a language model capable of generating text in response to incomplete queries, commands, or requests. In other words, ChatGPT is a personal assistant that can understand and respond to your requests in natural language.
Powerful, ChatGPT is also highly flexible and can be used for a large variety of NLP tasks, including automatic translation, question answering, text generation, and language modeling. It can even be utilised to write code.
OpenAI's ChatGPT is a significant technological feat. With the model's ability to produce fluid, realistic natural language, it's become an indispensable ally for any user looking for an intelligent, efficient personal assistant to carry out time-consuming tasks of varying complexity, with the aim of saving precious hours and gaining performance and quality—without, however, replacing human action.
Who owns ChatGPT and who created it?
ChatGPT is the creation of California-based AI research company OpenAI. Founded in 2015 by visionaries such as Elon Musk and Sam Altman, OpenAI has quickly become a benchmark in the field of AI. And the OpenAI team hasn't disappointed with ChatGPT.
ChatGPT was created by a team of OpenAI researchers and engineers, led by Andrej Karpathy, the computer scientist behind Tesla's Autopilot AI.
Is the ChatGPT AI free?
Does it cost any money to use this technology? That depends on how you view this AI software. OpenAI offers several options for accessing its language model, each with different costs depending on usage.
OpenAI's no-cost plan offers limited access to the ChatGPT language model, with restrictions on the number of queries generated and text size. For example, if you produce too many requests, the system limits itself and you have to wait to get back to the service. The service is based on GPT-3.5 technology, which was preceded by GPT-3.
If you need more comprehensive access, there's a paid consumer plan that offers access to new, more advanced features with the use of the superior GPT-4 technology, at $20 per month (ChatGPT Plus). This allows you to lift restrictions, produce even more relevant content, and use the chatbot even when the platform is saturated, allowing for an even more enjoyable user experience.
For integrating companies, ChatGPT's AI isn't entirely free, but there are affordable options for different needs and budgets. If you're interested in integrating this technology into your projects, we recommend you take a look at the options offered by OpenAI to choose the one that best suits your needs.
Will ChatGPT be fully paid or limited in the future?
At present, ChatGPT is completely free of charge for all users, with a ChatGPT Plus subscription that's chargeable. It's unlikely, however, that ChatGPT is going to become fully pay as you go.
The developers of ChatGPT have always aimed to make their technology accessible to as many people as possible. This means that they seek to strike a balance between no-cost access and economic viability.
It's therefore possible that the ChatGPT app may offer additional features or paid customization options in the future, but a free version of ChatGPT with basic access is probably going to remain. You will still be able to ask anything and receive quick answers, without having to spend a cent.
Whether or not OpenAI's Chat GPT becomes a paid service is going to depend on a number of factors, including user demand and market competition from other platforms including Google Bard and Microsoft Bing. But for now, you can enjoy all that Chat GPT has to offer without spending anything.
Understanding the ChatGPT AI chatbot's usage
How does ChatGPT from OpenAI work?
If you're an avid internet user, chances are you've already interacted with a chatbot, virtual assistant, or even speech recognition, and you might be wondering how this AI works. All this is made possible by a technology called natural language processing (NLP), which enables machines to understand and generate human language.
ChatGPT is one of the most advanced NLP models developed by OpenAI. The principle is simple: ChatGPT has been trained on large text datasets to learn how to understand and produce natural language for human users. Training data for the model includes materials like books, articles, and web pages.
But how does ChatGPT achieve this? The secret lies in the chatbot's neural network architecture, called "Transformer," which enables it to process sequences of text more efficiently than previous models. Today, ChatGPT is equipped with GPT-4 technology (released in March 2023), more advanced than the previous processor version, GPT-3.
This architecture uses attention layers to enable ChatGPT to focus on the most important parts of the text, improving the model's ability to understand and generate natural language and human-like responses for people who chat with it.
That said, it's important to stress that OpenAI's ChatGPT isn't perfect yet. Like any NLP model, the chatbot can still be misled by false information or grammatical errors.
What should a user ask ChatGPT?
ChatGPT can answer a multitude of questions, but to get the most accurate results, it's essential for people using the app to formulate their requests correctly.
It's important to understand that OpenAI's ChatGPT has undergone training to answer users' queries based on knowledge that it's acquired from information on the web, with knowledge limited to previous years. Therefore, it's essential to ask questions that are specific and clear to enable ChatGPT to find the most relevant answer possible, being careful to verify its knowledge by researching the web and checking other data sources.
When people ask ChatGPT a question, it's crucial to provide enough context for ChatGPT to understand exactly what they're looking for and give relevant responses.
For example, if you ask the question "What is a lemon cake?", ChatGPT can offer relevant responses. However, if you specify "How do I make a lemon cake?" or "What's the recipe for lemon cake?" ChatGPT is going to be better equipped to provide a precise answer.
You should also be aware that it's best to avoid biased queries. If you ask a question that's worded in such a way as to prompt ChatGPT to give a specific answer, this can affect the quality and relevance of the answer. For example, if you ask "Why is lemon cake better than chocolate cake?", ChatGPT may supply answers, but they won't be objective or unbiased.
With OpenAI's tool, you need to ask clear, concise questions. If your query is too long or too complicated, ChatGPT may have trouble understanding what you're looking for. Try to use simple, direct language, and avoid complex, confusing sentences.
Remember that ChatGPT is an AI language model, and while it's capable of providing a user with relevant answers, it's not the same as talking with a human, and it can sometimes make mistakes or lack context. If you have any doubts about the answer ChatGPT has provided, don't hesitate to verify the information with other sources.
By using ChatGPT, you can benefit from its advantages, including the speed and accuracy of its answers, as well as access to a large amount of information. However, it's important to bear in mind that ChatGPT can only provide answers based on the training data it has learned, and it cannot replace human thought or specialist knowledge.
The ChatGPT tool is constantly being developed and updated. It's therefore possible that some of its answers may be inaccurate or out of date. In case of doubt, it's always advisable to verify the chatbot's responses with other sources and information on the web.
Here are some simple queries to ask ChatGPT:
If you're having trouble understanding the terms of a rental contract, ChatGPT can help you decipher the legal jargon and clarify the terms of the contract.
If you want to search for ideas for activities to do with your children, ChatGPT can suggest what games, art activities, or outings may be well suited to their age and interests.
If you're looking for tips to improve your productivity at work, ChatGPT can give you advice on managing time, prioritizing tasks, and optimizing your work environment.
If you want to produce text for an email, a text message, an Instagram post, or any other textual content, ChatGPT can help you formulate it all in seconds.
If you're looking to translate a text quickly, ChatGPT is able to offer you a correct translation.
If you're looking for gift ideas for your loved ones, ChatGPT can suggest gift ideas based on their personality, their interests, and your budget.
ChatGPT usage examples
How do you write an email with ChatGPT?
Define the objective of your email
The first step to writing an effective email is to define the objective of your message. What are you trying to communicate? Who is your recipient? What action do you want your recipient to take after reading your message? Be sure to answer these queries before you start writing.
State the purpose of your email
When you're logged into ChatGPT, start by stating the purpose of your email. You can type something like "I want to write a professional email to a potential client to introduce our services," or "I want to write a personal email to my friend to wish him a happy birthday." The more specific you are, the more ChatGPT will be able to offer you accurate responses.
Once ChatGPT has understood the purpose of your email, it'll ask you to enter your message. You can draft your message as you'd normally write an email. Be clear, precise, and concise. Try to avoid long sentences and unnecessary information.
Continue the request if unsatisfied
You can ask the chatbot to continue, deepen, reformulate, or completely rewrite the text if the first version doesn't suit you. By adding further details to each request, ChatGPT can refine its results by creating new, more complete texts. Its instant messaging presentation is similar to talking with a real human and allows you to follow the thread of your reflections and your various requests in relation to the first query you formulated.
Example of an email written by ChatGPT following the request "A humorous, colorful, and warm email for the birthday of Marc, a travel and Asia enthusiast, who is celebrating his 50th birthday"
Subject: Happy 50th Birthday, Marc! Let's Take an Epic Journey Through the Land of Fabulous Fifties!
Hey Marc,
Happy, happy 50th birthday, my adventurous amigo! It's time to celebrate this major milestone in your life with all the joy and excitement it deserves. As your friend, I couldn't resist sending you an email that's as colorful, warm, and lively as your love for travel and everything Asia!
So, here's the deal, Marc. Remember all those incredible journeys you've embarked upon, exploring the mystical temples of Angkor Wat, indulging in mouth-watering street food in Bangkok, and discovering hidden gems in bustling Tokyo? Well, my friend, we need to kick off your Fabulous Fifties with a bang!
Picture this: We gather all your wanderlust-filled friends and surprise you with an epic trip to Asia. From the vibrant markets of Hong Kong to the serene beaches of Bali, we'll be your entourage of travel companions, celebrating your half-century mark in true globetrotter style. We'll create memories that will make your passport blush with envy!
But wait, there's more! Along the way, we'll make sure every moment is filled with laughter, adventure, and a touch of craziness. We'll try exotic cuisines that make your taste buds dance the cha-cha, attempt to master Tai Chi on a misty morning, and exchange stories around a bonfire while we gaze at the star-filled sky. Oh, the tales we'll weave!
Marc, my friend, you deserve an extraordinary birthday celebration that matches your vibrant spirit and love for exploration. So, let's embrace this journey into your Fabulous Fifties with open arms and a heart full of anticipation.
Wishing you an unforgettable birthday filled with laughter, joy, and all the beautiful experiences life has to offer. Here's to many more years of adventure, discovery, and making cherished memories together!
Cheers to 50 and beyond!
Your travel buddy,
[Your Name]
Example of an email written by ChatGPT following the request: "I want to write an informal but professional, dynamic email to a potential customer to present our services and invite them to discover our luxury ready-to-wear showroom during our grand opening."
Subject: You're Invited! Discover Luxury and Style at Our Grand Opening
Dear [Potential Customer's Name],
I hope this email finds you well and in the mood for some excitement! I couldn't resist reaching out to you personally to extend an exclusive invitation to our grand opening event. Prepare to immerse yourself in a world of luxury and style like never before!
At [Your Company Name], we pride ourselves on offering the crème de la crème of ready-to-wear fashion. Our brand-new showroom is a haven of sophistication, where exquisite craftsmanship meets cutting-edge design. We're thrilled to announce that we're finally ready to open our doors to fashion enthusiasts like yourself.
Now, I could tell you all about the impeccable fabrics, meticulous attention to detail, and the sheer elegance of our collection, but nothing compares to experiencing it firsthand. That's why we want you to be our esteemed guest at the grand opening of our luxury ready-to-wear showroom!
Join us on [Date] at [Time] as we unveil our carefully curated selection of fashion-forward garments that will make you swoon. Indulge in an evening of glamour, with live music, delectable bites, and a glass or two of bubbly. It's an opportunity to mingle with fellow fashion aficionados and immerse yourself in a world of sartorial splendor.
Whether you're seeking that perfect outfit for a special occasion or simply looking to indulge your passion for luxurious fashion, our showroom is the destination for you. Our team of knowledgeable fashion consultants will be on hand to guide you through our collection and ensure you find the perfect pieces that exude your unique style.
To RSVP and secure your spot on the guest list, simply reply to this email or give us a call at [Phone Number]. Space is limited, so be sure to reserve your place as soon as possible.
We can't wait to have you join us for this special occasion and introduce you to our world of luxury fashion. Get ready to make a bold statement and embrace the allure of high-end style at [Your Company Name]'s grand opening!
Warm regards,
[Your Name]
[Your Position]
[Your Company Name]
[Contact Information]
How do you create a LinkedIn post with OpenAI's chat?
Choose a topic that's relevant and interesting to your LinkedIn audience. You can use ChatGPT to generate ideas by asking it questions such as "What are the most popular topics of conversation in my industry?" or "What topics get the most engagement on LinkedIn?"
Use ChatGPT to craft an introduction
Start your post with a captivating introduction to grab your audience's attention. You can use ChatGPT to generate ideas with queries like "How can I introduce this topic in an interesting way?" or "What are relevant examples to include in my introduction?"
Use ChatGPT to help you organize your content into clear, coherent sections. You can ask questions such as "How can I structure my post to make it easy to read and understand?" or "What are the key elements to include in each section of my post?"
Use ChatGPT to add details and examples
To make your post more compelling, you can use ChatGPT to find details to include. You can ask questions like "Can you give me examples of people or companies who have put into practice the ideas I share in my post?" or "What statistics or data should I include to support my point?"
Use ChatGPT to write a conclusion
You can use ChatGPT to find powerful wording by asking it questions such as "How can I conclude my post in a way that engages my audience?" or "What call to action should I include to encourage my audience to interact with my post?"
Example of a LinkedIn post written by ChatGPT following the request: "Write me a journalistic and humorous LinkedIn post, playful and friendly, to respond to followers who are not in favor of artificial intelligence in the professional environment."
Breaking News! AI to the Rescue: Helping Professionals Excel with Style!
Hey LinkedIn fam! I couldn't resist diving into the debate around artificial intelligence in the professional realm. Some of you have shared your concerns, and I'm here to shed some light on how AI can actually be our secret weapon for success!
First things first, let's address the elephant in the room. No, AI isn't here to replace us with an army of robot overlords—phew! Instead, it's like having a trusty sidekick, a super-smart assistant that helps us conquer our professional challenges.
Imagine having an AI-powered ally that automates mundane tasks, giving us more time to focus on what truly matters. From analyzing data to crunching numbers faster than a caffeine-fueled mathematician, AI is a time-saving magician, freeing us from the drudgery of repetitive work.
But here's where it gets even better, folks! AI doesn't just stop at the boring stuff; it's a powerhouse of creativity and innovation. It can unearth patterns, identify trends, and provide us with insights that elevate our decision-making game. It's like having a genius colleague who never sleeps and always brings fresh ideas to the table.
Sure, we all have our doubts, but let's not fear the rise of AI. Instead, let's embrace it and leverage its incredible potential to propel us forward. Together, humans and AI can create a dynamic and unstoppable force, revolutionizing industries, and opening doors to new possibilities.
So, my dear LinkedIn friends, let's raise a virtual toast to the power of AI in the professional realm! Let's dance with the robots, collaborate with the algorithms, and watch as our careers skyrocket to new heights. After all, who said work can't be both efficient and fun?
Feel free to share your thoughts below, and let's keep the conversation going. Let's embrace the future and ride the AI wave to professional greatness!
#AIAllies #EmbraceTheFuture #HumansAndRobotsUnite
How do you build a routine with ChatGPT?
A routine is a series of activities that you do regularly at a specific moment during the day. By having a routine, you can optimize your resources to reach your goals more effectively, all thanks to the ChatGPT app!
What are your short-term and long-term goals? Do you want to learn a new language, get fitter, or improve your productivity at work? Clearly identify your goals so you can design a routine that will help you achieve them.
You can formulate a request like "My goal is to get in shape and lose 10 lbs in two months for my wedding."
Identify the activities you enjoy
What activities do you need to do to achieve your goals? If your goal is to lose weight, you may need to exercise regularly and follow a healthy diet. If your goal is to learn a new language, you may need to study regularly and practice the language with specialized applications.
Determine the best time for activities
At what times can you best do these activities? Give ChatGPT some information about your schedule so that the chatbot can help you plan your routine so that you have enough time to carry out all the necessary activities.
Ask ChatGPT for suggestions
Now that you've identified your goals, the activities you need to do, and when you can do them, ask ChatGPT for suggestions on how to build a routine that can help you achieve your goals. As a bonus, you can ask ChatGPT to create your routine for you in chart form, so that it's clearer to understand.
Example of a routine written by ChatGPT following the request: "Write me a complete exercise routine in table form for my goal of losing 10 lbs of weight in two months, with all the exercises I need to do at the gym two times per week. I'm a beginner and I'm 50."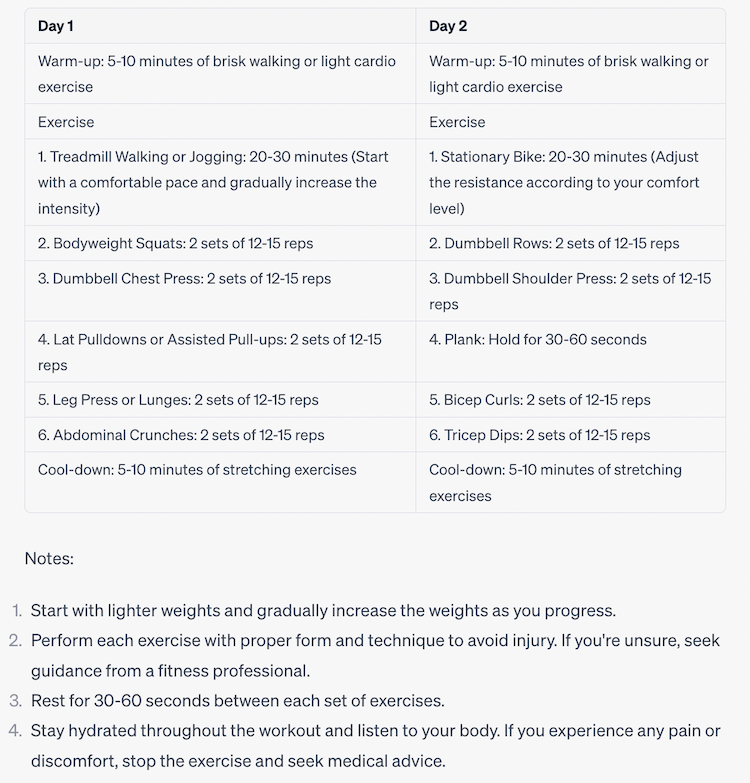 To go further with artificial intelligence
ChatGPT's limits
As we've seen, the ChatGPT system, just like other AI examples, has a number of limitations in practice: the information is not necessarily accurate, due to the fact that the knowledge isn't contemporary.
In fact, the system isn't updated in real time, which means that the latest news can't be fed back into the AI's knowledge.
In addition, the free service's capacity is limited, and the system is often saturated and therefore inaccessible.
Finally, ChatGPT can't retrieve information from the web. This makes it difficult to create content based on precise knowledge of the internet. In a field such as ecommerce, these limitations can be difficult to overcome. But fortunately, there's a kind of specialized artificial intelligence available to all online sales professionals!
The specialized ecommerce alternative
The WiziShop ecommerce solution is the leader in online sales powered by AI! WiziShop is an ecommerce solution with over 15 years' experience, which has always kept pace with technological developments.
Today, it's the first to offer AI, software for automatic text editing that's been trained specifically for ecommerce, directly in its administration area.
For as little as $5 a month, you can use the AI to create content like blog articles and product descriptions, translate texts, reformulate paragraphs, come up with ideas for domain or brand names, etc. The icing on the cake is that WiziShop's AI is optimized for your SEO: the content you can generate through your administration area is already going to be optimized for your SEO, with the aim of getting your ecommerce site's pages to the top of search results on search engines like Google.
Artificial intelligence has now been integrated into the very DNA of the ecommerce solution, which offers a service that's accessible for users at all times, with content generations that are ever more relevant thanks to the amount of data collected in real time.
Try WiziShop free for 15 days and start your subscription now!