April 1st is synonymous with April Fools' Day and hoaxes. Not just for kids!
Brands and their advertising agencies also compete in ingenuity to make us laugh on this day that's all about jokes. Are you looking for inspiration for a funny prank to fool your customers online and add some good-natured humor to their days?
Check out these 15 great proposals from institutions, shared on various social media networks and beyond, inspiring flashes of genius engraved in the history of advertising and marketing.
Outstanding products!
T-Mobile offers the first "smartshoephone"
Ever thought that carrying around your smartphone in your pocket or purse was too much of a hassle? If so, you probably would have been delighted to discover the new product teasing by international phone network T-Mobile in 2018: a smartphone built into a sneaker!
The brand claimed the new release known as "Sidekicks" to be a model upgrade of their Sidekick phone. It was advertised as boasting revolutionary AI, a heavy-duty "stepscreen," personalized GPS guidance, speaker syncing in the sole, a toe camera, and more.
Unfortunately, for customers who were ready to hand over their credit card for this product, disappointment would soon follow when they realized it was simply a funny April Fools' gag.
Google gets into flowers
The giant has made April 1st a real media hobbyhorse. Google has shared funny content that's so creative from one year to the next that a Wikipedia page was created, listing all its hoaxes and communication operations over time by year.
Its interface is often modified according to the celebrations and the countries. A good way to mix the humorous and the pleasant on the internet.
Do you remember Snake, that addictive pixelated game on Nokia phones in the 1990s/2000? In 2019, Maps became a Snake playground where you had to catch people and monuments on maps redrawn for the occasion.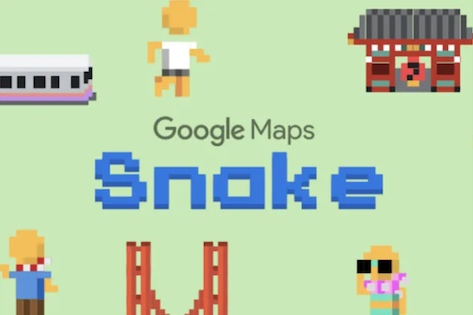 But the most memorable marketing event was an online video published on the YouTube account of the country of the tulip, Google Nederland.
For "April 1st," Google announced the launch of a new smart object, "Google Tulip," a tulip connected in the Google Home ecosystem. This talking tulip is able to verbalize its physiological needs. In addition, it's a faithful friend able to listen to you and be your confidant.
A surreal campaign for a joke pushed to its max in a video available on YouTube, which we never tire of watching.
Coca-Cola targets millennials with new flavors
Playing on millennials' penchant for taking photos of their breakfasts and skincare routines to share on Instagram, Coca-Cola announced three new soda flavors on Twitter for customers to enjoy.
Part of their Zero Sugar range, this April Fools' Day line-up featured flavors including avocado, sourdough, and charcoal.
SodaStream transforms all gases
What if you turned all gases into bubbles? That's the bet of SodaStream, a company specialized in beverage carbonation machines, in collaboration with NASA and astronaut Scott Kelly.
Victim of gastric reflux during his space travels, he then had the idea of recycling this rather annoying CO2 intake. SodaStream provides the technology, called SodaStreamME.
A video available on YouTube that was inspired and ultra serious. An April Fools' joke so serious that we almost believed it…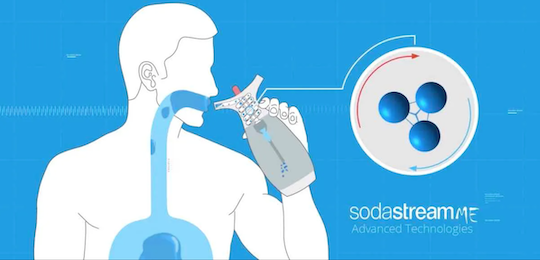 McDonald's offers fry-lovers an alternative to ketchup
If you've ever dipped a fry into a milkshake, there's a good chance that the experience was something you either loved or would never attempt again…there's usually no in between!
Fast-food chain McDonald's intrigued fans of the salty-sweet combo with their April Fools' Day marketing campaign announcing the release of their "milkshake sauce pots." Available in milkshake flavors like chocolate, vanilla, strawberry, and even banana, this item would have surely been a great success with some customers…if it had turned out to be real.
Go to the pool with your Playstation
What if you slipped into the skin of your favorite video game character, underwater? This was the very "April Fools" announcement from Playstation, which offers gamers, in addition to a VR headset, waterproof armbands and connected headphones.
All you have to do is put on this gear and find the nearest—open—pool. Couldn't be easier and more convenient to advance in gameplay, could it?
Jameson boldly goes where no whiskey brand has gone before
Today's market can be incredibly competitive, regardless of the product a company sells.
Brands are constantly trying to improve and make their own goods stand out from the competition.
It's not too far-fetched then that a business might determine that a product created on Earth would be all the more coveted if it was developed in outer space!
Jameson employed this idea in a funny April Fools' ad video from 2018 that took the whiskey-aging process to the next level by announcing their new space-aged whiskey.
Crazy new services!
Amazon talks to pets with Petlexa
Amazon makes it possible to answer human requests with Alexa. Why shouldn't pets be entitled to the same privileges?
Welcome to Petlexa, the Alexa for pets, Amazon's best friend for animals!
Netflix acquires Seth Rogen
The code has changed for the movie industry. Communication coup for Netflix: the purchase of an actor. Not of his movies, not of the licenses, not of a series. No, the purchase of the actor himself.
An April Fools' joke that's more confusing to spectators than Seth Rogen himself, the main interested party…
Emirates SkyLounge to see the sky in flight
Emirates has invented a new type of fully glazed cabin. While you enjoy your luxurious flight, you can discover the view and the thousands of meters of altitude that separate you from the ground. Not sure if the trip will appeal to plane phobics…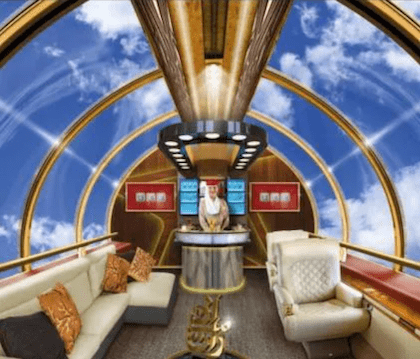 Duolingo provides users with extra encouragement…
If you're looking to learn a new language, trying the popular language-learning app Duolingo is an excellent way to get started. If you've used Duolingo in the past, you're likely familiar with the app's regular reminders and messages from its owl mascot, Duo, to help users achieve their daily language-learning goals.
Back in 2019, the app jokingly took these reminders a step further by announcing a new service on April 1st. With this offering, known as Duolingo Push, Duo the owl would show up in person to encourage users who have the habit of ignoring their app notifications and avoiding their language lesson.
Burger King is worth it
Craving a treat from Burger King? Traveling to a city where you can't get your favorite Double Whopper?
For the more nostalgic, BK launched its Burger-accented scent on a fast-food note. Rumor has it that it smells mostly like pickles... Because this scent was actually produced. Yep it's true!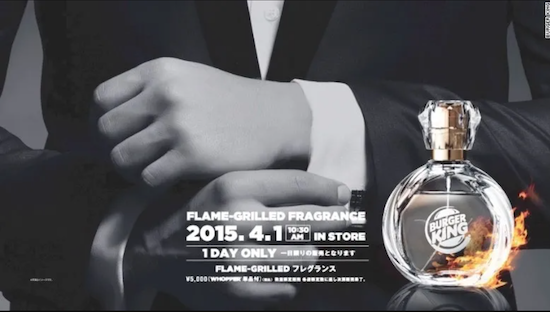 Petco launches a new kind of salon
The bond between humans and their pets is undeniable. Capitalizing on this idea, pet supply company Petco shared a video on April Fools' Day detailing their new beauty salon, Beautiful Bond—a place where people could enjoy a makeover by a team of professional stylists to more closely resemble their pets.
With packages featuring hair styling, theatrical makeup, and even photoshoots to capture the moment in time forever, Beautiful Bond offers an unforgettable experience for owners of pets of all kinds!
No more lying on Tinder
The dating app is putting an end to its users lying about their height. Thanks to artificial intelligence, the platform scans the profile photos and guesses the real size of the subscriber.
If the latter fills in false information, the system blocks and the profile doesn't go online.
Print your own money with PayPal
PayPal is one of the most popular payment systems worldwide, known for offering numerous services to make users' financial transactions easier and more secure.
However, its 2018 April Fools' Day announcement for a new service rollout took business services to new heights by stating that app users would soon be able to print their own money from their smartphones!
This marketing idea was so convincing that many customers thought this great new service was serious…however, if it had been real, it also would have been highly illegal!
At WiziShop, we too are fans of funny April Fools' Day jokes on the web. We had a lot of ideas for pranks and jokes involving digital news, the internet, the end of the importance of SEO, etc.
But what we like best is to inspire you to make jokes, because our success depends on your success, the success of your business. And that will never be a joke.