As a growing number of shoppers head online to purchase goods and services, the importance of ecommerce becomes increasingly clear. If you've been wanting to start your own online sales business, the time to begin is now. However, taking the first step can often be the most difficult, and many would-be ecommerce entrepreneurs get discouraged in the initial key stages of launching their brands on the web.
Whether you're trying to decide what types of products to sell via your online store or how to run your future ecommerce business, sometimes all you need is just a bit of inspiration to help spark your next great idea!
In this article, we'll take a look at 13 ecommerce businesses that have found success in their prospective niches. Studying these examples is a great way to learn about the wide range of strategies you can use to transform a mere idea into a profitable business.
Examples of successful ecommerce businesses
When you're looking to start an ecommerce business, you'll find that there are numerous types of ecommerce out there, with a variety of business models from which to choose. What's more, nearly any product can be sold online these days, giving you countless possibilities as far as exactly what kind of online store to create.
If you don't know where to begin, consider taking inspiration from the following ecommerce businesses, each of which has employed various methods to help them get to where they are today!
1. Amazon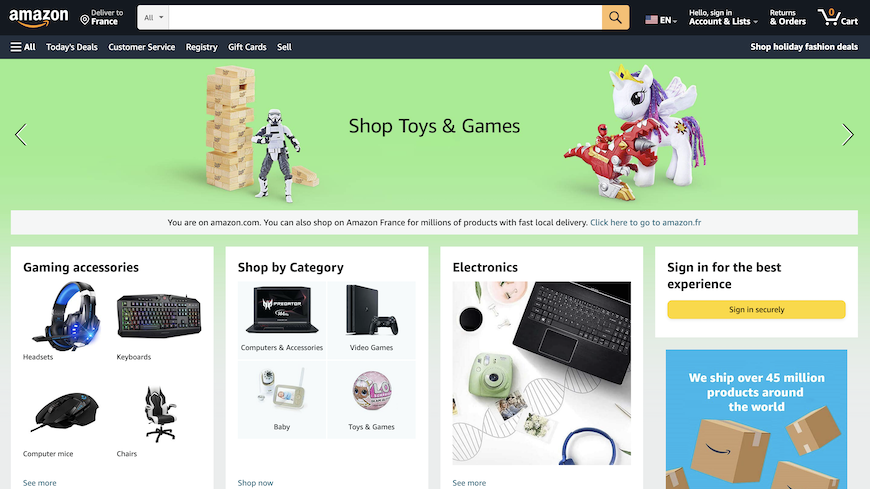 When thinking of successful ecommerce businesses, Amazon is likely one of the first companies that comes to mind for most people. Though now a multinational company that operates in 19 countries around the world, Amazon wasn't always the ecommerce behemoth that it is today!
The American company was founded by Jeff Bezos in 1994 from his garage in Belleville, Washington and originated as an online retail space for book sales. Since then, Amazon has expanded its product catalog considerably. Shoppers can now find almost anything on the website, including items in categories such as apparel, beauty products, children's toys, DVDs, electronics, groceries, health goods, music, pet products, software, and more.
In addition, Amazon sells quite a few goods under its various private-label brands and earns a decent portion of revenue from the sales of third-party retailers selling products on the platform. The company also offers an affiliate program, which currently boasts more than 900,000 members globally.
2. Casper
Mattress company Casper serves as a particularly inspiring company in our list of ecommerce business examples due to its success in disrupting a traditionally brick-and-mortar industry. Combining the revolutionary (at the time) idea of putting a foam mattress inside a box for easy delivery by mail and a stellar content marketing strategy, the online retailer has built up an extensive base of loyal customers.
Founded in 2014 by Philip Krim, Neil Parikh, T. Luke Sherwin, Jeff Chapin, and Gabriel Flateman, Casper is headquartered in New York City and currently delivers to the 48 contiguous United States as well as most of Canada. Although best known for selling mattresses, the company also offers pillows, bed frames, bedding, and other sleeping accessories on the website.
Casper has differentiated itself in the mattress industry by providing a plethora of resources and information via numerous content marketing avenues. These powerful tactics help attract site traffic and make Casper one of the top brands people think of when shopping for a mattress.
Detailed product descriptions and comparisons, a mattress quiz that aids site visitors in selecting the best product for their needs in exchange for their email address, a comprehensive blog featuring a variety of mattress- and sleep-related topics, and a generous referral program are just some of the methods the company employs to attract and retain customers.
3. Warby Parker
As is with many business origins, American online eyewear retail company Warby Parker was created to help solve a problem. In this case, the issue was the cost of prescription eyewear. Although glasses are essential items for a significant number of people, founders Neil Blumenthal, Andrew Hunt, David Gilboa, and Jeffrey Raider believed the price for most eyewear options to be quite high, too high for many consumers to comfortably be able to afford.
They launched the Warby Parker website in 2010 to provide an alternative solution: high-quality, stylish prescription eyewear that wouldn't break the bank.
The company puts a great focus on the user experience, allowing shoppers to test up to five pairs of glasses at a time at home, with free shipping for both original orders and returns. Visitors to the Warby Parker website can also avail of AR technology, making it possible to try on a pair of glasses virtually before ordering. In addition to regular eyeglasses, sunglasses, contact lenses, and eyewear accessories can also be purchased from the website or one of the many brick-and-mortar stores now available in the US and Canada.
Warby Parker is also known for giving back to others with its Buy a Pair, Give a Pair program. With this initiative, the company donates a pair of glasses to those in need every time that a pair of glasses is purchased. To date, more than 10 million pairs have been distributed since the start of the program.
4. Away
American retailer Away has definitely made a name for itself in the luggage industry when it comes to online sales, in large part due to its storytelling prowess and high-quality products. With a marketing strategy that centers on celebrating the making of memories and the joy that traveling brings, the company aims to inspire consumers to see more of the world while not having to worry about the quality of their luggage they take with them on their trips.
Founded by Steph Korey and Jen Rubio (who met when they worked together as part of Warby Parker's executive team in 2011) in 2015, Away's first product was a carry-on suitcase. Known as "The Carry-On," this piece of luggage was developed based on feedback from a focus group and was designed to be a step up from traditional luggage, featuring thoughtful details to improve the user experience.
Although Away is best known for its suitcases, the company also sells travel bags, travel organizers, and travel accessories. As of today, this ecommerce business ships all across the US, Canada, and the UK.
5. Dollar Shave Club
Based in Venice, California, Dollar Shave Club is one of the most successful ecommerce businesses using a subscription model of today. The company delivers razors and other personal grooming products to its customers by mail on a monthly basis. Customers can choose from three available membership plans, which vary in the number and types of items included in the subscription box sent each month, and are able to change their selected plan at any time.
Founded by Mark Levine and Michael Dubin in 2011 after the two discovered their shared frustrations with purchasing expensive razor blades, Dollar Shave Club has grown extensively since its launch. After receiving funding from various investors, the company expanded its product line and was bought by Unilever for what was reported to be $1 billion, just five years after it went live!
While Dollar Shave Club originally sold just razor blades and handles, shoppers are now able to add a variety of other goods to their subscription boxes, such as shaving accessories, hair products, deodorant, cologne, body wash, toothpaste, and more. The company doesn't make the products it sells, but its popularity with consumers is likely mainly thanks to the affordable items and the convenience it offers.
6. Everlane
Both ecommerce and physical commerce are rife with businesses that focus on fast fashion: inexpensive, trendy clothing and accessories often created using methods that are harmful to the environment and that exploit workers. American clothing retailer Everlane has taken a completely different approach by selling high-quality products and offering what they refer to as "radical transparency."
Founded in 2010 by Michael Preysman and Jesse Farmer, Everlane sells men's and women's clothing mostly online, but it's also opened up several brick-and-mortar stores in recent years. Visitors to the brand's website will find detailed product information on each item listed for sale. This includes not just the materials used and care instructions but also where the product was made and transparent pricing, which breaks down the different costs of making the item.
Everlane aims to be as transparent as possible with consumers, concerning both the products it sells and its business practices. This idea continues to strike a chord with shoppers in search of an environmentally and socially conscious alternative to fast fashion that is still affordable.
7. Herbivore Botanicals
Herbivore Botanicals is a natural skincare brand that got its start in the kitchen of Seattle-based couple Julia Wills and Alexander Kummerow in 2011. They'd been searching for natural products that would aid in healing Kummerow's eczema. Wills began creating homemade soap that was free of toxic ingredients and harmful chemicals, resulting in a product that not only healed Kummerow's skin but also quickly grew in popularity with her loved ones.
The couple then started selling their creations on Etsy and working on building their brand. They later launched the Herbivore Botanicals website and have since expanded their product line to include facial moisturizers, serums, facial oils, cleansers, masks, mists, scrubs, and more. All of their products are crafted with ethically sourced, natural ingredients and are designed to provide users with noticeable results in addition to an enjoyable, indulgent experience.
Herbivore Botanicals products are never tested on animals, and the company regularly supports social and environmental causes by bringing attention to and donating to various events and organizations. All of this combined with the brand's active social media presence and Insta-worthy product packaging have brought this ecommerce business tons of success.
8. Chewy
When it comes to ecommerce businesses involving the sale of pet products, American online retailer Chewy is a major success story. Based in Dania Beach, Florida, this company, originally known as Mr. Chewy, was founded in 2011 by Ryan Cohen and Michael Day. After several years of significant growth, the company was purchased by PetSmart in 2017 for a hefty fee of $3.35 billion, though it continues to operate as a separate entity.
Since its origins, Chewy's focus has been on putting customers first, always aiming to provide excellent customer service. It currently boasts over 2,000 brands on the company's website, from which shoppers are able to buy their favorite products for cats, dogs, fish, birds, reptiles, guinea pigs, rabbits, other small animals, horses and even farm animals like chickens, goats, cows, and more. In 2022, Chewy launched CarePlus to offer pet health insurance and wellness plans to over 20 million customers.
Besides the plethora of product information found on the company website, Chewy further helps to educate and entertain its audience with a blog filled with articles featuring tips, recipes, events, etc. and an active presence on various social networks.
9. Leesa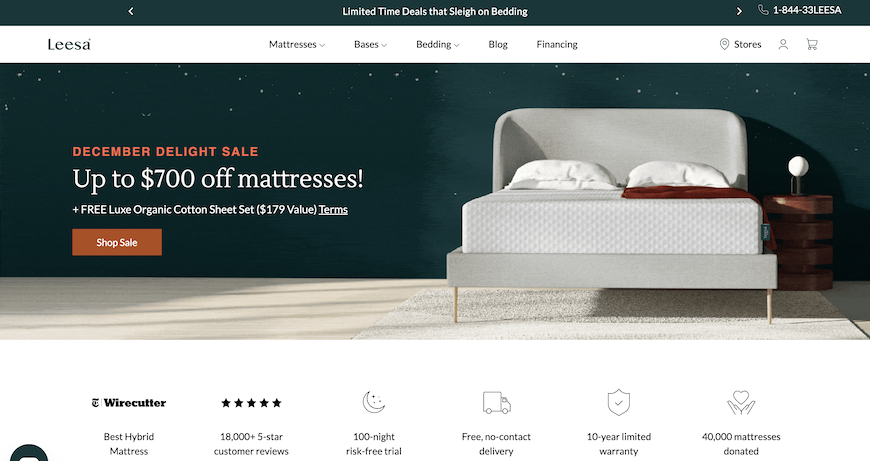 Though Casper paved the way for online mattress sales, it certainly isn't the only ecommerce business to have found success in this market. Co-founders David Wolfe and Jamie Diamonstein launched online mattress company Leesa in late 2014, with the goal of offering a high-quality product and an excellent customer experience.
People visiting the retailer's website today can purchase the Original Leesa mattress as well as a variety of other mattress models released since the company's launch in addition to bed bases and bedding—everything they need for a great night's sleep!
Leesa understands that shoppers tend to perform a lot more research when buying a mattress than for other products they'd buy on the internet because most people usually only purchase a new mattress once in a period of 5 to 10 years. To help boost consumer confidence in the brand, Leesa provides detailed product information on its website, and customers buying a mattress can enjoy a 100-day free trial, 10-year warranty, and free shipping for orders and returns.
Taking advantage of word-of-mouth marketing, the company offers a referral program which rewards Leesa Ambassadors with a $75 commission every time somebody clicks on their referral link and completes a qualifying order within the same browsing session.
Leesa also believes in the importance of giving back and donates a mattress to somebody in need for every 10 mattresses sold. To date, the company has donated more than 40,000 mattresses.
10. ASOS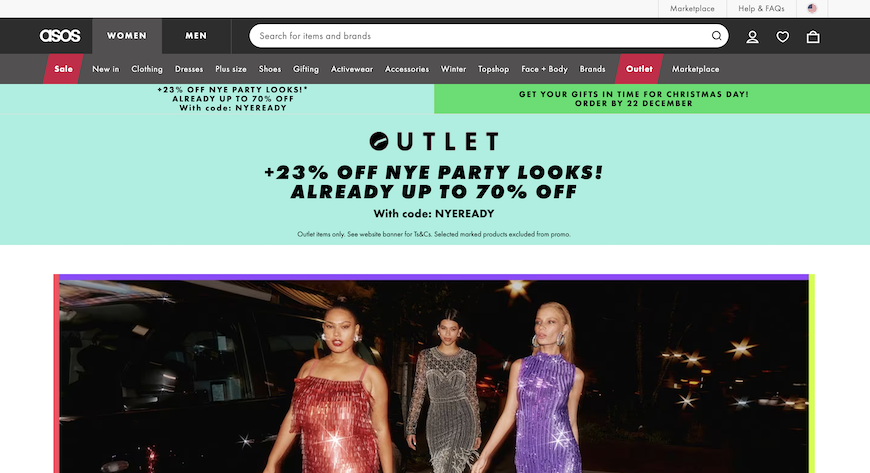 Founded in 2000 in London by Nick Robertson, Andrew Regan, Quentin Griffiths, and Deborah Thorpe, British online fashion and cosmetic retailer ASOS (As Seen On Screen) originally sold imitations of clothing seen in movies and on TV. Targeting mainly young adults, this ecommerce business has grown into a multi-billion dollar venture since its launch. The company's website features 850+ brands in addition to ASOS's own clothing line, and it ships to 196 countries from its various fulfillment centers across the UK, Europe, and the US.
One way that ASOS stands out from other fashion retailers is its focus on inclusion. Clothing from its ASOS brands are available in more than 30 sizes, and the company works with over 200 different models to represent its audience. In addition, ASOS has partnered with the British Paralympic Association to provide formal and ceremonial outfits to the ParalympicsGB team.
A major contributor to this ecommerce business's success is likely due to its great understanding of its target market and then employing a variety of content marketing tactics to increase brand awareness and loyalty. User-generated content (UGC) on social media, styling tips, and lists are just a few of the ways that ASOS works to inspire and appeal to current and potential customers alike.
11. Frank Body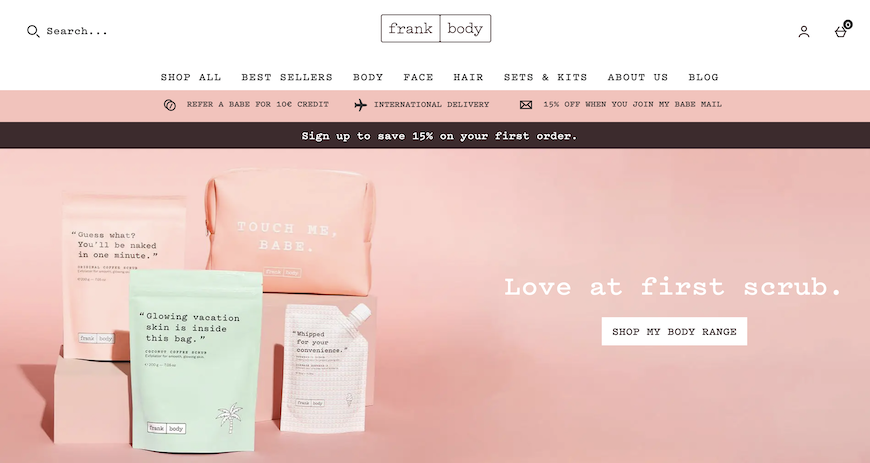 Australian beauty line Frank Body is proof that an ecommerce business can become successful even when starting out with limited funding. The idea for the company was born when coffee-shop owner Steve Rowley had several customers requesting leftover coffee grounds to use for skin exfoliation. Once he shared this with friends and they gave the beauty trick a try themselves, they discovered that there was a fantastic business opportunity in front of them.
Rowley, along with co-founders Jess Hatzis, Bree Johnson, Erika Geraerts, and Alexander Boffa launched Frank Body in 2013 with just $5,000 in starting capital. The company relied mostly on building strong connections with consumers on social media rather than costly advertising campaigns to promote the brand. By creating high-quality content relevant to their audience and employing a deliberate UGC strategy, the brand was able to obtain much-desired social proof that helped sales skyrocket.
Frank Body's first product was a coffee body scrub, but they soon added more items to their collection as the business grew. Shoppers can nowadays find a wide range of vegan, cruelty-free products for both the skin and hair for sale on the company's website.
12. HelloFresh
Based in Berlin, Germany, HelloFresh is one of the best-known meal-kit companies in the world. It aims to make meal preparation less stressful for consumers, and its business model consists of preparing the ingredients required for a meal and delivering them to customers, who then use the ingredients and provided recipe cards to cook a delicious, healthy meal in approximately 30 minutes.
HelloFresh subscribers begin by selecting a customized plan, which allows them to choose their preferred ingredients along with the number of meals and servings per meal. The plans offer different options to suit a variety of dietary needs and preferences, and customers are able to skip a meal or change or cancel their plan whenever they wish. Each week, subscribers receive their HelloFresh orders with fresh, pre-measured ingredients, step-by-step recipes, and nutritional information.
In addition to being the biggest meal-kit provider in the US, HelloFresh has operations in Canada, Australia, New Zealand, Japan, and Europe. It was founded in late 2011 by Dominik Richter, Thomas Griesel, and Jessica Nilsson and started selling its first meal kits in early 2012. By 2014, the company stated that it was delivering a million meals each month. According to Statista, HelloFresh has 7.5 million customers globally as of Q2 2022.
13. Gymshark
Primarily catering to young adults interested in physical fitness, Gymshark is a fitness apparel and accessories brand based in Solihull, England. Launched in 2012 by Ben Francis and Lewis Morgan, who were both studying at university at the time, the company began by selling bodybuilding supplements online. In 2013, it expanded its product offerings to include its own line of fitness apparel designed and manufactured by the brand.
Since its creation, Gymshark has taken full advantage of the power of influencer marketing and online communities to increase brand awareness and build the business. That being said, the company's first big break came through a more traditional marketing tactic, product showcasing at a trade show. Putting the brand's Luxe tracksuit on display at the Birmingham BodyPower fitness trade show in 2013, Gymshark sold out of the product the first day. The tracksuit later went viral on Facebook, earning £30,000 of sales in only half an hour!
Today, the company has websites in 13 different languages and sells directly to shoppers in 180 countries around the world. While Gymshark is mainly an ecommerce business, the brand did open up its first permanent physical store in London in 2022.
What does it take to have a successful ecommerce business?
As with traditional commerce, ecommerce has both advantages and disadvantages. Nevertheless, one aspect that makes the idea of creating an online store particularly appealing is that it's generally much easier to start your business. And if you have a stellar product in mind that you'd like to sell, you'll of course want to begin selling ASAP and earning revenue!
As we've seen in the examples above, you don't have to have loads of funding to launch an ecommerce business. However, there's a big difference between simply creating an online store and having a successful online store. Many people getting started in web sales quickly learn that what works for one brand may not be such an amazing idea for another.
While there's no one-size-fits-all recipe for success in ecommerce, one common theme found in businesses that tend to do well is the notion of putting the consumer first with the products and services they offer. This also means having a high-quality site to sell on, one that provides users with a great shopping experience and makes every customer want to return for future purchases. The WiziShop ecommerce platform is more than happy to help you with this key element of your new business!
Using one of our many design templates, you'll be able to create a homepage that perfectly suits your brand image. Take advantage of our hundreds of pre-integrated tools designed to boost sales and make managing your online store even easier. Our 50+ technical SEO features can help your site climb the rankings on Google and attract more traffic and boost conversions.
Furthermore, you'll be able to avail of free training on a variety of ecommerce-related topics and get advice from our professional team of Business Coaches on anything concerning your site and business. Enjoy all of the above and more starting at just $27/month.
Get started with your ecommerce adventure today by testing the platform with a 15-day free trial!
Create your online store - 15-day free trial