Ecommerce marketing includes a plethora of tactics and tools designed to help retail businesses build awareness, drive site traffic, and increase conversions. Email newsletters, social media, SEO, paid ads, blog posts, even the copy on your website…they can all be effective methods for achieving your specific marketing objectives, when used strategically of course!
However, the tricky part is that what's thought to be a stellar marketing technique one day may turn out to be a dud the next. Online retailers like yourself must constantly keep an eye on the current data and emerging trends and be ready to react accordingly.
In this article, we'll take a look at some of the ecommerce marketing trends that are gaining the most momentum on a global scale and that you'll want to consider for your business as we enter the new year.
What are today's top ecommerce marketing trends?
With the growth of ecommerce, consumers now have many more choices regarding where to buy products than they did even just a short time ago. Learning about the current tendencies and direction concerning ecommerce marketing is essential to growing your business and (hopefully) earning more revenue.
Here are some of the top ecommerce marketing trends dominating online sales all over the world today and that may very well continue to be helpful strategies for the future of ecommerce!
1. Prioritizing user-generated content
User-generated content (UGC) is one of the most powerful tools ecommerce businesses have at their disposal today. This is content about a brand that's created by people using the brand's products or services rather than produced by the brand itself.
When shoppers are evaluating whether to make a purchase from an online store that's new to them, they want to be sure that it's a trustworthy retail business. While the company can make all the claims they want boasting their trustworthiness and high-quality products, these messages are going to be much more believable to shoppers if they're originating from other consumers like themselves.
Well-crafted UGC in the form of videos, images, reviews, etc. is great not just for building trust but for also increasing engagement and loyalty. Users who see their content shared by their favorite brands feel appreciated and are more likely to return for future purchases.
What's more, obtaining UGC is generally quite easy. Create a branded hashtag and encourage your followers on social media to share posts featuring your products, host a giveaway that involves users snapping their most creative pics with your online store's offerings, or offer customers a discount for their next purchase in exchange for feedback on their most recent order.
2. Harnessing the power of TikTok
While social media in general continues to be a very important digital marketing channel for ecommerce entrepreneurs, there's one platform in particular that's quickly emerging as a new favorite for brands across the globe: TikTok. Users on this social network can create and upload video content up to 10 minutes in length. Engagement on TikTok involves users liking, commenting on, and sharing videos.
TikTok's popularity has seen enormous growth in recent years, especially with Gen Z and millennials. In fact, Statista notes that it was the #1 downloaded app around the world in 2021, achieving 656 million downloads! In addition, according to Statista data, the app's user count is expected to continue to increase, reaching an estimated 955 million global users in 2025.
Similar to other social media networks, TikTok offers several different methods that you can use to spread the word about your ecommerce business and connect with current and potential customers alike. The best option or combination of strategies will depend on your specific audience and the resources you have on hand.
Create organic content:

Start an account on TikTok for your brand and begin creating your own videos designed to attract the members of your target market and get more followers on the platform. When it comes to the TikTok trends to follow and the types of videos to create, knowing your audience is key. Don't forget to respond to your followers' comments on your videos to help boost engagement.

Partner with influencers:

Do some research and find TikTok users who have built up large followings and who have expertise related to the products that your online store sells. Then, reach out to these influencers to discuss possible partnerships, where they'd promote your brand and/or products to their audience in exchange for a fee.

Launch paid advertising campaigns:

If your budget allows, consider availing of TikTok for Business resources and creating paid advertising campaigns on the app to expand your reach on the platform. You'll be able to add links to your campaigns and check real-time metrics to gauge the performance of your campaigns.
3. Launching retargeting ad campaigns
Sometimes people won't be quite ready to click "Buy now" the first time that they visit your ecommerce website. Perhaps they want to do a bit more research on the product in question to see if it's right for them or shop around to see if they can find the item at a better price elsewhere. There are numerous reasons why consumers may leave a site without making a purchase, but it doesn't mean that they can't be convinced in the future!
This is where retargeting ads come in.
Retargeting ads are display ads that appear to internet users on other websites after they've visited your online store. This kind of paid advertising can be a powerful marketing tool, as it allows you to display your products to potential customers who have already shown an interest in what you're selling. A simple reminder in the form of a retargeting ad may be just what the shopper needs to decide to return to your website and finally complete a purchase.
Another reason why the use of retargeting ads is one of top ecommerce marketing trends is that while retargeting is helpful to getting visitors to come back to your site, it can also aid in increasing awareness about your brand. The more frequently a consumer sees your ad or logo, the more likely they are to remember your retail business and what you sell.
To create the greatest impact with your retargeting efforts, be sure to include high-quality visuals in your ads. In addition, don't forget to add a clear CTA so viewers know what step to take next.
4. Ensuring consistency with omnichannel marketing
These days, consumers may encounter a brand via numerous touchpoints when shopping for a product. For instance, they might head to the company's ecommerce site from a desktop or mobile device, call their customer service number to ask a question, visit their social media pages, go to their brick-and-mortar store, etc. With this in mind, many brands are starting to avail of omnichannel marketing to ensure a seamless experience for their customers across these different touchpoints.
With omnichannel marketing, the brand aims to meet consumers wherever they are in their buying journey. They accomplish this by providing a brand tone and a vision that are consistent and recognizable as well as personalized messaging and content based on a shopper's previous interactions and particular interests and preferences.
Note that even if you don't have a physical store, omnichannel marketing can still be a really effective way to help improve your customers' experiences with your ecommerce business. In fact, there are all kinds of digital marketing strategies to consider for your omnichannel marketing efforts:
c

ontent marketing,

email marketing,

pay-per-click advertising,

search engine optimization,

social media advertising, and

social media marketing.
With effective omnichannel marketing, you'll be able to increase the number of opportunities for shoppers to locate and interact with your brand on the internet. Rather than just creating a single path to conversion, you'll give your customers a multitude of options, allowing them to select what works best for them.
5. Optimizing the mobile experience
In today's world, whether you're riding the subway, sitting in a coffee shop, or waiting at the dentist's office, it can be difficult to spot somebody who doesn't have a cell phone in hand. People are using their mobile devices for an increasing number of activities, including shopping.
Ecommerce companies are taking note of the growing importance of mobile commerce (m-commerce) when it comes to their revenue and optimizing their sites for customers who prefer shopping from a mobile device. While optimizing for the mobile experience isn't a new trend in ecommerce, it's quickly becoming an essential step rather than an optional one in a well-planned marketing strategy.
In fact, many consumers nowadays expect to be able to complete their purchases from a mobile device. If your online store doesn't provide a pleasant mobile experience, your visitors may quickly decide to head to your competitor's website instead!
To ensure that your ecommerce site is optimized for mobile use, there are several actions you can take. You can begin by integrating responsive design into your online store. This will allow your site to conform to whatever device a shopper is using. Other ways to improve the mobile experience include adding buttons that are easy for thumbs to press, phone-friendly payment solutions, and offering a super simple mobile checkout process.
6. Implementing augmented and virtual reality
Augmented reality (AR) and virtual reality (VR) are valuable tools for ecommerce marketers because they aid in making the customer experience more interactive and engaging. While they don't completely replace being able to see or touch a product in person, they make it possible for site visitors to better visualize the item in question and imagine using it for themselves. In short, they help to bridge the gap between online and offline shopping.
Although the terms AR and VR are sometimes used interchangeably, they provide consumers with different experiences. Online stores availing of AR put a virtual product in a real-world environment, e.g., a furniture store that allows people to see how a particular coffee table might look in their living room. In contrast, VR places products in a virtual environment, e.g., product pages that offer 360-degree views of the item.
Although using AR and VR is a hot trend in ecommerce today and will likely continue to see significant growth, it's not for everybody. Some businesses will benefit from using these types of technologies more than other businesses. The brands best suited for implementing AR and VR in their marketing strategies are those that sell products where appearance and/or size are important determinants for shoppers regarding their purchasing decisions.
7. Collaborating with micro-influencers
Ecommerce brands just entering the market can often find that it's difficult to grow their audiences on social media and make people aware of their blossoming new retail business. For this reason, many of them opt to take advantage of influencer marketing, which involves working with somebody who has a large following on social networks, a blog, etc. In exchange for financial compensation and/or free goods, this person will promote a product or service on their platform, allowing the brand to expand their reach significantly.
Influencer marketing continues to be a popular strategy with ecommerce marketers for a variety of reasons, with one of the most significant being that it generally provides a great return on investment (ROI). According to Influencer Marketing Hub, businesses earn an estimated ROI of $5.78 per $1 they spend on influencer marketing!
It's easy to see why influencer marketing in general is attractive to brands, but there's now an emerging trend that involves collaborating with micro-influencers. A micro-influencer is somebody with a social media audience that's larger than what a regular person would normally have but smaller than those of other more lucrative tiers, say for celebrities or macro-influencers. The exact number of followers a micro-influencer will have can vary, but it's usually between 10,000 and 50,000.
A big advantage of working with micro-influencers is that although they have a smaller number of followers, their community will likely be much more closely knit. This means that if you collaborate with a micro-influencer in your specific niche, there's a better chance that the influencer will be promoting your products to an audience of people who will want to purchase those items.
8. Offering shoppable livestreams
As ecommerce growth continues and the number of online stores increases, web retailers must look for ways to connect with and engage their audiences in order to stand out from the competition. One strategy that's recently seen a boost in popularity is the offering of shoppable livestreams, where shoppers can buy products during a live video and interact with the host through comments and reaction buttons.
The live commerce trend is often found on social media networks like Facebook, Instagram, TikTok, or YouTube, but there are also platforms around that are specifically dedicated to providing retailers with a hosting space for live shopping. Wherever a brand chooses to hold a shoppable livestream event, the benefits are numerous:
Increases brand differentiation:

Though offering shoppable livestreams is a growing trend, it's not something you'll see being done by every company out there. By adopting this tactic into your marketing plan, you'll be able to differentiate your brand from your competitors, as you'll be providing an innovative shopping experience.

Has the FOMO effect:

People attending your live shopping event know that the event will only last a certain amount of time. This combined with a limited number of products can add to the pressure to make a purchase ASAP, especially if they see others buying up your offerings in the meantime. They won't want to miss out on the action!

Boosts brand loyalty:

Shoppable livestreams are great for audience engagement. The more connected your followers feel with your brand, the more likely they are to continue to purchase from your online store and tell their friends and family about you.
9. Availing of artificial intelligence
Although artificial intelligence (AI) has been around for some time, recent advancements have led to the increasing use of this type of technology in online sales, making it one of the fastest growing ecommerce marketing trends of today. E-merchants are using AI to not just perform a variety of tasks that were previously done manually but also to improve the customer experience and obtain helpful data for better informed decision making concerning their business.
Here are three ways to use AI for your own ecommerce marketing strategy:
Chatbots and virtual assistants
Online shopping provides both consumers and brands with a plethora of advantages over traditional commerce involving brick-and-mortar stores. One disadvantage of ecommerce, though, is that shoppers don't have the physical presence of an employee or assistant to answer questions and help guide them in their purchasing decisions. In the past, this would often lead to frustration on the visitor's end, ending with them simply exiting the site if they couldn't find what they were looking for after some time.
However, developments in AI have brought about the creation of technologically advanced chatbots and virtual assistants that are now able to provide customers with immediate assistance and support at any hour of the day. With technology involving natural language processing (NLP), these chatbots and virtual assistants can supply shoppers with personalized responses, recommendations, and offers. In addition, the more frequently this AI is used, the more adept it will become at answering users' queries.
Another way to take advantage of AI technology for your ecommerce marketing is by using it to provide your customers with personalized advertising and product recommendations. How does this work?
After analyzing large amounts of data and obtaining valuable insights concerning shopper behavior, AI algorithms are able to more accurately estimate their needs and preferences. For example, using a consumer's shopping history, the AI can suggest items relevant to the consumer's current search.
This kind of personalization that AI technology can offer can be used by ecommerce entrepreneurs to optimize the content they provide to their audiences on various platforms. When applied strategically, AI can assist in making the shopping experience much more enjoyable for buyers, leading to better customer retention and increased sales.
Finally, AI is also able to facilitate the writing of all kinds of different texts for ecommerce marketing. Copywriting is a crucial task for succeeding in online sales, but for many people, it's a rather time-consuming process that they dread beginning. Fortunately, today's AI can help simplify this activity for marketers around the world.
The WiziShop ecommerce solution is well aware of the importance of such technology and has created a revolutionary AI copywriting tool designed to help e-merchants like you create numerous kinds of texts: product descriptions, homepage content, blog posts, translations, etc. This feature will save you loads of time in generating content for your online store, allowing you to focus on other aspects of running your ecommerce business.
Ready to take advantage of this helpful tool? Sign up with WiziShop today and add an AI package to your plan for just an additional $5/month! Of course, if you find that your needs exceed what's provided in the starting AI package, you can go for one of the more advanced options, available at $19 or $149/month.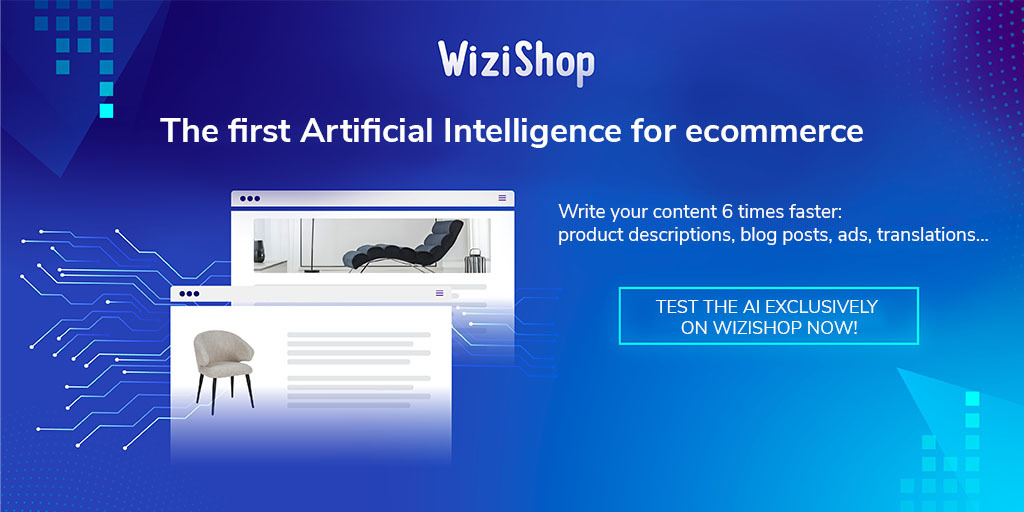 Create your online store - 15-day free trial
Do you need to follow all of these ecommerce marketing trends?
In this article's list of marketing tactics that are quickly gaining traction in the world of online sales, there's a good chance that some of them resonated with you more than others. Depending on your resources and target market, you may not necessarily be able to or need to apply all of them to your own business's marketing strategy.
Nevertheless, it's certainly important to at least be aware of what's going on in the industry and strongly consider the current ecommerce trends. In this digital age, things can change very quickly. Keeping yourself up to date with the latest happenings, technology, and consumer preferences can help you determine how to best offer your products and services in order to appeal to customers and stay ahead of the competition.
In any case, remember to remain flexible when it comes to your ecommerce business. Accepting that change is unavoidable and being adaptable to your audience's needs can go a long way in increasing your chances of success in the long run!