The US is home to a significant number of the world's ecommerce leaders and largest online retailers. Many of them got their start with American shoppers and then expanded to reach consumers in other parts of the world.
Furthermore, quite a few of the global trends that we see today in ecommerce are created by those enterprises leading the way in the US. The widespread success of ecommerce in the US can in part be attributed to the fact that ecommerce got a bit of a head start there compared to other countries.
Over time, brands have learned how to cultivate their ecommerce strategies to better reach a larger market, and consumers have quickly developed an appreciation for the convenience that online shopping offers!
With the percentage of retail sales occurring online continuing to grow every year, it can be beneficial to see what prosperous businesses are doing to get inspired for your own web business.
In this article, we'll take a closer look at the state of ecommerce in the US today by examining some interesting statistics for online shopping along with a few of the most successful ecommerce sites when it comes to revenue.
U.S. ecommerce statistics
In 2021, ecommerce accounted for 13.2% of all retail sales in the US, bringing in an estimated $870.8 billion, according to the U.S. Census Bureau. In fact, the US comes in first place on the list of the top countries buying online.
As far as who's doing the most online shopping, Finances Online states that millennials and Generation X lead the way, with 67% and 56% of them respectively making purchases on the internet.
For Americans, the most popular items to buy online are those in the books, music, and video category, based on data from Statista. In fact, 69% of items in this category were purchased online as of February 2021.
In addition, OptinMonster notes that the US is the country with the highest average ecommerce revenue per shopper per year at $1,804, followed by the UK at $1,629 and Sweden at $1,446.
Finally, it doesn't appear that ecommerce growth is going anywhere anytime soon, at least in the good ol' USA! Statista estimates that online shopping revenue will surpass $1.3 trillion by 2025.
Top U.S. ecommerce sites
The success of ecommerce businesses can be determined by examining a variety of factors, e.g., number of site visitors, average customer lifetime value, Google rating, etc.
However, for the purposes of this article, we're going to focus on the bottom line, using data obtained from Statista's ranking of the leading U.S. companies for retail ecommerce sales in 2021. While some organizations on this list have been strictly online from the get-go, others began as brick-and-mortar stores and later ventured into the exciting world of ecommerce.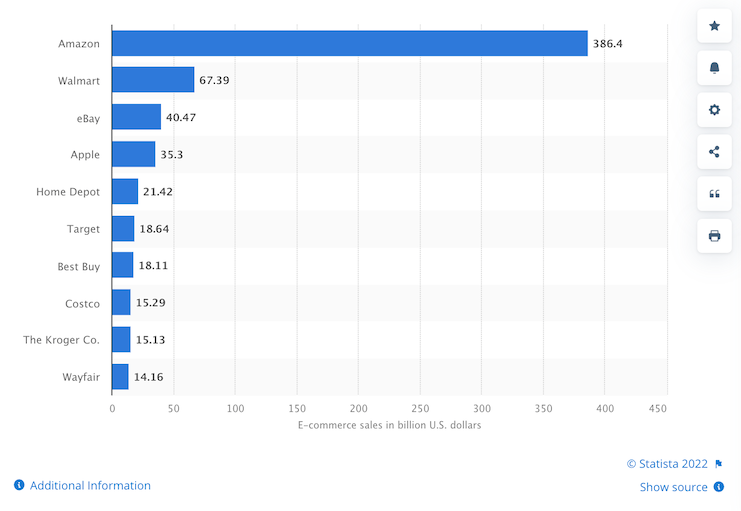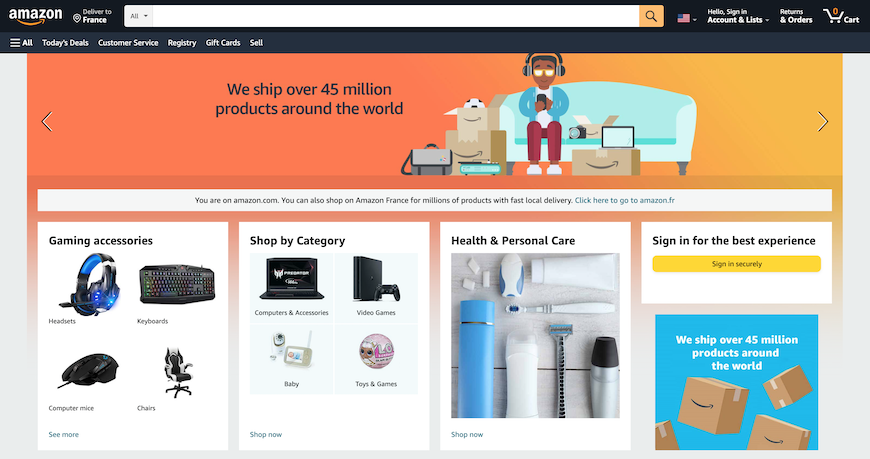 Estimated ecommerce sales in 2021: $386.4 billion
It's certainly no surprise to find ecommerce giant Amazon heading this list! Founded by Jeff Bezos in 1994, Amazon started out as an online bookstore, later expanding to include a much wider range of goods, and currently operates in 13 countries around the world.
Today, shoppers can find nearly anything on the website, such as electronics, tools, toys, clothing and accessories, music, furniture, food, sporting goods, and more. Consumers can even enjoy TV and movie streaming via Amazon Prime Video, allowing this ecommerce leader to become a Netflix competitor.
Besides an extensive product selection, an easy-to-navigate site and personalized product recommendations contribute to Amazon's popularity. Furthermore, when shoppers subscribe to the Amazon Prime service, they'll have access to free one-day delivery.
Customer service is also an important factor of Amazon's success. A 2021 Statista survey of American Amazon customers found that their favorite services included the company's quick response to complaints or problems with orders, followed by a streamlined process for checking out on the site.
2. Walmart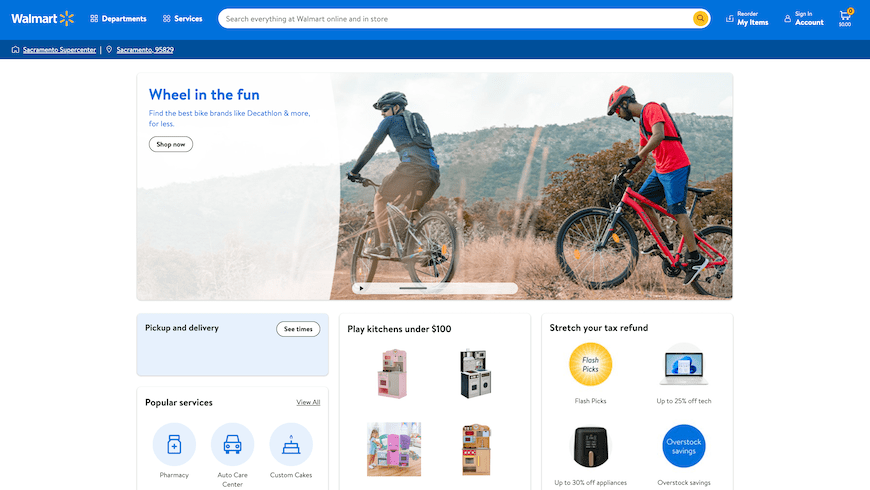 Estimated ecommerce sales in 2021: $67.39 billion
Walmart's origins can be traced back to 1962, with founder Sam Walton opening the first store in Rogers, Arkansas. The company is especially known for its low prices and large selection of goods for sale. This retailer has enjoyed incredible growth over the years, becoming a publicly traded company in the 1970s and establishing physical stores in all 50 states as well as other countries around the world.
In addition to its successful brick-and-mortar presence, Walmart has also become a leader in the ecommerce industry, particularly in the US, Canada, and Mexico. The company's website features an intuitive interface that makes it easy for shoppers to navigate and find exactly what they're looking for.
Customers can shop for all kinds of items on the ecommerce site, in categories such as automotive parts, baby products, electronics, fashion, pharmacy, and others. Similar to Amazon, Walmart offers a Marketplace platform, which allows third-party sellers to sell their goods on the site.
3. eBay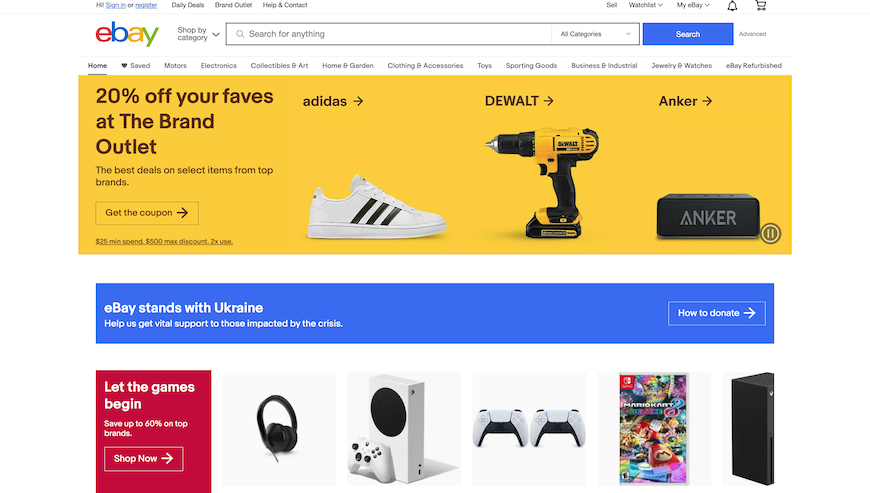 Estimated ecommerce sales in 2021: $40.47 billion
Another one of the major power players when it comes to ecommerce, eBay serves as an online marketplace that's dominated the industry for over 20 years. It was founded in 1995 by Pierre Omidyar, who originally called the site AuctionWeb, and began with auction-style sales, where shoppers bid on items that they'd like to purchase.
The ecommerce site has grown to offer other services and buying options, such as "Buy It Now" for instant purchases. Today, eBay has sites in 20+ countries, with the US being home to the largest number of eBay sellers, followed by the UK, Germany, and China as of June 2020, according to Statista.
This ecommerce pioneer makes it possible for users to buy and sell a wide range of items, in categories like electronics, clothing, cars, musical instruments, beauty products, and pretty much anything else. In addition, eBay is particularly known for its selection of unique collectibles, with bidding for these items sometimes earning sellers very large sums of money!
4. Apple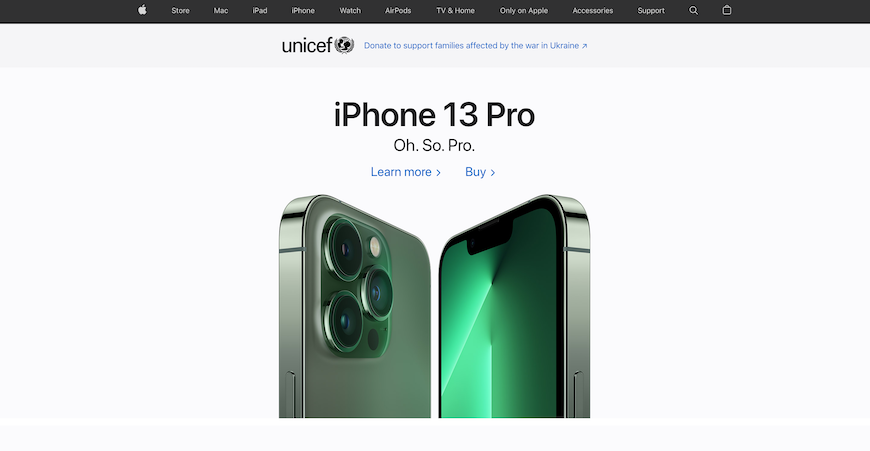 Estimated ecommerce sales in 2021: $35.3 billion
Founded by Steve Jobs, Steve Wozniak, and Ronald Wayne in 1976, Apple Inc. has become wildly successful in the consumer electronics and media sales industries. While the company started out as a computer seller, it's now also very well known for its range of iPhone smartphones, media players, and tablet computers.
Apple's first retail store opened in Tysons, Virginia in 2001, and today, the company has over 500 stores in 25 countries and territories across the globe. One of the main draws for consumers visiting Apple stores is the ability to chat with knowledgeable specialists who can answer questions and help solve any issues that occur with their devices.
The company has worked to maintain this facet of the business with their ecommerce venture. When shopping on the Apple website, visitors will find easy-to-locate product categories and detailed support for each item.
5. Home Depot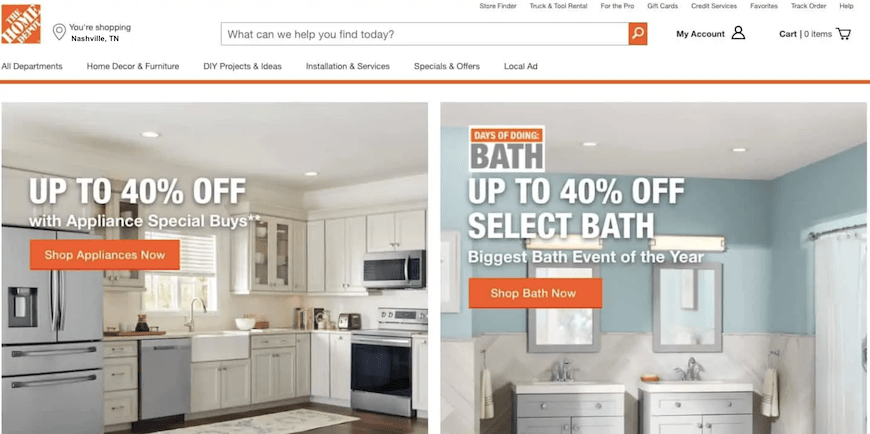 Estimated ecommerce sales in 2021: $21.42 billion
One of the top (if not the top) names in U.S. home improvement retailers, Home Depot is where many Americans go to buy whatever supplies they need for anything from minor home repairs to major remodeling projects.
The first Home Depot stores were launched in Atlanta, Georgia in 1979 by Bernie Marcus and Arthur Blank. These giant warehouses featured a wide selection of items, a lot more than shoppers were used to finding at a typical hardware store!
Even at the very beginning, customer service has been the heart of the company's success. Home Depot employees must be able to sell the company's products as well as teach customers how to use tools, choose the right paint to suit their needs, lay tile, and anything else to help them complete their DIY home projects.
The company now has over 2,200 physical stores, spread across the US, Canada, and Mexico, along with an online presence in all these regions.
With the coronavirus pandemic, Home Depot saw a significant spike in ecommerce sales, with consumers everywhere deciding to tackle home improvement undertakings during multiple lockdown periods. One aspect contributing to the company's online sales success is its augmented reality capabilities on the Home Depot app. With this feature, users can better imagine everything from light fixtures to appliances in their homes.
6. Target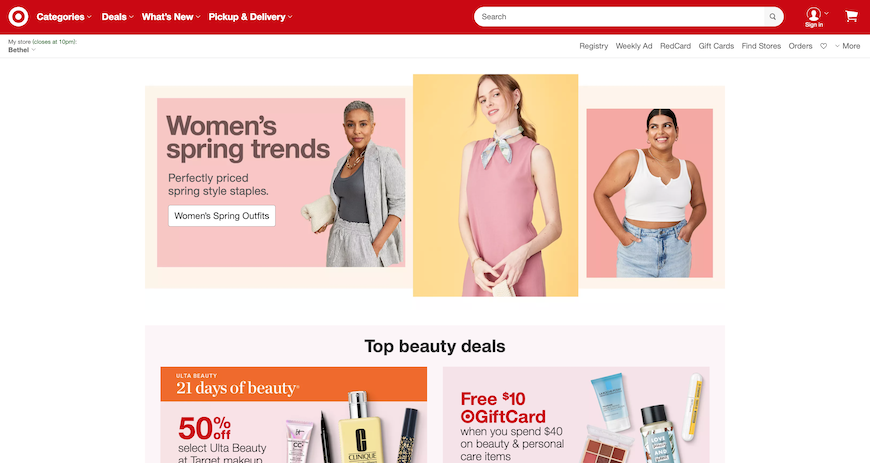 Estimated ecommerce sales in 2021: $18.64 billion
In the 1960s, the Dayton Company, which owned a chain of department stores, decided to create a new discount store chain, leading to the opening of the first Target store in Roseville, Minnesota in 1962. The company's aim was to offer shoppers "upscale discount retailing."
Although the Target chain lost money the first few years, things started picking up in 1965, when the company reported its first gain. Since its origins, Target has expanded immensely, boasting U.S. 1,926 stores nowadays and a large variety of product offerings, in categories including clothing and accessories, groceries, electronics, homewares, furniture, and more.
The company has also enjoyed significant growth in the ecommerce sector. Besides the varied selection of items available both in store and online, Target's website features bold colors that give off a luxurious vibe and easy-to-navigate product categories for easy shopping, further adding to the user experience.
7. Best Buy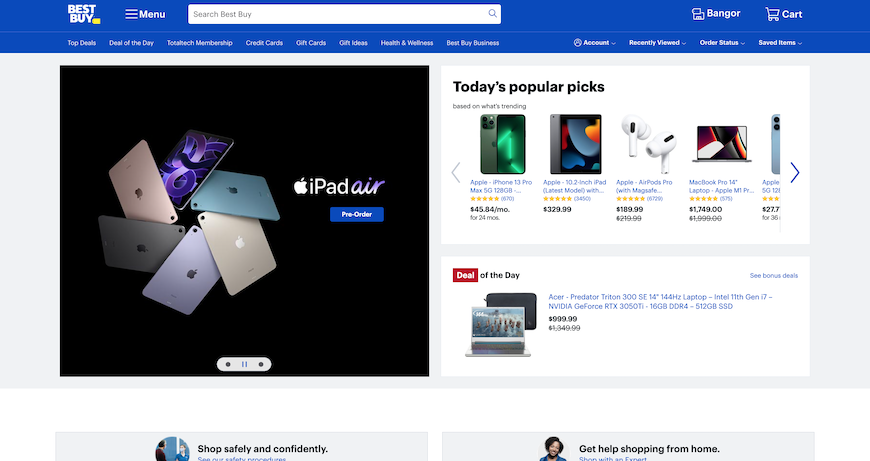 Estimated ecommerce sales in 2021: $18.11 billion
Starting out as a consumer electronics retailer, Best Buy was originally known as Sound of Music when the first store was opened in St. Paul, Minnesota by Richard Schulze in 1966. Renamed Best Buy in 1983, this company has expanded far beyond Minnesota, with 1,000+ physical stores across the US and Canada today.
Best Buy has also enlarged its product catalog, now offering home appliances; furniture; fitness, travel, and children's products; and more in addition to its original offering of electronic goods.
The company's website is popular with shoppers due to its clear arrangement of product categories and promotions within those categories. In addition, when customers are logged in to their accounts on the site, they can save items while exploring or click "Recently Viewed" to easily return to product pages that caught their eye earlier.
8. Costco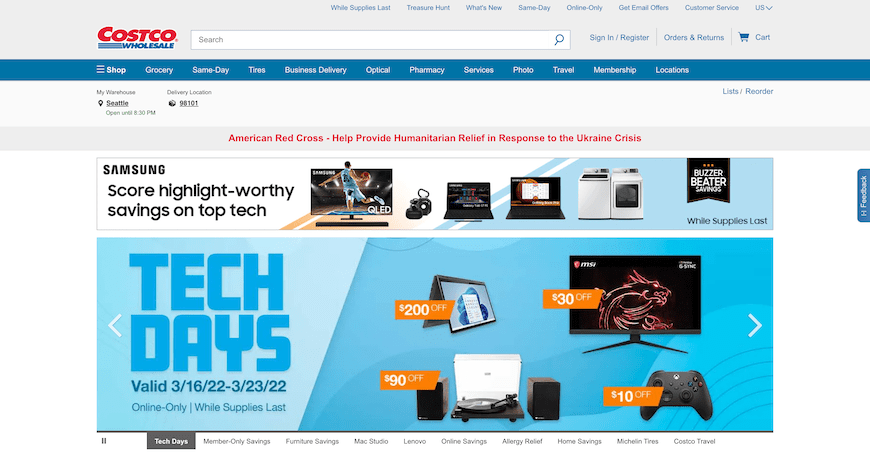 Estimated ecommerce sales in 2021: $15.29 billion
Compared to other mentions on this list, Costco is unique in that it's a membership-only retailer. To take advantage of the warehouse club's low prices, shoppers must pay a membership fee or have members load Costco Cash Cards for them, which they can then use when visiting the store.
The first Costco warehouse was opened in Seattle, Washington in 1983, and consumers today have access to over 800 stores around the world, with the majority located in the US. In addition, Costco members can now enjoy shopping on its ecommerce website.
Because of the wide range of goods and services the company offers, it's essential that the site is uncluttered and easy to navigate. Costco accomplishes this by placing most of the non-sales-related links at the bottom of the page and including a navigation bar with clear product categories and a search bar for visitors to find their desired items in no time.
9. Kroger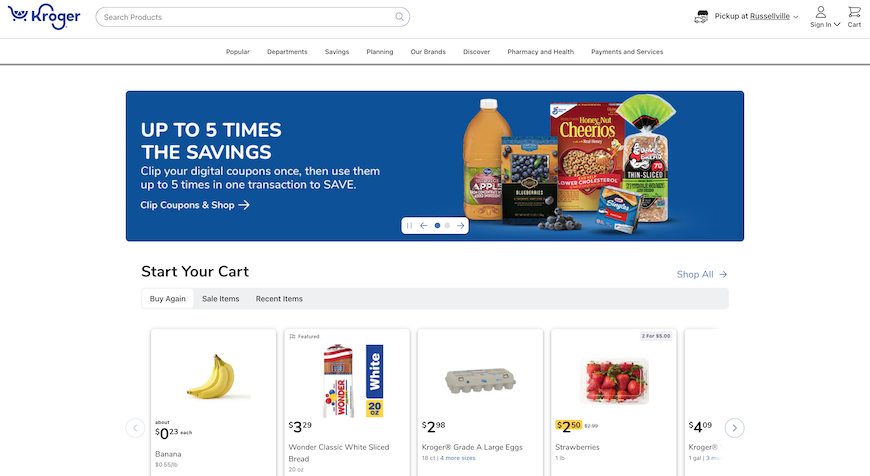 Estimated ecommerce sales in 2021: $15.13 billion
Grocery store chain Kroger was founded in 1883 in Cincinnati, Ohio by Bernard Kroger. Today, it operates almost 2,800 supermarkets and multi-department stores across the US. Although groceries lagged far behind other product categories when it came to online shopping for many years, that all changed when COVID-19 arrived!
Demand for online grocery shopping surged, with many grocery companies struggling to keep up with the influx of orders. Although most places around the world are no longer dealing with lockdowns, many people continue to appreciate the convenience of buying their groceries online.
Kroger has successfully adapted to this trend by taking a number of measures to be able to accommodate demand while simultaneously providing customers with a better user experience.
For instance, shoppers can now order 24 hours a day and receive those orders in as little as 30 minutes through Kroger's partnership with Instacart. In addition, the company has invested in click and collect, allowing customers to order their groceries online and pick up their orders at a local Kroger supermarket.
10. Wayfair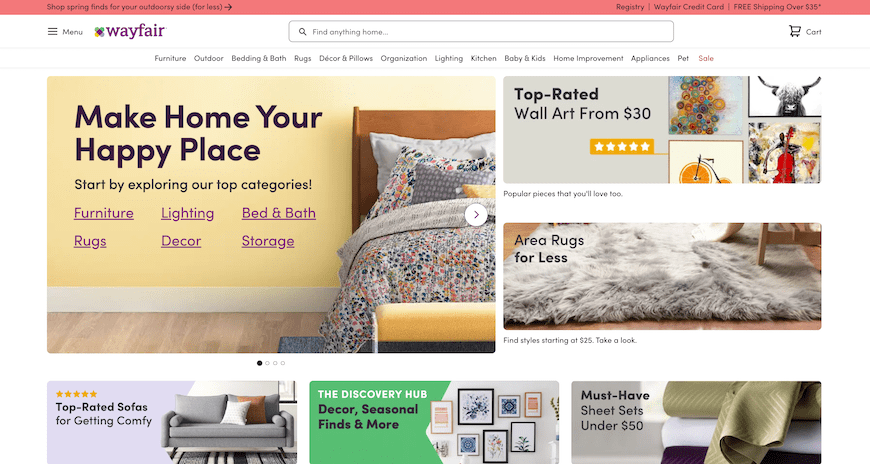 Estimated ecommerce sales in 2021: $14.16 billion
Based in Boston, Massachusetts, Wayfair's ecommerce adventure began in 2002. Founders Niraj Shah and Steve Conine originally called the company CSN Stores, launching a website that sold media stands and storage furniture.
It was rebranded as Wayfair in 2011 and has significantly increased its product offerings by consolidating 250 websites into one. It now features an extensive range of goods for the home and office, including luggage; home décor; office, institutional, and kitchen and dining furniture and materials; lighting; bed and bath products; and home improvement items.
The company uses the dropshipping method to fulfill orders, meaning that customer orders are sent to a supplier's warehouse, and the supplier packs and ships the order to the customer. Although Wayfair has expanded into international markets, its main source of revenue (80%, according to Statista) comes from the US.
Your turn!
As the history of ecommerce has shown us, the world of web sales is a competitive place to be. Entrepreneurs must always be thinking of ways to help their businesses stand out from the crowd and attract new customers.
Considering launching your own online store? Regardless of where you're located, this list of companies in the USA can serve as a source of inspiration as you get started. Of course, having a high-quality ecommerce platform is a must…that's where WiziShop comes in.
With our SEO-focused ecommerce solution, you'll have access to a variety of design templates to bring your dream online store to life, a team of Business Coaches to assist you with any questions you may have, 50 SEO optimizations to help improve your Google rankings, training on a wide range of ecommerce topics, numerous payment and delivery options, and more!
Create your online store - 15-day free trial