Building trust in ecommerce can be a challenge. If you're reading this, then you probably already know that it is also a very important element in the purchase decision. Without trust, you can kiss your sale good-bye. So, what can online-store owners do to build up trustworthiness for their online store? Here are 5 tips!
Before we begin listing tips numerically, there is one overarching theme that you should really keep in mind: transparency builds trust. If one party thinks the other one is hiding something or being deceptive, the basis for trust is going to be thin and weak (or maybe non-existent). As a general rule, you'll want to make people feel like you're being completely open and honest with them from the very beginning.
Trust in ecommerce is a lot like trust in most of our relationships: it is difficult to earn and easy to lose. That's why it's so important to make a good first impression. With that said, let's get to those tips!
Tip #1: Show your shoppers who you are
Show the customers who you are as much as possible. That, of course, can mean a lot of different things, and rightfully so. There are a lot of ways to show your store's visitors who you are, but it all comes back to the idea of transparency.
From a legal perspective, make sure your contact details and legal pages are up to date and easily accessible. Many shoppers will look for such details in order to gauge a store's trustworthiness.
You also have an opportunity to show them who you are in a more personal and emotional way.
Many shoppers will want to visit your About Us page. Not only can you give some insights into who you and your team are, but you can also show them why you got into the business. If you're in a niche industry, this can be a great way to build credibility. If you're a family business, sharing this fact can be touching to some people as well.
In any case, this is a chance to tell your story in a creative way. Show them why you are so passionate about your business. Share your inspirations. Tell them why you're doing what you do. Having this information on your website and communicated in an engaging way can definitely help boost trust and get customers for your ecommerce business.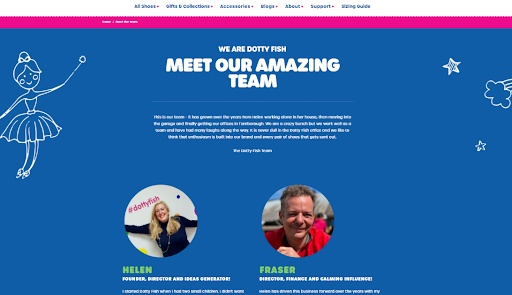 In this example from DottyFish, visitors can get to know the people behind the business.
Tip #2: Collect customer reviews
Collecting customer reviews is basically a must these days. If you don't collect them for your own store, you can bet that your former customers are still writing and sharing reviews about your store somewhere else on the internet. Not actively managing your online reputation is a big mistake.
When it comes to ecommerce reviews, it's somewhere between an art and a science, so let's start with the "science" bit:
Collecting and displaying customer reviews directly on your site can bring your business a lot of (technical) benefits. Having a steady stream of reviews flowing into your website's product pages gives Google good reason to crawl your pages and with relevant keywords, these reviews can help your website rank higher in search engines. Higher rankings in Google can be a trust-builder in and of itself.
Speaking of search engines, when you collect reviews with a Google-certified reviews provider, it's easy to display your star ratings in a Google Ad. Star ratings are known to boost the click-through rates of your ads (by up to 17%), so it can actually save you money in the marketing department. In a way, your reviews can help build trust for your store before the consumer even enters your site or clicks on your ad.
Having a review system that automatically sends out review requests to your customers can be beneficial to your overall rating as well. Why? Consumers are more likely to leave an unsolicited review when they have something negative to say. If you want them to share something positive, then you need to be proactive and ask them for their feedback.
That covers the "science" element. Now, to the "art" part:
We'll have to revisit the idea of receiving negative reviews. It's important to realize that negative reviews are essentially unavoidable. That's okay. The important thing about negative reviews is finding them and answering them. Don't try to hide them. Definitely don't ignore them either. Rather, you should focus on taking them head on.
When you do get a negative review, it's important to be empathetic to the customer and really listen to them. This could be valuable feedback that can help you be a better business.
Of course, there are other situations where you feel a negative review might be unfair and undeserved. It's important to keep your cool. Answer politely and try your best to make things right however you see fair.
The thing about negative reviews is that potential customers will actively search them out. It is often part of the consumer journey. They want to know what the worst-case scenario might be if they buy from this strange, new store. If you can manage to reply to those negative reviews in a good way, potential customers can at least see you're paying attention and care about consumer satisfaction. In the best case scenario, they'll see that you've worked to rectify the issue and this can really reflect well on your business. This can be a huge trust-builder for your brand!
One last thing about hosting online customer reviews: Having them directly on your site provides social proof without the user needing to leave your site to find it. When it comes to what ecommerce customers want in an online store, real customer reviews are essential. It may be part art and part science, but it's definitely not rocket science: don't give your visitors a reason to leave your website. Displaying reviews directly on your site gives users one less reason to continue researching elsewhere.
Tip #3: Be easily accessible
There's a reason we all like to shop at famous big-name stores like Amazon, Ikea, etc. These companies have become so well known that we automatically trust them more than small stores. If an online shopper stumbles upon your store, it's important to know that they are entering your website with a healthy dose of scepticism.
One important way to build trust at first sight and increase your chances of achieving ecommerce success is to make sure your contact information can be easily found. With that in mind, it's also important to remember that different shoppers have different preferred modes of communication. Some might prefer an email address. Others may prefer a chatbot, while others might want to do things the old-fashioned way: by telephone.
If you have all those channels for your potential customers to reach you, make sure they can find that information as well. It might make sense to have at least one of those directly in your navigation so that it is accessible on every single page on your website. Similarly, you could also put this information in your footer.
Either way, it should be easily found. One way to think about it is that customers should be able to see this contact information without having to look for it (much). If they can see it before they have a question/complaint, they'll get the feeling that you are easy to contact in case something does go wrong.
T
ip #4: Show off your certifications and awards
Much like your contact information, make sure any awards or certifications your store has earned are easily found. Whether you sell vegan products or fair-trade products or have been given some other certifications or awards, this could be of great interest to your site's visitors, so make sure they can find them!
After all, many of these certifications come from well-known companies and organizations. These are third-parties that are essentially "vouching" for your business in many contexts.
Look into any certifications that might have relevance in your industry or within the niche you work in. Some certifications, on the other hand, are relevant for almost any industry. For example, showing a trustmark like the one from Trusted Shops lets your customers opt in to a 30-day Buyer Protection, which is useful for any type of business.
If you sell products that have been awarded prizes in their industry, it makes sense to make note of this on your product pages as well.
The company Futureshop, which sells audio equipment even has subcategories dedicated to award winners. In the example below, they show off their Buyer Protection along with the awards this particular audio cable has won—all clickable.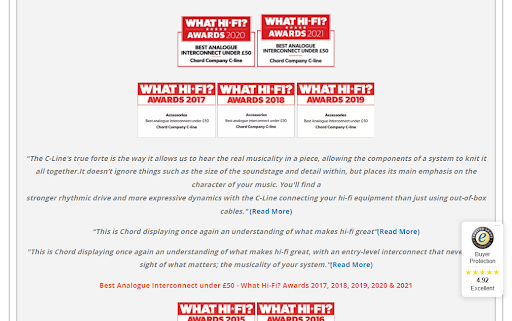 Scroll down this product page and you'll find awards, trustmarks, and product reviews.
Tip #5: Provide good content
This tip might seem a bit strange and less obvious than displaying reviews. After all, what does a blog or other content have to do with building trust?
Well, the answer might be right there in the question. Good content can really create value for its readers. When you create value for your users without trying to sell them something (at least not hard selling them), they're much more likely to trust you.
Like we mentioned earlier, trust is something fragile. It takes time to build. It comes from good experiences and consistency. If you work in a niche industry, these kinds of customers can be very particular. By showing them that you're truly passionate about that niche as well, they won't feel like you're some intruder just trying to make a buck off of them.
Having a blog can bring your website many search ranking benefits as well. You can expand your website's keyword strategy with a blog and bring in a wide range of internet users that might have interest in your products/industry.
To go along with that, you really need to keep in mind to keep the hard selling to a minimum. If it really makes sense to mention a product you sell, then by all means, mention it, but it's important to make those references fit organically into the texts and don't shove your products down the readers' throats.
Now, not all your content needs to be informative and useful. Creating social media accounts can also help you create high-quality content while also strengthening connections with your followers. Hashtag strategies are important here in terms of discoverability, much in the same way that keyword strategies are for your blog.
The content on your product pages also counts when it comes to quality. Original texts and images can go a long way from an SEO perspective, but also from a trust perspective.
Texts can "speak" your customer's language while also providing the information they need to inform themselves before making a purchase decision. Product images also play an important role in building trust and informing your customers. Make sure you have plenty of angles and shots of your products in use. They should have a great idea of what the product will look like in their hands by seeing it in your product pages.
Whether you create useful, entertaining, or informative content, good content should help build stronger connections between you and your target audience.
Conclusion
Trust is an abstract concept in the real world. In the digital world, this is even more true. You have to actively prove your trustworthiness to strangers around the world. The good news is that it's definitely possible as long as you put in a bit of extra effort and make use of some good trust-building tools.