Knowing how to write a press release is an excellent skill to possess, regardless of your industry. When well written, this content can help you to quickly spread your news while reaching an immense audience.
However, if you've never created a press release before, you might be feeling a bit lost as to how to get started.
You've come to the right place!
This post explains what a press release is, its benefits, the different types you might send, and the steps involved in crafting a stellar press release that'll make members of the media want to learn more and share your story.
What is a press release?
A press release is an official statement used to provide important information to the public. This brief document shares a newsworthy announcement and is usually sent to specific members of the news media, such as journalists and editors, who may later use it to write an article on the topic of the press release.
Considered a primary source of information, a carefully crafted press release will include all the critical and relevant details for the story in question. In addition to delivering a press release to media outlets, a business might also add it to a specific section dedicated to PR on its website, where visitors can find important announcements.
What are the benefits of sending a press release?
Companies, organizations, and even individuals may choose to write press releases for a variety of reasons. You've probably seen all kinds of examples of this type of document, released by your favorite brands and/or different celebrities that you follow.
As the owner of an ecommerce business, especially if it's relatively new, you might be wondering if it's really necessary for you to write a high-quality announcement to distribute to media outlets.
Stay with me, though!
To give you a bit of motivation, here are just a few of the top benefits that sending a press release can bring to your online store.
Increases visibility
Issuing a press release is an excellent way to boost awareness of your business and expand your reach. When you're just starting out, you may not yet have a huge following on social media or an extensive list of email addresses at your disposal.
With the power of a press release, though, you can quickly reach a larger audience of potential customers. Whether your press release involves the launch of a new product or service or simply announces that your online store is up and running and ready to sell, you'll be able to share the news more efficiently when you send it to media outlets.
Builds relationships
Even though you probably won't be having as many face-to-face business interactions with your online store as you would with a brick-and-mortar version, it's still very important to nurture your professional relationships.
Distributing press releases is an action that can help both you and your contacts in the media. Reporters are often on the lookout for newsworthy stories, and by getting in touch with them and providing them with exciting information to share, you may be able to build strong relationships that can prove to be mutually beneficial for years to come.
Boosts your SEO
There are many things to consider when writing a press release. Note that if you can get your message across while also managing to incorporate keywords seamlessly into your content, you may soon see your website's ranking for those keywords begin to rise on Google.
In addition, the journalists or media outlets publishing your press release will most likely link back to your product page or other part or your online store, earning you valuable backlinks that can further improve your SEO.
With regular media communication, your business may show up more frequently in search results, which in turn can lead to an increase in traffic to your site!
Gives you more control over your brand image
Even with your best efforts, it's possible that your business may attract some negative publicity or bad reviews at some point. Having a strong strategy in place to manage any less-than-glowing commentary about your brand is key to weathering any PR storm.
While your first step should be addressing any negative comments directly on the platform or site on which they're listed, if the situation is more serious, you can follow up with a well-written press release.
In your official statement, you can provide important facts, dispel any lingering myths, and explain what steps you're taking to remedy the issue. This action demonstrates to your audience that you're serious about your brand and dedicated to improving.
Can lead to more product sales
A well-timed press release can help to generate buzz for a new product or promotion offered by your online store. By piquing the curiosity of your current customers and even new shoppers in markets that you may not have previously considered, you increase your chances of getting more site visitors and sales for your business.
Note that any press releases detailing the launch of a new product should clearly explain the principal features of the item. Readers shouldn't have any doubts about the benefits of your product after checking out the press release!
Types of press releases
One of the great things about press releases is that they can be used to share news about a plethora of happenings. Take advantage of this valuable PR ally by incorporating it into your strategy for spreading awareness for different important events for your ecommerce business.
Product launches and updates
Probably one of the top types of press releases you'll be interested in as an ecommerce entrepreneur, this document is used to announce a new product or an update to an existing product in your catalog.
As mentioned previously, when creating a press release to share news about a product, it's essential that you highlight your product's outstanding features. You can also mention what benefits your product has over your competitors' offerings.
Detailing how the item can make shoppers' lives easier provides journalists with an incentive to write about your newest launch and give it the publicity it deserves!
If you'd like to make your new product all the more enticing, you can include a discount code in the press release. This action will not only encourage more purchases but also indicate to you how effective the press release is, as you'll be able to track conversions that result from it.
Events
You can also use a press release to draw attention to a special event in your industry. For example, perhaps your business is hosting or participating in a charity event or holding a pop-up store for a limited time. By distributing this information to the press, you'll invite various media outlets to cover and/or attend the event and boost its publicity.
For this type of press release, be sure to include all relevant details to ensure that readers are as well informed as possible about the event. If the public are also able to attend the event, don't forget to state how they can gain admission, whether that involves purchasing tickets beforehand or simply showing up.
Rebranding
Though change is often necessary and vital to a brand's success, it can at first be a bit uncomfortable for shoppers who have become accustomed to the manner in which the business has previously existed or operated.
When you opt to launch a rebranding campaign for your ecommerce business, a press release is a good place to start. By being clear and up front with your audience with what they can expect, you can help to diminish uneasiness and any fears about the unknown.
Explain why you're making the change, always offering a positive spin on the situation and emphasizing how the change will benefit your customers. There's a good chance that people will have questions about your rebranding, so do your best to anticipate those queries in advance and answer them in your press release.
Changes in leadership
Leadership changes are probably not going to be as applicable an occurrence for your ecommerce business, at least not for some time. Nevertheless, if they happen down the road, it'll be important that you know how to communicate these changes to the public.
This is because changes in leadership can often mean significant changes in a company's direction and how it's run—which consumers will definitely want to be made aware of!
When businesses create a press release to announce leadership changes, they'll usually talk about the new arrival's achievements to help instill confidence in the change. It's generally also a good idea to include a headshot of the new lead and even a brief quote from them and/or the existing lead.
Special achievement announcements
If your business receives an award or recognition for something positive, don't be shy and let your audience know all about it!
Awards and positive recognition can help instill further confidence in your brand and give hesitant shoppers the final push they need to purchase from your store.
Note that the best way to go about writing a press release for your business's special achievement is to emphasize how this achievement will affect your customers. Keep your press release short and sweet and stay humble in your messaging.
Lastly, don't forget to mention what the award was, who received it (your company or somebody within your company), and who gave the award.
Urgent company news
Although it may not happen very often, there's a good chance that at some point in your ecommerce journey, you may have some breaking news that you need to quickly share with your audience.
Even if you opt to share this info on your website and social networks, depending on the situation, a formal press release may be needed as well. With this type of press release, especially if the news isn't all sunshine and unicorns, it's a good idea to stick with the facts and explain your news clearly.
Steps for writing a press release
1. Define your target audience
When you have exciting news to share, you might be in a hurry to start writing your press release ASAP. However, before you begin, it's advantageous for you to define your target audience so that you can pick the right angle for your story.
The perspective of your press release should be relevant and interesting to the journalists to whom you wish to send your document and to potential readers of the newspaper, magazine, or blog that may write about your news.
It's essential that you do your research ahead of time to guarantee that you choose the correct angle. After all, no matter how amazing your press release is, if it doesn't target the right people, you may end up with some rather lackluster results.
Now, it's time to get into the actual writing of your press release. Note that this type of content generally follows a specific structure, which you'll find in our handy visual below.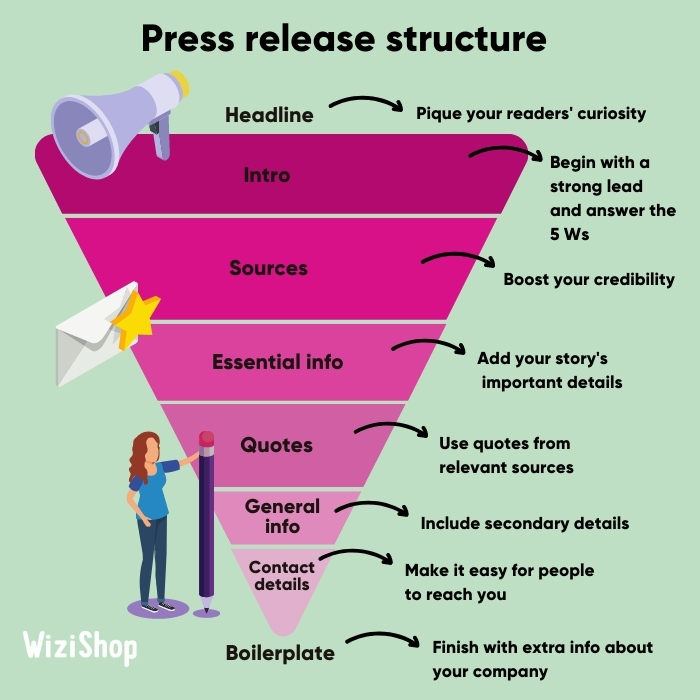 2. Create a catchy headline
As the headline is what people first see and helps them decide if they want to continue reading, this is arguably the most important part of your press release!
Just like with the titles on your product pages and your blog posts, the title of your press release needs to be able to attract and hold a reader's attention; otherwise, you risk the journalist simply tossing your story in the trash bin, physical or digital!
This may seem like a lot of pressure, but there are a few actions you can take to help you create enticing headlines that will make people want to read on and learn about your newsworthy event:
Keep your headline short:

It's no secret that in general, our attention spans are shorter than ever these days. A headline that just won't quit can be intimidating to readers. Although advice on headline word count varies, it's generally best to use no more than 10 words.

Add keywords:

Optimize your press release for SEO by including relevant keywords where you can. If possible, also try to have your keyword(s) at the beginning of the headline for even stronger optimization.

Be direct:

Flowy language is all well and good in some kinds of content, but there's no room for that in your headline. Get to the point quickly so that readers instantly know what your press release is about.

Incorporate action verbs and use active voice:

Action verbs give life to your headline and indicate that something's happening, automatically making your press release appear more exciting. It's also generally best to use active rather than passive voice for your press release, as it makes it clear to the reader

who

did

what

. For instance, a passive-voice headline might be "Squirrel is chased up Christmas tree," while the active-voice headline would say "Family cat chases squirrel up Christmas tree."

Use numbers:

Readers instantly connect with numbers in a headline, as quantification helps them to better visualize what's going on. What's more, using numbers adds a bit of extra authority to your headline.
Remember that not all of these suggestions will be applicable to every press release headline that you create, but they provide a great starting point.
Furthermore, as you write your headline, brainstorm several different versions so that you have a variety from which to choose. The first one that you create may not be your strongest, and it's worth the extra effort to come up with a top-notch headline that will catch the eye of the reader!
3. Write an introduction that answers the five Ws
The next step involves writing the introduction or lead of your press release. This is where you'll summarize the most critical information and answer the five Ws:
Who

is this press release about?

What

is happening?

Where

is it happening?

When

did/will it occur?

Why

is it important?
Here, you'll want to be careful with how much detail you provide. You want to attract the attention of the reader but avoid giving everything away too early on in the text.
4. Add your body paragraphs
This is where you'll begin to go into greater detail about the news you're sharing. Keep in mind that you should only be including relevant information. Press releases aren't meant to be novels, so it's best to put only the most pertinent information here.
Use sources to strengthen your credibility
Depending on the type of press release you're sending, it may be beneficial to add any sources that you've based your information on to the text. The inclusion of outside sources can help to make your content seem more credible to readers.
Be careful with any links you choose to add to your press release, though. It's important to check to see that they direct the reader to a viable source. Linking to a website that's promoting inaccurate information can really hurt your brand's reputation.
If you're including links in the body of your press release, you might want to use anchor text rather than adding the entire URL. This is generally more visually appealing and gives off a more professional vibe.
Include quotes to add perspective
Quotes are beneficial additions to press releases, as they bring perspective to the text and can make it more interesting for people to read. Furthermore, they can inject a bit of personality into the press release, bolstering its relatability.
Just make sure that any quotes you opt to include make sense for the story that you're sharing.
5. Provide your contact details
Although this step is a little farther down on the list, it's nevertheless a very important part of your press release. Remember that you'll be sending this document to various reporters, many of which you may not already know.
If they want to ask you questions about your story or request additional details, they need to have a way to be able to get in touch with you. If your contact information is missing, it's not very likely that your press release will get published.
Be sure that this section of your press release includes the name and job title of the best person to contact, an email address, and a phone number. This gives journalists multiple options for getting in touch with your business.
6. Insert your boilerplate
You're almost finished!
To end your press release, you'll put your boilerplate, which provides additional information about you and/or your company and serves as a sort of business card, at the bottom. This standardized copy should be a short paragraph that includes details such as the following:
Y

our business name

Your mission statement

Size of your company

Date(s) when your business was established
Add an extra dollop of branding to your press release by including your company logo here as well.
7. Double check your spelling and grammar
In your rush to get your exciting news out to the world, don't let spelling and grammar errors ruin your chances of getting your press release published. Your announcement might be seen by many different people, so it needs to be perfect. Anything less may have journalists viewing your business as less than professional.
Tools such as Scribens can help eliminate or at least minimize spelling and grammar mistakes. In addition, if possible, have multiple people check your content before you send it out—it's always much easier to spot errors in somebody else's writing than your own!
8. Distribute your press release
Once you've finalized your press release, you'll be ready to distribute it to members of the media. You can take care of this step yourself or use a platform service to do it for you. Either way, it's a good idea for you to start a spreadsheet or keep a record of contact details you have for different journalists and editors.
If you're completely new to ecommerce, this method may seem a bit intimidating, as you might not yet have an extensive list of contacts you can reach out to check out your press release.
It can take a while to research and build your contact list, but a positive aspect of this method is that by personally pitching to different people in the press, you'll be able to build stronger relationships and gain valuable contacts for future media endeavors.
As you begin to reach out to members of the media, don't be afraid to take various approaches. You might start with email, but DMs on social media platforms like Facebook, Instagram, LinkedIn, and Twitter can be effective too.
Distribution via a service
If you're pressed for time, using a press release distribution service can help get your content out to thousands of media outlets quickly.
Keep in mind, though, that these kinds of services can become quite costly and probably won't be the best option if you're working with a small budget. For instance, press release distribution service PR Newswire charges an annual membership fee, but you'll have to pay additional fees per press release that you wish to issue.
9. Consider the timing of your press release
Similar to your efforts with social media marketing, timing the sending of your press release is an important factor of its success.
When you distribute a press release to journalists, your goal is to obtain the most exposure possible for your story. This means that you should send your document at a moment when journalists will be most able and willing to look at it.
Generally speaking, the best time to send your press release will be between 9 a.m. and 2 p.m., with some sources narrowing the optimal time down even further to between 9 a.m. and 10 a.m. Either way, definitely aim to get your press release out before lunch if possible, as email open rates for members of the media tend to take a hard dive after lunch.
As far as the best day of the week for distributing your press release goes, try to send it earlier in the week rather than waiting until Friday. Tuesday is ideal, as many journalists are swamped with emails on Monday after the weekend. Be sure to consider the time zone of the recipient as well.
However, if you have urgent news to share, you'll just want to get your press release out as quickly as possible, with timing being less of a concern.
What's next?
Writing a press release can be tricky, especially when you're facing a blank page and writer's block strikes. If you're feeling stuck, don't feel like you have to start with your headline. In fact, you may find that it works best to write it at the very end!
The important thing is just to start and begin writing whatever part comes easiest to you.
Hopefully this article has provided you with helpful tips to guide you in crafting an effective press release that catches readers' attention and brings your business some well-deserved publicity.
Once your story gets picked up, be sure to send a thank-you note to the journalist to aid in nurturing that relationship. In addition, be sure to share the article written about your business on your various social networks, of course mentioning whoever published the article as well.
Next, be sure to keep the buzz going by encouraging your audience to comment on the article and share it with their own followers!