Consider the last time you were on the fence about purchasing a product. There's a good chance that you either checked with somebody you already know or went online to find recommendations for the item.
If you went the online route, the more positive reviews you discovered for the product, the more likely you'd be to purchase it, even if those recommendations came from internet users you didn't know!
This works in a similar fashion when you aren't even in the market for a particular product.
Say that you're scrolling through your Instagram feed and discover one of your favorite accounts touting the benefits of new rainbow-striped, self-heating socks for camping. Maybe you've never gone on a single camping trip in your life, but this influencer is so convincing that you soon find yourself checking out said socks on the manufacturer's account.
Behold the power of influencer marketing!
Today, influencer marketing is a technique used by brands all around the world to boost awareness and sales of their products or services. It's especially prevalent on social media networks like Instagram.
What's an Instagram influencer?
In many ways, an Instagram influencer is just like a regular Instagram user. Though some start out already famous on the platform, most influencers don't have loads of followers when they first create an account.
However, there's a crucial difference between Instagram influencers and regular users.
Influencers have established significant credibility within a specific niche, allowing them to build a large following on the social media network.
This in turn can help them to further their own career aspirations but also to assist brands who collaborate with them. In fact, an increasing number of brands are turning to social media for their ecommerce businesses and working with influencers to promote their products, a strategy known as influencer marketing.
Although Instagram influencers can become well known in nearly any topic or for any product, there are some niches that are more popular than others. Here are 12 of the top Instagram niches for profitability and growth in 2022, according to trendHERO:
H

ealth and Fitness

Beauty

Fashion

Lifestyle

Business (making money online)

Animals (especially pets)

Food and Cooking

Traveling

Parenting

Crafts and DIY

Memes

Motivational (quotes)
Despite many businesses still feeling the financial effects of COVID-19 in 2023, a significant number of brands are actually increasing their budgets for working with influencers. Influencer Marketing Hub states that the spending for this marketing strategy reached 16.4 billion USD in 2021, up from 1.7 billion USD in 2016.
In addition, Hootsuite notes that 72.5% of marketers in the US incorporated influencers into their marketing strategies in 2022. In 2023, this figure is estimated to reach 76.6%.
What are the benefits of working with Instagram influencers?
According to Influencer Marketing Hub, Instagram is at the top of the list regarding popularity of platforms for influencer marketing: 68% of brands say that it's the most important one for their influencer marketing campaigns. It's interesting to note, however, that although Instagram is still in the lead, this statistic is down from 80% in 2020.
BusinessofApps details a similar study by Linqia, which examined what platforms were the most popular for running influencer marketing campaigns in 2020 (shown in gray in the graph below) and which channels marketers planned to use in 2021 (shown in orange).
The graph's results reveal that compared to 2020, there was a slight drop in the percentage of respondents who planned to use Instagram in 2021, moving from 97% to 93%.
The biggest change seems to be the huge increase in the use of TikTok for influencer marketing, jumping from 16% in 2020 to 68% of respondents planning to use it in 2021.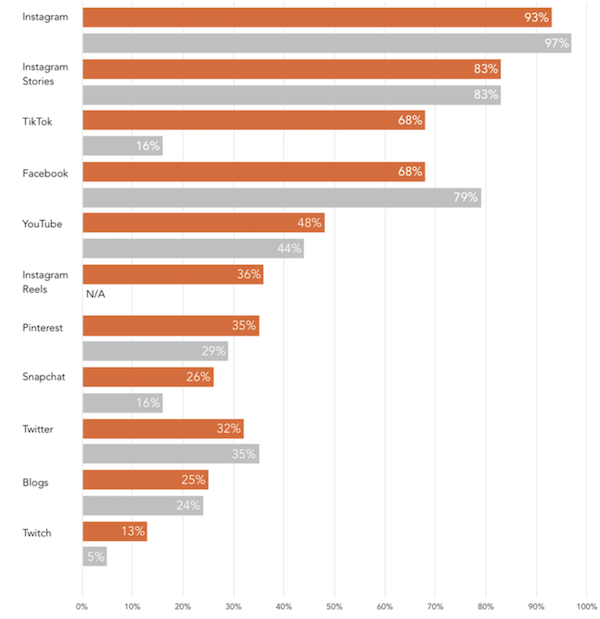 Source: Linqia
It seems that TikTok is very quickly catching up and is likely to soon surpass Instagram as being the most popular platform for influencer marketing!
Nevertheless, the platform is still going strong today, based on the current Instagram statistics. Here are just a few of the benefits that working with Instagram influencers can bring to your online store.
Increases brand awareness and reach
With incredible advancements in technology, brands are able to reach more consumers than ever before.
However, depending on what methods you use, this can still take quite a bit of time. If you're running your business alone or with a small team, it may not be feasible for you to spend lots of time determining how to get your products in front of lots of potential customers.
Collaborating with influencers to promote your goods on Instagram can help you gain visibility with minimal effort on your part. Consider that influencers, with their thousands or even millions of followers, can boost awareness of your brand and products exponentially by simply recommending it in a post.
Furthermore, Instagram influencers are often able to promote an item or service in a way that's engaging for their followers, increasing the likelihood that members of this audience will want to head to your Instagram page or website to see what you're all about.
Boosts trust and credibility
Users are constantly bombarded with marketing messages from brands they follow (and often even those they don't follow) not just on Instagram but on other social media platforms as well. In addition, even the most carefully crafted campaigns can appear "salesy" if they're coming from brands themselves.
This is where influencers come in.
These users have spent lots of time building trust with their audience. Their followers often consider them to be experts in their fields or at least people whose recommendations they can have confidence in!
When influencers use their platform on Instagram to talk about your product to their followers, it'll feel far less like advertising to your potential customers and more just like a friend recommending a product they enjoy.
If consumers see that your product is recommended by somebody they trust, they're more likely to have more trust in your brand and find your product to be more credible.
Helps with SEO
This may surprise you, but Instagram influencers can actually assist with improving your ecommerce website's SEO too! This is done both directly and indirectly.
Influencers may share links to your online store, and as you probably already know, the more quality backlinks you have, the better for ranking on Google. Keep in mind, though, that it's likely that any influencers you work with will mark these links as "sponsored," which means they won't have as much credibility in the eyes of Google.
Nevertheless, these links can still aid in driving more traffic to your site and boosting awareness of your brand—both also good for your SEO.
In addition, when you opt to work with influencers associated with your target long-tail keywords, consider all the content they could create that could help to build your authority. This content could include anything from simple image posts to interviews, tutorials, articles on their own blogs, and more!
Finally, influencer marketing can lead to increased interactions from other users on your own Instagram account. With more engagement, you're likely to also see more organic traffic and backlinks to your ecommerce website.
Nurtures long-term partnerships
According to MarketingDive in 2018, 51% of marketers in a study were working with influencers for periods of at least six months. Furthermore, 37% of influencer respondents were starting to increase their collaboration time with brands, working with them for more than just a one-off campaign.
This trend is likely only to continue as long-term partnerships are advantageous for influencers and brands alike, saving time, money, and other resources. If both parties feel that they're benefitting from the terms of the partnership, it's really a win-win situation.
Lasting relationships between influencers and brands can help to boost brand credibility, and both parties benefit from successful influencer marketing campaigns. With content getting reposted repeatedly and receiving lots of shares over time, awareness of a brand can boom!
Leads to more product sales
While social commerce and ecommerce have several differences, making use of both can help boost your bottom line.
Of course, one of the top goals you probably have when you decide to collaborate with an Instagram influencer is to increase sales for your online store. You're in luck.
According to a recent study by Inmar Intelligence surveying 1,000 adults in the US, 84% bought something due to an influencer recommending the product!
Furthermore, the same study found that Instagram is the top-ranking social media platform when it comes to respondents' preferences for networks on which to interact with influencers. Of those surveyed, 74% use Instagram for this activity—just ahead of Facebook at 73% and YouTube at 68%.
What kinds of Instagram influencers are there?
Depending on who you talk to, there are varying numbers of Instagram influencer tiers out there in terms of number of followers. However, generally speaking, these are the five different tiers of influencers that you'll find on the platform.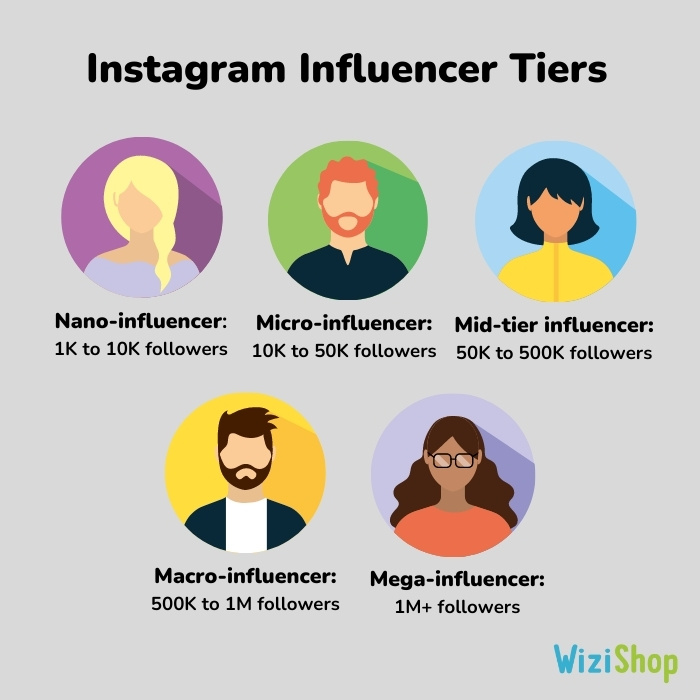 Nano-influencers (1K to 10K followers)
First up, we have the newbies to the world of influencing! Nano-influencers share content on a regular basis, sometimes promoting products or services, but being an Instagram influencer is generally more of a side job rather than a full-time thing for them.
Although they have a relatively small number of followers compared to the rest of the tiers, they tend to have great engagement rates. This is because they're able to engage more personally with their followers with one-on-one communication and build a significant amount of trust.
Nano-influencers are often easier for their followers to relate to than other kinds of influencers, as they usually resemble everyday people. What's more, they frequently respond to most if not all comments on their posts or stories—and not just with a one-size-fits-all response but with a thoughtful comment and/or question of their own.
One example of an Instagram nano-influencer in the beauty niche is Rashawn (@glowskinguy). Based in Florida, Rashawn is what's known as a "skinfluencer," sharing different products in his skincare routines and often featuring clean and vegan beauty items.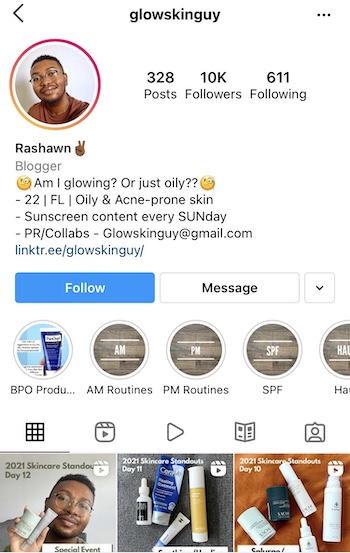 Many users can relate to his journey with oily and acne-prone skin, and Rashawn does an excellent job with engaging with followers in the comments of his posts, as shown in the image below.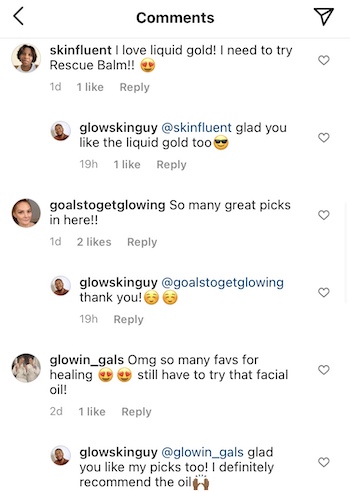 Micro-influencers (10K to 50K followers)
This next tier is made up of content creators who are frequently thought of as specialists or even experts in their particular niche. Despite having a larger number of followers than nano-influencers, micro-influencers are often still able to maintain a personal feel with their posts.
Similar to nano-influencers, they're frequently everyday people, but they may be spending even more time and resources working on their online presence. In addition, micro-influencers are able to develop strong relationships with their followers and build up quite a bit of trust.
This makes them another great option for brands looking for influencer collaborations!
Take a look at micro-influencer Ana Zelić (@anasbakingchronicles), for example.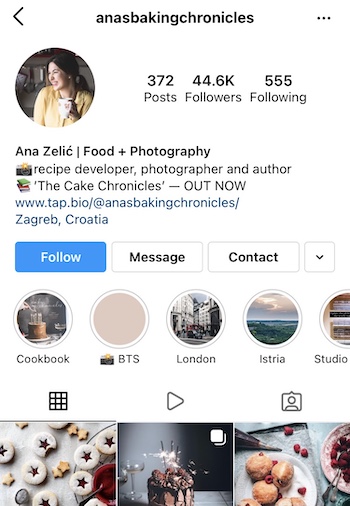 This Croatian baker, food photographer, and author shares images of mouthwatering desserts on her Instagram account, treats whose recipes can be found on her blog Ana's Baking Chronicles.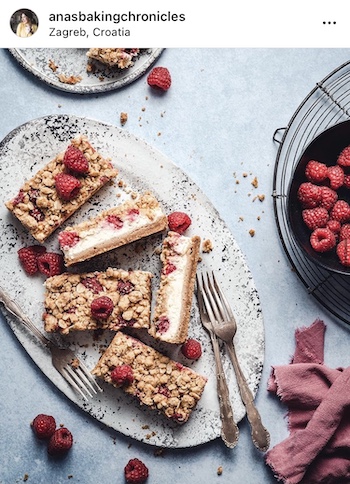 Her 44K+ followers also get a glimpse into her life beyond baking, as she sometimes shares personal anecdotes and other details besides photos of her tasty creations. This in turn helps to strengthen the connection with her followers and increase her relatability.
Mid-tier influencers (50K to 500K followers)
Here we get to the level of Instagram influencers who might even make being an influencer a full-time gig or at least probably spend quite a bit of time on their online presence.
Mid-tier influencers' feeds may not have as much of a personal feel as those of the previously mentioned tiers, but these influencers will still usually have pretty good engagement rates—especially compared to macro- and mega-influencers.
In addition, mid-tier influencers tend to have a wider reach and an audience that's more diverse. This can be advantageous for brands that hope to reach a large number of potential customers but that don't want to pay the big bucks required to work with higher-level influencers.
Flora Beverley (@foodfitnessflora) is an excellent example of a mid-tier influencer whose account combines several different niches.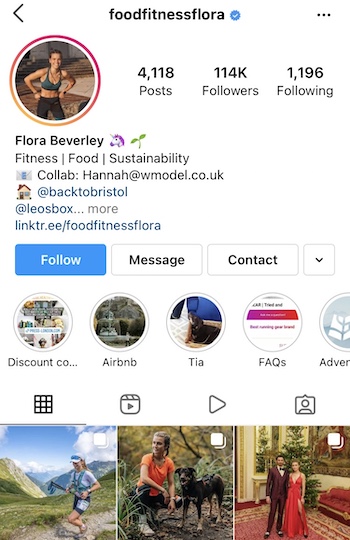 This UK-based mid-tier influencer specializes in fitness, food, and sustainability, and her feed features a balanced mix of the three. When Flora collaborates with a business to promote a product, her followers get the sense that she really believes in what she's promoting, which assists in boosting her credibility with her audience.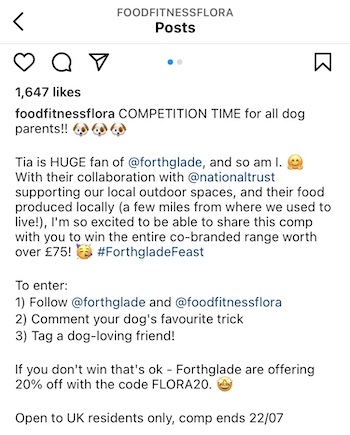 Macro-influencers (500K to 1M followers)
If your brand is hoping to reach a broader audience, such as female millennials for example, working with macro-influencers can be a good option for promoting your products on Instagram. This tier can include celebrities already known outside of their presence on Instagram, but it also features plenty of micro-influencers who've simply built up their following even further.
Many times, influencers in this category have become famous via the internet, whether it be through hosting podcasts, creating videos on YouTube or TikTok, or developing a successful blog.
Macro-influencers tend to have more experience than the aforementioned tiers when it comes to collaborating with brands on campaigns. However, it's important to consider that they also tend to be more expensive.
One example of somebody who's found success through the internet is Mari Andrew (@bymariandrew).
Mari got her start by sharing her watercolor illustrations detailing her experiences, thoughts, feelings, and observations regarding the human condition. Her vulnerability and honesty resonated with many people around the world, allowing her to grow an extensive following.
This exposure has also helped her to be able to publish her own books and has led to a wide range of speaking engagements. Her most recent works include a planner and a set of meditation cards designed to provide inspiration and opportunities for self-reflection.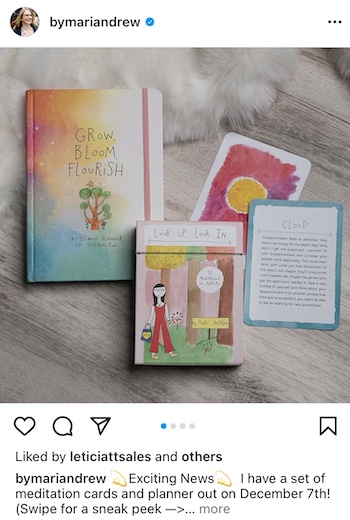 Mega-influencers (More than 1M followers)
Finally, we arrive at the Kardashian/Jenner-level of influence with accounts that have more than 1 million followers.
This top tier of influencers consists of people who are usually very well known and already famous outside of their Instagram presence. Their audiences are generally extremely diverse, made up of followers of different ages and backgrounds and who have all kinds of interests.
Collaborating with a mega-influencer can help skyrocket awareness of your product, but it'll likely be at a hefty price! For this reason, only the biggest brands can usually afford to work with this group of Instagram influencers.
One of the biggest names when it comes to influencers in the world of fashion is American fashion blogger and fashion designer Aimee Song (@aimeesong).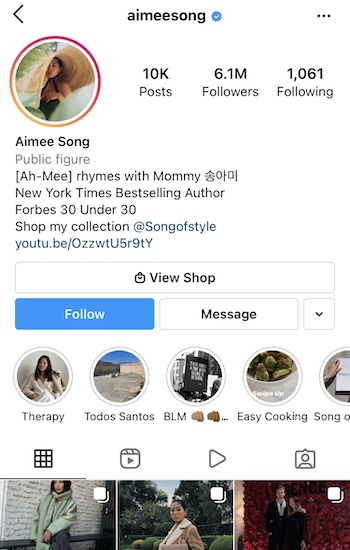 In addition to having a popular blog, Song of Style , Aimee's created a jewelry line and a clothing collection. She's written and published multiple books and was listed as one of Forbes' 30 Under 30 back in 2016.
With over 6 million followers, Aimee has a very wide reach around the world. She regularly collaborates with top fashion brands in the content that she posts.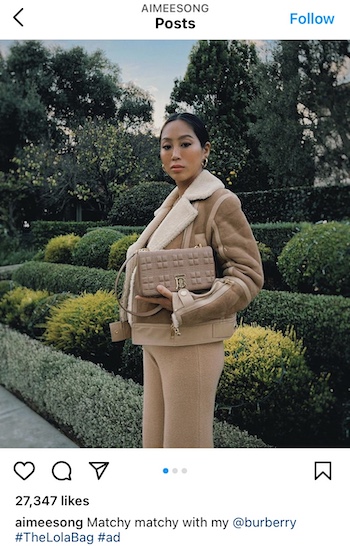 What does it cost to work with Instagram influencers?
There are many factors that come into play regarding how much you'll have to spend for influencer marketing on Instagram. Though number of followers and engagement rate are important things to consider, there are other elements that may affect an Instagram influencer's rates.
For instance, if the influencer's audience is in a very specific niche, they might charge more per post. If the post requires extra expenses such as travel, hairstyling, makeup, etc., these costs may also be added to the base rate.
Finally, factors such as retaining ownership of the content posted by the influencer, adding an exclusivity clause to the contract, agency fees, contract length, timing, and content type are also things to think about when reviewing your budget for influencer marketing.
To give you a basic idea of the average rates, though, Influencer Marketing Hub lists the following ranges in USD for how much you may need to pay an influencer per post, based on the type of influencer alone.
Nano-influencers

: $10–$100

Micro-influencers

: $100–$500

Mid-tier influencers

: $500–$5,000

Macro-influencers

: $5,000–$10,000

Mega-influencers

: $10,000+
How do you find Instagram influencers?
Now that you understand why working with Instagram influencers can be a great idea for your ecommerce business, here are some ways to actually locate them.
Review your own Instagram followers
The easiest method is simply to take a look at the people who're following you. If you happen to find some interesting prospects here, you'll know that they're already fans of your brand, which is an excellent step in building a relationship with them.
What's more, if they're already posting content mentioning your brand or engaging with your account, even better! It probably won't take too much effort to get them to enter a paid partnership in which they'll create even better content to promote your products.
Check out the competition's followers
You can similarly locate influencers by discovering users following your competitors. These users may be in your specific niche, which means that they could be a good fit for your brand too.
Depending on whether they already have contracts with your competitors, you can start communicating with them and gauge their interest in partnering with you. You might consider sending them a free product, sample, or trial to pique their curiosity.
Search relevant hashtags
Following the right hashtags is a pretty significant part of a well-crafted strategy for social media marketing. The number and kinds of hashtags that apply to you will depend on your industry, but you'll likely have some luck finding the right influencers with this method.
There's a good chance that you'll discover a wide range of content creators when performing hashtag searches related to your niche. Pay attention to those who already have decent engagement rates and a high number of followers.
Perform a Google search using the right keywords
If you aren't having much luck finding the right influencers by exploring Instagram, you might need to venture off the platform. In fact, it may be a good idea to do so anyway to widen the scope of your search.
Head to Google and try searching keywords related to your specific niche, such as "top cruelty-free beauty Instagram influencers," for example. From here, you can analyze important metrics for these accounts and look at their profiles to see if they'll be a good match for your brand not just in terms of performance but personality too!
Use a platform for influencer marketing
Finally, you can alternatively opt to try an influencer marketing platform to search Instagram influencers. Platforms like Upfluence, GRIN, CreatorIQ, and many others allow you to locate the best influencers for your campaigns via searching their extensive databases.
These platforms also tend to offer a variety of other services such as campaign management, analytics, and more for added seamlessness.
Choose the right Instagram influencers for your goals
As you start researching influencers to promote your online store's products on Instagram, be sure to keep your goals in mind. What you hope to accomplish via your influencer marketing strategy should affect who you deem to be the best person to partner with for your brand.
Looking to boost awareness of your brand and/or products? Aim to work with influencers with lots of followers. If your target market is a very specific niche, a nano- or micro-influencer with that exact audience may be your best bet.
If you're instead hoping to get more conversions, opt for influencers with high engagement rates, as these followers will be more likely to go with a product the influencer recommends.
Of course, you might have multiple goals for using
Instagram for ecommerce
and for your influencer marketing strategy. Whatever you want to achieve, do your research carefully to ensure that you pick the right influencer for your brand and your budget!