Instagram has become the reference social media platform in terms of image and brand communication.
This social network, co-founded in 2010 by Kevin Systrom and Mike Krieger, has been owned by the giant Facebook since 2012.
After more than 10 years of existence, Instagram is at the center of international marketing strategies. As mobile has become a huge part of users' daily lives, brands' marketing strategies are permanently tied to Instagram.
Every year, the platform releases new features, advancing practices, codes and standards. The social media network has disrupted the way brands and their content are approached.
What are the key Instagram figures? What are the new Instagram trends? What is the Instagram audience?
Discover all the essential data to understand and know everything about the Instagram app, according to studies from Hootsuite, Statista, Facebook, HubSpot, Mention, and many more!
Instagram's key figures
Instagram's essential data
Thanks to the study conducted by HubSpot and Mention on Instagram, several statistics have been compiled to learn more about the trending social network:
I

nstagram has over 1 billion monthly active users, specifically 1.074 billion monthly active users. (Omnicore)

64% of users are between 18 and 34 years old. (Statista)

84% of influencers are female. (Social Media Today)

500 million people use stories every day. (99 Firms)

51% of Instagram users are female and 49% are male. (Omnicore)

Instagram's revenue is expected to exceed $14 billion. (Statista)
Stats to know about Instagram
We've compiled data and statistics from different organizations, such as Omnicore, Instagram, Hootsuite, and Statista to be able to provide an overview of the application.
M

ore than 50 billion photos have been shared on Instagram since its launch in 2010

On a daily basis,

more than 100 million photos and videos

are published on Instagram

Instagram is the 6th most visited website and the 9th most popular query on Google

4.5 billion

: that's the number of likes counted on Instagram every day

63% of Instagram users use it on a daily basis

73% of teenage girls say they use Instagram to

discover new products

50% of users search for content each month via the Explore tab

79% more engagement is seen on posts that mention geolocation

Videos are twice as engaging as photo posts on the app

There are 38% more likes for photos that include a face (all photo types)

The most popular videos on Instagram are tutorial videos
Practical data to know
According to the HubSpot and Mention survey, statistics highlight new practices have emerged between 2020 and 2021:
F

or more engagement and interaction, captions should include text

between 500 and 2,000 characters in length
Carousel posts

performed better in terms of engagement and interactions in 2020 compared to videos and photos

53.6% of users have

less than 1,000 followers
The audience on Instagram
What allows marketing strategies to develop on the application is obviously the subscribers and users of Instagram.
Over time, the user segments have multiplied, differentiated, complemented, to make Instagram an all-in-one application.
Users on Instagram
To find out how Instagram is consumed as a whole, let's discover together the key audience figures, compiled by HubSpot and Mention from the data analyzed this year:
5

3.6% of users have less than 1,000 followers

38% of users have between 1,001 and 10,000 followers

6.2% of users have between 10,001 and 50,000 subscribers

0.9% of users have between 50,001 and 100,000 subscribers

0.15% of accounts have between 100,001 and over 1 million subscribers

0.14% of users have more than 1 million subscribers

81 accounts exceed 10 million followers, or 0.01% of Instagram users (public figures, brands, influencers)
According to Hootsuite in October 2020, there are several audience age statistics to consider: the most active age group is 25–34 (16.5%), followed by 18–24 (15%) before 35–44 (8%).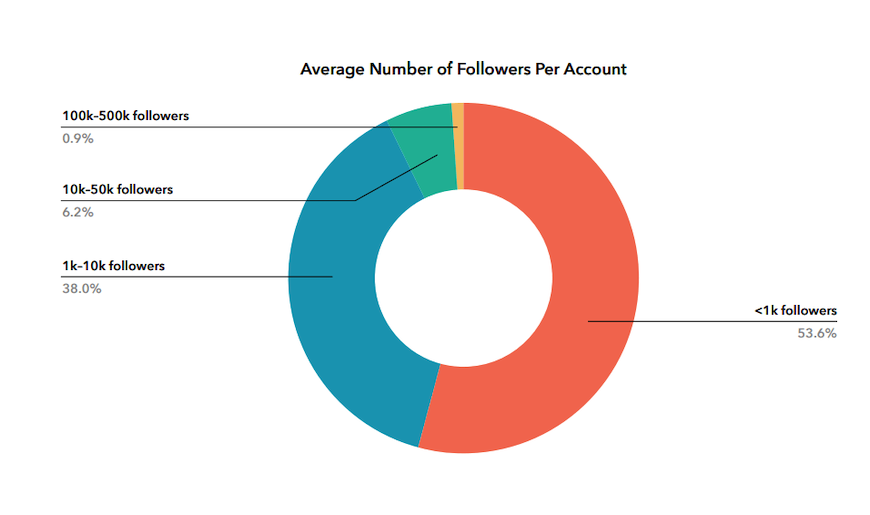 According to Statista, the five countries with the most Instagram users are the following:
T

he US has 140 million users

India has 140 million users

Brazil has 99 million users

Indonesia has 85 million users

Russia has 56 million users
This source also states that the five countries with the most Instagram users within their population are:
K

azakhstan has a rate of 78.7%

Brunei has a rate of 70.5%

Turkey has a rate of 68.4%

Iceland has a rate of 66.5%

Sweden has a rate of 66.5%
The most followed accounts on Instagram in the world
On many social media networks, whether it be TikTok, Twitter, or Facebook, international stars have exceptional communities, personalities mainly from the world of show business and the world of soccer. Instagram is no exception. Statista has compiled the data of the 10 most followed accounts:
T

he most followed account is

Instagram

with 407 million followers

Next is the account of Portuguese soccer star

Cristiano Ronaldo

with 316 million followers

Movie star

Dwayne Johnson aka The Rock

has 255 million followers

Pop star

Ariana Grande

has 253 million followers

Kylie Jenner

, the business woman and reality TV star, has 250 million followers

Singer and actress

Selena Gomez

has 245 million followers

Kim Kardashian West

, international superstar, has 237 million followers

Soccer star

Leo Messi

has 234 million followers

Beyoncé

has 194 million followers

Justin Bieber

has 184 million followers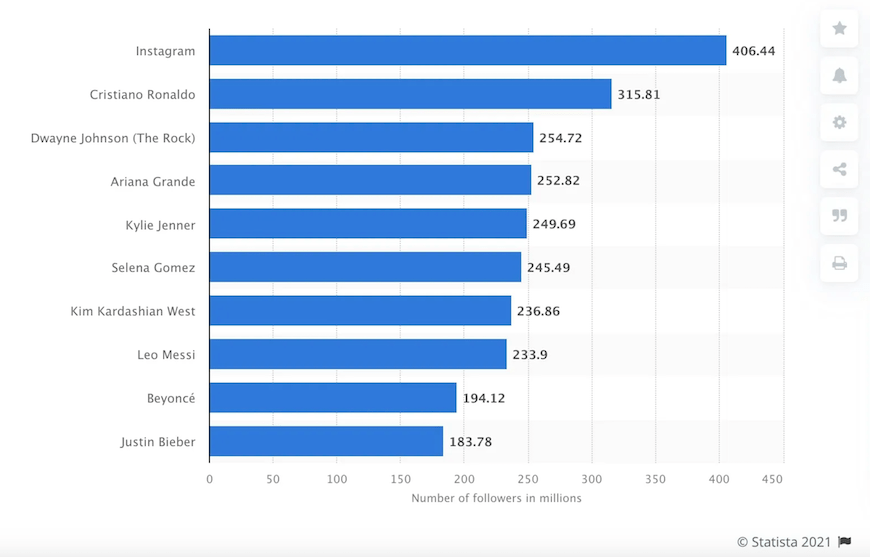 Engagement on Instagram
Engagement is the most important marker in terms of performance and awareness of an account or brand on Instagram.
Engagement is the data that shows users' enthusiasm for an account's posts.
Thus, with this figure, it's possible to value an account or, on the contrary, turn away from it. If an account is followed by hundreds of people but has a very low engagement rate, it means that its content isn't relevant enough or that its community isn't qualified.
On the other hand, if an account followed by a few hundred people has a high rate of engagement, it means that the targeted people are commenting, liking, and being active in relation to the content published by this profile.
This key data must be followed and monitored on social networks. On Instagram, it now includes the number of shares and views of the content, in addition to the likes and comments.
Plus, replying to a comment on Instagram helps gain engagement!
It's worth noting that while interacting with visitors isn't as important on a platform such as
Pinterest, it's very helpful on Instagram.
Average engagement rate
According to HubSpot and Mention's 2021 Instagram engagement numbers survey, the average engagement rate in 2020 was 2.26% (public figures and influencer accounts combined).
The median engagement rate was 0.84% in 2020. Video posts received the highest engagement, followed by carousels and then single-image posts.
Most engaging hashtags
How many hashtags were in the most engaging posts? Hashtags allow for strong themes to emerge.
According to the HubSpot and Mention study, the average number of hashtags in posts was 6.93, compared to 10.74 last year, with a median of 1. This means that 50% of posts had 1 or 0 hashtags.
A single hashtag is therefore the best engagement solution on Instagram posts, as the social media platform has upgraded the algorithms as to the importance of hashtags.
The 2020 analytics are clear: posts that used three or more hashtags had the same engagement rate as posts without a hashtag.
Using more than eight hashtags hurts engagement by reducing it significantly compared to no hashtags: -70% engagement compared to a post with only one hashtag! Your marketing strategy must now consider this new data.
The 10 most engaging hashtags were the following in 2020:
#

love

#instagood

#photography

#art

#nature

#photooftheday

#instagram

#fashion

#picoftheday

#travel

#beauty
Most engaging accounts
According to HubSpot, mentioning two accounts on a post would result in more likes and comments.
The number of posts mentioning no other account dropped between 2019 and 2020, from 34.4% to 73%.
The account that generated the most engagement by being mentioned was James Charles' (@jamescharles) account, compared to Fashion Nova in 2019. In the top tier are @tiktok @fentybeauty @sheinofficial @colourpopcosmetics @lauramercier, between new technologies, cosmetics and fashion.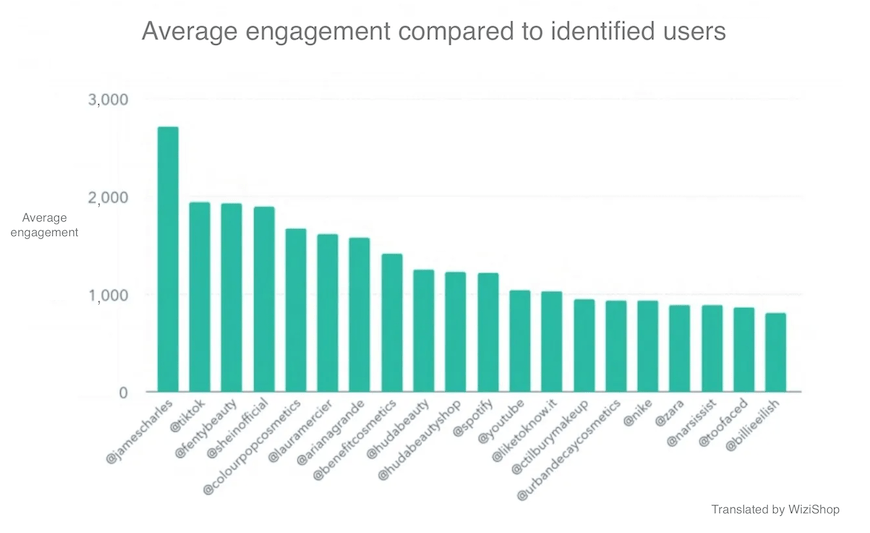 Average engagement by publication schedule
Whether you're targeting Miami, New York, Canada, Europe, France, or just Paris, the hours and days of publication can vary.
In Paris, the most engaging posting times are at 8 a.m. and between 5 p.m. and 9 p.m. for example.
The sectors of activity also change the publishing hours: for leisure activities, it's better to post on weekends, whereas a B2B solution will perform better during the week.
Tuesdays and Thursdays are less engaged days, unlike Sundays. In addition, statistics show that the French are the most engaged users of Instagram.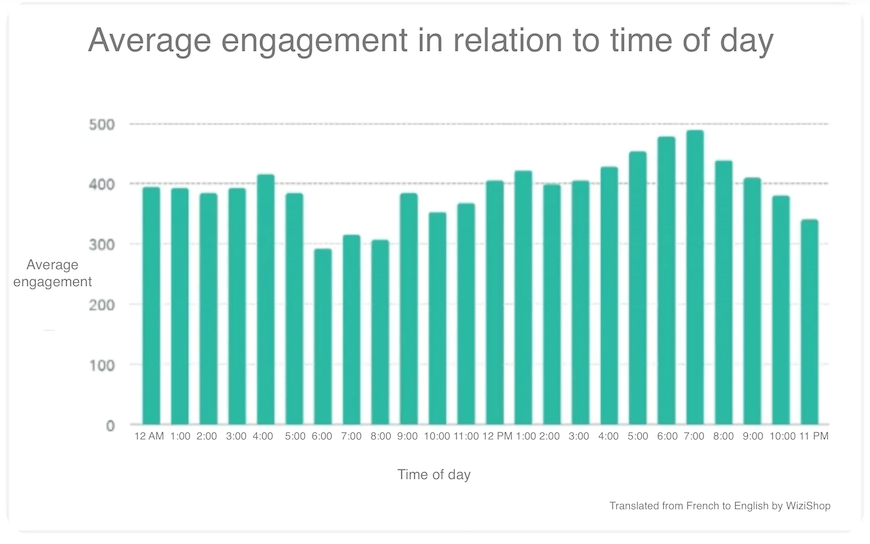 Instagram and brands
Instagram is a great showcase for all brands wishing to gain visibility. That's why the platform has 200 million businesses according to Omnicore figures. There are no less than 4 million businesses that use Instagram Story Ads every month, which means 1.7 million sponsored posts in 2020, +90% of ads viewed on mobile in particular compared to 2019.
The most influential content
Companies are using Instagram for targeted and effective advertising campaigns.
The most influential businesses and sponsored posts are related to fashion (37.9%), followed by posts around beauty (14%), and then posts linked to entertainment (10.3%), according to Buzzoole.
The place of the brand in the practices of users on Instagram is very important. In fact, 90% of accounts follow a business on Instagram in 2020, and 130 million Instagram accounts click on a social commerce post to discover the products offered on the application.
In addition, 200 million users view at least one brand or business profile per day, and a third of the stories viewed are from brands on Instagram.
As a company, boosting and optimizing your brand awareness on Instagram is therefore a strategic priority in your marketing and communication plan.
By investing in this platform while respecting the codes set up, you'll then have the opportunity to test new levers to evolve your strategy, as the concept of "test and learn" remains an effective way to find your best path to engagement.
Furthermore, by playing the game of the different options and features set up on the application, Instagram will be better able to enhance your content. Videos, tutorials, carousels, and stories should be your tools of choice!
Finally, to improve your conversion, the Shopping part of the Instagram app will be able to allow you to
trigger sales without your customers losing time between the impulse and the act of purchase.
The salaries of Instagram influencers
Influencing has become a job typically related to social networks. Users who have become content creators or influencers are paid by brands to advertise and promote products or services.
Thanks to their communities and their audience, these personalities will propose engaging content. Thus, influencers from all over the world will be able to get paid on the creation of this content and/or on the orders made by their audience.
According to the survey conducted by Kolsquare, brands allocate specific budgets according to influencers' audiences:
less than 10,000 subscribers

: up to €60 for stories and €120 for a post published by nano-influencers

from 10,000 to 100,000 subscribers

: from €120 to €1,500 for a post and from 60 to €1,000 for stories

more than 100,000 subscriber

s: from €1,500 to €4,000 for a post and from €1,200 to €3,500 for stories

more than 500,000 subscribers

: from €4,000 to €20,000 for a post and from €3,500 to €18,000 for stories

over 3 million followers

: from €20,000 to several hundred thousand euros for a post and from €18,000 to several hundred thousand euros for stories
The survey also found that Instagram is the most profitable platform, ahead of YouTube, Facebook, and Snapchat.
Instagram and its statistics show the importance and complexity of this core network for a billion active users.
These statistics demonstrate that the use of mobile has changed the way brands communicate.
Investing in this network is to ensure a growing visibility on a platform included in the top of the most used social media networks in the world.