LinkedIn has made a place for itself in the world of social media networks. It's unique in that it allows any professional to present their business activity while promoting their skills, values, and professionalism.
This digital CV is an ideal marketing lever to acquire traffic, engagement, and visibility but also to give a boost to the user's career. The social media platform also offers users the ability to find their next job or their next collaborator.
What are the platform's numbers in 2021? What's the added value of this social network? We tell you everything!
What is LinkedIn?
What is LinkedIn's interest?
Different from other platforms such as TikTok or Pinterest, LinkedIn is a professional social media network: it allows individuals and companies to build a career-based profile as a kind of digital CV.
Like all social networks, LinkedIn allows users to build a network: people can add other users to increase the number of their connections, here with the aim of developing their career.
As LinkedIn user profiles can be found on search engines, LinkedIn is also a way for users to build an online presence and easily control it. Company or personal profiles are available for organizations or employees and entrepreneurs.
LinkedIn makes it possible for you to stay up to date with the latest news of your network and companies but also to find or offer jobs, thanks to its job platform.
What year was LinkedIn created?
Linkedin was created in 2002 and launched in 2003 in the US.
The social media network's co-founders are Reid Hoffman and Allen Blue, both members of the so-called "PayPal Mafia" of payment platform creators who went on to create other international companies, along with three other entrepreneurs.
To be able to evolve its service for users over time, LinkedIn extended its network worldwide by country as of 2008 with new countries such as Spain and France. Then, in 2014, a Chinese version adapted to the country's restrictions. LinkedIn is now present in 200 countries.
What is LinkedIn's business model?
The network is based on a business model consisting of three top sources of revenue, namely advertising (sponsorship), subscriptions (premium profiles), and its recruitment service (job search engine).
In 2008, the network created its own advertising platform.
In 2016, LinkedIn was acquired by Microsoft for $26.2 billion.
Since June 2009, Jeff Weiner has been the CEO of the network. Reid Hoffman is co-founder and President. LinkedIn's headquarters are located in Mountain View, California.
What are LinkedIn's revenue sources?
LinkedIn's goal is closely linked to the professional success of its subscribers. This goal is achieved on several levels, whether in the sharing of content or in the creation of professional relationships.
To do this, the network offers to connect professionals with each other, as well as professionals with companies and vice versa. In addition, recruiters can post job offers on LinkedIn.
Advertising is also a source of revenue for LinkedIn. Thanks to its large database, ads on the social media network are ultra-targeted and very effective, which makes this service a popular acquisition lever.
LinkedIn has set up different offers to allow users and companies to take advantage of the services according to their needs:
Premium Career

: to be able to be recruited and develop your career ($29.99 per month)

Premium Business

: for companies to develop their business ($59.99 per month)

Sales Navigator

: to increase the number of leads, to grow your customer base ($99.99 per month)

Hiring or Recruiter Lite

: for recruiters to find more talent ($119.95 per month)

LinkedIn Learning

: to train and improve your skills ($19.99 per month with a one-year commitment or $29.99 per month without commitment)
According to Kinsta, 39% of LinkedIn users will pay a subscription in 2020.

What is LinkedIn's revenue?
LinkedIn's revenue exceeded $10 billion in 2021, up from $5 billion in 2018. In the second quarter of 2021, the social network recorded an increase of $928 million, or +46%, driven by growth in the LinkedIn Marketing Solutions advertising service (+97%), according to figures released by Microsoft.
Who uses LinkedIn throughout the world?
LinkedIn is one of the most important social networks for all professionals and companies. Who is the network's audience and who is the target of this career accelerator?
In 2021, LinkedIn has 774 million users worldwide in 200 countries.
The breakdown of member share between continents is as follows:
I

n Asia-Pacific: 212 million members

In Europe: 202 million

In North America: 199 million

In Latin America: 118 million

In the Middle East and Africa: 40 million
Studies estimate that monthly active users represent about 50% of LinkedIn members. According to statistics from We Are Social in 2021, 57% of members are male and 43% are female.
This source also provides the following age ranges for the breakdown of these percentages:
1

8–24 years: 19.6% (10.9% M / 8.7% F)

25–34 years: 59.9% (34% M / 25.9% F)

35–54 years: 17.5% (10.4% M / 7.1% F)

55+: 2.9% (1.9% M / 1% F)
Nearly 80% of LinkedIn members are under 35 years old.
Here's the breakdown of the audience by professional status according to LinkedIn in 2019:
I

nfluencers: 180 million

Decision-makers: 63 million

Executives: 10 million

Opinion leaders: 17 million

IT decision-makers: 6 million

Master's graduates: 3 million

Students: 46 million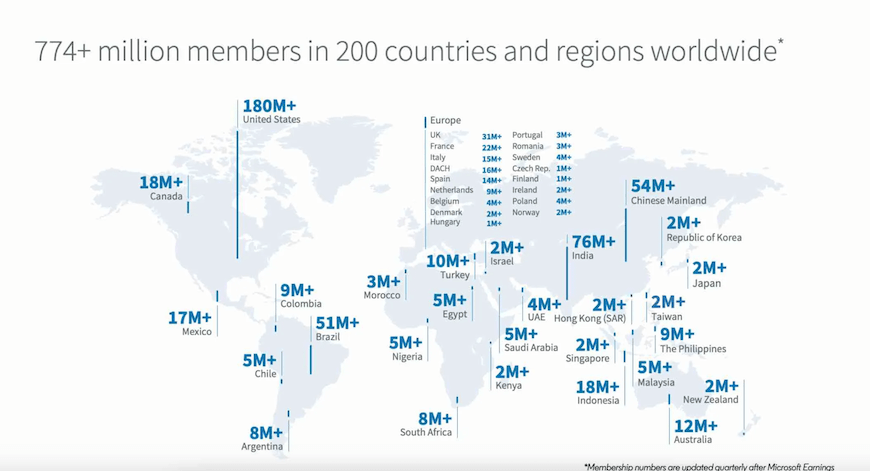 How do you use LinkedIn?
In order for your company to have the best possible visibility on the social network, let's examine together how to create top content and track the results of the publications in an optimal way.
What's a good engagement rate on LinkedIn?
This is the key statistic that will help you to know if your publications will perform well: reactions, likes, comments, and shares are compared to the number of an account's subscribers to evaluate this rate.
It's considered that the ideal engagement rate for people on LinkedIn is between 0% and 10%. In fact, this figure has increased by 50% from 2019 to 2020 according to Hootsuite.
What type of content should you create on LinkedIn?
First of all, before delving into the key content to create, it's important to keep in mind that statistics show that 57% of users consult LinkedIn on a mobile device, as stated by LinkedIn Business.
The trend on this social network is different compared to other social networks regarding the formats that people should prioritize. At a time when video is emphasized and favored, as evidenced by Snapchat statistics, Instagram statistics, and Facebook statistics, LinkedIn is abandoning this format, as noted by Ok Dork. Articles, article links, and text posts are to be prioritized.
According to LinkedIn's recommendations, posts that include a link see a 45% increase in engagement.
Omnicore states that "how-to" and advice articles that users share work the best.
For articles, the best-performing titles are 40–49 characters long (Ok Dork). For best reach on posts, count on 16–25 words for B2B and 21–25 words for B2C (Buffer).
Why should a company be on LinkedIn?
LinkedIn's research has counted 58 million companies on the network, 2 million very small enterprises (VSEs), and 120,000 schools and universities.
According to Social Media Examiner, B2B companies have a much larger presence than B2C companies, with 81% using the platform vs. 53%.
How do you make your profile stand out on LinkedIn?
To reach a maximum number of people, the 2021 strategy to undertake is that of massive information sharing through your brand page but also and especially through your collaborators' accounts.
As stated by Omnicore, 50% of all traffic to B2B websites and blogs is generated by sharing links on LinkedIn.
In order to get the most user reactions possible to your LinkedIn posts, the top marketing strategy you should have on your organic publications is to share captivating, informative, and well-adapted content with your target audience. The more time users spend on your posts, the more your profile will be highlighted on the network: this is called "dwell time."
In addition, as a professional, you may need new collaborators or solutions adapted to your needs: by highlighting your content and your values on LinkedIn, you'll allow your business to shine and attract the attention of entities that'll be able to help you develop.
You can also tag third-party accounts to encourage them to share your posts and therefore gain visibility with other people on the LinkedIn platform.
Once you have your native content strategy in place, why not consider advertising to users?
How do you advertise well on LinkedIn?
Through LinkedIn, advertisers have the opportunity to reach 663.3 million people or 12% of the world, as stated by We Are Social statistics.
According to Hanapin Marketing and "The State of Paid Social 2019" study, here are the most effective ad formats to include in your marketing strategy:
Sponsored posts

: 29% for these classic post highlights

Lead-generated ads

: 19% for these lead generators so you can grow your database

Sponsored inMail Ads

: 5% for sponsored direct messages to users with an average open rate of 52%

Text Ads and Dynamic Ads

: 4% for text ads and those aimed at highly targeted profiles to increase your number of subscribers
These figures and statistics allow us to understand the importance of the only platform among social networks to promote companies and professionals to boost careers and sales over time.
It's more critical than ever to invest in LinkedIn to legitimize your business or professional activity while opening doors and new horizons for the future!