Twitter has become the way to obtain information for many people. This microblogging site and application allows brands and companies to build strong links with their communities over time.
Twitter is one of the oldest social media networks. Since 2006, users have been playing the tweeting game, content consisting of small texts that were first limited to 140 characters and are now extended to 280 characters.
What are the key figures to know to integrate Twitter in your marketing strategy? Discover the top statistics concerning revenue, usage, and more for the social media network with the blue bird.
Twitter: history of the social network
The history of Twitter begins with a podcast story. In 2005, Noah Glass and Evan Williams, then heads of the San Francisco start-up Odeo, collaborated with Jack Dorsey, who was in charge of developing a new service within the company.
The story goes that during the launch of their audio service, Apple launched its Apple Podcasts service: Odeo then tried to reinvent its concept.
Jack Dorsey imagined a platform ideal for users who wanted to share their daily lives online with their friends. First named Stat.us, they changed its name to Twttr, following the Flickr trend of the moment, before changing again to Twitter, the social media network's current title.
On March 21, 2006, Jack Dorsey posted his first tweet: "Just setting up my twttr."
This event marked the launch of the service created by Jack Dorsey, Evan Williams, Biz Stone, and Noah Glass.
In 2008, Twitter had an audience of more than one million users. The company grew rapidly, from 29 employees in 2009 to 900 in 2012.
Twitter is now a pioneering social media network in the field of microblogging, which allows users to post small instant texts. The application has kept the original idea of "What are you doing?" and continues as a platform dedicated to publishing texts to document one's day.
In 2021, Twitter launched Twitter Spaces, a space for people to share live audio content to compete with the niche application Clubhouse, as a return to its early social audio functions.
Twitter numbers in the world
Who is Twitter the most popular with in the world? Statistics and key figures
Based on a study conducted by We Are Social and Hootsuite in 2021, the number of monthly active users in the world is estimated at 397 million. Shareholders Letters stats in October 2021 reveal that the number of daily users in the world in the third quarter of the year was 211 million users.
In October 2021, according to Statista data, the five countries that use Twitter the most are:
U

nited States: 77.75 million active users

Japan: 58.2 million

India: 24.45 million

Brazil: 19.05 million

United Kingdom: 19.05 million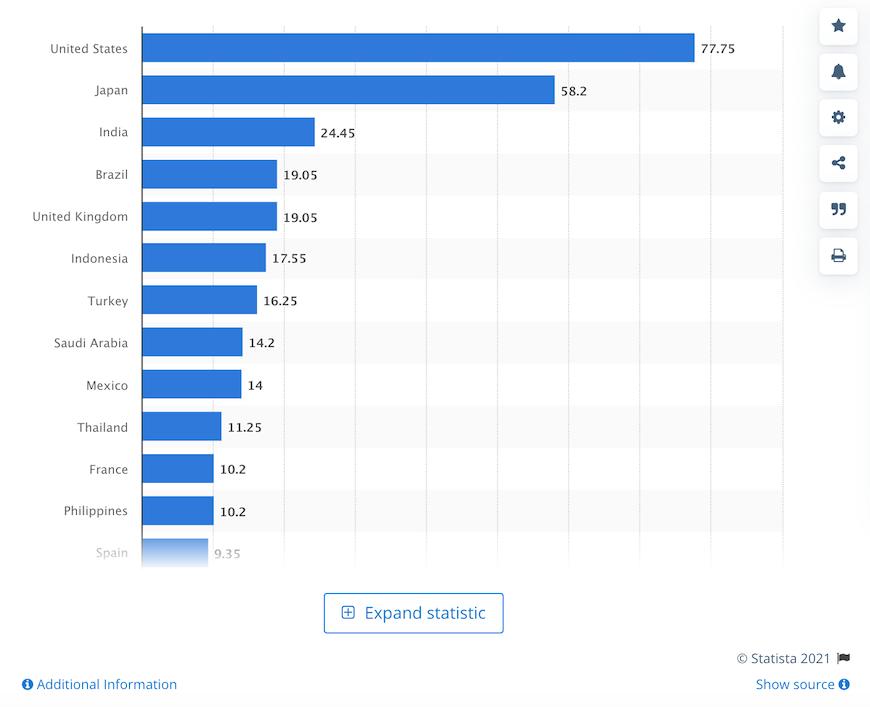 Age of Twitter's worldwide audience
According to Twitter Ads Manager Audiences in Hootsuite's We Are Social October 2020 report, the top age group on Twitter in terms of number of people using the platform is the 25–34-year-olds at 30.9%, followed by the 18–24-year-olds at 27% and the 35–49-year-olds at 21.1%.
Furthermore, the audience is predominantly male: 68.5% male and 31.5% female represented.
Also according to this source, the rates were distributed as follows for the various age groups at this time:
1

3–17 years: 2.6% female and 6.5% male

18–24 years: 8% female and 13.6% male

25–34 years: 7.5% female and 21.4% male

35–49 years: 7.5% female and 20.7% male

50+ years: 4.1% female and 8.2% male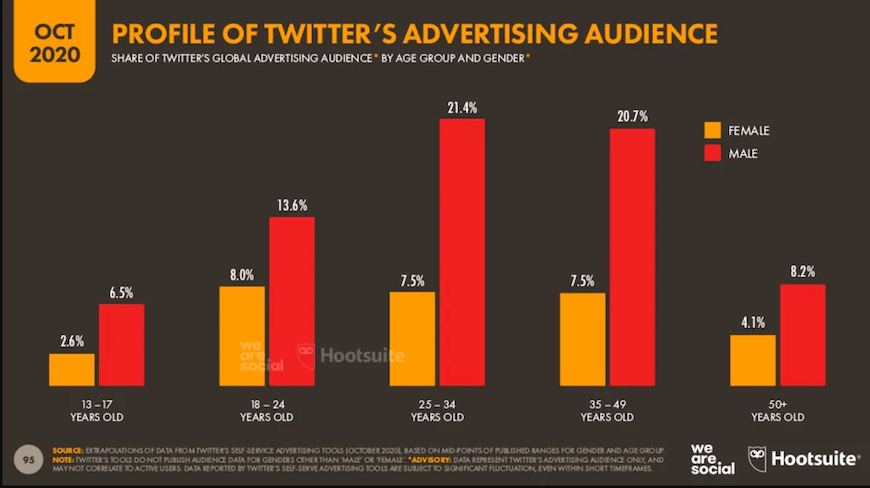 Based on Statista data in August 2021, per minute, the number of tweets posted on the platform amounts to 575,000 worldwide, far from the TikTok stats for video views, which is #1 on the list, or Snapchat stats on the number of messages sent.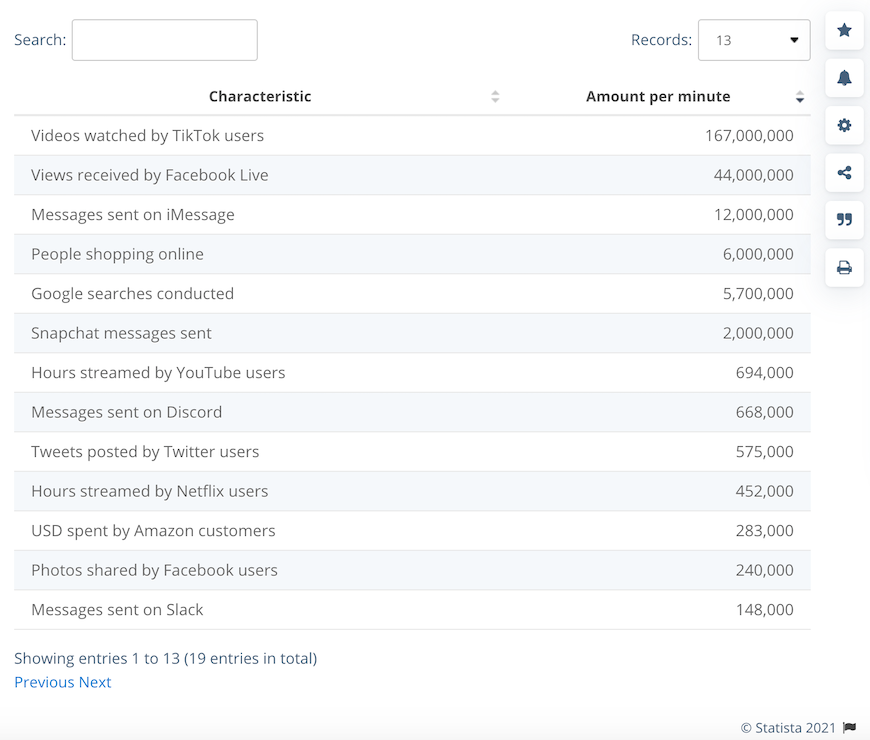 Twitter usage global stats
Based on the data from a Google study, 80% of the platform's usage is via the mobile application. Twitter also informs us that 93% of video views are performed on mobile devices. Moreover, tweets that include videos generate 10 times more engagement from people than others, according to Twitter recommendations.
GlobalWebIndex stats from 2018 found that Twitter users are big consumers of online purchases: 84.8% of them are cyber shoppers compared to 74.5% who don't use the social media network.
According to Pew Research Center, in the United States, the country with the largest number of active users, statistics show that the 10% most active users produce 80% of the network's tweets.
A record was broken on June 3, 2020: Apptopia statistics tell us that on that day, the application counted over 677,000 downloads worldwide. The analysis given regarding this explosion is related to the pandemic and internet users wishing to know more about COVID-19 in real time, but also to the protests related to the death of George Floyd in the US during this time.
In addition, based on Reuters data used by Digimind, Twitter comes in fourth place (12%) for social media networks used by people to access information worldwide in 2020 after Facebook (36%), YouTube (21%), and WhatsApp (16%).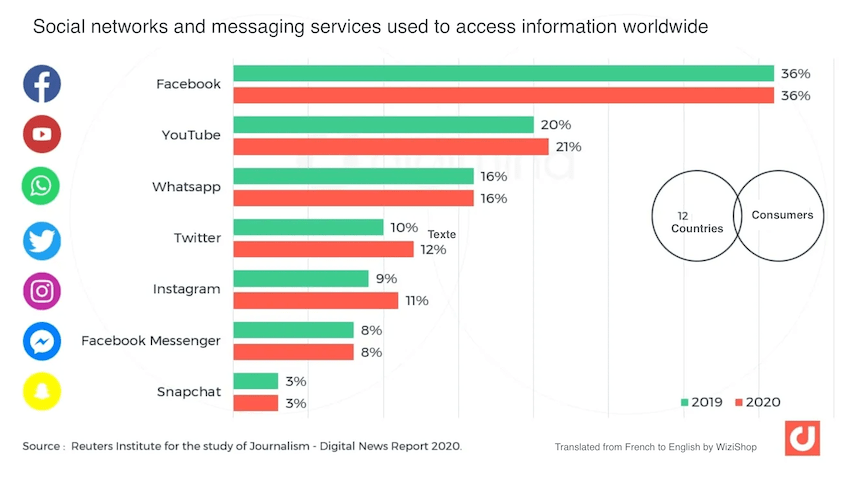 Who has the most followers on Twitter? The 10 most followed accounts
Statistics show that the top Twitter accounts in terms of number of followers in the world are mostly those of public figures, politicians, or people from the entertainment world.
The 10 most followed accounts are:
Barack Obama

:

an audience of 130 million followers
Justin Bieber: 114 million
Katy Perry: 108 million
Rihanna: 103 million
Cristiano Ronaldo: 95 million
Taylor Swift: 89 million
Donald Trump

:

88 million

before Twitter deleted his account in 2021

Ariana Grande: 84 million
Lady Gaga: 83 million
The Ellen Show: 78 million
What is Twitter's revenue?
According to Business of Apps, Twitter generated $3.7 billion in revenue in 2020, up 8.8%. Of this figure, 86% came from advertising. Despite this, Twitter also recorded an annual loss of $1.1 billion in 2020, a negative figure for the first time since 2017.
Of the $3.6 billion in 2020, $2 billion came from the US vs. $1.6 billion from the rest of the world. In all, $3.2 billion came from advertising and $0.5 billion from other areas (data, etc.).
Based on Twitter's figures, the company generated revenue of $1.19 billion in the first quarter of 2021, an increase of 74% compared to the same period last year. Its profit was $65 million, compared to a loss of $1.34 billion at the beginning of 2019.
Twitter for business and marketing professionals
It's been proven by many studies that Twitter is an image lever for all marketing professionals. B2C and B2B marketers are interested in this platform for several reasons mentioned by Twitter on its Business tab:
B2C and B2B marketers can keep themselves informed

, social listening is thus optimized in order to adapt their marketing strategy to all the events that occur, closely or remotely related to their activity. +18% in message association for brands present on Twitter: a marketing impact multiplied by 10 thanks to this social media network.

Free promotion of your brand

: +8% in brand awareness is the figure that differentiates brands present on Twitter from those who are not. Thanks to Twitter, it's possible to reach other audiences in a strategy based on sharing information but also by anchoring a brand in the news. Reacting to an event, positioning yourself on trendy hashtags, and many other activities that will diversify your presence on Twitter to reach more potential customers.

Recruit and retain consumers

: by being bold while making a point of convincing your potential buyers, your image will have a better chance of being able to increase your conversion rate. +7% in brand preference and +3% in purchase intention: these are the figures for brands that are present and active on Twitter compared to those who are not on the platform.

Optimize your brand or activity launch

: Twitter is also an event platform. It allows you to successfully launch a new item on the market or to document a live event to make it a Twitter Top Trend, such as a party or a conference for example!

Follow your competitors closely

: by creating lists and activating notifications, you'll be able to analyze your competitors' marketing strategies in order to align yourself with their performance and, ultimately, outperform them!
As you can see, Twitter offers a very special microblogging service that allows users to publish a variety of content, such as video, photo, and text posts, but above all to interact with other users and brands.
For many users, Twitter is a direct customer service to exchange and file complaints. So make sure you have a solid service to answer all your followers' questions. This in turn can help to increase engagement as well as customer loyalty.
Finally, it's important to consider that out of the 1.3 billion Twitter accounts created, 44% of users have never tweeted on the social media platform. No less than 500 million people visit the network without logging in: think about this community and talk to all visitors, not just the regulars!