Pinterest is something of a free spirit in the world of social media platforms because its usage is unlike any other. Different from Facebook, Instagram, YouTube, LinkedIn, Snapchat, or TikTok, Pinterest allows visitors to enjoy a wide selection of inspirational images and videos, on mobile and desktop.
Pinterest is first and foremost a visual search and discovery engine. The social media site and app are intended to inspire and inform visitors in at least a billion areas.
Today, users, or "Pinners," can find billions of unique visuals, photos, videos, gifs, and infographics in the form of "Pins," which are themselves grouped into thematic boards.
What are the key figures to remember to improve your marketing efforts, boost your brand's presence on the social media app to reach a larger audience, and get ready for the future?
How does Pinterest work?
The marketing strategy to acquire on Pinterest is to share ideas, inspirations, knowledge, in a visual way: here, there's no textual answer to a question like on Google for example. It's also less about interaction with visitors than on Facebook, TikTok, Youtube, or Instagram in particular.
Less social than other social networks, Pinterest was actually defined as such by one of its co-founders, Evan Sharp, in 2011:
"People thought of us as a social network [...] but that was really a misunderstanding. It's our fault for not being clear. We think of Pinterest much more as a search engine."
Here, there's no question of UGC, user-generated content, as on Facebook, TikTok, and Instagram: the user isn't at the center of data sharing, and marketers and brands should note that it's truly the inspiring image content that's key to the Pinterest platform.
Users have several possibilities to share content. They can either:
import it directly

on their profile in one of their boards;

pin a visual whose source is a website

, notably thanks to the Pinterest extension to be added to their browser; the tool instantly recognizes the visual present on the site and offers to share it directly on Pinterest in the board of the user's choice; or

re-share native visuals in two clicks

from accounts of other Pinners they follow or from creators associated with their image search to save them in one of their boards.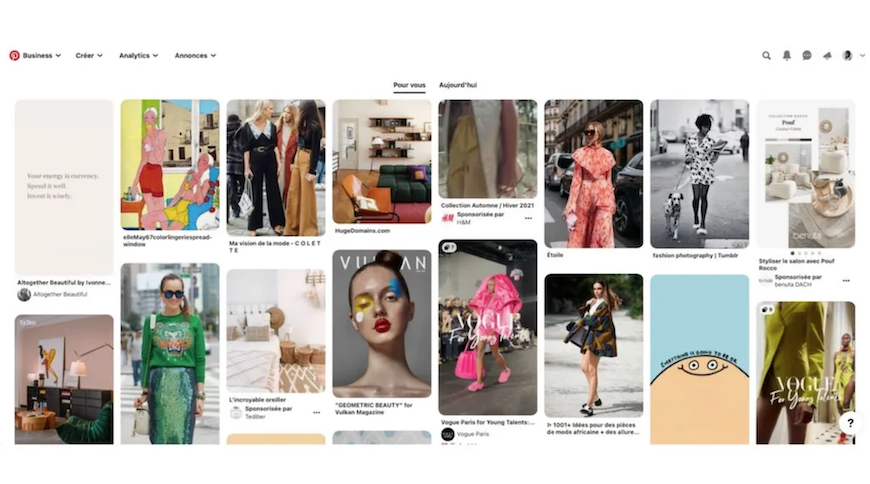 Key figures for Pinterest
Timeline and Pinterest updates
Pinterest is a website that was created in March 2010. Its founders are Paul Sciarra, Evan Sharp, and Ben Silbermann. The latter worked at Google for a while in product design and advertising. He was also able to participate in the creation of Google Maps, an event that inspired him to, in turn, create an innovative platform.
The idea for Pinterest was to digitalize the traditional cork board
on which we hang photos, postcards, messages, or important data. That's why, on the social media platform, you pin files and the logo looks like a pin, the symbol of the Pinterest concept.
The Pinterest platform rapidly won over visitors by offering unique content and inspiring images and changing the codes of social networks such as Linkedin or Snapchat. The results appeared quickly.
In 2011, the first smartphone application was launched before being transformed in November 2019.
The year 2019 was also marked by the evolution of the social media platform, for advertisers and brands in particular: in March of the same year, five shopping functionalities were released, between social shopping, personalized purchase recommendations for users, the product catalog, shopping ads, and shopping search.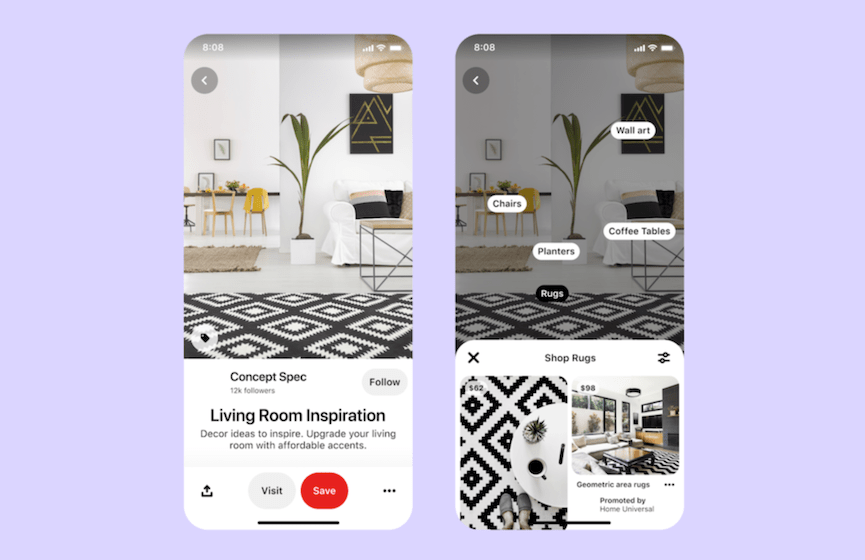 In September 2019, Lens, the platform's visual search tool, was improved, and dark mode was launched. With Lens, users are able to snap a photo with their Pinterest camera and then search and then explore and discover different ideas or products related to the image.
In September 2020, Pinterest introduced Story Pins: a new way to share your inspirations with your audience in a dynamic way, thanks especially to video.
Active users and numbers worldwide
Pinterest is a singular network, and cannot be compared to Facebook statistics, Snapchat statistics, Instagram statistics, or LinkedIn statistics. So let's find out what Pinterest's key statistics are in the world.
Global Pinterest population
In the third quarter of 2021, Pinterest's number of monthly active users was 444 million, which is an increase of 1% year over year. The stats show that highest population density was in the United States with 89 million active users compared to 356 million in the rest of the world. Nevertheless, the American number dropped by 10% in comparison to 2020, with a 4% increase in the rest of the world.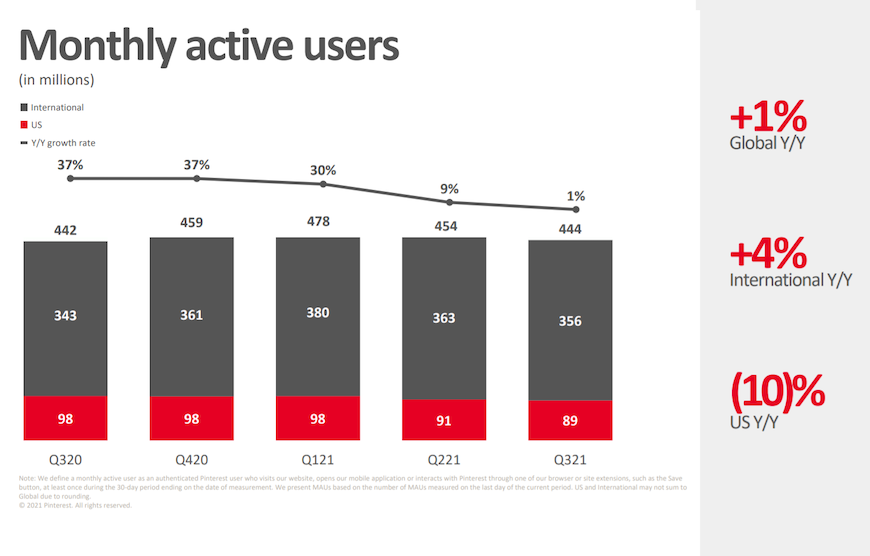 When it comes to ages and generations, audiences are changing. In fact, the youngest age groups are becoming increasingly numerous on the platform: Pinterest counts a 50% increase in Gen-Z Pinners, users born between 1995 and 2010.
For millennials, users born between 1980 and 2000, the number of Pinners increased by 36% over the year.
Stats show that men are also increasingly engaging on the social media platform, with a 48% increase in Pinterest's male audience being reported.
Members of the younger generation are returning to the application: like TikTok or YouTube, images and videos are now at the center of people's information consumption.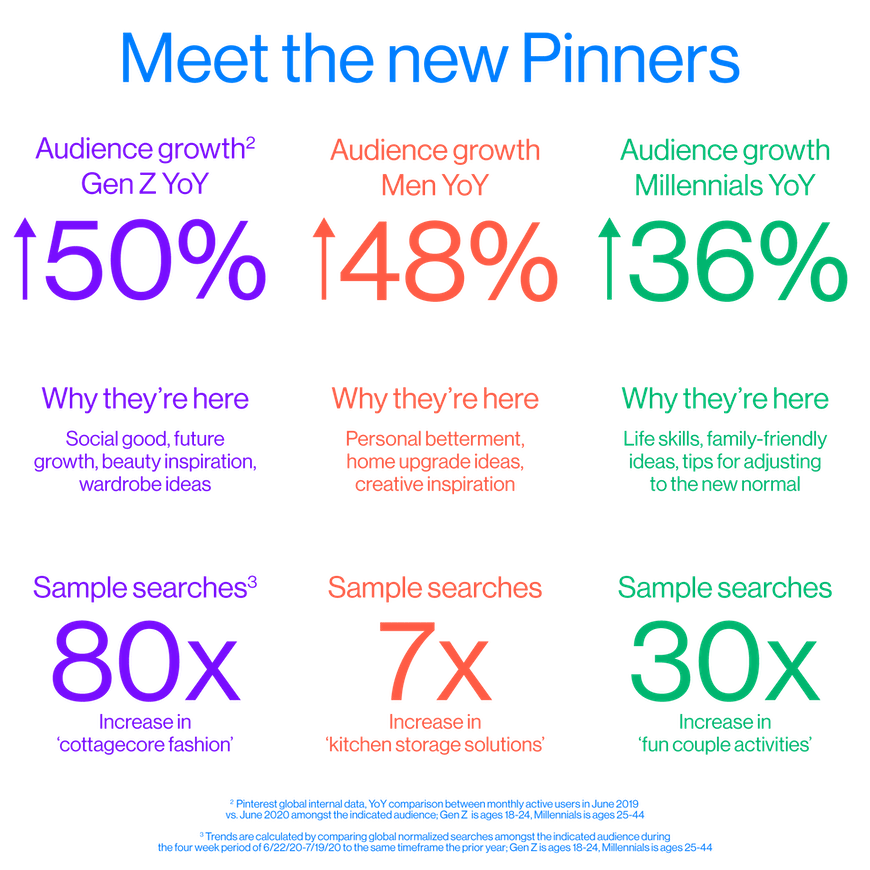 Do you know how many pins are present on Pinterest? In fact, 200 billion "pins" are counted to date on Pinterest, with no less than 4 billion boards to accommodate them all.
To keep these numbers strong, the application and the site can count on the 2 million users who save pins on their boards every day...an immense community that's only growing!
Pinterest's financial results and revenue
Pinterest numbers saw a dip in growth at the beginning of 2021, but they largely made up for it in the second and third quarters.
In fact, the overall increase in revenue is significant, according to the stats: +43% year-over-year growth, including $498 million in the United States alone out of $633 million in total. The United States recorded a growth of +33% and +96% for the rest of the world.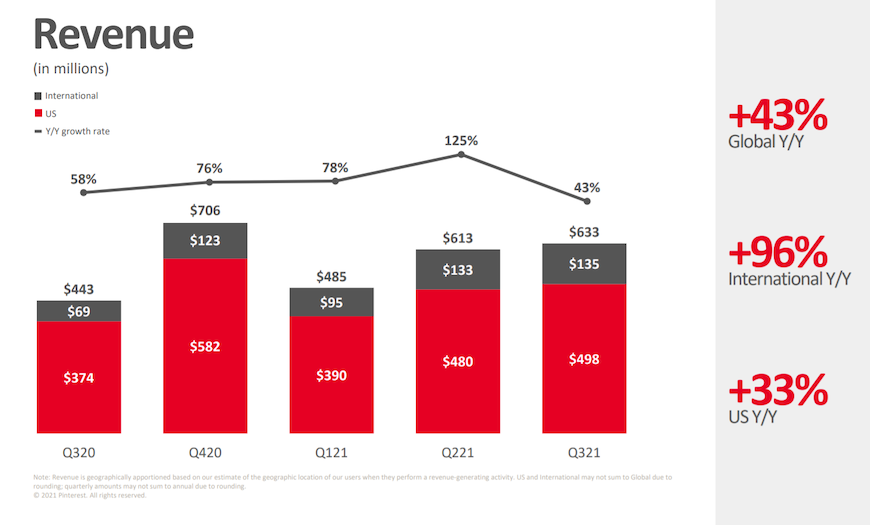 Pinterest trends and news
The application has largely diversified and imposed itself in the commercial sphere over time. In relation to usage for advertisers and ecommerce, many tools have been implemented in recent years for professionals to better know their potential customers and better target their campaigns.
In addition, social shopping has grown significantly on Pinterest, and help for e-merchants can now be found on this great app.
Resources, tools, and analytics: all the new Pinterest features are already essential!
Try on: virtual reality
Virtual reality has moved into Pinterest's services for online retailers. Besides having set up resources such as the catalog or Pinterest Shopping, it's now possible for users to try on an item thanks to a filter system affixed to the screen of the user who turns on their front-facing camera.
The name of this service is "Try on" for "trying" different products: an instant fitting room is made available, remotely, to be able to further enhance the user experience through Pinterest technology.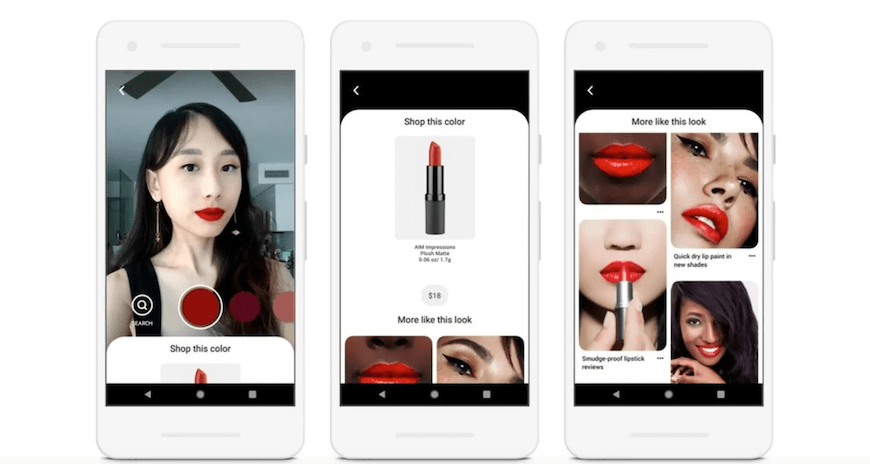 Conversion Insights
This is a boost for advertisers and Pinterest social shopping in 2021. With improved tools for advertisers and the app's focus on creators, Conversion Insights was created to provide a detailed overview of conversion data related to users' Pinterest activity.
Whether involving organic post results or campaigns, this dashboard is directly linked to the advertiser's site and is going to be able to give a business accurate information about traffic and revenue related to Pinterest.
Trends by category
Pinterest's tool is getting more and more precise! Thanks to this service, it's possible for users to have a summary of the categories that are creating a buzz globally but also by country.
This Pinterest tool mainly looks at statistics from the United States, Canada, and the United Kingdom.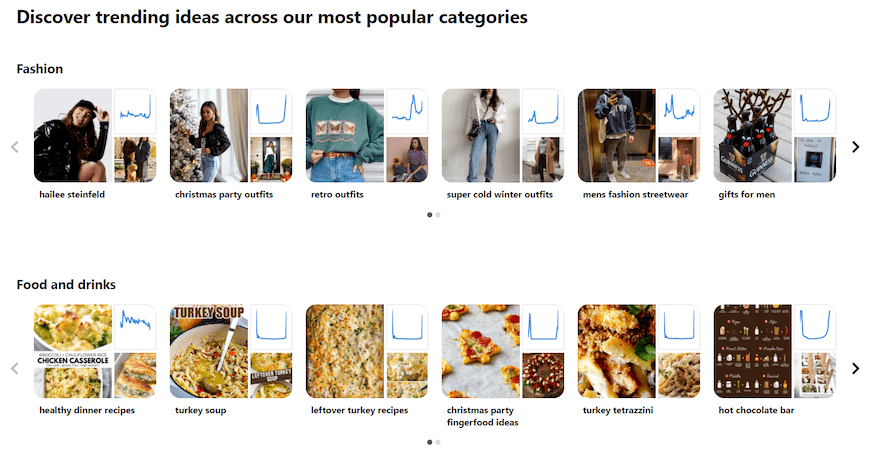 Pinterest Predicts 2021: trends for the future
This is the most comprehensive resource offered by Pinterest.
Predicts allows all professionals or individuals who want to invest as much as possible in the creation of content on the Pinterest platform to know precisely the predictions made by the application through the study of user behavior.
Within a playful and visually appealing interface, each box contains information related to the theme with figures and key data.
Thus, we learn that fashion is leaning toward "comfort" for people all over the world, that beauty is increasingly for natural rather than artificial, or that the research in finance indicates a very important interest in questions regarding entrepreneurship and self-employment.
To discover all the categories, head to Pinterest Predicts.
Visual formats on Pinterest
Finally, Pinterest holds its own set of rules for users to be able to create powerful content. So, before you start sharing visual content, keep in mind that formats are important on the application.
Furthermore, focus on inspiring visuals: as we've seen, the Pinterest platform is for users who want to find inspiration or learn new things, just like people would find ideas on a corkboard.
Here's our infographic as a recap of the necessary dimensions on Pinterest and the assurance to strengthen your marketing efforts and boost the traffic for your ecommerce business!