Snapchat is a social network that was created in 2011. This free app was created by Reggie Brown, Evan Spiegel, and Bobby Murphy, who were 22 and 24 years old at the time. Snapchat was originally a Stanford students' study project that was a real success from the very beginning of its release.
The goal of the app is to be able to share content on a smartphone screen in an ephemeral way: Snapchat content has a life span of 24 hours.
Several takeover offers have been proposed by Facebook or Google, but Snapchat is not for sale. In 2016, the company became Snap Inc. and has progressed throughout the years.
What are the results of this free-spirit application? How do you determine the trends of tomorrow? Here are all the numbers to know and predictions for the future.
Snapchat users in 2021
As of the third quarter of 2021, the Snapchat app has 306 million users, according to Statista. In Q3 2014, that number was 62 million.
The app counted 293 million users in the third quarter of 2020, an increase of 4.44% in 2021.
North America accounted for 96 million users in Q3 2021, and Europe accounted for 80 million daily actives compared to 130 million in the rest of the world.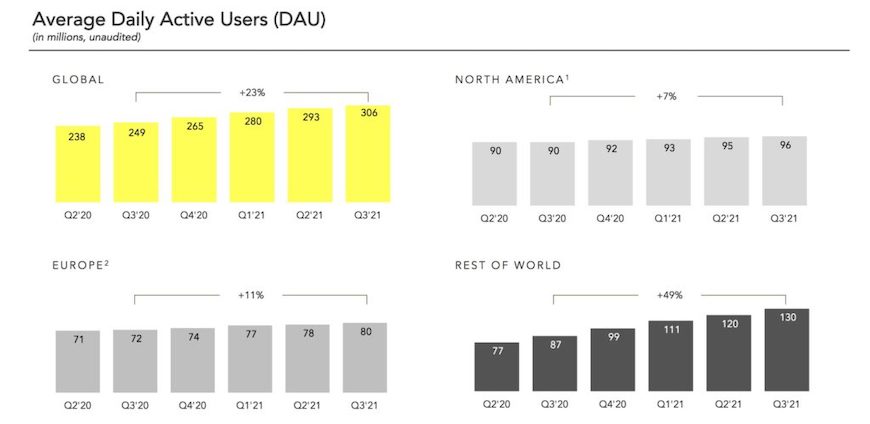 According to Statista, as of October 2021, India represents the largest population of subscribers on Snapchat with almost 116 million people. The US comes in second with 106.2 million users, and then it's France that takes third place with 24.1 million users.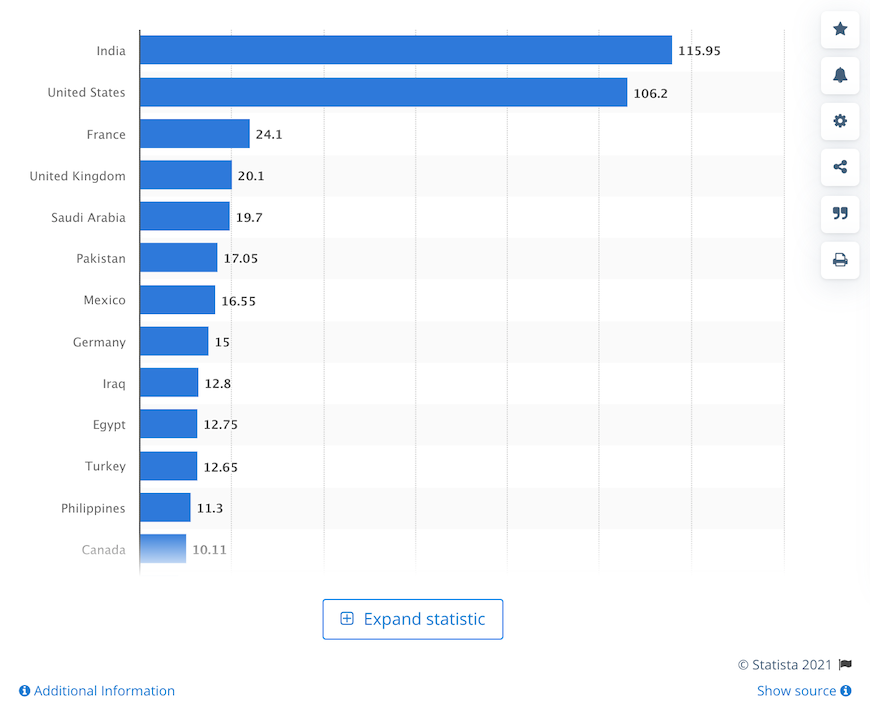 American users state that they use Snapchat mostly to keep in touch with friends and family. Nevertheless, this makes this demographic the most engaged on the social network with an engagement rate of 48% on the platform, just behind the statistics for Facebook and WhatsApp, as stated by Statista.
According to DataReportal's findings in October 2021, the audience and demographics of the social network are mostly concentrated on young age groups.
1

3–17 years old: 21.3%

18–20 years old: 20.1%

21–24 year olds: 19.2%

25–34 years old: 22.2%

35–49 years old: 13.6%

50 years and older: 3.6%.

The data shows that the most important age groups are the 25–34 range at 22.2%, followed by the 13–17 range at 21.3% and the 18–20 range at 20.1%.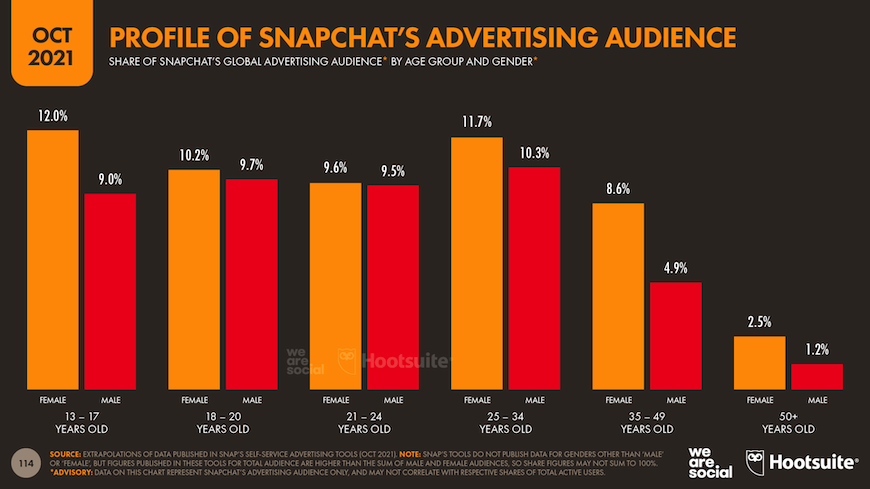 Based on the results from a study by We Are Social and Hootsuite, the share of women is higher than the number of men on the Snapchat application: 54.6% are female while 44.6% are male.
1

3–17 years old:

12% female compared to 9% male

18–20 years old:

10.2% vs. 9.7%

21–24 years old:

9.6% vs. 9.5%

25–34 years old:

11.7% vs. 10.3%

35–49 years old:

8.6% vs. 4.9%

50 years and older:

2.5% vs. 1.2%

The largest female share is found in the 13–17 age group (12%), and the largest male share in the 25–34 age group (10.3%).
Snapchat numbers: global statistics
Snapchat key figures
Worldwide, no less than 5 billion snaps, photos or ephemeral videos are sent every day.
Users open the application about 30 times a day on average and for a duration of 50 minutes per day, again on average. In all, 10 billion videos are viewed every day.
Beyond just sharing photos and videos on smartphone screens to subscribers or loved ones, Snapchat users are also fans of the Discover platform launched in 2015, which allows users to watch different formats, shows, mini-series designed by media and content creators.
12 million users watch content via Discover, and the time spent on the tab is increasing: a 45% increase was noted between 2019 and 2020.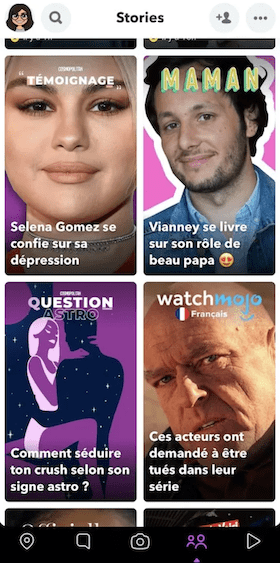 In 2020, the "Spotlight" tab was created on Snapchat, offering a format very similar to the videos offered by TikTok: short videos are randomly displayed on the subscriber's screen. This platform also makes it possible to pay the best content creators. One million dollars is paid every day to these creators.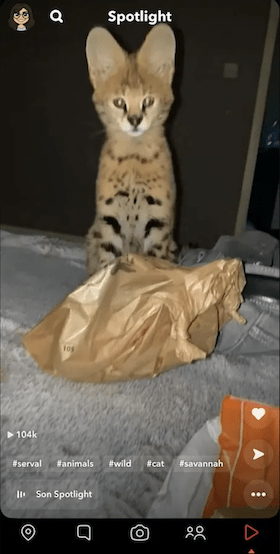 The Snapchat app is also known for its dozens of filters and augmented reality technology. For instance, OneZero describes how after Snapchat released its gender-swap and baby filters in May 2019, downloads for the app more than doubled!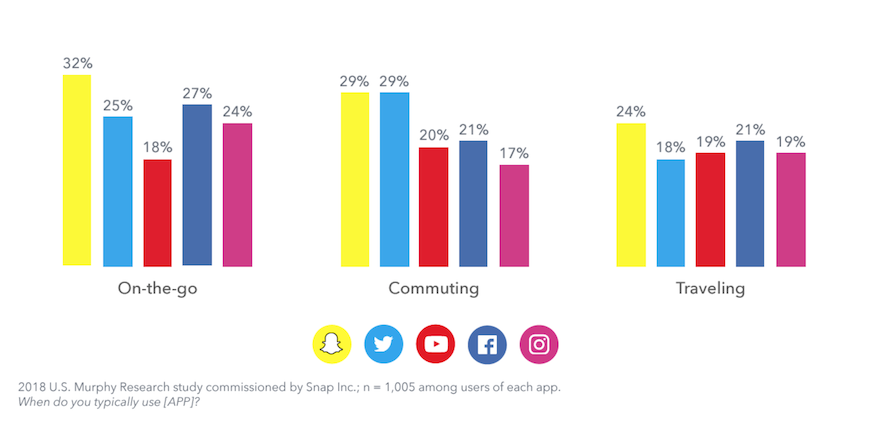 Regarding the moments prioritized by users to use the platform and according to the large survey conducted by Snapchat in collaboration with Murphy Research, Snapchat is the most used app on the go (32%), during the commute to work (29%), and while traveling (24%).
Following this 2018 survey, 95% of the 1,005 users surveyed stated that the app made them happier.
Snapchat usage: a case study in the US
Snapchat is one of the most preferred social networks by Americans.
Users are immersed in the lives of their friends and the other people they follow via their snaps received directly or accessible via their stories.
Their stories are documented in a screen filled with photos and videos. Media is also represented on this platform as an additional way to inform and entertain while breaking out of the classic framework of internet formats or other content already present on Facebook and Instagram.
The Snapchat audience in the US mostly consists of users on the younger end of the age spectrum. Instagram and Snapchat are the most popular applications for 18–24 year olds, according to Pew Research Center.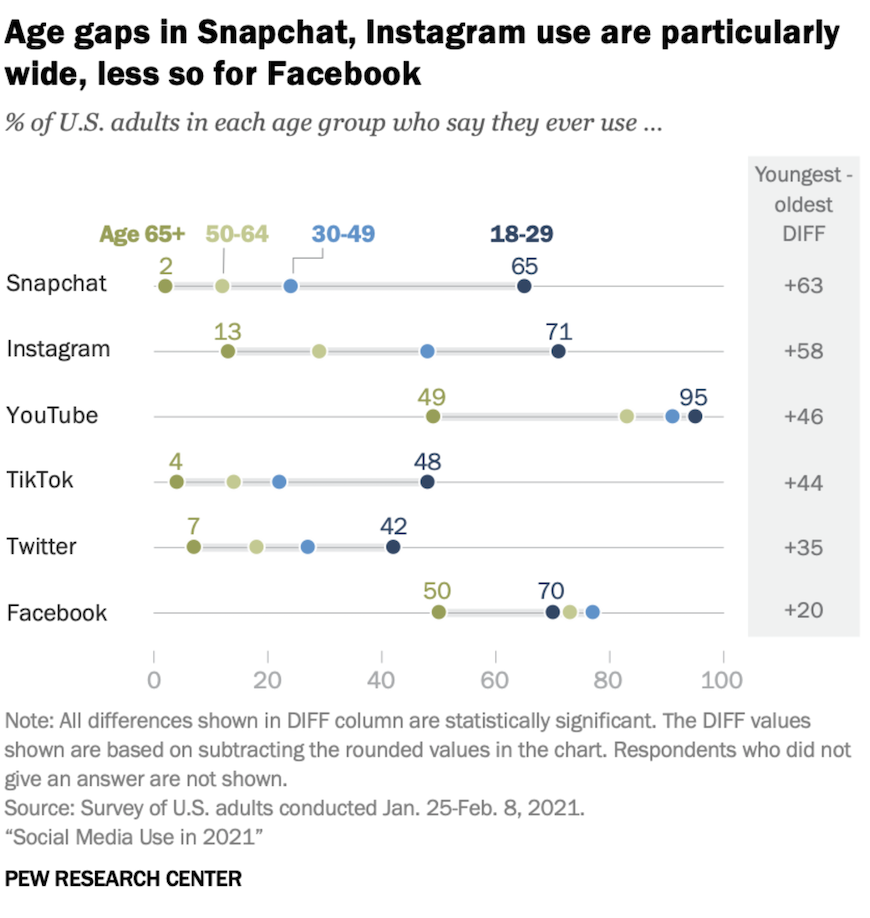 In the US, the most used apps in 2019 by teens were first Instagram for 25% of them, then Facebook for 24%, and Snapchat for 22%, as noted by eMarketer.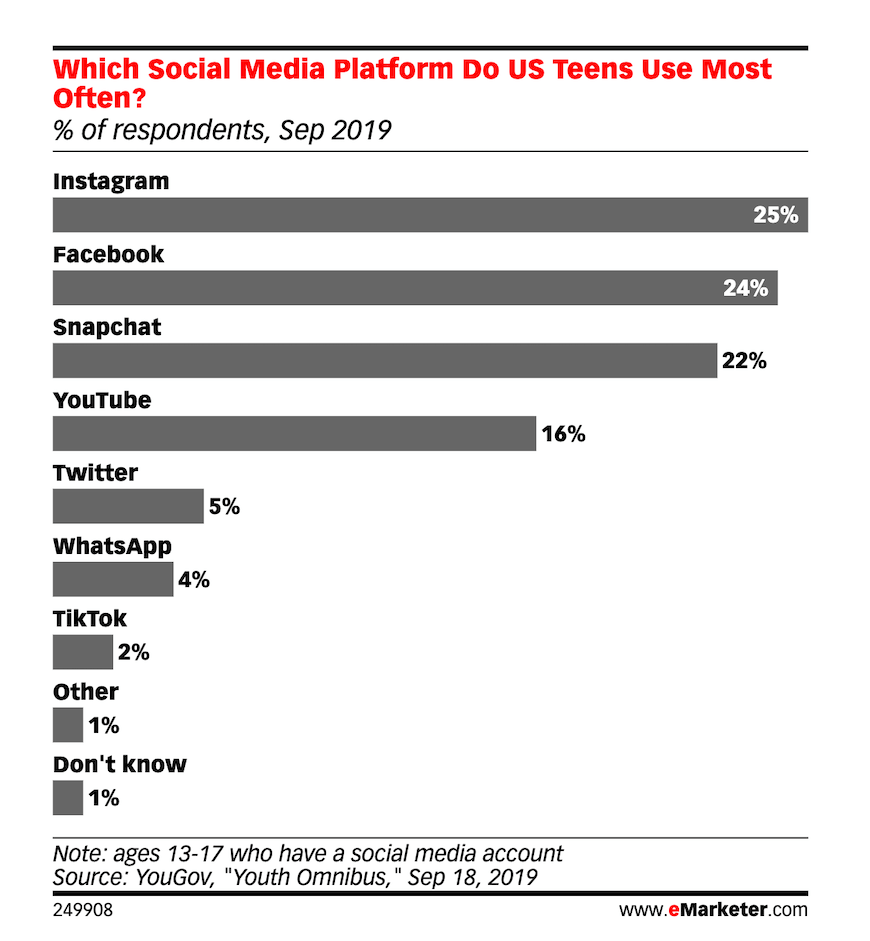 With 2020's lockdowns, these statistics are looking a bit different these days: in 2021, according to the Piper Sandler survey of a panel of 9,000 young people with an average age of 15 years old, Snapchat was the app most liked by teens for 34% of them, before TikTok, which dethroned the Instagram statistics during the crisis.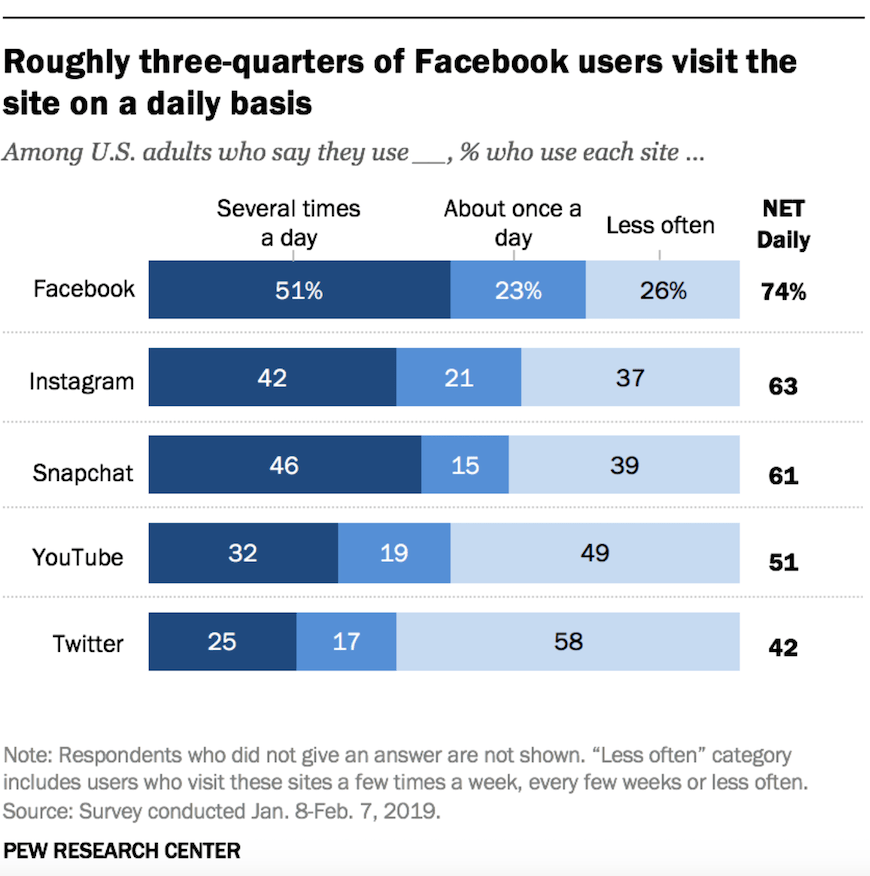 In 2019, social network users in the US proved their daily attachment to Snapchat with one of the highest scores of daily visits, 46% of the audience, compared to 51% for Facebook, which holds the top spot.
Snapchat is therefore a social network that's consumed every day, inscribed in users' habits.
Brands and companies on Snapchat
According to Social Media Examiner, communication and marketing specialists don't plan to invest much in Snapchat in 2021: only 6% of them see an interest for their brands.
Brands aren't represented much on the platform, compared to other social networks. On social media that works internationally, Snapchat comes well behind them in strategies in 2021, after Facebook, Instagram, TikTok, LinkedIn, Twitter, and YouTube.
In business communication, in B2B, Snapchat is only used at 3% and 5% by marketers in B2C, directly to consumers, unlike LinkedIn statistics for example.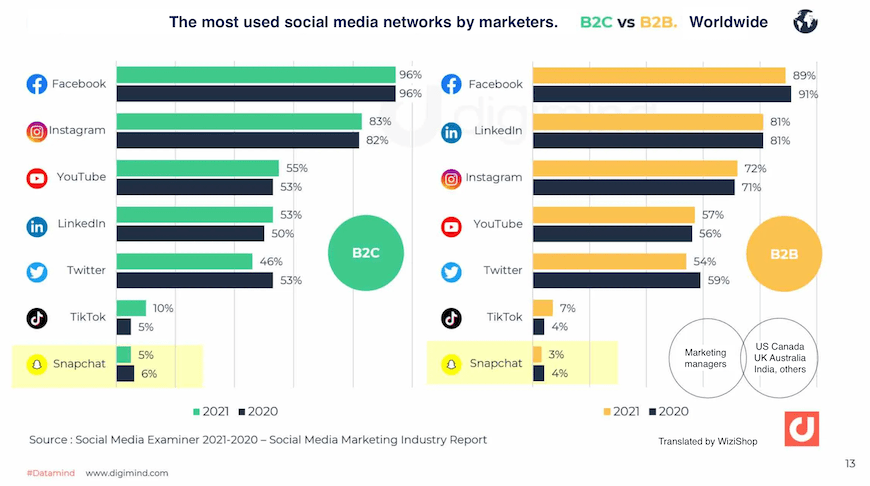 Snapchat's revenue in 2021
Snap Inc., the company that owns the app, is located in 25 cities across 15 countries around the world, according to official information provided by the company.
3,863: this is the number of full-time employees that the company founded in 2011 and then transformed in 2016 counted, 54% of whom are engineers.
Taking into account the company's revenue, we can see some difficulties that have turned into a clear progression in the last quarters, in 2021.
In the first quarter of 2020, the company recorded a loss of almost $100 million compared to the fourth quarter of 2019, from $560.89 million to $462.48 million and even $454.16 million for the second quarter of 2020.
It's in the second part of the year 2020 that Snap Inc. goes up the slope until 2021 and a second quarter that explodes with a figure of $982.11 million, a score that's up 116% compared to last year.
This data should also be analyzed over time: we can see that between the fourth quarter of 2020 and the first quarter of 2021, the company recorded a loss of $287 million.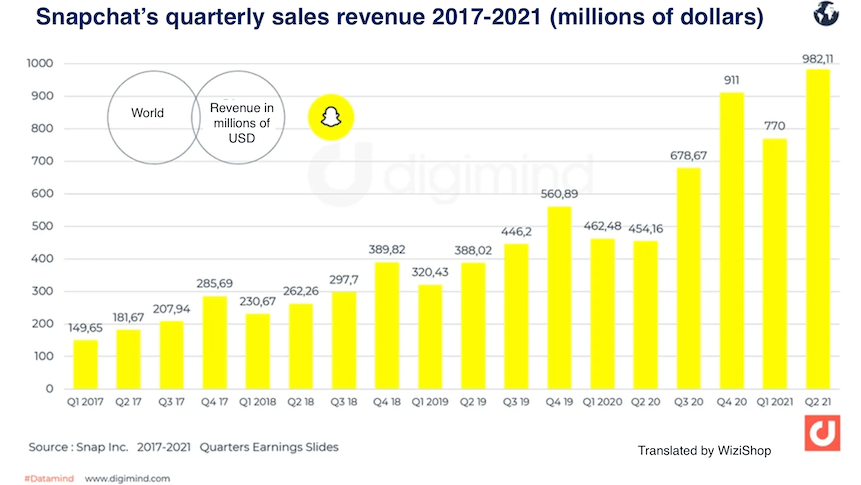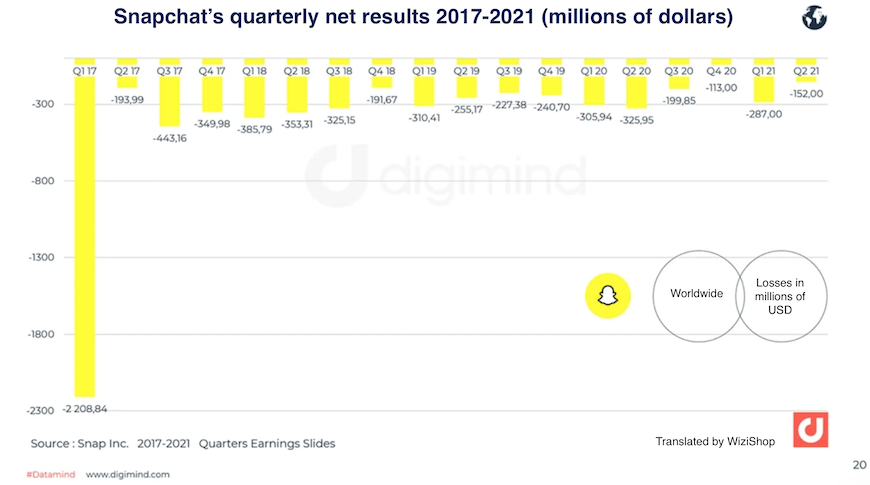 When you look at Snap Inc.'s numbers more closely, region by region, you can see that the trends are the same, at varying degrees of investment.
From Q2 2020 to Q2 2021, the numbers followed the same trend in all countries:
North America:

F+129% or $702 million

Europe:

+94% or $152 million

Rest of the world:

+86% or $128 million
The largest increase was seen in North America: in one year, the numbers rose 129% from $307 million to $702 million between Q2 2020 and Q2 2021.
Each region saw the same upward movement, with a drop in scores shown in Q1 2021, only to rebound better afterwards.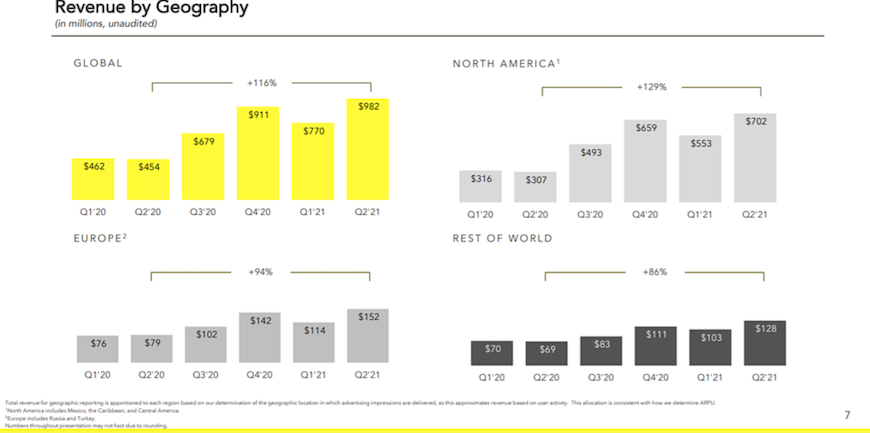 Snapchat: predictions for the future
The future looks pretty good for the application, which sees its audience growing with increases of about 14% per year.
Thus, according to eMarketer, the number of Snapchat users should reach 399.5 million in 2024, an increase of 21% compared to the year 2019.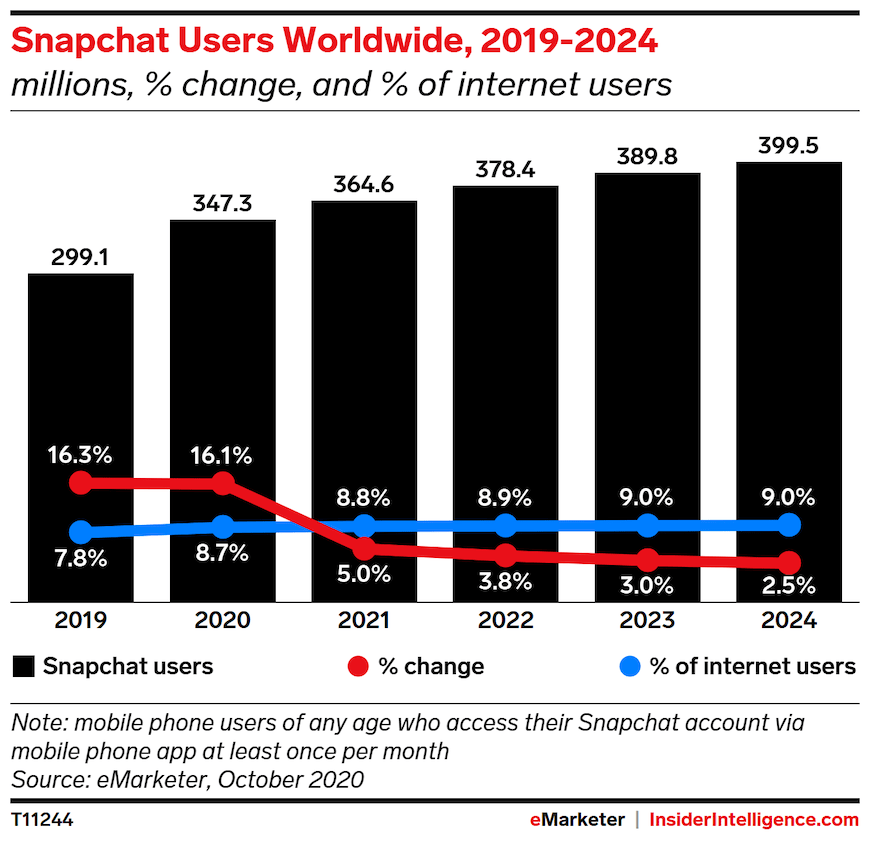 According to Statista in 2021, Snapchat's revenue predicts a very significant increase by 2027. If the platform was worth $3.4 billion in 2020, it's estimated to be $14.8 billion for the year 2027, an increase of 335.29% over 7 years.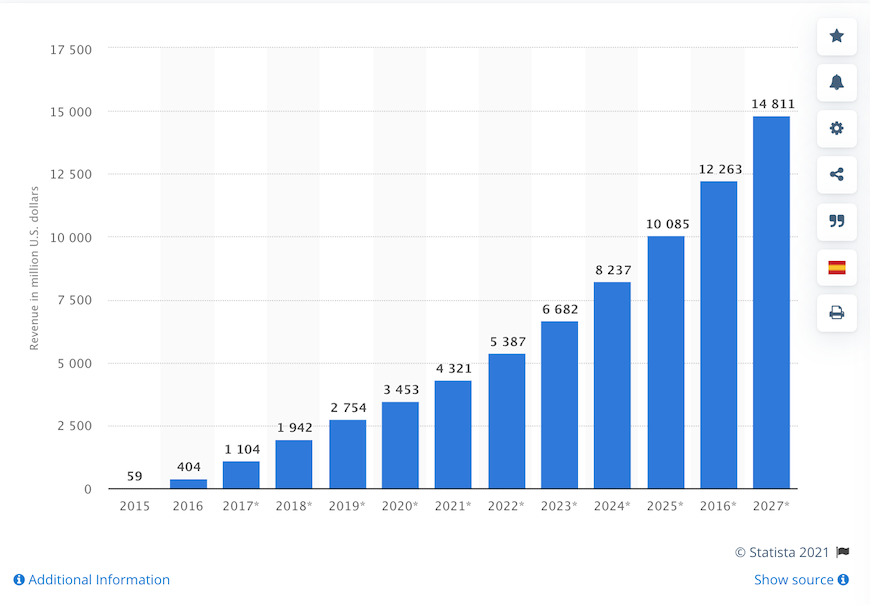 These forecasts are based on a stable economic and technological situation, while keeping in mind the possibility that the application will grow in line with the different trends in social networks and user expectations.
What is certain is that, according to App Annie, the application has also evolved in its popularity through the years, and in comparison with the figures of 2021, we can easily analyze a revival of audience and excitement. Little by little, Snapchat is positioning itself in all sectors, including social commerce.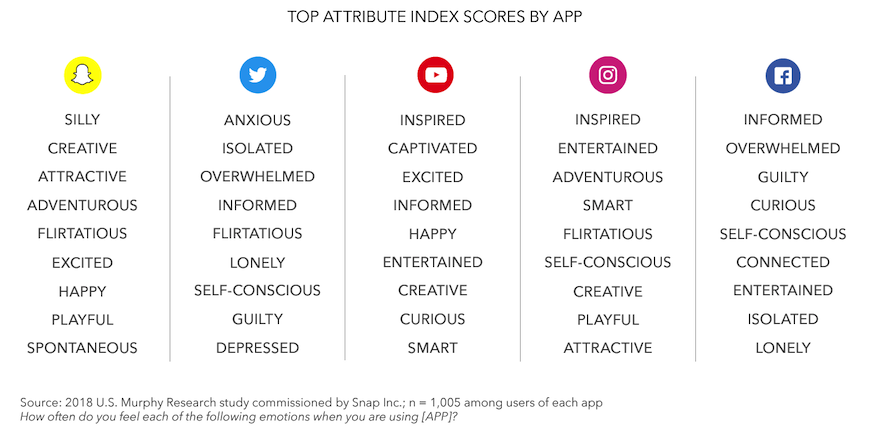 Audiences are won over by the application that makes them happier on a daily basis. Based on the Murphy Research study about Snapchat, we can see that users impart negative emotions and feelings in relation to the most popular social networks, except for Snapchat.
As you develop the marketing strategy for your ecommerce business, it's critical to perform market research to determine which social media platforms are best suited for your target audience. You may find, for example, that it's better to concentrate your efforts on Instagram or Pinterest if those networks are more often frequented by the customers you're trying to attract.
Nevertheless, Snapchat, the application for sharing photos, snapshots of messages, and videos sent to one or more users, including augmented reality games and filters to customize snaps, has a bright future ahead of it.