The social media application launched in 2004 by Mark Zuckerberg is now at the head of an internet empire that counts tens of billions of dollars in revenue, a group consisting of Facebook, Messenger, Instagram, WhatsApp, among others.
The Facebook application was originally a student directory called "Thefacebook." This social media platform has gradually become a giant with billions of unique visitors and users over time, being part of what is called the Big Four or GAFA (Google, Apple, Facebook, Amazon).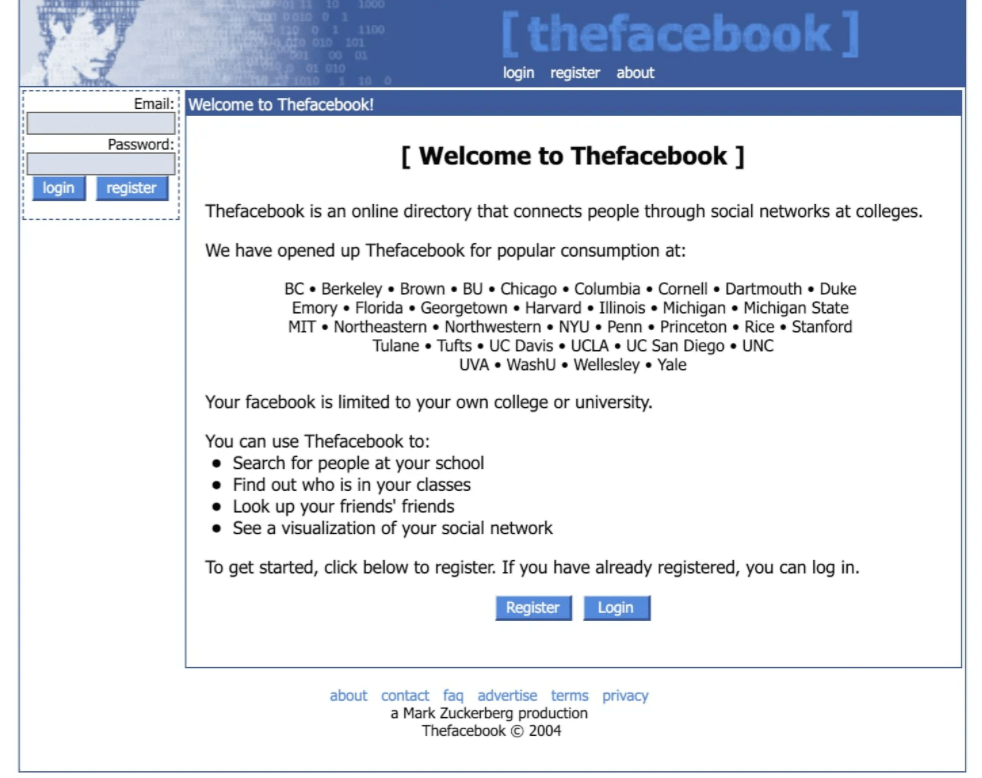 The wealth of user data available is a way for the company to continue to increase its growth, both in terms of features and revenue.
In the world of social media networks, Facebook gets impressive numbers worldwide, incomparable to
Instagram, LinkedIn, Twitter, Snapchat, or Pinterest for example.
However, this means of communication is losing ground with people in younger audiences: social networks like Instagram, TikTok, and Youtube are upsetting this premier application's business.
What are the company's worldwide statistics involving revenue, usage, and more? Take a look at the 2021 data to know everything about the upcoming trends for this social media platform.
Facebook's key figures
Globally, there are 2.895 billion monthly active users, according to Facebook as of Q2 2021.
The highest concentration of Facebook users is in Asia-Pacific, with 1.265 billion users. The usage breakdown is 420 million users in Europe, 259 million in the US/Canada, and 951 million in the rest of the world. The number of daily visitors is 1.908 billion worldwide.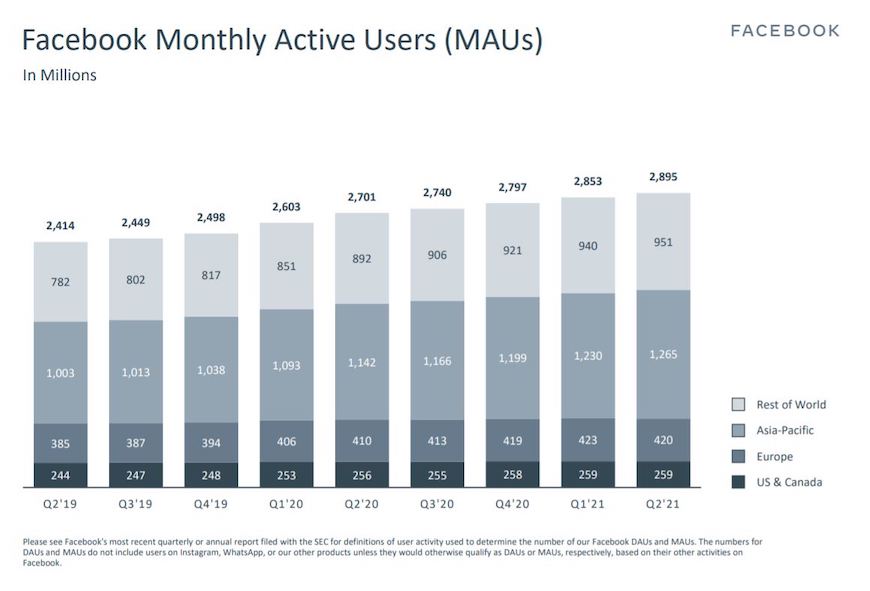 Statista also notes that as of Q3 2021, the countries with the largest number of Facebook users are first India with approximately 349 million profiles, then the United States with almost 194 million, and Indonesia with 142.5 million users.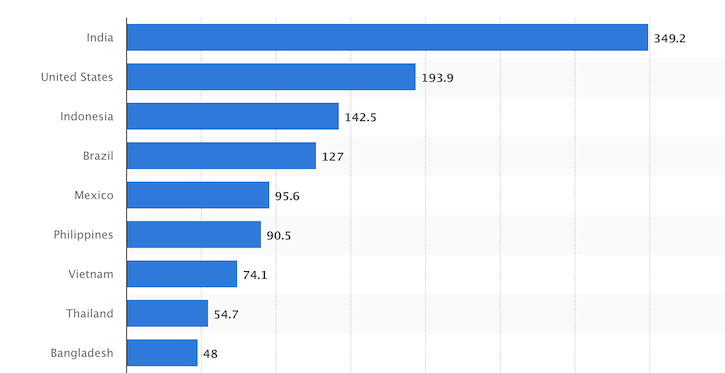 In October 2021, according to SensorTower, Facebook was the third most downloaded mobile app by people all over the world, behind TikTok and Instagram.
This source also notes that Facebook is the sixth and second most downloaded mobile app via App Store and Google Play respectively in 2021.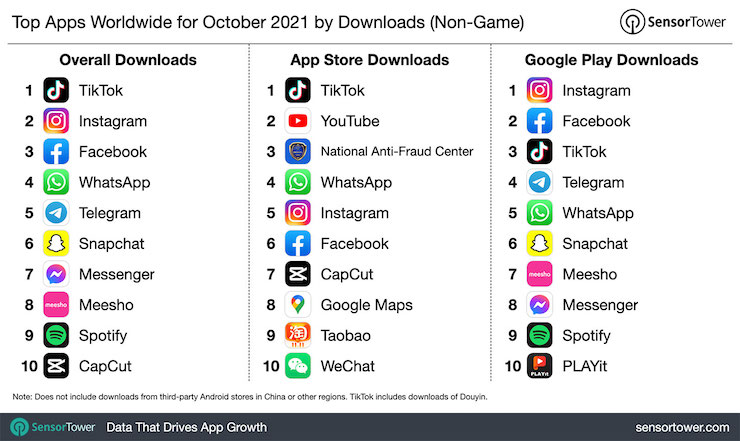 According to eMarketer, in 2020, Facebook users spent an average of 34 minutes per day on the social media network. We also learn that the trend is mobile: We Are Social and Hootsuite found that 96% of active users of the platform use it on mobile devices compared to 3.9% on computers.
Finally, another important fact is that users' engagement on Facebook is much lower than for other social media networks: HubSpot determined people's median engagement rate to be 0.8% in 2021. In addition, Facebook posts containing links will receive less engagement than video posts, a loss of 73%.
Who are Facebook's users?
According to the content of a study conducted by Statista, as of October 2021, 57% of users are male compared to 43% female.
The same source's statistics show that for this same period in time, the highest user audience share for Facebook is 35+ years, which is 40% of the audience. Going further into detail, we find internet users between 25 and 34 years old (32%), followed by the 35–54 age group (28%) and then the 18–24 age group (23%).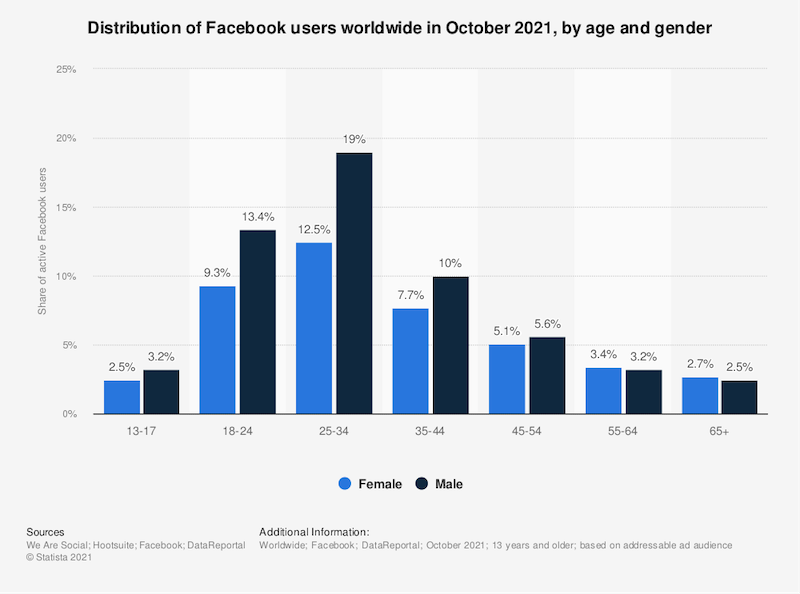 Facebook has become a primary source of information for many people. In the United States, 45% of Americans use Facebook as their top source of information.
The 2021 Alexa/SimilarWeb study found that Facebook is the #1 social network in 154 countries out of 167 countries surveyed.
Finally, what is the average user doing on the social media platform?
According to Statista's 2019 U.S. study, 88% of active visitors say they use Facebook to keep in touch with friends and family, 33% for entertainment, 23% for information, and 17% to follow brands or businesses.
The most followed Facebook pages
Influencers have taken over all social networks, and Facebook is no exception to this rule. In the list of the most followed pages in the world, we find many public figures and brands using the platform to connect with their audience.
Statista shares that, as of June 2021, here are the most followed pages by people across the globe:
F

acebook App: 215 million

Samsung: 160 million

Cristiano Ronaldo: 122 million

Real Madrid: 111 million

Coca Cola: 107 million

FC Barcelona: 103 million

Shakira: 100 million

Tasty: 98 million

Vin Diesel: 97 million

Leo Messi: 90 million
We can see that with the number of brands and organizations present in this global ranking, Facebook represents a real opportunity for advertising and marketing, a chance for businesses to connect with people around the world. It's no wonder that in the year 2018, 98% of B2C companies had a page on Facebook, according to Hootsuite!
Furthermore, with the infatuation of internet users for public figures, content creators are able to invest in this social network as well. It's no surprise that the Facebook platform is in 2nd position of the favorite social networks of influencers, as determined by the content of the Reech 2021 study.
Engagement on Facebook
According to the Hootsuite x We Are Social study, the important information involves user engagement and user reach.
For the posts that will reach internet users, reach 5.17% organically, while the paid reach methods, such as advertising, will reach 28.1%.
In terms of user engagement, statistics show that the average rate for a Facebook post in all formats is 3.39%, 1.44% for a message, 2.72% for a link, 4.42% for photos, and 6.09% for a video.
Videos on Facebook
According to HubSpot, more than 1.2 billion Facebook users watch video content via Facebook Watch per month.
In addition, in 2021, videos between 2 and 5 minutes long gained and generated the most engagement on the social media platform according to Social Insider.
In terms of commercial video, 62% of users admit to being more interested in a product after watching a video on Facebook.
In terms of video audience, young people remain far less interested in Facebook videos than their elders: there's 75% less focus for those aged 18–24 years old compared to those over 65, according to the statistics in a 2019 Facebook study.
However, video is still the preferred format for brands and for 81% of businesses, as stated by Buffer.
Brands and businesses on Facebook
Despite the aging Facebook audience, brands and businesses have and are still investing in the social network for advertising and marketing purposes to get the word out about their products and services.
With more than a million stores on "Facebook Shops," social commerce is attractive, as is Facebook Marketplace, which hosts both private and professional sellers.
Facebook has also revealed the progression of advertisers' enthusiasm and their usage on the platform over time: at the end of 2020, 10 million of them published posts on Facebook compared to 7 million the year before.
Facebook is the leading social platform for B2B and B2C marketers, according to the 2019 Social Media Marketing Industry Report.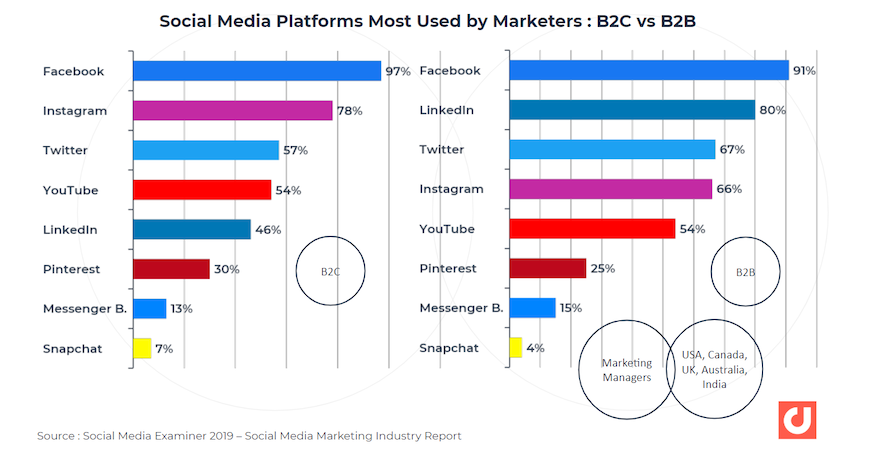 Facebook Messenger statistics
Facebook's instant messenger has made a name for itself with users in the world of chat. Active Facebook users can't turn away from this messenger, which is almost as powerful as WhatsApp and far more important than Instagram and LinkedIn, for example.
According to Statista, as of October 2021, Messenger has 1.3 billion users worldwide: the application is the second most used, after WhatsApp and ahead of WeChat.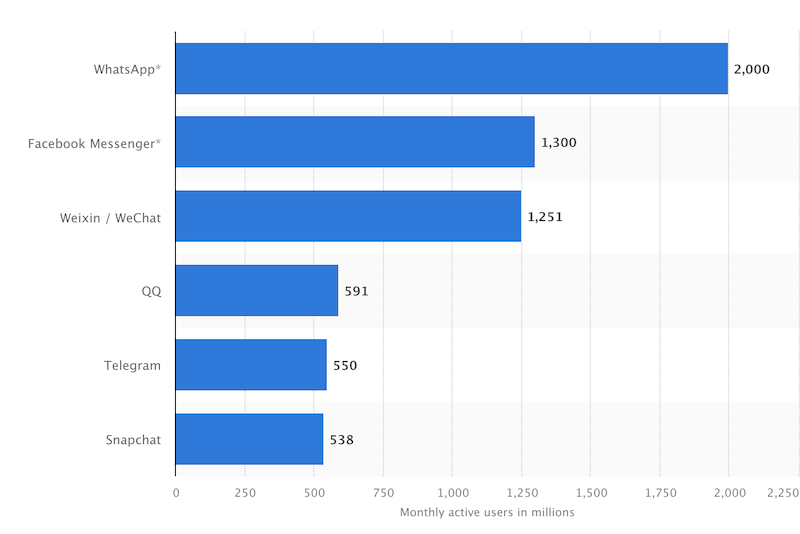 At the professional level, according to Facebook Business, 40 million businesses use Messenger for advertising and marketing purposes alike. What's more, 300,000 chatbots are active on Facebook Messenger.
For customer service, this source also notes that Facebook Messenger appeals to 64% of online shoppers who prefer to seek help from the company via this channel rather than calling or sending an email.
As you've seen from this article, it's clear that Facebook is very much still an important player when it comes to social media and ecommerce.
To take your own Facebook strategy to the next level, increase your marketing efforts, and be sure to hit the mark with each of your posts on the network for the rest of this year and beyond, here's an infographic that goes into detail about the content formats to use for your posts on the social media platform.