According to Statista data, in 2019, no less than 59% of active users watched videos at least once a month worldwide. The demand for video is growing on the consumer side: customers want to see their products in motion before purchase.
Video has a privileged place on the internet and social networks, much more important than text, photography, and other types of content.
The video-streaming YouTube platform has exploded in popularity with people online over time, towards its status as the must-have tool it now has. It's now the most popular video-streaming platform in the world, and its statistics continue to climb.
Created in 2005 by Chad Hurley, Steve Chen, and Jawed Karim, three former PayPal employees, and then bought in 2006 by Google for $1.65 billion, YouTube generates billions of views by people every day and as much revenue.
What are the key YouTube statistics involving users, revenue, and more for the year 2021? What will be YouTube's trends of tomorrow to watch for around the world? We tell you everything!
What are the worldwide stats for YouTube in the year 2021?
What is the number of users on YouTube?
In 2005, the social media platform was created and generated its first views, its first visitors. In 2009, YouTube's traffic reached 350 million people. On October 28, 2010, the number of subscribers across all YouTube channels reached 1 billion.
In 2020, YouTube represents 2.29 billion connected users per month according to Hootsuite x We Are Social data. Kinsta finds that men are the majority audience, with 62% male users per month.
YouTube is the second most used social media platform after Facebook (2.85 billion users) by people around the world. In fact, Hubspot statistics report that 80,000 videos are viewed by users globally every second.
YouTube is also a source of traffic: the platform generates 37% of global mobile internet traffic, according to Statista in 2019.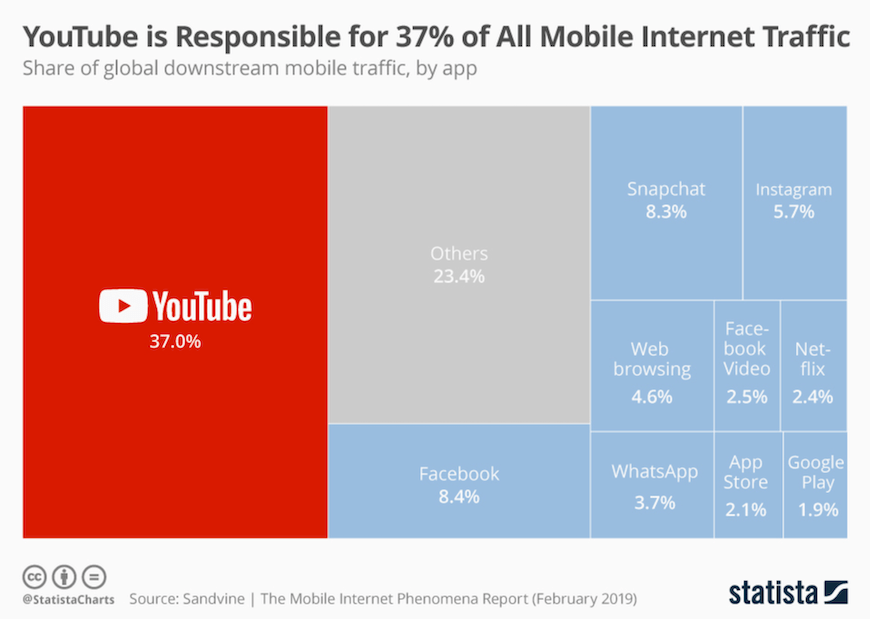 How old are YouTube users?
Based on the results of the MarketingProf statistical study, the largest share of users is in the 25–44 age group: 23% for 25–34 year olds, and 26% in the 35–44 age group.
In total, for users aged 18–49, 80% of them watch YouTube during the month.
According to Think with Google, YouTube has become so popular and inescapable over time that the platform reaches more people aged between 18 and 49 than television.
What are the numbers for YouTube videos?
To give you an idea of the YouTube universe and its exploding videos, here are some numbers to consider in 2021:
More than 1 billion hours of videos

are viewed by internet users around the world every day

Every day

, 720,000 hours of videos are posted on YouTube

Every minute

, 500 hours of video are posted

Every hour

, 30,000 hours of video are posted

Mobile is the priority:

70% of videos are viewed on a mobile device

To stay informed about the latest news,

29% of internet users use YouTube

, behind Facebook for 44% of them
What are the revenues related to content creators and brands?
According to Brainwatch stats in 2020, the number of accounts generating millions in revenue has doubled.
Reech's statistical study on influencer marketing notes that content creators rank YouTube as the 4th most preferred platform, behind Instagram, Facebook, and blogging.
Kolsquare summarizes all influencer budgets in effect in 2020. Compared to other platforms, such as Twitter, YouTube has a different fee structure. This source describes the general ranges of income that people can make online with YouTube at this time, depending on the number of subscribers they have.
F

or a nano influencer (0 to 10,000 subscribers):

between €0 and €2,000 per video

For a micro-influencer (10,000 to 100,000 subscribers):

between €2,000 and €8,000 per video

For a macro influencer (more than 100,000 subscribers):

between €8,000 and €15,000

For a top influencer (more than 500,000 subscribers):

between €15,000 and €45,000

Over 3 million subscribers:

from €45,000 to several hundred thousand euros
As far as advertising is concerned, according to HubSpot, ad formats reached an average of 95% of their audience in the year 2020.
This source also notes that for 66% of bumper ad campaigns, their awareness increased by 14%. Furthermore, for 9 out of 10 bumper ads, brands saw ad recall increase by 34%.
What are the most popular YouTube channels in the world?
Here's the 2021 ranking of the 5 most followed YouTube channels by users across the world:
I

ndian channel

T-Series

(190 million subscribers)

Children's YouTube channel

Cocomelon

(117 million)

Indian channel

SET India

(112 million)

Swedish YouTuber

PewDiePie

(110 million)

Tutorial channel

Minute Crafts

(73 million)
What is the most viewed video on YouTube?
The most popular videos on YouTube have billions of views. In the history of the platform, one video has broken the absolute record: it's the children's music video "Baby Shark" by PINKFONG, which has accumulated more than 9.1 billion views.
What is the most viewed video in 24 hours on YouTube?
The record for the most viewed video in 24 hours is held by the K-Pop group BTS. They'd already set records with the release of their track "Dynamite", but it was with their track "Butter" that the group made YouTube history: 112.8 million views in 24 hours and 3.9 million fans connected simultaneously to discover the video.
What is YouTube's value?
While in 2017, YouTube's revenue was about $9 billion, based on data from Business of Apps, the revenue generated on YouTube reached $19.7 billion in the year 2020.
Why should a business be on YouTube?
According to Wyzowl stats in 2020, 86% of consumers demand more video content from the brands and companies they follow online.
Content marketing on the world's favorite social video network has become a must in all areas.
Because beyond generating views, publishing videos on YouTube is also a way to gain visibility and notoriety. Just like blog posts, for example, YouTube videos can boost your company's SEO. In terms of SEO, videos on the platform go up if the query matches a specific content.
Stats from the Content Marketing Institute reveal that video is the sixth most effective communication channel in a B2B marketing strategy. Even better: studies show that video already accounts for the majority of online traffic worldwide.
With the democratization of the smartphone, key social networks are being consumed by people everywhere, all the time, and by more and more users. The impact of video and social media platforms like YouTube and TikTok in a commercial marketing strategy is therefore an aspect to be taken into account, and even prioritized, in a marketing campaign.
Practical advice, product presentation, partnerships with content creators, or even the creation of a challenge: the possibilities are endless when it comes to ideas that can be used for marketing on YouTube.
To stand out on this social network, it's best to focus on effective levers: keywords for SEO, long formats, and short ads will allow you to become an indispensable brand.
Videos on the first page last 14 minutes and 50 seconds on average, according to Semrush, and published content is becoming longer and longer.
On the other hand, for successful ads on YouTube, it's better to create very short formats, such as 6-second bumper ads, videos that users can't ignore before they watch the content.
As you can see from the stats in this article, YouTube is a social network that you need to master in your marketing strategy to gain notoriety quickly. It's up to you to shoot your best content to get users to watch and see what you have to offer. E-merchants and videographers? This is your next mission!