Do you sometimes find it difficult to meet the goals you have set for yourself? Rest assured, you're far from being the only one in this situation!
It must be said that between your professional life, your family, your personal development, and the maintenance of your social relationships, daily life is often like a marathon!
In order to see all the tasks you have to accomplish more clearly, I strongly advise you to make a to-do list...
This little list of things to do is an ideal ally to improve your organization! On a Post-it, with a notebook, or via an application, there's something for everyone!
What is a to-do list?
Definition
A to-do list is a method of organization that consists of listing all the tasks to be done.
Its purpose is to encourage action and to free your mind. It can be used in all areas. It can be very effective at home, to organize the daily life of each person and to distribute the tasks to be accomplished between the different occupants of the home.
It can also be used at work, in order to organize one's professional schedule and not forget anything. In this case, a to-do list allows you to reach your goals by working in a more methodical way.
Why make to-do lists?
This methodology offers many advantages, both in personal and professional life.
First of all, it allows you to free your mind. With it, as all your missions are listed, you no longer risk forgetting any. Thus, you don't have to constantly think about what you still have to do.
This type of organization allows you to concentrate on the current mission, without having to worry about things to do later.
Then, the "to do" can be used as a planning tool. It allows you to follow the progress of your work and to know if the initial deadlines are respected.
Note also that gradually crossing off all the tasks already done on the list is a very rewarding action. It's a visual method to concretely see all the things you've accomplished.
In other words, this listing allows you to materialize all your "small victories" throughout the day. It's therefore very good for your morale and helps you to stay motivated!
Finally, you should know that a to-do list can also be shared by several people. It's a precious organizational ally for teamwork. In this case, it becomes an inspiring element and a source of cohesion or motivation for the whole group.
How do you make an effective to-do list?
To be effective, this list should not simply be elaborated as a "stockpile of tasks." It could then become a source of discouragement, which is far from the objective!
For your list to inspire action, it must be optimized... Here are a few tips to become a professional organizer!
Define your project and your (achievable!) tasks
An effective to-do list shouldn't present the day's tasks in any order. The idea is to categorize all the things that need to be done in order to achieve your overall goal.
For example, if you have a large project, try breaking it down into smaller tasks. The idea is to list a multitude of successive tasks in order to accomplish your goal.
This method is also called the "theory of small steps." It consists of listing several smaller tasks rather than a single, larger, daunting mission. This is a very effective technique to combat procrastination. This way, you aren't discouraged in advance by the size of the task at hand.
In addition, the fact that you can see the progress of your work throughout the day is psychologically more motivating. As such, don't delete what you've done from your device, but cross out what has already been accomplished.
This will give you a visual record of all the things you have done. In this sense, it's better to integrate several small assignments rather than one big job. In fact, many more lines get crossed off quickly, which is much more rewarding!
Make sure that you set achievable goals. It's never a good idea to set unattainable challenges for yourself. It tends to be discouraging.
Finally, don't get distracted and stay focused on your goals... Were you planning on reading this entire article? Then quickly close your browser tab and avoid all distractions!
Prioritize your actions
Next, you'll need to prioritize the different tasks to be accomplished during the same day in order to manage your time efficiently. Start by listing the most important tasks you have to do.
This way, even if you don't have time to do everything you planned, the top tasks will still get done.
In addition, it's important to organize your assignments based on your motivation. It's generally easier to concentrate in the morning, because the brain is more rested.
On the other hand, the first hours of the afternoon (when you're digesting from lunch) are often less productive... Therefore, it's better to plan complicated tasks in the morning.
First, it's at this moment that your concentration is at its maximum. Second, it gets rid of the most complicated tasks, and your mind is more serene for the rest of the day.
Finally, consider adding some quicker or more enjoyable actions in between complicated assignments. This is a great way to keep your motivation going.
Estimate the time needed for each activity
To avoid ending your day with a half-finished list, make sure you estimate the time needed for each activity as accurately as possible.
Allow a large margin and try not to overload your schedule. Know that 30% of our days are dedicated to unexpected events...
If your daily life is punctuated by certain recurring missions, observe the time you devote to them. Write it down. This will help you to be more precise when establishing your next missions.
Find a suitable format
Finally, you should know that we aren't all equal when it comes to organizing and appreciating to-do lists.
Some people prefer to make their list in a notebook or on a post-it. Others, on the other hand, prefer the traditional slate board. Other people also opt for the use of software.
Everyone is free to decide what they prefer. However, it's essential to find your own method of presentation to gain clarity and efficiency.
Don't hesitate to integrate shapes, colors, or different tools to your to-do list so that it looks attractive and will be more motivating.
5 types of software and applications to create professional to-do lists
Because the efficiency of to-do lists is no longer to be proven, many people use them in their website management and to have clear ideas!
Therefore, several softwares and applications have been developed to help you in this step, on the web or to download, in order to create an efficient and visually attractive list.
Reminders: the integrated iOS application
Released in 2011, the Reminders app allows you to create tasks and synchronize your to-do list in your calendar and on all your Apple devices, whether it's your iPhone, iPad, or computer. This app allows you to prioritize your daily management and share it in a very simple and intuitive way.
With Reminders, create as many to-do lists as you want. The interface of the application can be organized in different tabs according to your different ideas or your calendar. Also, deadlines and reminders can be programmed, so you can be sure you never forget anything.
Particularly smart, the Reminders to-do list can be shared between different participants. For example, if you create a list of all the things to do at home, it's perfectly possible to share this listing with your other half.
As soon as one of the two partners completes a task and crosses it off in the application, it's synchronized on the other person's mobile device. The update is done in real time.
Reminders can also be shared between several participants, such as with your website teams, for example!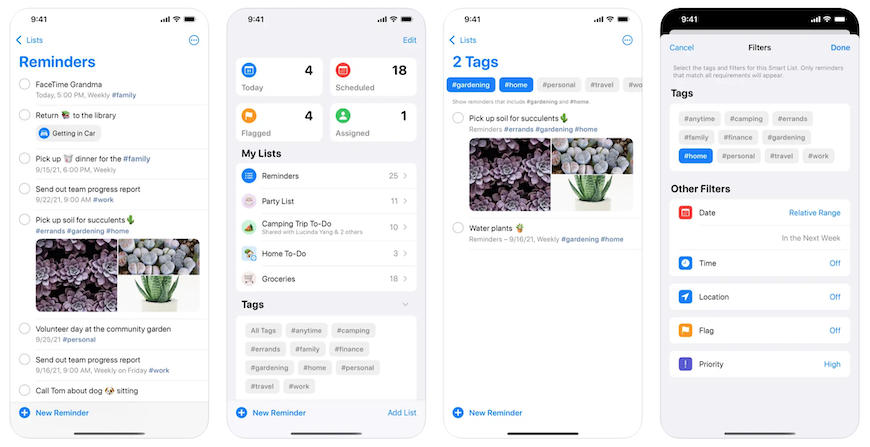 Microsoft To Do: the tool for all lists
Microsoft To Do is another daily planning application. However, it's above all a smart tool, able to make suggestions of ideas to move forward from step by step in your day.
With it, access your list wherever you are, directly from home or when you're on the move. Microsoft To Do is a cross-platform task manager.
Like Reminders, it allows you to share a to-do list between different people, which is a great advantage if you decide to complete a project with your friends, family members, or some of your colleagues.
Microsoft To Do also helps you stay on track and stick to your schedule by setting deadlines for each of your assignments and allowing you to set reminders for some of them.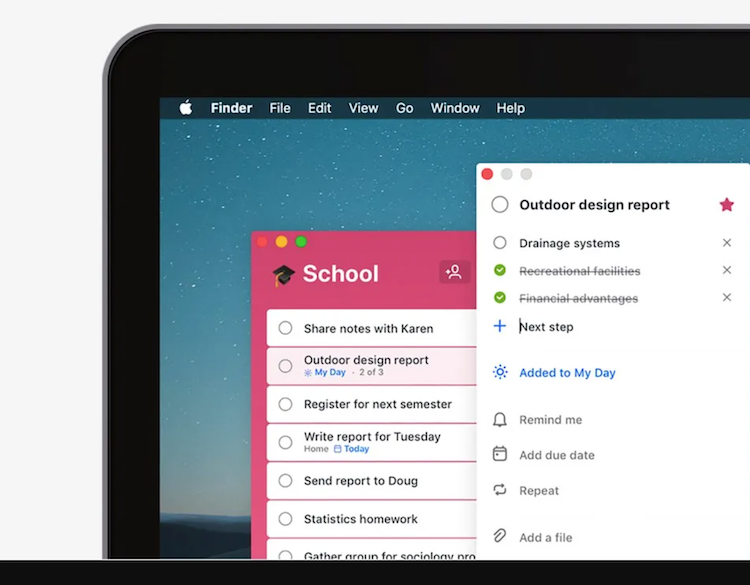 Sortd: lists linked to Gmail
Sortd is an app that was created by Gmail and is directly attached to your mailbox. With its interface, transform your email inbox into personalized points. Its interest lies in its drag-and-drop system.
To put it simply, with Sortd, your different emails are sorted by points that ultimately function like Gmail sub-folders.
In addition to your emails, a + button allows you to add different notes to your to-do list. Your list of daily missions is composed of personal missions (added manually) and emails received, considered as additional actions to be done.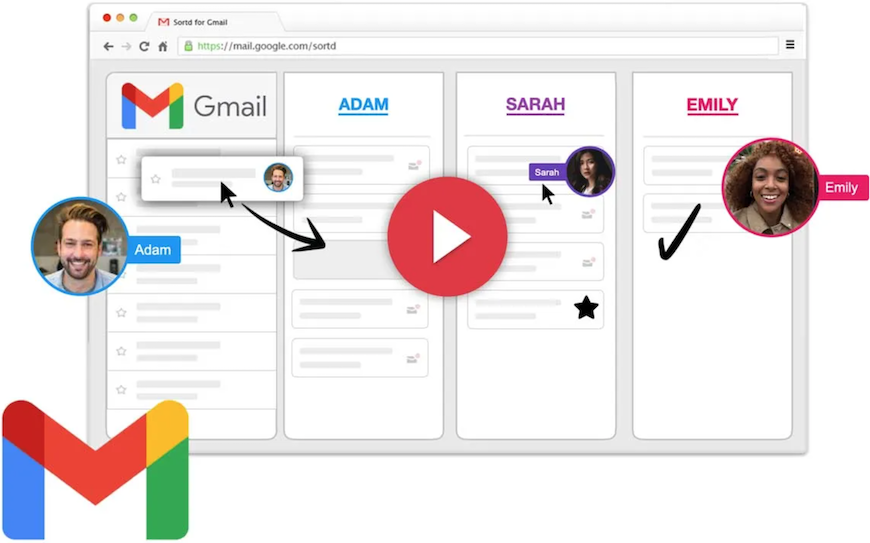 Trello: for individual or team tasks
Trello is a widely used application for sharing tasks in teams. If you have a project you need to collaborate on with your colleagues, this is the app for you!
First of all, it can be available via any screen, both through an app and a simple web browser.
Second, its system has very advanced collaborative features. Teams with access to this "To Do" can synchronize in real time while doing a multitude of things through the interface. As proof, this app even allows you to manage a shared CRM!
The interface is relatively intuitive and easy to use. What's more, most of its features are totally free.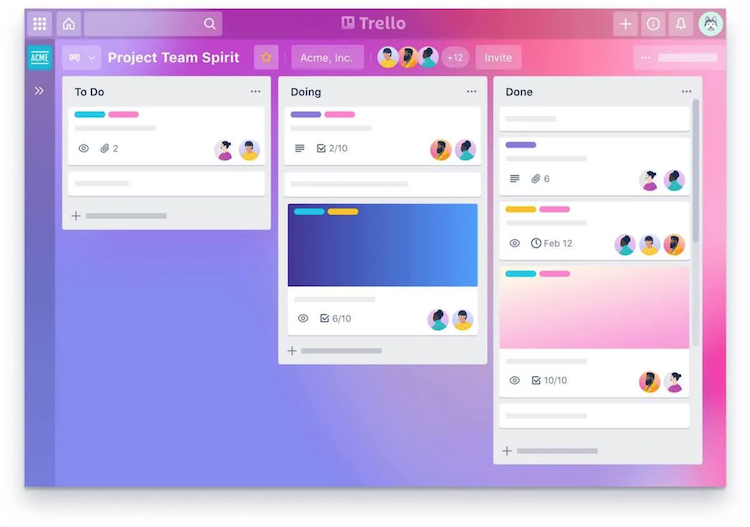 Todoist: the super-app
Finally, Todoist is still considered the best to-do list tool. As proof, the app was even named the best to-do list tool in 2017 by the American website The Verge.
Todoist allows you to plan all your tasks, set reminders or recurring dates, track your progress, view your productivity according to your goals or assign tasks to other people collaborating on your projects...
Its functionalities are multiple, and Todoist can even be directly integrated with other tools you probably use every day, such as Slack or Gmail.
Whatever the tool you choose, and concerning the title of your missions, keep it simple and define your tasks in the most direct and understandable way.
To motivate yourself, it's better to use action verbs in the definition of your actions to accomplish. With such tools at your disposal, you no longer have any excuse to procrastinate!