The artificial intelligence sector is booming. Since the first breakthroughs in the 1950s, the technology has made giant strides to become one of the most dynamic and revolutionary industries of our time. Researchers work tirelessly to design new applications that have the potential to radically transform our daily lives.
One new technology is creating a huge buzz in the world of AI: image generation systems. Thanks to algorithms, it's now possible to create ultra-realistic or breathtakingly creative computer-generated images from a simple text description! The principle is simple: the user enters a phrase describing the image they wish to obtain, and the AI takes charge of creating it from scratch using pre-existing image databases. The results produced by tools availing of this technology are simply magnificent, with digital images of a quality comparable to content produced by professional graphic designers.
Marketing strategy, logo creation, website design, visual illustration... Which generators are right for you? Here's a list of the 12 best online applications and tools on the market, featuring high-quality image generators that are constantly evolving!
Midjourney, the most popular software
This AI generates images from text, but with a twist: it focuses on artistic beauty rather than realism.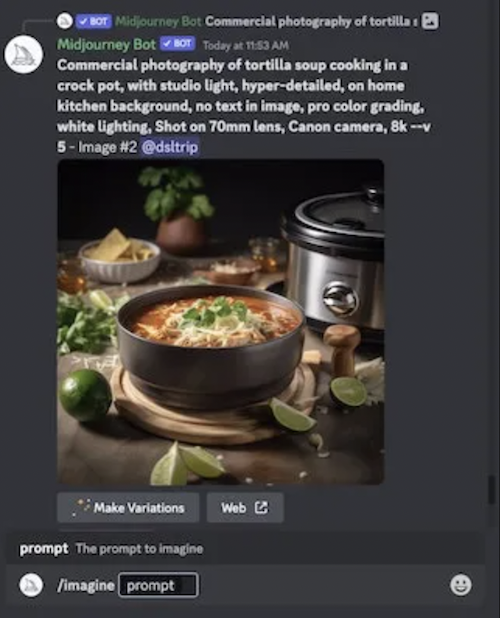 How does Midjourney work?
Unlike other text-to-image templates, Midjourney was not designed to create images that faithfully reflect reality. Instead, the emphasis was on creating visual content that is, above all, aesthetically pleasing. The creators trained their AI on a vast array of images and used optimization techniques to ensure that the images generated were as beautiful as possible.
The result is stunning, and many artists are impressed by the capabilities of this tool. The images generated by this AI are often surprising and intriguing, and they're perfect for art projects or advertising campaigns seeking to stand out for their originality.
The artificial intelligence is accessible via a Discord channel that opens when you register on the site. You're then integrated into a channel made up of other users, and you can view the latest projects generated.
In the text bar of your conversation, you can ask the bot on Discord to generate your image from your prompt. All you have to do is add the command "/imagine" and the AI will start working. In just a few seconds, the application will propose four different images based on your request. It's up to you to choose the one that best matches your project and to talk to the robot to generate even more content options.
Is Midjourney free?
The site is still in beta, and its basic version is free. However, in its free plan, your profile is added to public Discord channels. A monthly subscription starting at $8 gives you access to your own private Discord channel and unlimited creations.
DALL-E, the benchmark technology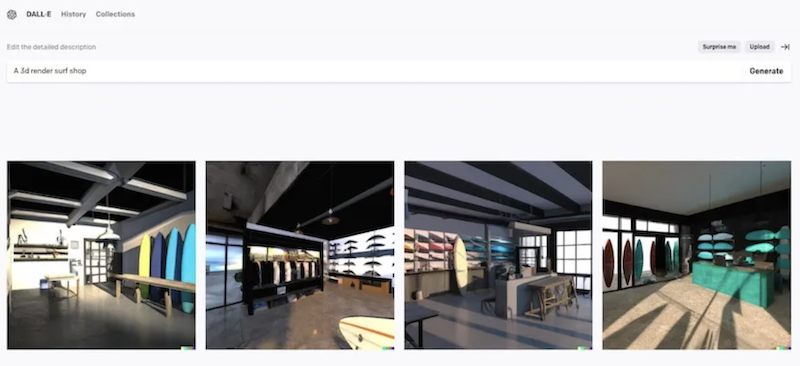 How does DALL-E work?
With a name inspired by both Pixar's WALL-E robot and the famous artist Salvador Dalí, DALL-E is a true digital artist. Thanks to the 12 billion parameters of the GPT-3 language model, DALL-E can interpret commands in natural language and generate images in response. It's capable of creating realistic images of objects such as "a diamond-shaped blue leather backpack" or images of objects that don't exist in reality, such as "a house with the texture of a snowflake."
DALL-E analyzes the natural language command using its advanced language model to determine what the user is asking for. It then uses its image generation engine to create an image in response. One of DALL-E's fascinating key features is its ability to create images of objects that don't exist in reality. This is a true demonstration of the creativity of this AI program. DALL-E has been cited as the most creative software in existence.
How do you access DALL-E?
DALL-E 2 can be accessed from the Open AI website. You'll need to enter your prompt in the search bar to generate a number of square proposals based on your query. You can then choose the proposal you prefer to generate further proposals, or you can enlarge the format using artificial intelligence.
It's also possible to replace elements of an image by determining the object to be deleted and replacing it with a new AI-generated image.
Is DALL-E free?
You have a few credits to generate visuals free of charge. After that, you'll need to buy credits to continue your experience.
Craiyon, the free AI image generator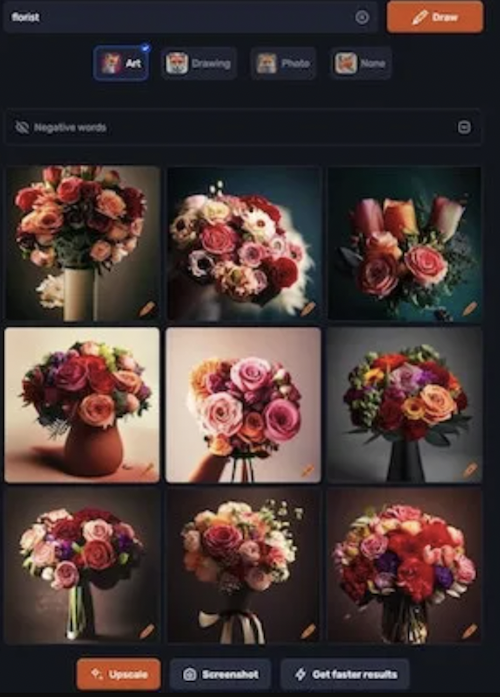 This online platform uses artificial intelligence to generate unique image mosaics from text descriptions. Craiyon is free of charge and unlimited in use.
Formerly known as DALL-E mini, Craiyon is a replica of the DALL-E project published by OpenAI. This platform uses the latest advances in machine learning to generate images that best match the description you provide. The process is simple: you enter a text description, and Craiyon generates a grid of nine high-resolution square images from the prompt, which you can download in PNG format. Craiyon also offers a unique feature that lets you create personalized t-shirts with your Craiyon creations.
Craiyon is also easy to use, whether you're on your computer or your smartphone. With Craiyon, you can give free rein to your creativity and create impressive visual content in just a few minutes. An app is available on the Google Play Store.
Craiyon is totally free! This significant advantage on the AI market means that everyone has access to powerful image-generation AI. However, the service can sometimes be saturated, requiring people to return later to use it.
Bing Image Creator, the image generation engine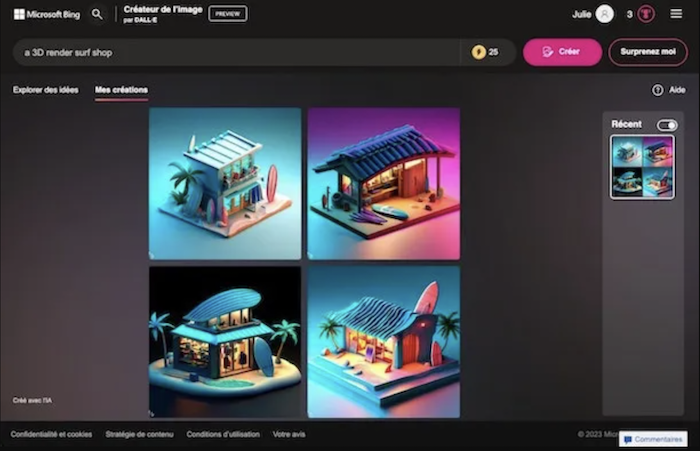 What is Bing Image Creator?
Based on an advanced version of OpenAI's DALL-E generator, Bing Image Creator lets you create images from a simple text search. Imagine the possibilities: type in "kitten playing with a ball of wool," and let the tool present you with four adorable image options. It's that easy!
Looking for even more surprising results? The "Surprise Me" option is designed for people who want to discover new artistic horizons. The tool generates a random request and invites you to discover the result. You never know what you'll get, but it's always fascinating!
For the moment, you can only use Bing Image Creator on the dedicated site and only for requests in English. Microsoft is also planning to include this tool in its automatic text generation interface.
How much does the service cost?
Bing Image Creator is a free service. The search engine offers credits to generate results more quickly.
Lexica, for artistic images
What is Lexica?
Lexica is a tool for converting text into images using Stabble Diffusion. Thanks to this innovative algorithm, you can create totally unique images in just a few clicks. And if you're wondering where you can test this tool, go to Lexica.art.
On the Lexica homepage, a search bar is provided to find the images you need. Based on your queries, the tool selects images created by other users and sorts the results before presenting them as thumbnails. You can easily download the image of your choice and use it for your project.
In addition, you can generate your own visuals based on the same keywords, or you can draw inspiration from the prompts of the images in the library. The tool then offers you four images that you can download or expand to create more detailed visuals. You can also select a visual to generate four new images based on the chosen style.
How much does Lexica cost?
Lexica allows you to test its tool and gives you a credit of 100 images. Monthly subscriptions start at $8 per month.
NightCafe, the most complete artistic AI solution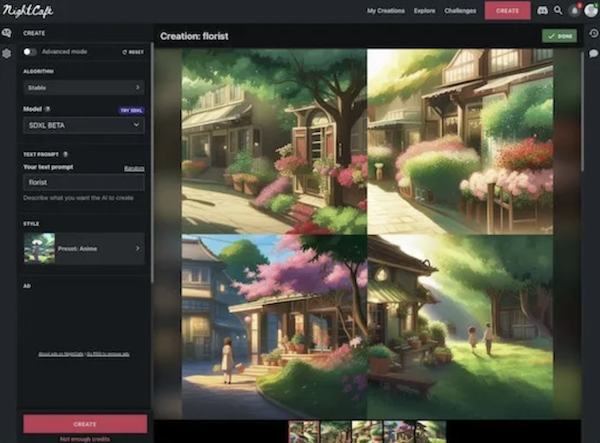 How does NightCafe work?
This AI-based generator of visuals and virtual works of art is capable of creating illustrations in a variety of trends from a simple text description.
With NightCafe, you can achieve unique results thanks to the various content creation algorithms on offer, such as Stable Diffusion, DALL-E 2, CLIP-Guided Diffusion, VQGAN+CLIP, and Neural Style Transfer.
You can choose the format of your illustrations. The templates on offer are just as varied, with 29 different styles including "B&W portrait," "cyberpunk," "anime," "cubist," and many more. You're sure to find the right style for your project.
And to top it all off, the tool also features the ability to choose the resolution of your images, with three different levels.
Every day, NightCafe organizes a daily challenge in which users participate and vote for each other's creations. It's a great opportunity to put your skills to the test and discover the community's talents.
How much does NightCafe AI cost?
A few credits are offered by the solution when users register to test NightCafe. NightCafe users then have two options: they can subscribe by the month or by the quarter, starting at $6. They can also buy credits in packs starting at 100 credits.
DeepAI, the fast AI image generator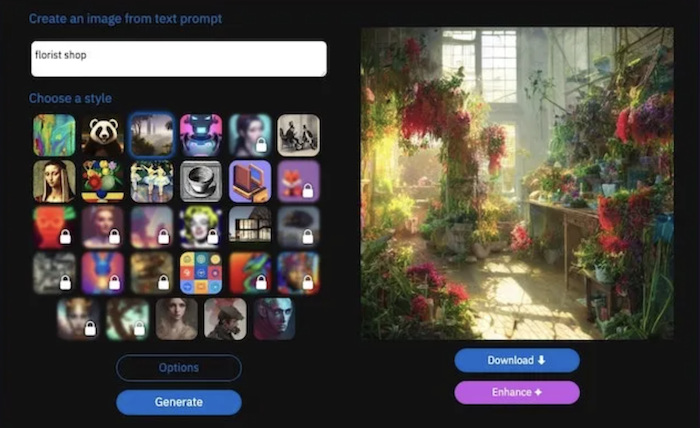 DeepAI is an automatic image generation solution that lets you give free rein to your creativity through a fast, easy-to-use interface for AI content creation.
Users are invited to enter their prompt in the bar provided directly on the site's homepage. Then, simply select the visual style you want, and the artificial intelligence will guide you to the best possible proposal. In the free version, certain styles are locked and accessible only in the pro version. In the advanced options, you can choose your ratio to generate visuals in the format you want. Finally, simply press the "Generate" button to access the artificial intelligence results.
The solution generates a large number of visuals free of charge. However, it's possible to purchase a pack of 100 credits to take the experience further, or subscribe to the service on a monthly basis for $4.99.
Adobe Firefly, for image experts
Adobe Firefly is a creative tool designed to help designers bring their imagination to life, whether for professional or personal projects. Whether you're a beginner or an expert, Firefly is created to help you work more efficiently and bring any idea you dream of to life.
One of Firefly's key features is that the generator allows you to create high-quality text effects easily and in very little time. You can create titles, subtitles, calligraphy, and other stylized texts in a matter of seconds. You can imagine a scene or mood, then generate an illustration or animation that reflects exactly what you had in mind.
Currently in beta, Firefly is available online to a limited number of designers, for feedback and suggestions for improvement. Adobe is keen to adapt its tool to the needs and desires of its creative community. Firefly will subsequently be integrated with Adobe Express, Adobe Experience Manager, Photoshop, and Illustrator applications, to offer people using it a smoother, more intuitive creative experience.
To access the service, simply visit their website and choose from two options: Text to Image and Text Effects.
Then click on "Request Access" and answer a questionnaire. Adobe will ask you for information about your name, country, age, and your design and artificial intelligence skills. Answer accurately, and once you've completed the questionnaire, Adobe will inform you that you'll soon receive an email invitation to access the tool.
Text to Image by Canva, for the general public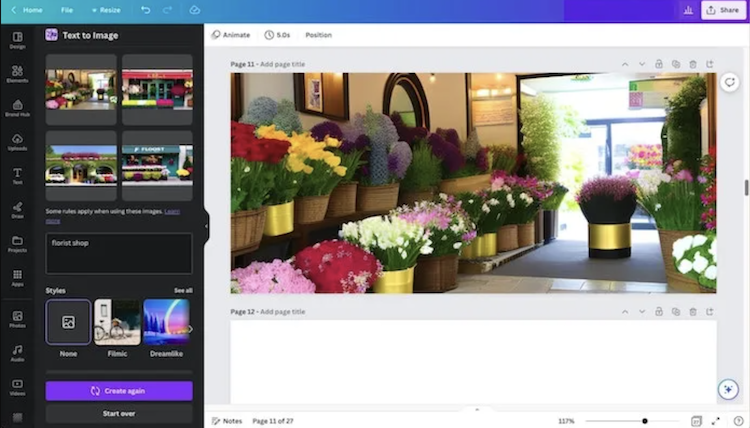 Need a striking image to illustrate your latest blog post? Or perhaps you'd like to add a visual touch to your professional presentation? Look no further than Text to Image by Canva!
This free feature of the Canva suite lets you generate images from a simple description. Choose from a range of styles, including photos, drawings, conceptual images, and much more.
The process is quick and easy. Simply create a new design on Canva, click on "Apps" at the bottom left of the editor, and then find "Text to Image." You can then write your description to generate up to four different images.
If you're not satisfied with the first results, you can reformulate your request or ask the tool to generate other images to find the one that perfectly matches your expectations.
And with Canva's Text to Image, you can personalize your image by choosing the style and format that best suit your project. Whether you need a square, portrait, or landscape image, or you want to opt for a photo, drawing, 3D, painting, or pattern style, you're spoilt for choice.
Finally, you don't have to worry about permissions, as Canva details all the terms and conditions you need to know at the bottom of this dedicated page in the recurring questions section.
Jasper Art, the pro generator
Have you ever been frustrated by the time and effort it takes to find the perfect photo for your project? Look no further! Jasper Art is here to help.
Jasper Art is an innovative AI art generator that turns your ideas into unique images in just a few seconds. No more hours spent searching for the perfect photo to match your message. With Jasper Art, you can generate high-resolution images of 2K pixels, without annoying watermarks, for royalty-free commercial use.
What's more Jasper Art allows you to generate images ad infinitum, until you find the perfect photo for your project. Whether it's for your blog, website, or social media posts, Jasper Art's software is available to help you create images that are exactly what you need.
Monthly subscriptions for Jasper Art start from $24 per month, with a 5-day free trial included in every plan. Test the Jasper Art solution before you buy!
Photosonic, for fast generation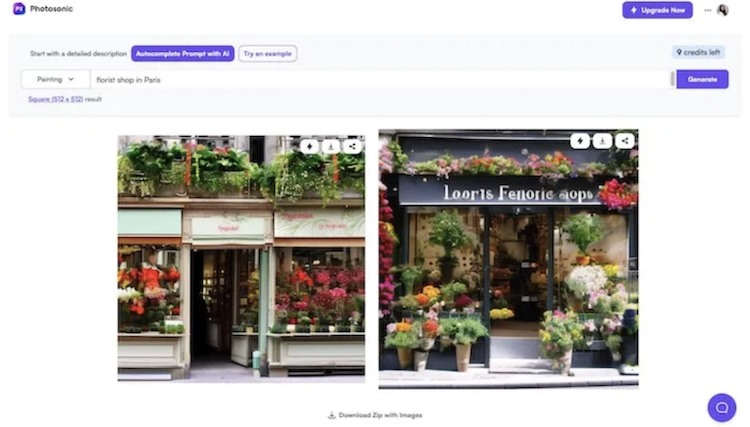 This text-to-image AI uses a model based on a technique that gradually transforms a request into an image that matches the text. The results are stunningly realistic and original.
With Photosonic, choose from several options to personalize your image: landscapes, animals, objects, characters, scenes, etc. Anything is possible! With Photosonic, the only limit is your imagination.
Photosonic offers you a free package with 10 image generation credits to create up to 20 visuals. You can also opt for a premium subscription or buy credits à la carte to benefit from unlimited image generation and access to more features and settings.
starryai, for royalty-free visuals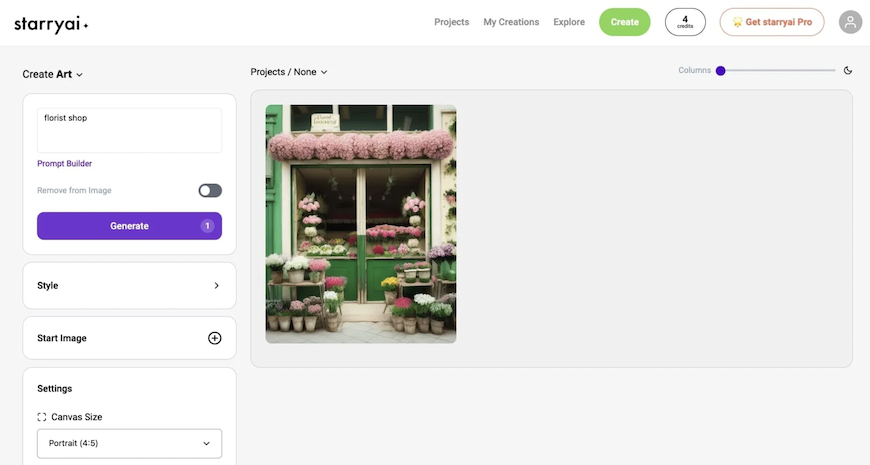 starryai is an AI-powered art generation app. Simply enter a phrase or keyword, and the AI transforms your words into stunning, detailed works of art in no time. Generating art is often a difficult task that requires technical expertise, but with this app, that process is simple and intuitive.
You can take advantage of over 1,000 different styles to personalize your creations. You can also create works randomly, customize sizes and ratios, and even enhance the quality of your images with upscaling.
The platform is available free of charge on iOS and Android. To get you started, starryai offers five credits (25 images) as soon as you sign up. You can use your creations for your artistic projects, print them, or share them on social networks, without any restrictions. The tool regularly updates its templates to ensure it's always at the cutting edge.
FAQs: AI image generation
What's the name of the artificial intelligence that creates visuals?
There isn't just one AI that creates visuals, but several. Perhaps the most notable is GAN, for Generative Adversarial Network. This technology, invented in 2014, enables AI to generate images from a dataset. The principle is simple: two neural networks are pitted against each other. One creates images, the other analyzes them to determine whether or not they are plausible. With each update, the generator perfects its creations to fool the analyzer.
This technique has been widely used to create images of faces, animals, and landscapes. However, GAN isn't the only AI to create visuals. Other technologies are also present on the market, such as VQGAN, which can create images from text, or DALL-E, which can generate images from highly detailed text descriptions.
What are the three main types of artificial intelligence?
Weak AI is the type of AI most commonly used today. Also referred to as "narrow" AI, it's designed to perform specific tasks, such as speech recognition, language translation, image recognition, and data prediction. The algorithms used in this type of AI are generally pre-programmed to solve specific problems. This means that weak AI can't generalize or solve problems that haven't been specifically programmed.
Weak AI is used in many fields, including finance, healthcare, security and defense, automotive, and many others. For example, a chatbot, increasingly used by businesses to answer customer queries; an AI text generator, employed to produce high-quality text in a flash; and an AI voice generator, utilized to convert text to voice automatically, are common example of tools using weak AI.
Strong AI, also known as general AI, is a type of AI designed to operate autonomously, capable of solving any problem a human being can solve. It's capable of understanding natural language, learning new things, and adapting to new or unexpected situations.
Although strong AI isn't yet fully developed, it's considered the next key stage in the evolution of AI. Significant progress has been made in the development of strong AI in recent years, and researchers are continuing to work on improving this technology.
Super AI is the most advanced type of AI, capable of surpassing the intellectual capacities of human beings. It's capable of learning, thinking and reasoning autonomously, without human intervention. It's also capable of understanding and solving highly complex problems, far beyond what strong AI can manage.
Super AI is still in the realm of science fiction, but it's the ultimate goal of many AI researchers. However, this technology also raises key ethical and safety issues, particularly regarding how tools featuring it will be controlled and used.
Is a visual made by an AI generator that creates images free of copyright?
AI-generated images are created by algorithms that analyze thousands of pieces of data to produce detailed digital visuals from scratch based on prompts. However, this doesn't mean that these are copyright-free images.
When using an AI-generated image, you need to be careful how you use it, as it may still contain elements subject to copyright laws. It's best for the end user to take the time to check the source of the image and ensure that it's royalty-free before using it.
If the user uses the AI-generated image for commercial purposes, they must comply with the tool's terms of use. These conditions may include restrictions on commercial use of the images created, credit requirements, or limits on the number of authorized uses.
It's essential that users understand their responsibility when using AI content generators of any kind. If an image is subject to copyright, unauthorized use of the art could lead to serious legal consequences, such as prosecution for copyright infringement... And that's clearly not what you want with AI! So it's up to you to be careful with whatever tools you use to obtain AI-generated images.