When beginning a new adventure in the exciting world of ecommerce, you'll want to take advantage of the many resources available today to give your business the best shot at success.
However, it's also essential to keep learning long after you've launched your online store, as there will always be room for improvement, no matter how successful you become.
To better prepare you for your ecommerce journey, this article describes 15 books that have helped countless entrepreneurs like yourself take an idea and turn it into a flourishing online business!
Benefits of reading books when creating an online store
Today's online store owners are fortunate in that there are all kinds of tools available to help them to understand the importance of ecommerce and achieve their dreams of owning their own business and enjoying financial prosperity. Blog articles, courses, podcasts, forums, etc.—they can all be immensely helpful in developing the knowledge and skills needed for selling online.
While some may discount the use of books for ecommerce learning due to the longer amount of time generally needed to finish them than, say, a blog post, I urge you not to be too hasty in excluding them from your knowledge base.
This is because books will often take authors' years of experience and condense them into works that require just a few hours to consume. They offer helpful advice based on people's past successes and failures, showing readers how to learn from them and apply their guidance to their own journeys.
Furthermore, they can be a source of inspiration to help keep you motivated when things get rocky. After all, it's highly probable that you're not the first one to have to deal with any ecommerce challenges that you encounter. When you read books and discover how others have overcome these issues, it can encourage you to adapt and move forward with your own business.
Must-read books on ecommerce and entrepreneurship
1. Digital Business and E-Commerce Management
Currently in its 7th edition, this textbook provides readers with a solid introduction on how to effectively manage an online store and run a business in the Digital Age.
While previous editions of the book were written solely by Dave Chaffey, co-founder and content director of the leading digital marketing advice site Smart Insights, this version also includes contributions by Tanya Hemphill and David Edmundson-Bird.
Whether you're a beginner in the world of online sales or an experienced entrepreneur, this book can be a helpful ally accompanying you on your ecommerce journey. The authors don't just explain various strategies and tactics for operating a business online; they also detail how to implement those ideas for success—all in a way that's easy for even ecommerce novices to grasp.
2. DotCom Secrets
If you're looking for information on how to optimize your online store's sales funnels, this book may be right up your alley!
Author Russell Brunson focuses on the idea that well-designed sales funnels are the key to increasing site traffic and conversions and making an ecommerce business successful.
Regardless of where your online store is at today, this book is filled with frameworks, funnels, processes, and scripts that you can use to better communicate with your target market. This in turn can help to scale your ecommerce business and make it more profitable over the long run.
3. Building a StoryBrand
There are so many important aspects that go into crafting a successful ecommerce business, but telling your brand's story in a way that resonates with your ideal customer is absolutely crucial.
When used strategically, brand storytelling can have a lasting effect on customers and encourage them to not just engage with your business on social media more but also stay loyal to your brand with their purchasing habits.
Readers of this book will discover author Donald Miller's "StoryBrand 7 Framework," which is a 7-step plan to create effective marketing campaigns to better connect with audiences. In this strategy, Miller emphasizes the idea that for brands to be successful, they must make the customer, rather than the brand, the focus of their story.
4. Ecommerce Evolved
Starting his first ecommerce business in 2001, the author of this book, Tanner Larsson, has seen the ecommerce industry change significantly over the past 20+ years.
Now the CEO of Build Grow Scale, he's written this book to give readers a behind-the-scenes look at prosperous ecommerce businesses and offer a proven method for meeting the needs of the ever-evolving world of online sales.
In addition to detailing the principles of ecommerce, Larrson explains how to make use of your data and launch systematic, powerful automated marketing campaigns to help your business run more efficiently.
5. Content Rules
Having an effective content marketing strategy is key to expanding your brand's reach, boosting site traffic, and increasing product sales for your online store. However, if you're completely new to ecommerce, it can be tough to figure out how to create high-quality content that resonates with your target market and helps to build brand authority.
This is where the teachings of Ann Handley and C.C. Chapman come to the rescue!
When you read this book, you'll find a practical guide to discovering your brand voice and optimizing your social media presence to increase brand loyalty and generate excitement for your products. Handley and Chapman aim to assist business owners with determining their content strategy goals and include case studies to better exemplify their points.
6. Get Rich Click!
Regardless of the size of your ecommerce business or the products that you sell, if you have an online store, it's highly likely that one of your top objectives (if not the top objective) is to make money from it!
This book, authored by successful internet entrepreneur Marc Ostrofsky, serves as a complete, step-by-step guide to discovering how to earn revenue from your online business. Ostrofsky believes that no matter a person's current skills, knowledge, and experience, all ecommerce entrepreneurs are able to learn how to obtain more money from their business and become financially successful.
7. Super Maker
If you're looking for some inspiration regarding how to start an ecommerce business and run it well, this publication by Jaime Schmidt, founder of Schmidt's Natural, is ideal. It recounts the author's experience with building her own brand, managing a successful business, and later selling that business for a nine-figure sum!
Read about Schmidt's path in growing her business from a market stand to a global brand and discover her advice on how to turn your passion into profits. You'll also find lots of candid, helpful advice on subjects such as branding, PR, sales, marketing, culture development, and team management.
8. Launch
Start your online store off on the right track or optimize your existing store by checking out this book by ecommerce veteran Jeff Walker. With the help of various examples, Walker illustrates how to create an ecommerce business from scratch, discussing how to successfully carve out a niche for yourself, launch your products, and build your brand.
He also explains how to incorporate social media and paid advertising into product launches and present your products in a live video format to expand your reach. This book is sure to inspire you to be proactive in your strategy and work on gaining traction for your business immediately!
9. The Startup Owner's Manual
Although not strictly for ecommerce entrepreneurs, this detailed guide written by Steve Blank and Bob Dorf focuses on encouraging startup business owners to prioritize a customer-centric approach, regardless of how they sell their products.
Blank is an entrepreneur, lecturer at Stanford University, and co-creator of the "Lean Startup" methodology, which strives to shorten product development cycles and quickly determine the viability of a specific business model.
In this book, the authors highlight the notion that
it's essential for businesses to move beyond focusing on product development and instead work on how to better serve their customers.
If you're not into reading lengthy works, don't let the book's 600+ pages scare you off! Quite a few of these pages will be taken up by the book's 100+ charts, graphs, and diagrams and 77 checklists.
10. Profit First for Ecommerce Sellers
While running an online store is generally less costly than a brick-and-mortar store, expenses can still quickly add up and cause you to wonder if and how you'll ever start to earn a profit.
This book concentrates on four areas that can make or break a burgeoning ecommerce business: managing inventory, relying on debt, understanding financial data, and maintaining focus.
Penned by Cyndi Thomason, with a foreword written Mike Machalowicz, the creator of the business methodology known as "Profit First," this publication offers thoughtful, detailed guidance on how to tackle the aforementioned business areas.
If you want to go from breaking even or just barely making a profit with your business to achieving perpetual ecommerce prosperity, you won't want to miss this one!
11. Instant Credibility Online
Even if you have the most amazing product on the market, it can be difficult to make sales, as potential customers may be wary of purchasing from a new business. Building brand credibility and trust is an essential task for any store, online or offline.
In this book written by John Weiler, you'll find 25 strategies that can aid you in earning the trust of the people who visit your site. With the author's easy-to-follow roadmap for success, you'll soon be able to demonstrate your expertise to your target market and convert site visitors into loyal customers.
12. Crushing It!
Social media is an ever-changing beast. A platform that's popular today may not be so hot just months down the road.
Nevertheless, the role of social media in ecommerce is becoming increasingly significant. As an ecommerce entrepreneur, it's important that you adapt your social media marketing strategy to accommodate changes to better connect with your audience.
Get inspired to make the most of your presence on every social network on which you're active by taking a look at this book by Gary Vaynerchuk. The author examines all the top social networks of today and describes how anybody can develop their personal brand with the help of these channels.
13. The Everything Store
There's a great chance that you and many people you know have used Amazon at some point. Noting the wildly successful company that Amazon is today, it's hard to believe that it all started from founder Jeff Bezos's garage!
In this book, author and journalist Brad Stone examines the ecommerce giant that is Amazon and the journey of its ambitious founder with colossal vision. In addition, utilizing his access to current and former Amazon employees along with members of Bezos's family, Stone offers a comprehensive view into what life at the company is like.
14. Ecommerce Marketing: How to Get Traffic That BUYS to your Website
For new ecommerce entrepreneurs who may be a bit limited in terms of budget and time, trying to figure out the best marketing strategy for their business can sometimes be overwhelming.
This in-depth handbook walks online-store owners through the various marketing channels that are crucial for ecommerce. In addition, it offers lots of tips for optimizing your efforts in each of the channels described.
Author Chloë Thomas has been involved in online marketing since 2001 and more specifically in ecommerce online marketing since 2004. She's also the host of two the eCommerce MasterPlan podcast as well as the Keep Optimising podcast.
In this book, Thomas uses her extensive knowledge and experience with helping ecommerce businesses around the world to provide readers with an actionable plan to maximize the performance of their marketing strategies.
15. Atomic Habits
It's no secret that running an ecommerce business requires dedication. While you don't need to be on top of your game all the time, it's important to form good habits that will help you to achieve your specific objectives and use them consistently.
However, with the plethora of distractions available today, many people have a difficult time changing behaviors, even small ones, that can prove detrimental to becoming a successful entrepreneur. If this sounds like you, you're definitely not alone!
This book by James Clear focuses on the idea that improving one's habits one step at a time can be more effective and longer lasting than trying to make huge changes. The author's framework with practical strategies can help anyone, regardless of their goals, to work on forming great habits, breaking the bad ones, and becoming proficient at incorporating small actions that accumulate and generate amazing results.
Bonus: WiziShop's Ecommerce SEO eBook
As promised, here's a bonus ecommerce book that will help you with another very important aspect of running a successful online store…SEO!
Effective SEO continues to go hand in hand with prosperous ecommerce businesses. Put quite simply, it boosts brand visibility, site traffic, and improves the user experience. Furthermore, it's a free strategy—which is especially helpful when you're working with a small marketing budget.
We at WiziShop are delighted to offer access to our very own SEO-focused eBook, The Ultimate SEO eBook for Ecommerce!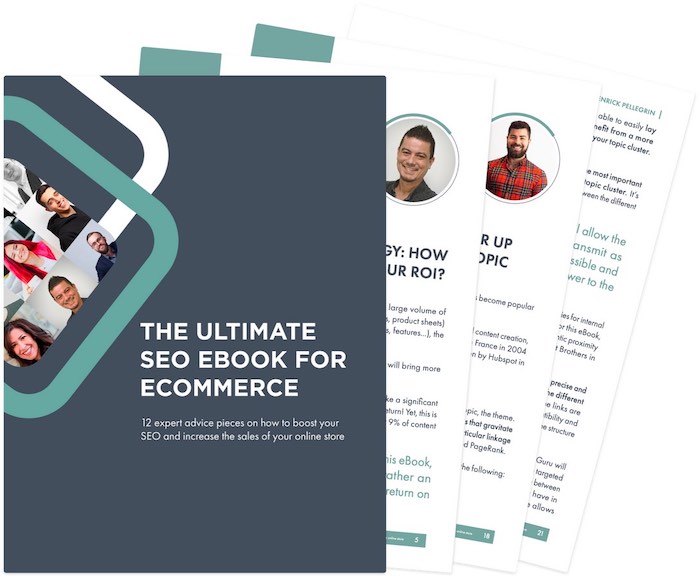 It's chock full of helpful information provided by renowned SEO experts from around the world. You'll discover their top tips and step-by-step strategies that can help you boost your rankings on search engines like Google and take your business to the next level.
There you have it…a mini library of publications designed to help you expand your knowledge of ecommerce, attract more customers to your website, and become a successful entrepreneur. If you haven't already discovered them, consider adding them to your list of books to read today!
Have any favorite ecommerce books not included in this article? We'd love to hear all about them in the comment section below!