Today, to optimize their online store, digital marketers and ecommerce managers spend a lot of energy on strategies to generate visits.
But getting more and more visitors to your pages is expensive in terms of time and money. That's why it's important to ask yourself how you can optimize this hard-earned traffic.
What percentage of your visitors leave your e-shop without converting? The answer is without a doubt: too many!
Exit-intent technology could be the final building block in your conversion optimization strategy. Exit intent, and more generally, all real-time interaction techniques with your visitors, is a marketing idea that'll assist you with meeting the challenge.
This technology offers you one last chance to convince your visitors by creating a personalized interaction in real time via a message that's going to pop up on the user's screen. No matter what your conversion goals are (increasing your overall sales volume, growing your mailing list, expanding your community on social networks, etc.), a well-thought-out use of exit intent will make your job easier!
What is an exit-intent popup?
First of all, what are we talking about with the exit-intent popup? To better understand the principle, let's approach the solution from a technical point of view.
Very simply, the exit intent consists of broadcasting the right marketing message to your visitors who are about to leave your site without having taken the expected action. Email capture, promotional offers, gamification... Many possibilities are available to users in order to boost your business.
The goal: to offer you a final opportunity to convince users, to create an effective landing page, or simply to boost your pages.
Such tools are based on the use of an online platform (SaaS) linked to your website through the integration of two scripts:
a

mouse tracking code that's implemented on all the pages of your website (ability to use tools like Google Tag Manager) and

a code that analyzes the conversions generated by your exit intent, to be placed on the specific URLs where the message is broadcast.
This process, a bit tedious for the uninitiated (but very simple for any developer), rarely applies to sites that use ecommerce platforms. Many companies specialized in this technology have developed their own plugins and extensions, making it much easier for you to focus on other aspects of your business.
For each new page or URL visited by the user, their mouse movements are tracked and analyzed.
Mouse-tracking algorithms consider parameters such as the speed of movement and the direction of the user's mouse.
The goal: to predict the precise moment when your visitor is about to exit your online store.
The most effective solutions for exit intent are those that process this data as quickly as possible and react to all attempts to leave a navigation page (move to the address bar, the "close" cross, the back button...).
The last step, as you've probably already understood, consists of broadcasting a personalized message in real time. This message usually takes the form of a window (popup) overlaying your page and is placed at the end of the conversion funnel.
The content of the message is crucial and will determine the success or failure of your campaigns, to reduce your ecommerce bounce rate in particular.
In this area, exit-intent tools offer numerous parameterization possibilities that'll help you personalize your campaigns as much as possible and create real interactions with your potential customers.
What are exit-intent popup tools and plugins for?
Powerful technology
These tools adapt to your targets, your strategy, and your creativity.
It's essential to focus on the rapid transformation of your customer knowledge into tangible benefits, whether it be an increase in online sales or an improved ROI.
Data by itself does not bring you anything: it's by using it strategically that you achieve results.
More speed and flexibility
You can set up large-scale marketing campaigns in just a few clicks, without any special technical skills.
You take over and manage the content of your campaigns independently. You're able to adapt to the needs of the moment and automate the marketing processes.
The result is an image of a brand in motion that creates original and relevant interactions.
Personalized marketing in real time
To demonstrate the usefulness of exit-intent personalization, let's take a concrete case: an ecommerce site wants to increase its overall sales volume.
A "basic" example of marketing interaction would be to design a standard message that's displayed to everyone after a few seconds of browsing. This message could offer a coupon for an order to be placed that day, in order to motivate the undecided.
This message is only going to have a real impact on your undecided visitors, i.e., the small portion of your traffic already qualified and psychologically committed to a purchase intention.
The results will remain weak, and in addition, you risk cutting your margin unnecessarily by proposing a promotional offer to your already convinced audience, which would have bought anyway.
Finally, as far as the rest of your audience is concerned, this little message may have very well annoyed them, another ad...
What we can say is that such a strategy is certainly going to have some positive effects on your conversions and maybe even on your bounce rate, but we can do much better!
Some tools today allow you to trigger the display of personalized messages, adapted to each of your targets.
The more targeting possibilities you have, the more positive the impact on your conversion rates will be. The MaxTraffic platform, for example, has developed several behavioral or technical segmentation parameters that allow you to qualify your leads and therefore send them relevant messages:
W

hat is the source of the visits (paid search, organic search, social networks, ...)?

What is the status of this visitor (first visit, second or more, customer)?

What is the amount of their cart?

How many pages did they browse?

How long did they stay on this page?

From which country are they visiting my site?

etc.
Which messages for which objectives? Popup ideas
The following examples are possible uses of the exit-intent popup, but the technology has no limits and adapts to the strategies of each user.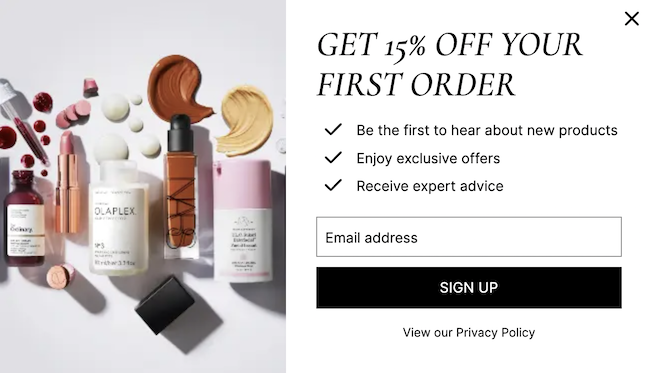 Example with the ecommerce store Cult Beauty
Objective 1: Use opt-in levers to collect email addresses and generate new leads
These are the most common uses of the exit-intent popup for the simple reason that any website (blog, ecommerce, booking...) wishes to widen the distribution of its content and offers.
We know that the ecommerce email remains a powerful tool to maintain customer relations, and obtaining an email address is often crucial to try to convert/link.
To convince your visitor to leave these details, offer them something!
A coupon, relevant information, a premium benefit, a welcome gift... You can expect at least a 15% increase in the size of your email base (low average).
If you want to grow your community on social networks, the strategy remains the same. Before your visitors leave, encourage them to follow you in order to keep in touch.
Be careful though: in order not to bore your visitors, think of configuring the capping and the frequency of your messages. You can target your new visitors as a priority and set up another message for your visitors who've already made a purchase or consulted your website.
Objective 2: Reduce cart abandonment with a personalized notification
In addition to abandoned cart email examples, popups can be employed to help reduce your abandonment rate. Cart abandonment notifications are very useful if you've analyzed the possible causes of why people are abandoning their carts beforehand. The results of popups are going to be all the more convincing if your customer journey is optimized. Here are some examples of notifications.
Free shipping

According to LK Conseils, 46% of abandoned carts are due to high shipping costs. It's possible to reduce this impact by broadcasting a targeted message to your "high-potential" visitors. Think about targeting only your visitors with a cart higher than the average figure or higher than a defined amount. This will preserve your margins while rewarding your loyal customers. If you identify that a loyal customer (therefore satisfied) abandons their cart, then they're perhaps in a phase of tracking or waiting for a better offer. Valuing their loyalty by offering them free shipping is a great method to help you sway them.

A welcome coupon:

To convert new prospects, a proven technique is the welcome offer. You can consider launching a couponing campaign for every first order, with a coupon or promotion. The percentage method works like a lever on the amount of the cart. The more purchases a visitor makes, the greater the savings. Be careful about the quality of your welcome offer, as some visitors might be tempted to unsubscribe to re-register. For more efficiency, only broadcast this offer to your buyers who've already browsed several pages or who've already spent more than 15 seconds on your site. This way, you only start the dialogue with qualified visitors.

Validate your cart today and receive a free item:

Testing a new product is an interesting opportunity for your visitor. It helps to give a good image of the product and of your brand. These sampling campaigns only apply to certain types of products, but the idea can be used in other ways: a discount or a product bought for free, for example.

A reassuring message:

Sometimes a simple reminder can trigger conversion (reminder of your product return policy, secure payment, shipping tracking, etc.). It can also be reassuring statistics, customer reviews, an award received that attests to your quality of service, etc.
In a more general way, we can say that there are two levers that we can focus on:
The notion of urgency by creating offers that are limited in time.

This can give your visitor the idea that if they don't act right away, they risk losing out. This fear of losing an advantage will encourage their decision making and action to buy.

The feeling of exclusivity that'll enhance the attachment to the brand and increase loyalty.
It's therefore possible to act on the shopping cart abandonment rate thanks to simple notifications at the exit of the website:
The use of your visitor data allows you to personalize your offers and make them more relevant.

Your promotional offers are only visible when they're necessary to convert. Targeting allows you to propose premium offers only to your qualified targets and/or to visitors with a substantial shopping cart.

You can integrate notions of urgency and exclusivity that'll respectively act on the action and on the loyalty. It's important to reassure and create a transparent relationship.
Objective 3: Drive your traffic to another page or site
The purpose of this use is to "influence your traffic." It's likely that if your visitor spent several minutes on your website before finally leaving, it's because they weren't convinced or didn't find what they were looking for.
It's up to you to guide them to other content that you consider more relevant.
Redirect your visitor to your best-selling page or to another of your sites. You can also display a button towards your product search page or propose a search bar inside your message.
Final tips for setting up an exit-intent popup
Define your targets and the right message
In order to create effective exit-intent popup campaigns, it's essential to define your targets and the objectives for each of them.
You can then (depending on the tool you choose) create your messages on this basis and launch your onsite actions for each profile simultaneously.
Some tools offer online editors to create your messages, but it's also possible to import your own creations.
Do A/B testing
With these types of tests, you'll discover which title, which CTA button, or which color works best.
With little effort, you run your tests, and only the best-performing one is kept and you increase your conversions.
Mobile or desktop, adapt to the terminal
It's surprising to see that many sites are responsive and many popups are not.
You can simply configure these options, a campaign for each type of device, following the same principles as for your website for a responsive popup.
Check the loading speed of your messages
If your messages load too slowly, it'll ruin your efforts.
To optimize loading, reduce the size of your images and create popups that use HTML or CSS. Of course, you must have worked on your online store's speed beforehand for better load times.
In most cases, you'll receive technical assistance in this area from your provider.
Keep it simple
Your visitors who are about to exit your site are probably already very absorbed by your content.
They may not be in a good position to understand complex messages, or they simply don't want to make the effort anymore.
A few catchy words, a subtitle, and a visual are often more effective than an exhaustive but overloaded message.
Finally, I'd say that it's often enough to test these technologies to see the benefits.
There are many tools on the market, of varying quality and price. Some tools are specialized in the support of large groups like Bounce Exchange, while others are adapted to the problems of smaller structures like MaxTraffic.
The analysis of the results on your dashboard will allow you to identify reliable indicators in order to judge the efficiency of your actions (number of displays, click rate, conversion rate after display, total revenue generated, etc.).
There's no doubt that real-time personalization has a bright future ahead of it. The technique is going to continue to improve in order to help marketers transform their data into tangible results for their business.