In recent years, there's been a big surge in the popularity of enamel pins. This is likely due in large part to their versatility, both in design and usage. These tiny accessories can feature nearly any theme imaginable and can be worn on anything from baseball caps and jackets to purses, backpacks, and more.
Enamel pins' boosted popularity around the world is great news for ecommerce entrepreneurs everywhere. Whether you're new to online sales or want to add a new item to boost sales on your existing ecommerce site, enamel pins offer an excellent opportunity to achieve your objectives.
In this article, we'll take a look at some of the advantages of selling enamel pins and provide you with a step-by-step guide with tips on how to make and sell them online.
Let's begin!
What are the advantages of selling enamel pins?
Here are a few of the reasons why you may be tempted to start selling enamel pins as soon as possible!
Profit margins are high
One of the top reasons why people opt to make enamel pins for selling on the internet is because this product tends to be accompanied by high profit margins. Although you probably won't be offering your pins at a rate of hundreds of dollars per item, even the average price of approximately $10 will allow you to earn a nice profit.
This is due to the relatively low cost of manufacturing enamel pins. Furthermore, this product's small size means that you won't need to spend money on a storage facility to store your pins while waiting for them to be purchased.
Manufacturing and shipping are easy
Whether you choose to manufacture your enamel pins yourself or pay a company to do it for you, the procedure is pretty simple. Note that when you work with a third-party manufacturer, it may take a while to determine your ideal order count, keeping in mind that most manufacturers are going to charge a lower rate for a higher number of units. Nevertheless, after you have a better understanding of your needs and expected sales, the manufacturing process should be relatively smooth.
In addition, once you start to see sales coming in, you'll be happy to find that shipping your products to customers is generally quite easy as well. Because enamel pins are so small in size, they don't require bulky packaging: some bubble wrap and a padded mailer, and you're ready to go!
There's lots of room for creativity
Another significant advantage to selling enamel pins is that you'll be free to let your creativity run wild. The versatility of this item allows you to create any kind of design and work with nearly any niche you could possibly think of.
Food, astrology, animals, sports, destinations…the world is your oyster when it comes to what theme you want to utilize for your pins. That being said, it'll still be important for you to do your research before launching your business to ensure that there is indeed a viable market for your idea.
What are the different types of enamel pins?
Before getting into the step-by-step process of making enamel pins, it's advantageous for you to be aware of the different types of pins available. Having a good understanding of the various options on the market today can help you to decide which type is going to work best for the designs you have in mind.
Soft enamel
Starting with the most cost-effective variety, soft enamel pins are especially popular with beginner pin creators. This type of pin is plated with metal lines, and soft enamel is then poured into the open areas between the metal lines.
Besides usually being less expensive to produce, soft enamel pins tend to have more flexibility in terms of color possibilities and allow you to produce a textured design, featuring raised edges.
The downside of this type of pin, however, is its limited durability. Soft enamel pins can get scratched more easily than their hard enamel counterparts, which may be more or less of an issue, depending on your particular designs and how your target market plans to use your products.
Source: The Enamel Pin Factory
Hard enamel
Hard enamel pins feature a smooth, multicolored surface achieved by adding each piece of colored enamel on a metal plate and then heating them together. This type of pin also has the advantage of being significantly more durable.
If you know that durability is an important factor for your target market, say if these shoppers will be attaching your pins to their backpacks and going for long hikes or camping in all kinds of weather, for example, it can be worth investing in hard enamel for your creations.
Keep in mind, though, that you usually won't have as many color options available to you with hard enamel. This means that opting for this kind of pin may result in a design that's not as rich and more muted than one created with soft enamel. In addition, due to the more in-depth process required to produce hard enamel pins, they're usually more expensive.
Source: Nine Arrow
Die struck
Similar in appearance to that of custom coins, die-struck pins are created by first crafting a steel mold of your design. Next, you stamp the mold onto metal, resulting in a richly textured, intricate final product. Common metals used for this kind of pin include iron, gold, and copper.
Because of their understated look and high customizability, die-struck pins are frequently used for logo, award, lapel, or commemorative pins. Although die-struck pins typically don't feature any color or enamel, it's possible to add a small amount of enamel to the design for a splash of color if you'd like.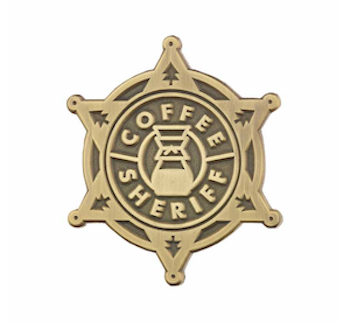 Source: Made by Cooper
Epoxy
To further protect your design, go for pins that have an epoxy finish. This clear plastic coating can be used on soft enamel or offset printed pins, which feature designs directly printed on the metal.
Offset printed pins are ideal if your design has lots of detail, features many colors, or includes a photo. In addition to supplying your pin with extra shine, an epoxy coating may help prevent oxidation, staining, and scratching from ruining your pin.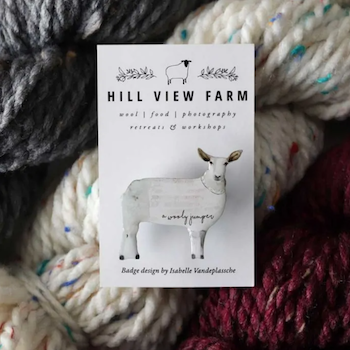 Source: Aspinline
How do you make enamel pins to sell online?
Launching your own enamel pin business is exciting, but it can also seem overwhelming if you don't know how to begin. To help answer some of the most common questions and ensure that you're on the right track, let's take a look at the various steps you'll need to follow when making enamel pins.
1. Decide on a niche
Already have an amazingly creative design in mind for your enamel pins? That's great, but before you get too excited, remember that there needs to be a demand for your product in order for you to earn a profit. Deciding on a niche is the first step of launching any new business, regardless of what's being sold.
So what exactly is a niche?
Put simply, it's your target audience—a specific area of the market with unique characteristics. It's important for you to select a niche for your enamel pin business because there's a lot of competition out there. Once you decide on your niche, you'll be able to get to work on creating products that appeal to a particular group of consumers (rather than everybody) and therefore have a smaller number of competitors.
A good place to start when it comes to finding a niche is to consider what you're already passionate about.
For example, say that you love Halloween. Maybe creating spooky, fun pins involving the October holiday would then be an excellent niche for you! The benefit of choosing a niche related to your hobbies and/or interests is that it'll make the everyday work of being an ecommerce entrepreneur seem easier and more enjoyable.
You can also perform research on the internet or within your own community to discover possible pin ideas. If you feel lost as to where to begin looking, don't worry! There are several places that can prove to be real treasure troves of inspiration.
Social media:

Search pin-related hashtags and check out the pages of other pin makers to get those creative juices flowing. Note that social networks that are more geared toward visual content, e.g., Instagram, Pinterest, etc. may be your best bet when it comes to finding ideas for what kinds of pins to make.

Google Trends:

Get a broad overview of the viability of your pin idea by using this free tool to view various search trends and discover the search volume for a niche you have in mind. For instance, you can see the number of searches for "guitar enamel pins" that occurred in Canada in the past 6 months.

Community forums:

Learn what's trending and how you can better cater to a specific audience by visiting a few forums like those on Reddit, where people meet to discuss all kinds of topics. You'll find that these days, there are forums for nearly any subject imaginable, so you're bound to discover helpful info via this method regardless of your niche.
2. Create your pin designs
After deciding on a niche, you're ready to begin the process of bringing your pin ideas to life!
Worried your design skills aren't up to par? Not a problem. There are lots of tutorials out there that can teach you how to create your pins. If your time is limited, you can alternatively work with freelance designers who can help you with this step of launching your enamel pin business.
If you opt to design your pins yourself, tools like Adobe Illustrator or Photoshop will prove to be quite useful. However, note that there are less costly or even free software options available as well, such as GIMP, Sumo, and Pixlr.
If you'd prefer to outsource the design process, sites like Fiverr, Upwork, or The Pin People can facilitate this step for you.
No matter which approach you take for creating your pin designs, there are several points to consider to ensure a high-quality result.
Color(s):

It's essential that you use solid colors only for your enamel pins. No gradients or transparent colors allowed!

Text size:

It's okay to add text, but don't forget that pins are already pretty small. For this reason, it's best to avoid super-small text or tiny details that'll be difficult to see.

File type:

If you're designing your pins yourself, note that your manufacturer will likely require a JPG, PNG, or vector file of your pin design. In addition, be sure to request additional info regarding sizing and bleed area to make sure that you're on the same page.
3. Make your pins
Once your designs are ready to go, you'll need to find somebody to transform your ideas into actual pins that people can buy!
When searching for a manufacturer, keep in mind that you can work with a company that specializes in enamel pins, such as WizardPins, The Enamel Pin Factory, Vivipins, Pinsbay, The Pin People, etc., or simply select one that does general manufacturing. The best option for you is going to depend on your budget, location, and individual preferences.
When you're just starting out, you'll probably want to keep your costs as low as possible when ordering pins. As your business grows, you'll have a better understanding of what your customers want and can adjust your ordering strategy accordingly.
In the meantime, here are a few things that can have an effect on how much manufacturers charge to make your pins:
pin size,
order quantity,
number of colors used, and
design complexity.
Note that the most expensive part of the manufacturing process will be when your chosen manufacturer creates the mold for your design. You'll therefore want to be pretty confident about your pin designs before you send them off to the manufacturer to be created.
When reaching out to possible companies to manufacture your pins don't hesitate to bring up any concerns you may have, ask questions, or request additional information. Take note of their responses to your queries, as this can aid you in evaluating how they'll respond to any customer service issues you may have in the future if you choose to work with them!
As you browse potential manufacturing partners, some questions you may want to research include the following:
Do they offer free samples?

Free samples allow you to gauge the quality of the product before committing to a large order. At the very least, the company should have a variety of images that show past creations on their website to give you an idea of what you can expect.

What kinds of pin backings are available?

Safety pin, butterfly clutch, rubber clutch, magnetic, self-adhesive, locking pin…there are numerous backings options out there for enamel pins. While this may not be the most important element of your pin's design, it's definitely something that you'll still want to consider.

What types of custom materials can they provide?

It's crucial that you find out what colors and materials are available. Depending on your particular design, you might require specific materials that don't come standard on some manufacturers' sites. You might also be able to customize how your products are shipped to you. Check that the company has everything you need before you decide to partner with them.

Is there a discount if you place a large order?

Manufacturers will generally charge less per unit for larger orders, but that discount will vary from company to company. Shop around to ensure that you're getting the best deal!

What's the company's average turnaround time?

There are various factors that can have an impact on how long it takes a manufacturer to finish an order. However, having a general idea of the typical turnaround time will allow you to better manage your stock for your customers.
After you've selected a manufacturer, I suggest ordering a relatively small number of units at first to test demand. When you're able to confirm that shoppers are indeed interested in your pins, you can gradually scale your business and begin placing larger orders.
4. Select an ecommerce platform to sell your pins
With your fresh stock of enamel pins ready, the next step is to decide where you'd like to make your products available for purchase. You'll have several options available to you regarding selling channels, so be sure to research them carefully to determine what makes the most sense for your brand.
Online marketplaces like Etsy and Amazon are popular sites for artisans to list their creations for sale, as they generally make it super easy to sell and get their items out in front of an automatic audience. Creators simply need to add their products to the site and add their business info. The site will then handle pretty much everything else, providing a relatively hands-off experience for the business owner.
However, this extra convenience comes at a price. Online marketplaces tend to charge hefty commission fees, and some also make creators pay a fee just to list products. Furthermore, your storefront may look very similar to other businesses' storefronts on the platform, making it difficult for your brand to stand out.
If your aim is to develop your brand and have the most control over the management of your business as possible, creating your own online store is going to be your best bet. This option does involve more work on your end, however, so it'll be imperative that you choose a great ecommerce platform to host your online store.
With the WiziShop ecommerce solution, selling your enamel pins will be both easy and enjoyable!
Start by selecting one of our numerous design templates to build a professional homepage that accurately reflects your branding and conveys your desired message to your site visitors. Add your products and your payment and delivery options from a wide selection of available providers. You'll also have over 400 pre-integrated tools on hand to assist you with all kinds of elements associated with boosting conversions.
To assist your website in climbing rankings on Google, our SEO-powered ecommerce solution provides you with 50+ tools designed to optimize your store's technical SEO. As you won't have to worry about this aspect, you'll be able to focus more on other parts of running your business, like product development and marketing!
If you're new to ecommerce and concerned that you won't be able to keep up with the more experienced entrepreneurs out there…you can breathe a sigh of relief with WiziShop. From the moment you sign up with us, you'll have access to free training in your administration area. Here, you'll find modules on a plethora of ecommerce topics to help you increase your confidence in online sales and take your business to the next level.
Finally, our professional team of Business Coaches is ready to assist you with any question, big or small, that you may have concerning your online store. Whether you'd like assistance with a technical issue or advice on how to get your store to stand out from the competition, this group of ecommerce experts will be delighted to chat with you!
Sounding pretty good? Try WiziShop out for free for 15 days and see for yourself why it's the perfect solution for launching your enamel pin venture.
Create your online store - 15-day free trial
5. Market your pins
Considering all the effort you've devoted to your business, it'd be a shame if nobody finds out about it!
In order to start earning sales, you'll need to develop a stellar marketing strategy to get the word out about your pins and convince people to buy them. Depending on your resources and target audience, you'll probably want to take advantage of a variety of marketing channels to promote your budding venture.
In today's world, social media marketing is pretty much a must for brands, especially those involved in ecommerce. The benefits are plentiful: strengthen relationships with current and potential customers, get helpful insights about your audience, build awareness about your products and services, and more.
As far as determining what platforms are optimal for your brand, you'll need to research which networks the members of your target market most frequently scroll. Nevertheless, Instagram is likely going to be one that you'll want to have a presence on, due to it being such a visual platform. Photos, Reels, and Stories…all are great for showing off your products in detail!
Email marketing can be a very effective way to connect with your audience. The type of content you put in your newsletters will vary according to your goals and your subscribers, but some typical subjects include industry news, updates for your store, and new product or sale announcements.
There are various ways to work on building your email list, such as with contests, gated content like an ebook, pop-up forms on your site, opt-in fields at checkout, loyalty programs, etc. Note that while email newsletters can be a powerful tool, as with any other form of content marketing, you shouldn't overdo it. Consider how you'd feel if you received emails from a brand every day…
Think about collaborating with influencers, people who have a significant following on social networks and/or other platforms, to expand your reach and attract more visitors to your website. It can take a while for new brands to build a following and get the word out about their products, but a mention from an influencer with the right audience can have you soon seeing your sales soar!
When researching possible influencers to work with, don't forget to look at the creator's engagement rate in addition to their follower count. Getting an influencer with 500,000 followers to promote your enamel pins may sound good, but one with 10,000 followers may actually be more effective if those users are more engaged.
Optimizing your ecommerce website for search engines like Google is crucial for its success. This involves building authority in numerous ways, demonstrating that you've got a high-quality, legit, and trustworthy site. Google will reward you by increasing your site's visibility on the search engine results page (SERP).
Working on your site's SEO takes time, but it's well worth the effort. Plus, it doesn't cost you anything (unless of course you pay somebody to manage it for you). There are numerous actions you can take to improve your SEO, including publishing relevant, helpful content on your blog on a regular basis; ensuring that your site's pages load quickly; obtaining quality backlinks; using alt text for your images; and optimizing your site's navigation.
Note: Remember that WiziShop takes care of all the technical aspects of your site's SEO for you when you build your online store on our platform!
Create your online store - 15-day free trial
Tips for selling enamel pins
To finish, let's go over a few pointers we have when it comes to selling your enamel pins on the internet.
Provide high-quality photos
Displaying high-quality photos of your products is important no matter what you're selling, but it's especially crucial for smaller items like enamel pins. Take photos that show all the details of your pins, ensuring that you use good lighting to avoid odd shadows and distortion in your images.
It's a good idea to include multiple photos of each item on its product page, presenting the pin in different angles and against different backgrounds to help visitors imagine the item in various scenarios. When brainstorming ideas for your product photos, consider where your customers are likely to place your pins, be it on a denim jacket, backpack, baseball cap, etc., and include those items in your images.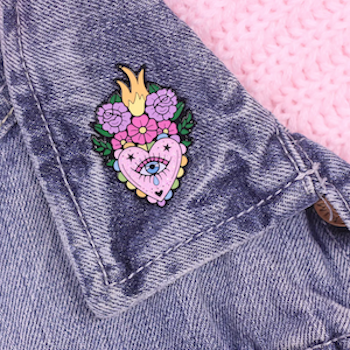 Source: Clorty Cat Crafts
Use custom backer cards
Although not mandatory, attaching a backer card to your enamel pin before packaging it up to be sent to a customer adds a professional touch to the order. A plain piece of card stock will of course do the trick, but why not take advantage of this additional marketing opportunity?
Custom backer cards featuring your logo and other elements of your branding make it easier for people to remember your business. Consider adding your contact details, social media handles, and even discount codes for use on the customer's next purchase.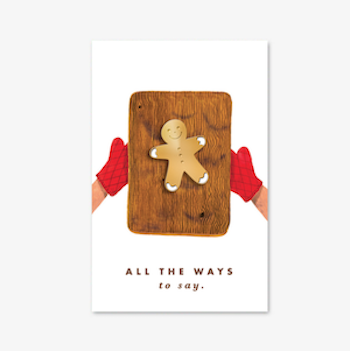 Source: ALL THE WAYS to say
Create product bundles for purchase
An excellent tactic to boost pin sales on your website is to offer bundles featuring multiple pins sold together. Grouping pins based on their theme or allowing shoppers to make their own custom bundles and accompanying the bundle with an offer like "Buy three, get one free" can further entice people to add more items to their shopping carts.
Although you won't receive as much money per pin as you would if the shopper had purchased each item individually, this strategy can aid in moving stock and increasing your average order value. What's more, shipping multiple pins in a single package means a savings in shipping costs!
Source: Flair Fighter
Pintrepreneur: from side hustle to full-time job!
Starting your own enamel pin business is a great way to explore your creativity, share your art, and earn extra income. Because pins don't require a ton of initial investment to make, it's relatively easy to begin. However, things can get trickier as you try to build your business.
The popularity of enamel pins has led to a significant increase in pin creators, meaning that you're bound to face quite a bit of competition in the market. Don't let this deter you from getting started, though!
Perform thorough research on your target audience, select your niche carefully, make high-quality pins, and focus on what you can do to better serve your customers.
For many entrepreneurs, it can be advantageous to first make and sell enamel pins as a side hustle. As they gradually learn how to improve their products and manage their store, they feel more confident about transitioning their part-time activity into a full-time gig.