With over a billion active users, Instagram has become a powerful marketing channel for businesses to showcase their offerings and connect with their target audience. Whether you wish to sell digital products like online courses, ebooks, software, or other intangible items, the network can be a valuable tool to drive visibility and boost sales.
In this article, we'll delve into effective strategies to make the most of your Instagram presence in order to effectively promote your digital products. Get ready to unlock the full potential of Instagram marketing and take your business to new heights!
Why promote digital products on social media?
Before we take a look at some of the best tips on how to boost the visibility of your non-physical goods on Instagram, let's first review some of the key advantages of promoting these items on social networks in general:
Wide audience reach: Social networks have billions of active users worldwide. If you're trying to determine where to sell digital products other than Etsy, for instance, promoting your creations on platforms like Facebook and Instagram can help you tap into a vast and diverse group of consumers, increasing your chances of reaching potential buyers from different demographics and locations.
Targeted advertising: Social media provides powerful targeting options that allow you to reach specific audiences based on their interests, behaviors, and demographics. This precision targeting ensures that your digital product promotions are shown to the most relevant shoppers, increasing the likelihood of conversions.
Cost-effective marketing: Compared to traditional advertising methods, promoting digital products on social media is often more cost-effective. Many social platforms offer various advertising options suitable for all budgets, making it accessible for businesses of all sizes.
Enhanced engagement: Social media enables direct communication with your target market. Engaging content, interactive posts, and responding to comments can foster a sense of community and build brand loyalty. This engagement can lead to increased trust and credibility, ultimately driving more sales.
Viral potential: Engaging and shareable content has the potential to go viral on social networks, leading to exponential reach and exposure. If your digital product or promotion resonates with viewers, it can quickly gain traction and attract a significant number of possible customers.
Real-time insights: Social media platforms provide valuable analytics and insights into your digital product promotions. You can track metrics like impressions, clicks, conversions, and audience behavior. These insights help you refine your marketing strategies and optimize future campaigns for better results.
Influencer collaborations: Partnering with influencers on social media allows you to leverage their established audiences to promote your intangible goods. Influencers can craft authentic content that resonates with their followers, enhancing your credibility and driving more traffic to your online store.
Types of digital goods to sell on Instagram + examples
Today, ecommerce entrepreneurs will find that there are numerous types of digital products to sell, with some of the most common options listed below.
Ebooks
Ebooks are digital books that can be read on electronic devices like e-readers, tablets, or computers. They're much appreciated by consumers because they offer convenience, portability, and instant access to a wide range of topics. In fact, as of June 2023, there are approximately 980 million people around the world who use ebooks, according to Statista, and this number is predicted to climb to 1.1 billion by 2026.
There are various types of ebooks, such as fiction, non-fiction, guides, tutorials, and reports, all of which can be easily distributed and downloaded, making them an attractive choice for self-publishing authors, businesses, and educators.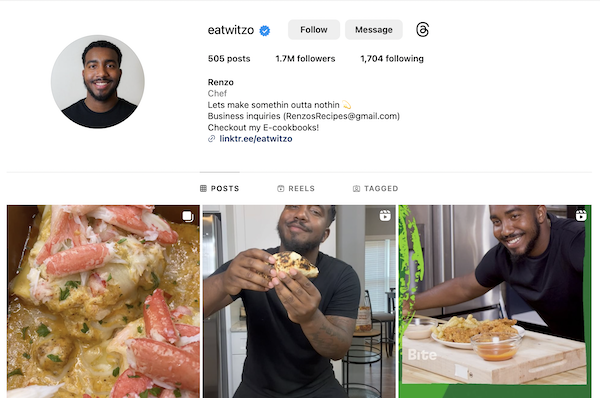 Example of ebook promotion with e-cookbooks by @eatwitzo
Photography
Photography appeals to all kinds of consumers and has a high demand for various purposes, such as social media, websites, marketing materials, and artwork. Different types of photography products include stock photos, presets, filters, and digital prints.
Because Instagram is such a visual platform, it's a great place to advertise your photos to future buyers. To highlight photography products, be sure to add high-quality visuals, engaging captions, and relevant hashtags. Showcase your photography skills and creativity to attract future buyers and stand out in the competitive market.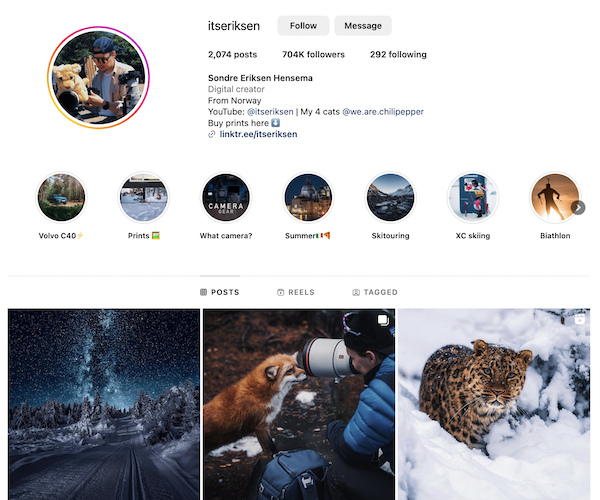 Example of photography promotion by @itseriksen
Coaching and other services
Instagram offers a diverse range of services for sale, spanning from business consulting to fitness coaching. It's an excellent network to connect businesses with potential clients.
Whether you offer consultations, personalized workout plans, or coaching sessions, sharing compelling content that tells your brand's story can attract and retain clients. By inspiring confidence in your services through engaging posts, you can build new relationships while nurturing existing ones.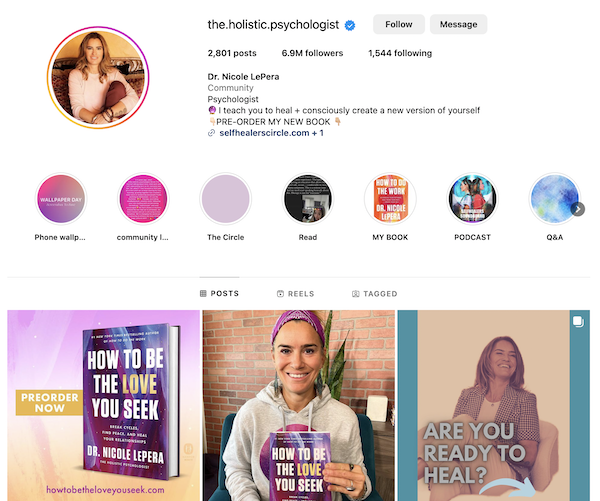 Example of promotion of several items, including the "SelfHealers Circle" service by @the.holistic.psychologist
Audio
In today's fast-paced world, podcasts and audiobooks have become go-to options for gaining knowledge and skill improvement on the go.
Spotify, Apple Podcasts, and Google Podcasts are just a few of the platforms that offer a vast audio library. However, listeners often seek ways to avoid ads that disrupt their experience. As a result, audio digital downloads have gained immense popularity among people seeking uninterrupted listening pleasure.
A growing number of podcast creators are using Instagram to spread the word about their shows, inviting new listeners to download their content on a variety of platforms.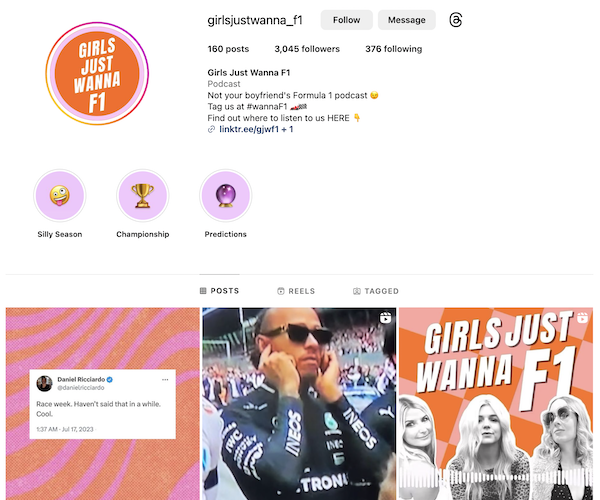 Example of podcast promotion by @girlsjustwanna_f1
Video
Video content is a valuable digital product to sell due to its engaging and interactive nature. It appeals to audiences across various industries and platforms. Different types of video products include online courses, tutorials, vlogs, stock footage, and animations.
To increase visibility of your video products on Instagram, you will want to harness the network's visual appeal to showcase snippets of your video content, enticing viewers to explore and purchase your video products.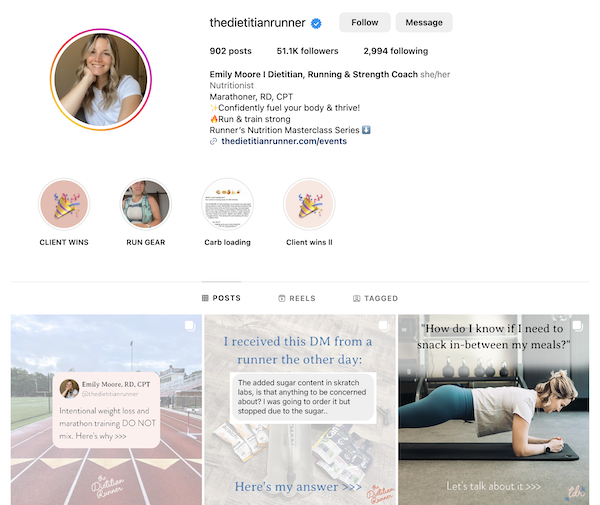 Example of promotion of Masterclass video courses by @thedietitianrunner
Software
Software products like apps, games, and presets are enjoyed by consumers because they offer practical solutions and enhance user experiences. Apps cater to various needs, from productivity to entertainment, while presets simplify photo editing tasks.
To better sell on Instagram, use engaging visuals, demonstrate their benefits, and leverage influencer partnerships to reach a greater number of people. Engage with followers through contests or giveaways to build buzz and increase purchases.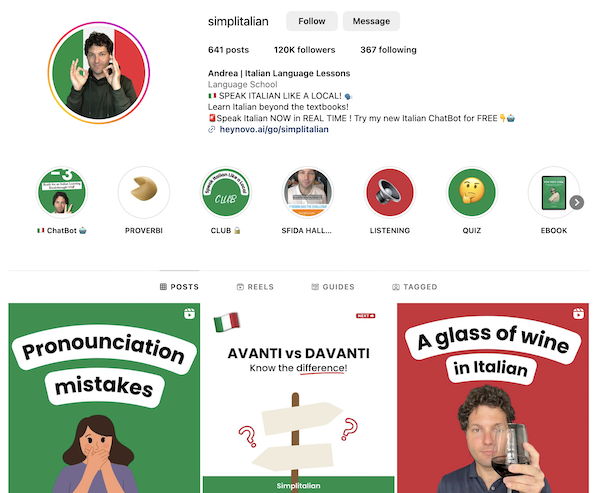 Example of app promotion with the Italian language chatbot by @simplitalian
Printable items
Printables are digital files that can be downloaded, printed, and used for various purposes. They can include planners, calendars, worksheets, coloring pages, wall art, templates, and more. Printables are prevalent on selling platforms because they offer convenience, affordability, and instant access to useful and decorative materials.
They cater to various niches, such as education, organization, home decor, and crafts. As a digital product, they're easy to create, distribute, and sell online, making them a popular choice for content creators, entrepreneurs, and artists looking to monetize their skills and expertise.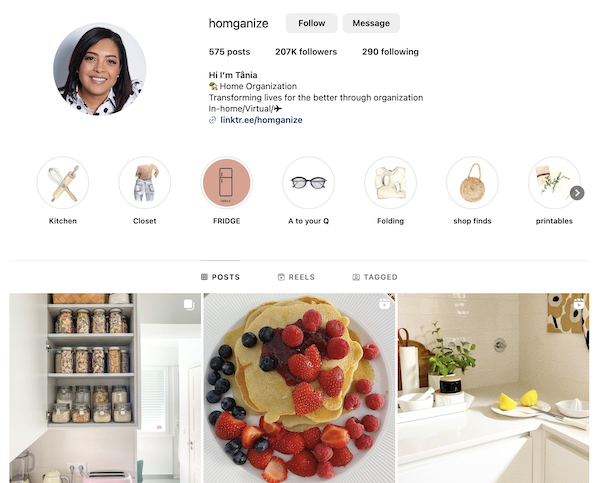 Example of promotion of printables by home organization specialist @homganize
Tips on how to promote and sell digital products on Instagram
In addition to availing of WiziShop, the best platform to sell digital products, you'll want to take advantage of social networks to achieve even greater levels of success with your ecommerce adventure. Check out some of our top tips to help you succeed on Instagram!
1. Switch to a Business account
If you don't already have a Business account on Instagram, the first thing that you will need to do is to switch to one, as it offers several benefits for promoting your intangible goods on the network.
A Business account provides access to valuable insights and analytics, allowing you to track the performance of your posts, stories, and promotions. These insights make it possible for you to better understand the people following you, enabling you to craft more targeted and effective content.
What's more, Business accounts can add contact information such as email addresses and phone numbers, making it easier for potential customers to get in touch or inquire about your products. Moreover, having a Business account allows you to run Instagram ads and utilize the platform's powerful targeting options to reach your target market.
In addition, the "Swipe Up" feature in Instagram Stories is also available for Business accounts with over 10,000 followers. With this feature, you can add a clickable link to your Stories, allowing you to drive traffic directly to your digital product pages.
2. Optimize your Instagram profile
By optimizing your Instagram profile, you can create a strong and appealing online presence, increasing the chances of attracting shoppers.
To optimize your Instagram profile, you can start by choosing a recognizable username and a profile picture that represents your company or product. Craft a compelling bio that clearly communicates what you offer and includes relevant keywords to improve discoverability.
When optimizing your Instagram profile, you will also want to link your website or landing page where people can find your digital products in your bio or use the "Swipe Up" feature in Stories if you have enough people following you.
Consistently post high-quality content showcasing your intangible offerings, along with engaging captions and relevant hashtags. Interact with your followers and respond to comments to build a community around your products.
3. Add high-quality visuals
Creating high-quality visuals on Instagram is essential for effectively promoting your digital products. Use high-resolution images and videos that present your creations in the best light. Take advantage of editing tools and filters to enhance the visuals and maintain a consistent aesthetic that aligns with your brand.
Invest time in creating eye-catching graphics, such as product mockups, infographics, and carousel posts, to present your intangible items in a visually appealing manner.
Quality photos and visuals not only grab attention but also build credibility and trust in your business, encouraging potential customers to explore your digital products further. They increase the likelihood of your posts being shared, expanding your reach organically.
4. Write engaging captions
You will also want to be sure to write engaging captions that provide value and context to your digital products. Use a mix of storytelling, call-to-action, and relevant hashtags to increase reach.
Writing engaging captions on Instagram is crucial for promoting your digital products effectively. Begin by crafting captions that tell a compelling story or evoke emotions related to your products. Use a conversational tone and ask questions to encourage interaction with your audience. Incorporate relevant hashtags to increase discoverability.
The benefits of engaging captions include capturing users' attention, driving them to take action, and fostering a sense of connection with your brand. When your captions resonate with the members of your audience, they are more likely to leave comments, share your posts, and explore your digital products further.
5. Incorporate UGC
Incorporating user-generated content (UGC) on Instagram is a powerful way to showcase your digital products. UGC adds authenticity and social proof, as it showcases real customers enjoying your products.
Encourage those following you to share their experiences and interactions with your products by running contests, using branded hashtags, or hosting giveaways. Share UGC on your profile and stories, giving credit to the original creators.
Incorporating UGC will assist in building a sense of community around your brand, fostering trust among potential customers, and increasing engagement with your posts. UGC also allows you to showcase your products from different perspectives and provides valuable social validation, encouraging others to try your creations.
6. Utilize Instagram Stories and Reels
Leverage Instagram Stories and Reels to create interactive content, showcase behind-the-scenes, offer tutorials, or demonstrate your digital products.
In Stories, use the Swipe Up feature to direct viewers to your product pages or landing pages. Design engaging and visually appealing Stories that highlight the benefits of your non-physical goods. Also consider adding interactive features like polls, quizzes, or countdowns to drive engagement.
With Reels, you can create short and captivating videos showcasing your products' key features or tutorials on how to use them. Keep the content entertaining and shareable, encouraging viewers to tag their friends. Use relevant hashtags to increase discoverability.
Both Stories and Reels offer prime real estate on people's feeds, allowing you to reach a wider audience and promote your offerings in a dynamic and immersive way, ultimately boosting engagement helping you to earn more money.
7. Collaborate with influencers
Collaborating with influencers on Instagram can give a huge boost to your digital product promotions. Influencers' endorsement adds credibility and trust to your products, increasing the likelihood of conversions. The benefits of influencer collaborations also include expanded reach to a larger audience, improved visibility, and increased social proof.
Start by identifying influencers whose audience aligns with your target market. Reach out to them with a personalized message and propose a collaboration that showcases your digital products authentically.
Provide influencers with free access to your products and offer them a unique affiliate link or discount code to share with their followers. This way, they can track their impact on your sales.
By leveraging an influencer's authority and engagement, your shop's creations gain exposure to a highly targeted audience, boosting traffic to your online store.
8. Host giveaways and contests
Hosting giveaways and contests on Instagram is another effective strategy to advertise your digital creations.
The benefits of giveaways and contests are twofold. First, they generate excitement and buzz around your digital products, increasing brand awareness and attracting new followers. Second, they create a sense of urgency and encourage user engagement, boosting your post's visibility and reach on the platform.
To get started, decide on a clear objective and create engaging rules for participation. Encourage users to follow your account, like the post, tag friends, and share the giveaway in their stories for additional entries.
When participants enter, they express interest in your products, creating a valuable pool of potential customers. This engagement can lead to increased traffic to your online store and drive sales of your non-physical goods.
9. Use Instagram Shopping
Instagram Shopping enhances the shopping experience by providing a seamless and convenient way for people to explore and purchase your digital products without leaving the app. The shoppable tags increase product visibility and encourage impulse buying.
Furthermore, you gain access to valuable insights, such as product performance and audience behavior, enabling you to refine your marketing strategies and better understand your target market. Instagram Shopping empowers you to maximize your reach and drive sales for your offerings efficiently.
To set up Instagram Shopping, ensure that you have a Business account and that it's linked to a Facebook Page with a product catalog. Once approved, tag your goods or services in posts and Stories, enabling shoppers to click on them to view product details and make purchases directly from your online store.
10. Ensure that you're posting at the optimal time
Just like with sharing posts on any other social network, like Facebook, TikTok, etc., you'll want to be sure to post at the best time on Instagram to showcase your digital products. This is because posting at the right moment can increase the visibility and reach of your offerings by ensuring that they appear in your followers' feeds when they are most likely to be online.
Engaging with your target market during active hours boosts interactions, likes, and comments, enhancing your post's algorithmic visibility. Consistent posting at strategic times helps build a loyal following, increasing the chances of converting followers into customers.
To determine the best time to post on the network, analyze your audience's activity and engagement patterns. Utilize Instagram Insights to identify peak hours when your followers are most active. Test different posting times and monitor the performance of your posts to find the optimal schedule.
11. Engage with your audience
Respond to comments, messages, and engage with your followers, showing genuine interest in their feedback. Building a strong relationship with the people following you can lead to loyal customers.
Create interactive content like polls, quizzes, and Q&A sessions to encourage participation and foster a sense of community. By building meaningful connections, you gain valuable insights into your target market's preferences and pain points, enabling you to tailor your products and marketing strategies accordingly.
Furthermore, strong engagement signals Instagram's algorithm, boosting your content's visibility and attracting more potential customers. Fostering a loyal and engaged audience enhances your credibility, leading to increased trust in your brand and higher conversion rates for the items you have for sale.
12. Create a branded hashtag
Creating a branded hashtag on Instagram is a powerful way to advertise your digital products and enhance brand recognition. Choose a unique and relevant hashtag that represents your company and products. Use it consistently in your posts, stories, and captions to encourage user-generated content and foster a sense of community around your brand.
Branded hashtags help users discover your content, enabling them to explore your product offerings easily. They also serve as a tracking tool, allowing you to monitor user engagement and measure the success of your campaigns.
By encouraging people to use the branded hashtag, you can amplify your reach and create a network of loyal customers who promote your non-physical goods through word-of-mouth, further boosting your visibility and credibility.
13. Take advantage of paid ads
Using paid ads on Instagram is a great way to highlight your digital offerings and reach more consumers. Start by defining your target audience and setting clear objectives for your ad campaign. Instagram's ad service allows you to create visually engaging ads, including photo ads, video ads, carousel ads, and story ads.
Use compelling visuals, captivating captions, and strong calls-to-action to entice users to click through to your website or landing page to learn more about your digital products. Paid ads offer precise targeting options, ensuring your ads are seen by consumers who are most likely interested in your products.
14. Track your performance
Tracking your performance on Instagram when promoting digital products is crucial for measuring the success of your marketing efforts. Use Instagram Insights, the platform's built-in analytics tool, to learn more about your audience's behavior, post engagement, and follower growth. Monitor metrics such as reach, impressions, profile visits, website clicks, and follower demographics to understand what content resonates best with the consumers you're hoping to reach.
Tracking your performance allows you to identify the most effective strategies and make data-driven decisions to optimize your marketing approach. It also helps you understand which digital products are performing well and which may need adjustments. By regularly analyzing your performance, you can refine your promotional tactics, maximize your ROI, and ensure that your efforts align with your business goals on the network.