In the ever-expanding digital marketplace, selling digital goods has become a lucrative opportunity for creators and entrepreneurs. While Etsy has long been a popular platform for showcasing handmade products of both the physical and non-physical kind, it does come with certain disadvantages.
To start, there are the different fees and costs associated when you sell via an Etsy shop. Etsy charges various fees, including a $0.20 listing fee for every item, a 6.5% transaction fee, and payment processing fees (if the seller uses Etsy Payments to collect money from sales). These costs can eat into your profit margins, especially for lower-priced digital products.
In addition, just like with Amazon, another online marketplace giant, there can be quite a bit of competition on the platform. Etsy has a vast number of sellers, which can lead to high competition in certain niches. Standing out among numerous sellers offering similar digital products can be challenging when you have an Etsy storefront. Being part of a vast marketplace like Etsy can lead to brand dilution, as your products might be perceived as just one among many similar options.
What's more, when selling via the Etsy marketplace, you will have limited control over branding and limited customization options. For instance, you won't have a ton of control over the look of your Etsy shop and product listings. Your Etsy storefront's design and branding are constrained within the platform's template, making it difficult to create a unique brand identity. Furthermore, the possibilities for showcasing your digital products are are limited, meaning that you may have to rely on external links or platforms to offer additional features or interactions with customers.
Finally, when creating an Etsy shop and listing items, you will need to comply with strict policies and guidelines. Etsy enforces specific policies and guidelines for sellers, including restrictions on what can be sold and how products are marketed. Non-compliance may lead to account suspension or closure.
Despite these disadvantages, many sellers still find success with an Etsy storefront due to the marketplace's established user base and market visibility. However, considering other specialized ecommerce platforms or niche marketplaces may offer different advantages and a unique selling environment for digital products.
If you want to get into the creative market with digital products to sell but wish to find a good Etsy alternative, we've got you covered!
List of the top alternatives to Etsy for selling digital downloads
The best platform to sell digital products online: WiziShop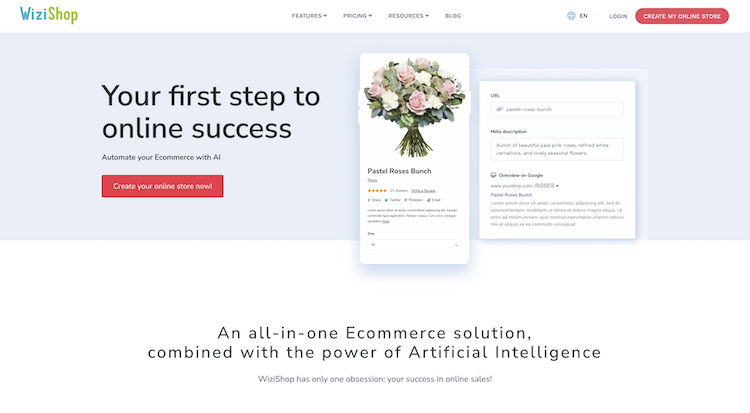 WiziShop is an all-in-one ecommerce solution that makes selling digital and/or physical goods easier than ever before!
With a varied collection of design templates available on the best ecommerce platform for a small business, you can effortlessly tailor your store to represent your brand authentically, giving you complete control over the look of your site. Responsive WiziShop stores guarantee seamless browsing experiences across all devices, ensuring your shoppers see your site at its best, no matter if they're visiting from a desktop computer, mobile phone, or other device.
WiziShop also offers unwavering support throughout your ecommerce journey. Whether you're a novice or an expert, our platform provides complimentary tutorials covering various ecommerce topics. Moreover, our expert Business Coaches are here to offer personalized assistance, guiding you through every aspect of running your business and managing your website, providing answers for any questions you might have.
With WiziShop's online store builder, you'll also have access to the solution's arsenal of 400+ pre-integrated ecommerce tools. Elevate your conversions effortlessly with features like abandoned shopping cart follow-up emails, customer reviews, customizable messaging, enticing discounts and coupon codes, and numerous payment and delivery options, creating a seamless shopping experience for your customers.
What's more, with over 50 robust, user-friendly features designed to enhance your online store's technical SEO, you'll soar through the Google rankings, gaining a competitive edge from the very start. Secure long-term success for your website with WiziShop, where growth and optimization go hand in hand.
Finally, to simplify your store's content-creation needs, you can get access to the solution's powerful artificial intelligence for a small additional cost (starting at $5 per month). With this exciting AI tool, you will be able to create product descriptions, titles, meta descriptions, translations, blog articles, and more in just a few clicks!
Fees: Take advantage of a 15-day free trial and then select from three different available plans, with pricing starting at $27 per month plus a transaction fee that ranges from 0.5% to 2% of every sale, depending on your chosen plan.
Create your online store - 15-day free trial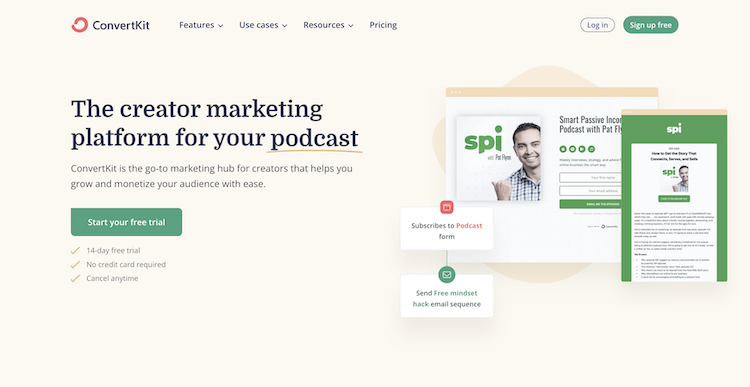 ConvertKit, a versatile newsletter marketing platform, goes beyond just email campaigns by empowering creators to sell digital products directly to their audience. With ConvertKit, you can effortlessly offer a wide range of digital downloads, such as ebooks, art, coaching sessions, courses, and more.
What sets ConvertKit apart is its capability to sell both single-purchase digital products and subscription-based offerings, making recurring revenue opportunities easily accessible to users. Seamlessly combine email marketing and digital product sales with the help of ConvertKit, ensuring a dynamic and profitable relationship with your audience.
Fees: ConvertKit has three different subscription plans available, each with a cap on the number of email subscribers you can have. Whether you opt for the free version or one of the paid versions, starting at $9 per month, the platform also charges a fee of 3.5% + $0.30 for every sale.
Podia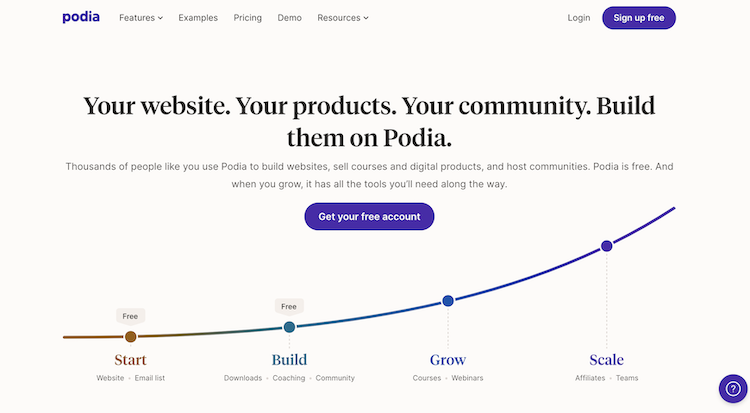 Specializing in digital products, Podia empowers sellers to create custom websites offering online courses, workshops, consultations, memberships, and downloadable content like audiobooks and ebooks. With a suite of tools dedicated to streamlining the online selling process, Podia ensures a smooth and successful ecommerce journey for its subscribers.
This solution is tailored to maximize your digital product sales and facilitate community building, whether you wish to offer free communities, paid communities, or memberships to your customer base. Podia also makes it possible to engage with potential customers using a live chat widget, which can in turn help to boost conversion rates and enhance interactions.
Fees: Opt for Podia's free plan, with no monthly cost but a 8% fee for every sale, or go for one of the solution's paid plans, which begin at $33 per month and have zero transaction fees .
SendOwl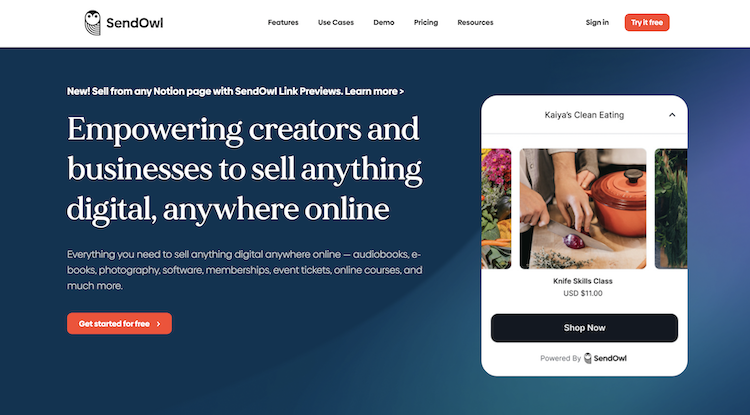 SendOwl serves as a valuable add-on solution tailored to support individuals with existing websites or a presence on social media platforms in their online selling endeavors. Regardless of your background or business size, this platform caters to all, enabling you to sell digital products, subscriptions, memberships, and even tangible goods.
With multi-language and currency support, and a range of flexible payment options, SendOwl's responsive checkout guarantees a seamless purchasing experience for customers worldwide. Boost your earnings with tools like shopping cart abandonment emails, one-click upsells, discounts, promo codes, and more. Keep a close eye on your online store's progress with SendOwl's advanced reporting and analytics features, empowering you to optimize your business and maximize success.
Fees: Sellers can test SendOwl's most basic package at no charge for 3 months and will then need to pay $9 per month for continued use. The solution also offers additional plans that start at $15 per month and come with a 14-day free trial. Users will need to pay management fees as well, beginning at 5%.
Gumroad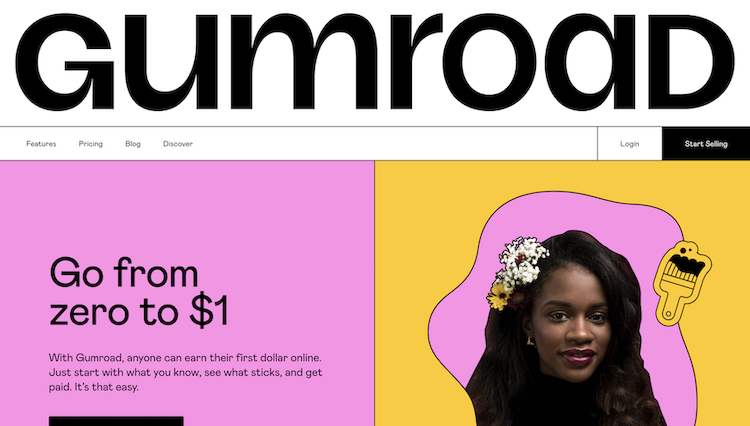 Gumroad, a specialized ecommerce platform, is designed with new online creators in mind. This user-friendly solution offers the flexibility to set up your online store directly on the platform or seamlessly embed it into an existing website.
Enjoy the freedom of providing diverse payment options, including recurring payments for memberships in various frequencies (monthly, quarterly, biannually, annually, etc.), as well as accepting payments in different currencies. For digital products requiring license keys, such as software, Gumroad can effortlessly generate them on your behalf.
When selling digital goods on Gumroad, you can choose to offer multiples of a product to cater to a wider audience in the creative market. You can also use Zapier to connect your Gumroad account with numerous apps, enhancing productivity.
Fees: There's no monthly cost to sell on the Gumroad platform, but you'll be charged a 10% transaction fee for every sale you earn.
Thinkific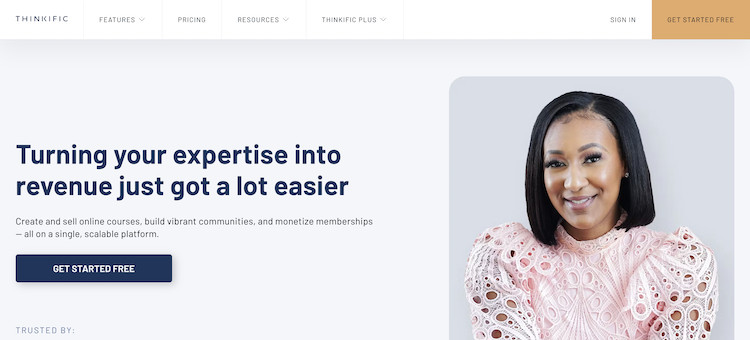 Thinkific stands out as a leading solution for e-learning digital products, attracting aspiring educators eager to share their knowledge and reap rewards in the process. No coding skills are needed to craft your online course on Thinkific; a simple drag-and-drop interface does the trick.
Dive into diverse course content options, from text and quizzes to Google Docs, videos, and downloads. Moreover, enjoy the freedom to design your own website using the platform's extensive branding and customization features for more control over the look of your site. With Thinkific, empowering the world with your expertise has never been more accessible and rewarding.
Fees: Thinkific allows creators to test the solution at no charge and then select from several paid subscriptions, starting at $36 per month, with no transaction fees charged regardless of the chosen plan.
Sellwire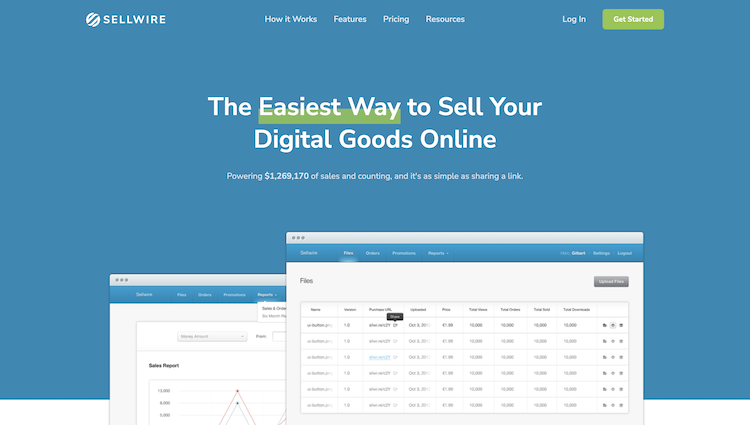 Sellwire is best for sellers who already have an existing website or storefront, as the solution only handles the checkout aspect of selling non-physical items on the internet. After uploading your products to the platform, simply share your Sellwire product link on your store and earn money when shoppers pay and download your file.
As an analytics-oriented solution, Sellwire provides sellers with file management, promotional offers, and efficient order-tracking capabilities. When using this solution to sell your non-physical goods, you'll be able to obtain valuable insights into your product performance through precise analytics to help you make data-driven decisions and optimize your digital sales strategy.
In addition, Sellwire provides peace of mind to sellers and users alike by processing all payments through the trusted platforms of Stripe and PayPal. As long as you have an account with of the solutions, you'll be able to accept payments in more than 24 different currencies to best suit the needs of your customers.
Fees: Sellwire offers a 14-day free trial and three different monthly plans from which to choose, starting at $9 per month, none of which are accompanied by transaction fees charged by the platform.
Simple Goods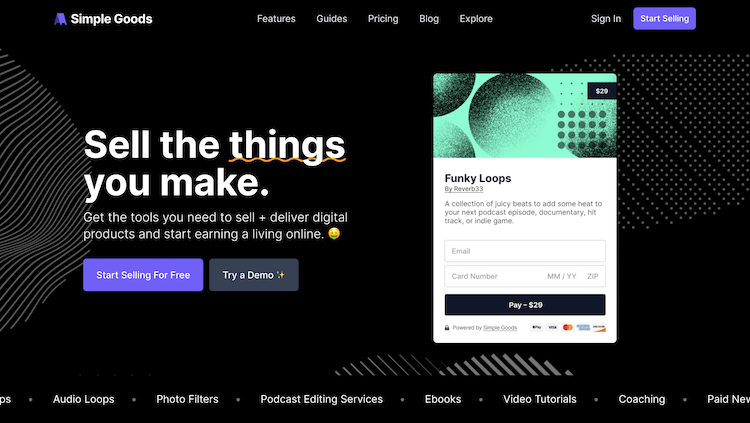 Simple Goods is a streamlined ecommerce platform dedicated solely to selling your digital products. Best for sellers who wish to skip the hassle of setting up a store, this solution only requires the creation of an account to get started.
With just a few steps, including uploading your digital products, adding customized pop-out checkouts, utilizing hosted payment pages, and connecting your Stripe account, you can start receiving payments for the sale of non-physical goods.
Forget about coding or lengthy processes; in just a few minutes, you can kickstart selling your digital products online through Simple Goods. With the help of the solution's Zapier integration, you can connect all your favorite tools and apps to promote your products and grow your online business effortlessly.
Fees: Users can start selling for free on Simple Goods or select one of the platform's paid plans, beginning at $9 per month. Commissions per sale range from 3% for the free package to 0% for the most expensive option.
Digital Product Delivery (DPD)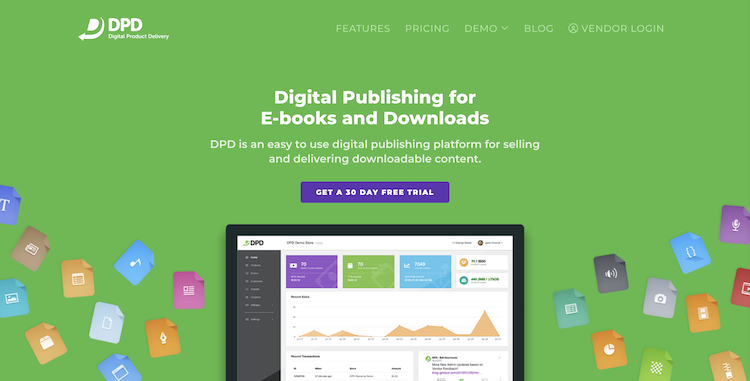 DPD offers a comprehensive digital publishing platform tailored for creators who wish to sell digital items such as ebooks, software, and music. Convenience takes center stage as DPD provides an array of tools to make selling digital products effortless.
Sellers have the flexibility to create multiple stores under a single account and can benefit from seamless third-party sales and marketing integrations, like Zapier, Google Analytics, MailChimp, ConvertKit, GetResponse, Campaign Monitor, Constant Contact, and more.
For added convenience, when you update a digital product, DPD automatically delivers the new version to previous buyers, ensuring a smooth transition for your customers. With DPD, selling digital products becomes a seamless and customer-friendly experience.
Fees: DPD lets users enjoy a 30-day trial at no charge and then offers several payment plans, beginning at $10 per month, with no transaction fees.
Teachable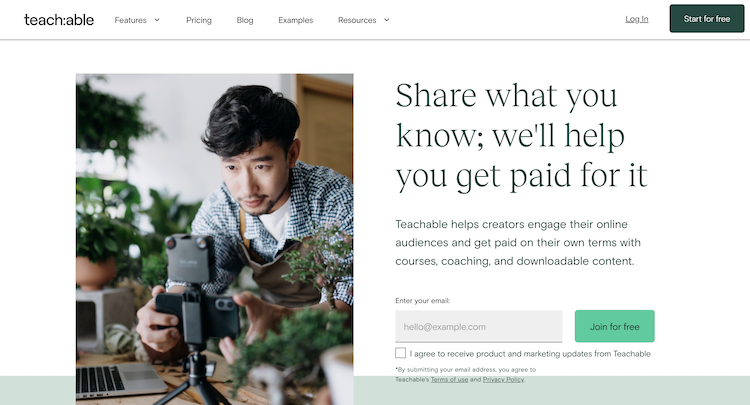 Another one of the most sought-after platforms when it comes to e-learning, Teachable boasts over 100,000 instructors and caters to entrepreneurs keen on selling online courses and coaching services. Tailored for e-learning digital products, Teachable comes equipped with a range of built-in features like quizzes, badges, comments, and completion certifications to enhance the learning experience.
Streamline your business operations with seamless integrations like MailChimp, Google Analytics, Segment, Zapier, and others. Embrace flexible payment options, including free trials, installments, and subscriptions, empowering you to cater to diverse shopper preferences. With Teachable's wide acceptance of over 130 currencies, reaching global markets becomes effortlessly convenient.
Fees: Teachable lets creators test the solution for free for 14 days and then choose a monthly plan starting at $39 per month. Transactions fees vary from 10% + $1 for the free plan to no fees for the most expensive package.
Payhip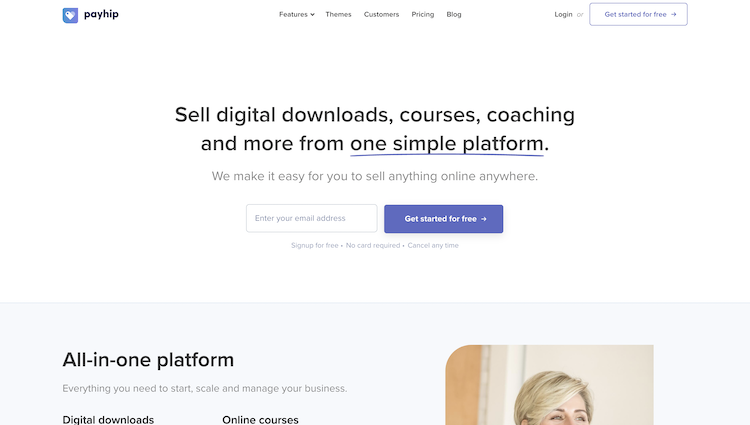 Payhip, a powerful solution designed for easy digital downloads, aims to make selling content like courses, ebooks, coaching sessions, and other e-learning resources super simple. Creators can effortlessly offer subscriptions and memberships on this versatile platform and sell their digital products from their blog, social media pages, or ecommerce shop with Payhip's seamless integration.
Trusted by more than 130,000 creators, Payhip enhances customer engagement by offering discounts, building mailing lists, and fostering a network through an affiliate system that encourages buyers to promote your digital masterpieces. You can also benefit from the platform's digital stamping feature, preventing illegal sharing by embedding the purchaser's name on PDF documents and digital files, and limit downloads of your digital products, ensuring greater control over your offerings.
Fees: Packages with Payhip range from $0 to $99 per month. The solution also charges transaction fees that start at 5% for the free plan and go down to 0% with the most expensive subscription.
Can you make good money selling digital products? Is it worth it?
Yes, it's very possible to make good money from selling digital products!
Many individuals and businesses have found success in generating substantial income through selling various types of digital goods. The key to achieving decent earnings lies in several essential factors:
Product quality: Creating high-quality and valuable digital products is crucial. Customers are more likely to make purchases and recommend your products to others if they find them useful and well-crafted.
Niche and target audience: Identifying a specific niche and catering to a targeted audience can lead to better results. Understanding your audience's needs and preferences allows you to create products that meet their demands.
Effective marketing: Implementing a strong marketing strategy with powerful marketing tools is essential to attract potential customers and drive sales. Utilize social media platforms, content marketing, email campaigns, and other promotional channels to reach your target audience effectively.
Chosen ecommerce platform: Using an established ecommerce platform designed for selling digital products can streamline the selling process and provide a secure environment for transactions.
Diversification: Offering a diverse range of digital products can lead to multiple revenue streams and appeal to a broader customer base.
Customer support: Providing excellent support to your buyers enhances shopper satisfaction and encourages repeat purchases.
Pricing strategy: Finding the right balance between pricing competitively and ensuring a fair profit is crucial for maximizing revenue and boosting your average shopping cart value.
Continuous improvement: Regularly updating and improving your digital products based on buyer feedback and market trends can lead to increased sales.
While earning decent money from selling digital products is possible, it's important to note that success in this endeavor often requires time and dedication. If you ever find that your online store is not selling as well as you'd hoped, you may need to put in some extra effort to determine the cause. However, with persistence, innovation, and a customer-focused approach, selling digital products can be a rewarding and lucrative venture.
Ready to launch your new business involving the sale of digital goods? Sign up with WiziShop, the best platform to sell digital products as well as physical items, today!
Create your online store - 15-day free trial