A newsletter allows you to stay in touch with your customers and build loyalty. If you want to start developing this type of leverage for your ecommerce site, take the time to get well informed before you start. This will give you an overview of the tool before you start.
In this article, we offer some great tips on how to create an effective newsletter to boost your conversion rate. Here are some examples of ecommerce newsletters to inspire you in your communication strategy as you attempt to encourage your audience to read your messages, click through to your website and learn more about your business.
Newsletter FAQs
A newsletter is comparable to the commercial emailing, with the only difference being that it's a grouped sending of emails that doesn't necessarily sell a product or a service from your website.
What is the purpose of a newsletter?
When it comes to email marketing in ecommerce, a good newsletter has a main objective of engaging customers and an audience around the brand, the company, the online store, in order to create a link and build loyalty among these consumers.
However, the newsletter is a lever used by thousands of companies. Thus, users are used to receiving hundreds of emails per week.
The challenge for you will be to set up a mailing that's original and informative and that stands out from the rest of your competitors in order to bring added value to your communication. This is an exercise that can be difficult, but with the right reflexes, you can witness the implementation of a real marketing success.
How do you create a good original newsletter?
Several characteristics must be present in the creation process of this email marketing action. Rigor, work on the interesting content for your target, evaluation of the important notions to evoke, technical configuration, and creation of a unique design will be important elements, among others, so that you can send newsletters that'll reach the right categories of internet users.
The main difficulty will also be to know how to balance your mailings, because if your segments receive too many newsletters, you risk them unsubscribing forever. If you don't send enough emails, your message will never reach its objective.
As we've seen with successful content marketing examples, creating content for your target audience is key. You'll then understand that the main element that should guide all your marketing actions is the customer, the reader, the subscriber to your newsletter, because it's them and them alone who will matter in all your mailings.
Then, it's up to you to determine the top objective of your mailing based on your sector of business activity in order to build your content like a real marketer. Storytelling about your website, brand image, information about your new product, presentation of a partner... bring your newsletters to life!
What content should you add to your newsletter?
In order for your newsletter to have the desired reach with your audience, five elements are essential to include inside:
a solid structure for your content,
a unique template and design,
strong text copy and images,
a well-placed call to action (CTA) to add a sense of urgency, and
smooth and easy navigation on computers and especially on mobile devices

.
To know how to fill in the blanks of your newsletter, the best thing to do is to identify any news related to your brand, your specific theme, or a calendar that refers to your business.
In addition to these specific events, you can also establish a recurrence of your newsletters like once a week or once a month, for example, to gather all the latest information related to your brand.
Then, once this schedule is established, your database can be divided into several segments of recipients: your customers, your readers, your partners, the visitors who haven't yet purchased on your site, your employees...
To configure each type of newsletter, you may want to perform A/B tests on each segment in order to analyze which message best impacts which type of subscribers to your newsletter.
When setting up your content, always keep in mind that the newsletter has an objective that more concerns image and attachment to the brand than the classic commercial emailing. You can therefore have fun in terms of creativity with the aim of creating a unique message that only looks like you, whereas commercial emailing must promote products and services.
How to write a newsletter: the key points
As you'll see in the following points, it's less about writing than about formatting. And, once again, you'll need to keep your targeted subscriber segment in mind to make your newsletter an effective conversion lever.
Verify or amplify your email list
Before starting the configuration of your newsletter, you need to identify who to send your content to. To do this, you'll need to have created a complete database before knowing which format you'll use.
For example, if you plan to send a newsletter to your loyal customers, make sure that each box is filled in with at least the first name and email address. Thanks to this, you'll be able to personalize your mailings with the first name of your readers at the beginning of your email, for example.
In other circumstances, if you send a grouped message to your partners, also fill in the name of the company or the company you're addressing in order to personalize your mailing.
Your general database can be segmented into several groups of people according to your needs. This will be done directly on the newsletter-sending software that you've chosen, as this option is included in almost all platforms on the web.
If you realize that your database isn't full enough, then think of marketing levers to build your email list and get new users to subscribe to your newsletter. With the help of the opt-in lever, set up a landing page, an Instagram post, a block on your website... In short, set up an interesting invitation for internet users so that they can be persuaded to subscribe to your newsletter.
Blog, brand emailing, promotion: what kinds of content for your newsletter?
Once you've established the target audience for your content, you can determine which subject or themes that will be relevant to the reader to address in your newsletter.
Always keep in mind that a newsletter is related to your brand image and story, less to the product you want to sell. These mailings are put in place to inspire internet users and your subscribers, to engage them with your business, and to share your values and your identity with as many people as possible.
Telling your brand's story, presenting news, highlighting a great new tool on your interface designed to help the reader... The goal of the content will ultimately be to boost your sales. However, with this lever, it'll be less about being direct. You can suggest through different, more "editorial" formats that your products and services are the best on the market.
Today's internet users are looking to make purchases that make sense: thanks to the newsletter, you'll be able to bring meaning to your products and services to support your other, much more commercial levers. Complementary, these two marketing actions will give you the best chances of achieving your commercial objectives.
Determine the objective of your newsletter
Even if your main goal is to sell and boost your revenue, the newsletter will have its own principal aim that'll help you to reach the most important of your objectives.
A newsletter can, for example, present the story of your brand, share the history of the founders of your company, or highlight the top news related to your product catalog, such as the change of a material for another, the creation of new unique models in your collections...
This specific content will have an objective that you'll have in mind to carry out your campaign: subscription, registration for a conference, discovery of the new collection on the merchant site, subscription to the brand's social network accounts, participation in a survey or a contest...
As you can see, it won't necessarily be a question of highlighting products from your catalog with a call to action directly to the product pages, but rather of inviting your audience to be part of your company's adventure, to make them feel like they belong to the brand in the long term.
Find or create a design template that suits you
Once all the background is set up, you can move on to the more creative part of setting up a newsletter, and this starts with choosing a design and a template that suits you.
Your company is unique, and your newsletter must be too. In addition, keep in mind that each user who receives your newsletter receives dozens per week, some users even many more...
A lot of software offers very creative designs and templates with smooth navigation, whether on computer or mobile.
When you choose the WiziShop ecommerce solution, your newsletters can be configured directly from your administration area at no extra cost: the Auto-Mail Booster feature is native and provides you with an easy way to send effective emailings to boost your brand image.
Select from a variety of templates and colors to design emails that help your business to stand out from the crowd and make readers want to click through to your site. Start setting up your designs on Auto-Mail Booster by taking advantage of a 15-day free trial of the WiziShop solution.
Create your online store - 15-day free trial
Writing your email, the final step?
Many people reverse the last two key steps in setting up a newsletter, namely creating the newsletter itself and writing the title, the subject line.
Our advice is to write the content of your mailing before determining the title. Moreover, at the time of writing, write without censoring all the texts that you wish to insert in your future mailing, and then reread your draft to sort out the information, modify the sentences, and correct the mistakes.
After the writing is done, this is when you'll know which visuals and which links to add to your content. You'll be able to divide your text into several distinct paragraphs illustrated by the photos or videos of your choice to help give your copy even more impact.
Once you've established the template of your newsletter, you'll be able to place your call to action in the best places and determine which turn of phrase you want to use to invite users to click on the buttons.
As you'll have understood, copywriting isn't the final stage of your newsletter setup. It's the essence of your marketing action, but it's not the most important thing—without a catchy title, the newsletter will never be read. So, take the time to write and configure your email well, but above all, focus on its title and the main message you want to convey.
The title of your newsletter: the most important step
The title of your newsletter is also the subject that will appear directly in the inbox of the subscribers.
It's therefore the first impression that you'll give through the subject of your email.
This step is often the most difficult to configure in the process of creating the mailing, because it represents a major challenge in achieving your objective.
To do this, the most common technique in marketing is to save this step for last. It'll in fact be easier for you to determine the right title related to the content of your mailing after the configuration and writing of all your content.
At the end of all this email setup, you'll be in control of all the information included inside your email.
To help you write the title/subject of your newsletter, take inspiration from the ones that have stood out in the history of newsletters!
Like the people you send your email campaign to, you probably receive dozens of emails yourself. When you identify a format that's made a bigger impression on you than another one, put it aside for later so that you can use its content as inspiration.
Again, don't be too commercial in your newsletter title: this format is used to inspire your audience and provide information about your business or brand. Keep your sentences more concise when sending commercial emails to sell your products and services.
9 examples of thematic newsletters
Here are some ideas to create a newsletter with the most effective email template. Design, calls to action, themes, and messages: inspire your readers!
Welcome your readers
To start building your loyalty link with your new subscribers, you should definitely set up an automatic welcome email.
This ecommerce email will be the opportunity to briefly present your brand and to encourage your new followers to follow you on social networks. You can choose to offer a coupon on the first purchase after the user has subscribed to your newsletter, like here with the welcome email from SkinShop, a site selling a variety of products for skin care.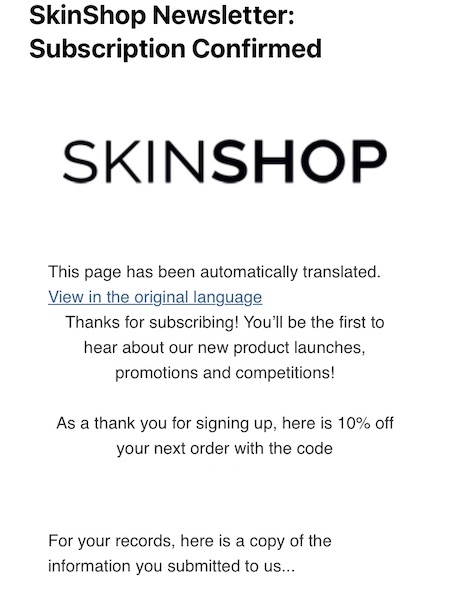 Involve the product
To inform your subscribers about new collections in stock, new colors of available items, or changes in your catalog, the newsletter will lend itself perfectly to the game.
Be creative in designing this type of content to make subscribers want to discover your new pieces, or simply discover the range already sold but not yet appreciated by all.
In this example from Rouje, the clothing brand encourages subscribers to discover its new floral collection.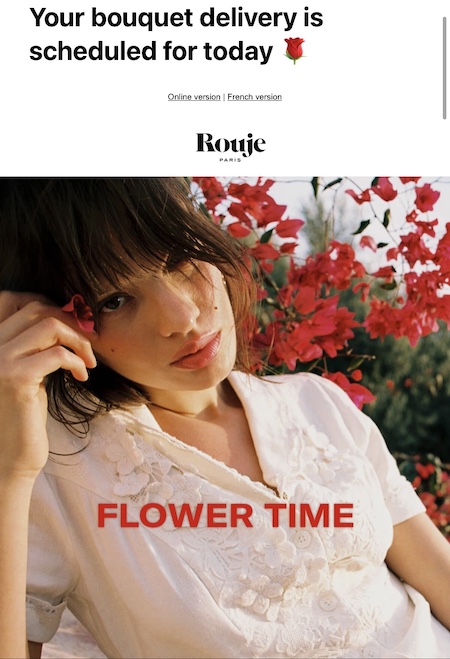 Further along in the email, Rouje offers a preview of pieces from its new collection to entice readers to click through to the website.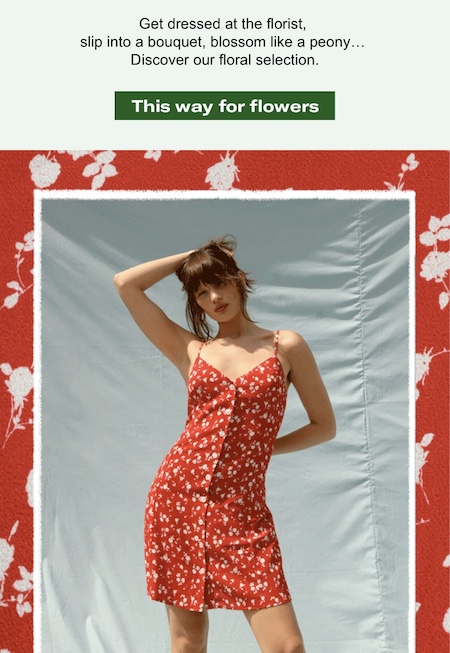 Involve the brand
In order to create a strong bond with your followers, you need to highlight your brand, your added value and your unique DNA.
To do this, what better way than to evoke precise characteristics of the products and services you offer, beyond a promotional sales approach?
In this example, Sarah, The Style Coach, demonstrates her styling expertise by providing subscribers with several sweater suggestions and tips, suiting a range of budgets to prepare for the autumn season.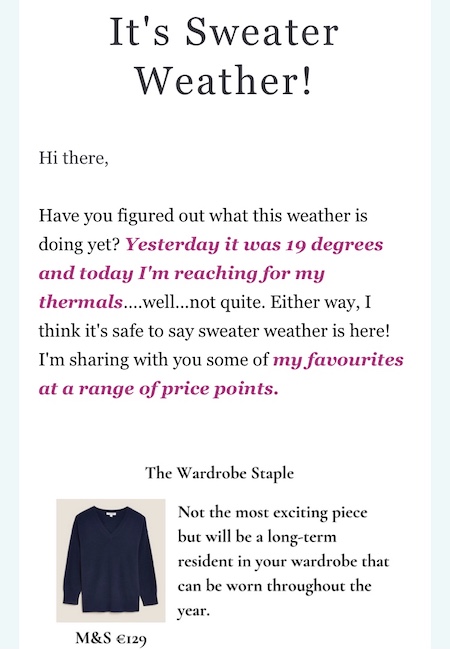 She then goes on to mention one of the styling services she offers as well as remind readers that they can also purchase gift vouchers.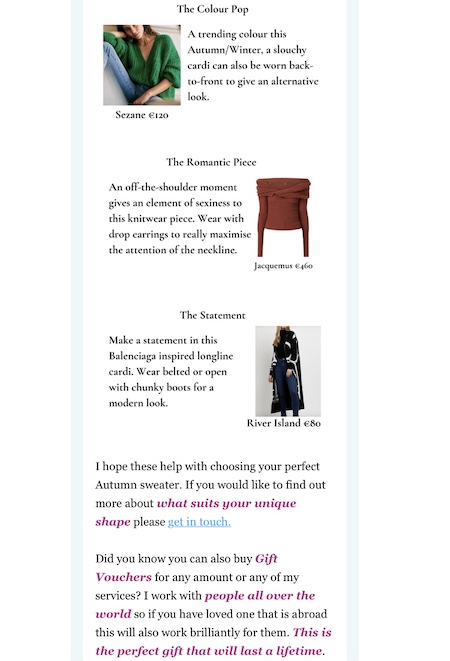 Propose promotional offers
Although the informative newsletter is less adapted to a purely commercial message, it can still highlight exceptional events of the brand if it's linked to a unique offer.
For example, if you set up a stock clearance offer, this event could be the subject of a newsletter, as long as you mention it in a "storytelling" version, with inspiring visual elements and phrases that can arouse curiosity. On the other hand, a purely commercial email will offer a subject line like "Exclusive: -50% off of everything," whereas, here, the idea will be to inform and inspire, as with Sézane announcing its Winter Archives sale shown in the below example.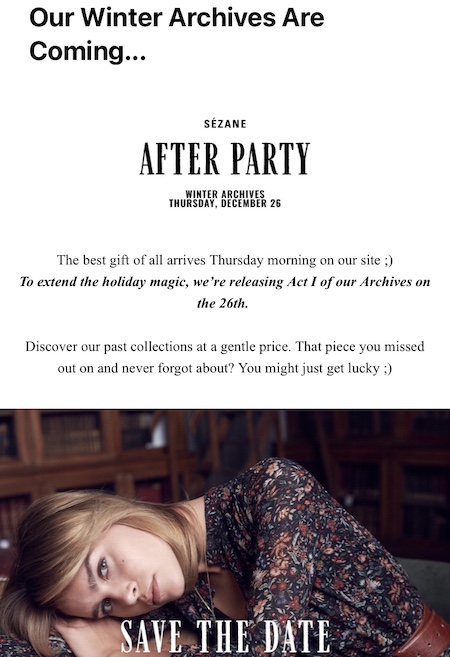 Share news related to the brand
In order to create a link with internet users, your brand must be alive. It must also become an entity in its own right that people want to follow, that stirs emotions or a particular interest, or that invites them to join its community.
Thus, the newsletter can support your brand as a diary so that your latest events are highlighted and invite subscribers to enjoy your latest news.
The brand's news can also be made by the customers themselves, such as by asking them in the newsletter to participate in a future collection via submitting ideas for a new piece.
In our example with fragrance company Le Labo below, we see how the brand promotes their annual "City Exclusive Event," where a special selection of perfumes are available for a limited time only.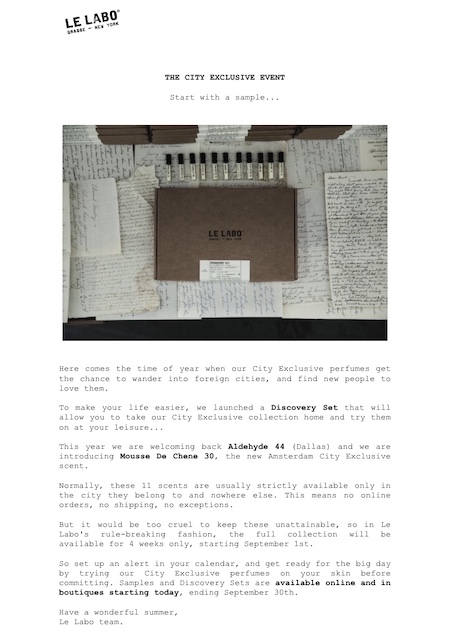 Solicit customer feedback
Customers like to be heard and listened to. If they have positive feedback, it can boost your overall conversion rate because their opinions can push your brand up.
If they have negative feedback to share, you can make lasting improvements and show a message of transparency to your prospects.
By soliciting customer reviews, you can strengthen the relationship with your customers and exchange directly in case of complaints about your products or services.
Flower delivery service FTD sends a newsletter featuring a clear CTA, requesting customer feedback automatically shortly after a customer places an order so that they can rate their transaction.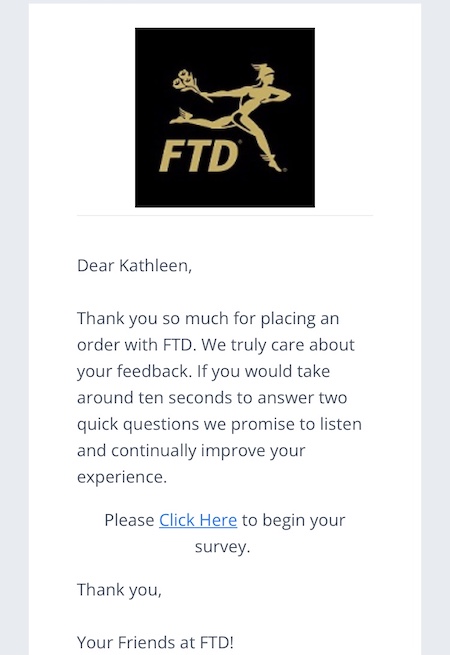 Boost engagement on social networks
The newsletter can be a good lever for customer conversion, but also for brand engagement! For this, you can create content to promote your social networks and all the formats you produce. The subscribers to your newsletter are not necessarily subscribers to your social networks.
Here, we have another example from Rouje, whose welcome newsletter email doubles as a way to promote the brand's Instagram page via a CTA by inviting readers to head to their account for inspiration.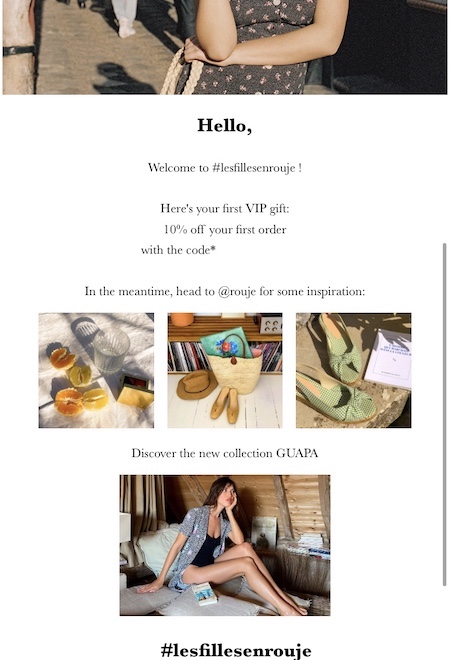 Inspire your subscribers
What about simply inspiring your subscribers, without trying to promote your brand or your products? You can do this by simply creating content related to your brand, your environment, your identity, just with inspiring copy and images.
In this example, fitness app Strava invites users to participate in a running challenge to raise awareness of the significant issue of ocean pollution. This allows us to understand that a simple text sent to a list of subscribers can arouse an emotion to boost the brand image.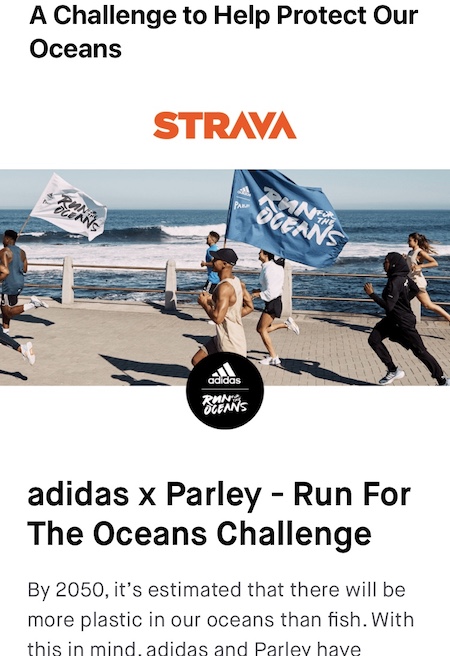 Recreate a link
Finally, a newsletter can also be an opportunity to solicit a segment of your subscribers who have not logged in for a long time or who haven't placed an order for several months.
To be able to "rekindle the flame," Cult Beauty keeps it simple and offers a discount to bring former customers back to the brand.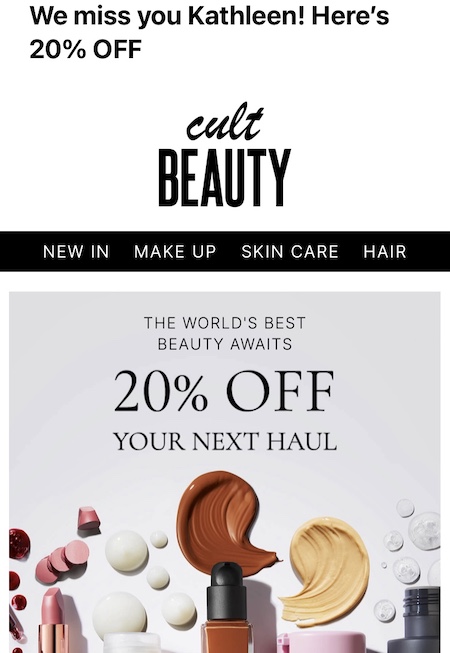 Just like the examples of abandoned shopping carts, the newsletter is a great marketing weapon that should exist for any brand and any ecommerce business, but be careful with the way you want to launch your mailings: you must know how to handle this art with finesse.
To be sure of your strategy, don't hesitate to program A/B tests on your different segments of subscribers. Use the tips mentioned in this article and set up your first newsletters with WiziShop without delay: it's now up to you!
Create your online store - 15-day free trial