We all know that marketing is very much linked to the psychology of the consumer and that certain elements can unconsciously influence their perception and their act of purchase. The choice of colors is very important in all fields, especially in marketing. Sometimes, the psychological study can be quite extensive.
For an ecommerce website, in addition to the general design, the ergonomics, the words used, the elements of reassurance, the colors have an impact at three levels. To allow users to memorize your brand while provoking an emotion in the customer, you must choose your colors carefully according to the purpose and the location chosen.
Logo, CTA, banner, cart, footer... Your website must be presented in its best light while associating the right colors to the desired consumer behavior. Focus on these colors that'll help your business!
What is the color of commercial success?
A well-identified color increases the ease of recognizing a brand or a sign by 80% according to the Kissmetrics study. This figure is quite surprising, but in the end, when we do the test, we realize that we very easily identify a brand's site based on a color.
For example, the red of Coca-Cola, the orange of Amazon, the pink of Barbie, the green of Starbucks, the purple of Instagram, the black of Chanel...
According to the same study, new products put on the market will be considered and appreciated by consumers first of all visually, by 93% of them. Vision is therefore the most important sense in marketing, before touch for 6% and smell or sound for 1% of buyers. As for colors, they motivate the purchases of 85% of buyers and are the first reason why a customer buys a product.
On the web, colors will be the driving force behind purchases. By playing on the psychology of each color, you'll be able to evoke a feeling, emotions and reassure your customers to encourage sales. In short, give energy and soul to your website!
It's therefore very important to consider color as a main conversion lever for your business and incorporate color psychology in your marketing.
Thus, to find the right colors for your brand, several solutions are possible: first of all, follow your brand's DNA and your own intuition. You can also get help from a trend agency or a communication agency to accompany you in your quest. These professionals follow companies in these aspects of design and image.
To go further and learn more about the powerful effects that color can have on people, reading books like Color Psychology by Richard G. Lewis (2020) can be very useful.
What color should you use for a promotion and to push shoppers to buy?
The color of the "Add to cart" CTA button is also very important. On a product page, this call-to-action button must be clearly visible to people visiting your website.
The Kissmetrics study presents the consumer perception and the area of application according to this button's colors.
Take note, however, that this isn't entirely universal. The perception of colors can vary depending on nationality. According to the study, here are the emotions, feelings, and evaluations incited by the main colors:
Yellow:

yellow will pique curiosity, create interest, and give a positive feeling.

Red:

red gives energy and creates urgency; that's why this color is often used for CTA buttons on a business's website.

Blue:

blue will reassure and give confidence. It's the color most appreciated by men and women.

Green:

green is often associated with health or the environment. It reassures and positions brands on committed themes.

Orange:

the color orange creates urgency and pushes shoppers to purchase.

Pink:

pink is often associated with femininity and softness, but it also allows brands to differentiate and have more impact in the minds of customers.

Black:

black is minimalist and lends itself to the image of luxury brands or those wishing to position themselves at the top of the range.

Purple:

purple is often used for companies in the field of beauty and wellness products.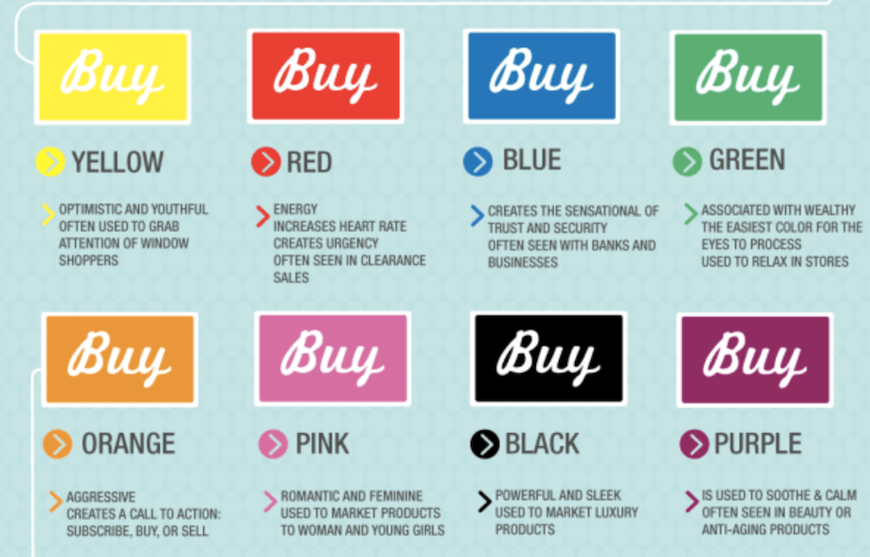 What is the best color according to the type of online store?
Finally, you can choose the color according to the specificities of your offer and the profile of your consumers. There is a certain color code to respect! For example, if your offer represents a compulsive purchase related to sales, choose orange, which relates to an aspect of urgency, or red to be able to display your message and make it stand out to your customers. You'll attract very specific types of consumers. You'll also be able to, through color, change their buying habits.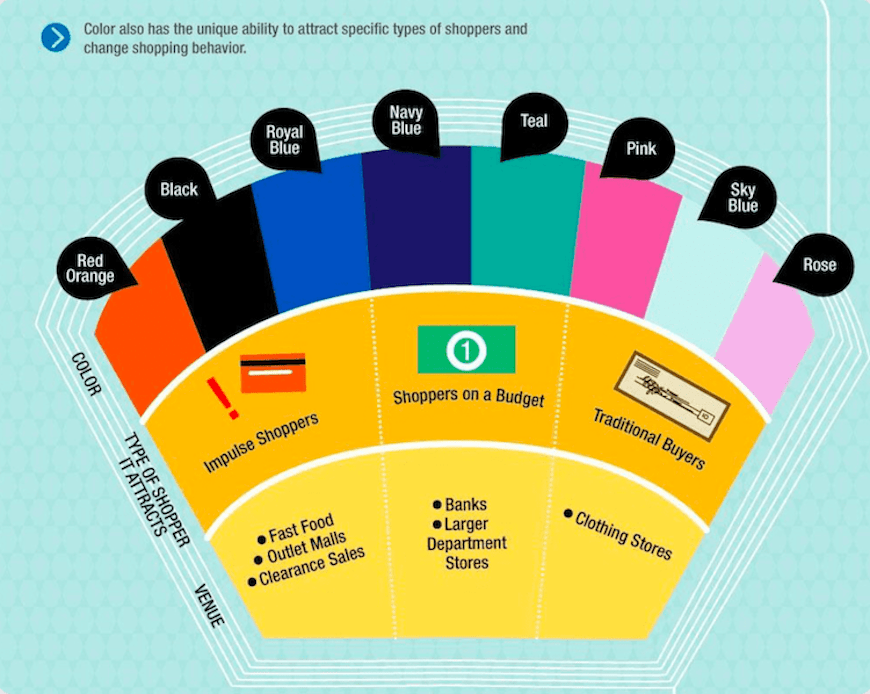 Thanks to your communication and the influence of colors, you'll be able to transform an internet user's visit into a sale. The buying experience is then directed by the choice of your colors, which become essential factors of your customers' behavior. To push your customers to buy, your color marketing strategy must be in line with the emotions you want to stir in them.
In addition, beyond choosing the right colors, you need to make sure that your design and presentation of your site will allow for an optimal customer experience, from the first click to the payment.
Furthermore, too many different colors can harm the readability and consistency of your content. Does your brand have a favorite color? Focus on this tone and try to bring in one, two, or three other complementary colors, not more!