On social networks and on the internet, the profiles of bloggers and influencers have emerged in recent years. While today, we mostly talk about influencers for any occasion, what's actually the difference between a blogger and an influencer?
For brands and advertisers, knowing all the details of each profession allows them to contact them in the best way to realize effective marketing campaigns.
What's a blogger? What's an influencer? Let's take a look at the differences between each profession and some tips to create partnerships with these major actors of your future brand communication.
Blogger & influencer: Definition and characteristics
What are the differences between a blogger and an influencer?
Each profession represents different media.
For the blogger, their activities are linked to a blog, i.e., a site on which the person will post articles with content relating to their daily life, discoveries, favorite products, etc.
This editorial work allows readers to discover new things while following the adventures of the blog owner. The blogger can then develop their activity in partnership with brands to be paid for their written content as well as their visual content hosted on their blog. The blogger's job is therefore intrinsically linked to the digital medium that is the blog, unlike the influencer.
With the years and the technological advances, accounts with a very large number of readers on their blog have started to communicate on social networks as well. Other personalities have emerged only on social networks without necessarily having a blog. Instagram, TikTok, YouTube, Facebook, Twitter...
The influencer is a personality who communicates via social networks and/or also on their website by addressing a considerable audience, made up of several thousand internet users. Influencing is a profession that includes the work of a person on different digital media and whose message is going to reach a large number of people.
To summarize, a blogger is an influencer who evolves only on their own blog and an influencer is an influential personality, followed by a very large number of internet users on different kinds of digital media.
How do you determine that a person is influential?
We consider a person to be influential from the moment when several parameters are found on their various forms of communication.
It's not enough to have a community of several thousands of people if these followers don't interact with the account.
Engagement rate, number of video views, number of unique visitors per month, content quality, SEO... Many criteria exist to consider an account as being influential.
Although the account of the personality is followed by a large community, this can either mean that there's great interest in their posts or that the person made use of levers to amplify their community, such as the purchase of followers, for example.
This type of action exists and is detrimental for influencers because it's considered as "cheating." That's why many indicators are necessary to differentiate the real influencers followed by active communities from influencers less influential than expected...
Several terms are dedicated to the degree of influence of an account:
Nano
Micro
Mid-tier
Macro
Mega
How do you become a blogger or an influencer?
In both cases, you'll have to work in a meticulous and organized way to transform your various forms of communication support into real assets of influence.
Whether it's through a personal blog and/or on your social networks, starting a career in this field requires a great assiduity in your posts; a certain know-how to produce quality photos, videos, and texts; knowledge of the algorithms of each platform; and an ability to stay up to date with all the trends to always innovate with your followers.
In addition to seeking engagement with your community, your role is also going to be to communicate and exchange with other influential people who can bring you visibility in return.
Becoming a blogger or influencer is a job in itself: you have to be patient and work hard to start reaping the first results of your actions and see brands approach you to start paid partnerships.
How do you create an influential blog?
The benefits of blogging are numerous, so it's perfectly understandable if you'd like to get started with this creative venture yourself!
To create an influential blog, you must first be comfortable with writing blog posts. You certainly have a passion that deserves to be highlighted to a group of enthusiasts or to introduce this discipline to those who aren't yet familiar with it. That's when you enter the scene: by writing quality posts about these topics, creating visuals that'll illustrate these articles, and posting your texts regularly, your work is going to be able to develop little by little over time.
Blogging also requires knowledge of SEO: SEO issues will be central to perform on the internet with your blog. In addition to choosing a platform with a sound basis, you'll have to implement some actions in your daily life to allow your site to rise in the first results of search engines like Google. Hn tagging, visual optimization, unique and well written content, internal linking...
Discover all the best SEO recommendations on our blog in the SEO category to learn more.
Examples of well-known influencers
Food: Feel Good Foodie
Yumna Jawad is the author of the popular food blog Feel Good Foodie as well as a well-known food influencer on various social media platforms. She aims to share healthy, tasty recipes along with simple guides and entertaining video tutorials to help people cook nutritious meals for themselves at home.
Source: @Feelgoodfoodie
Watches: Kristian Haagen
With a lifelong passion for wristwatches, Kristian Haagan has become one of the top watch specialists on social media and beyond. His expertise in watchmaking has been closely followed for many years.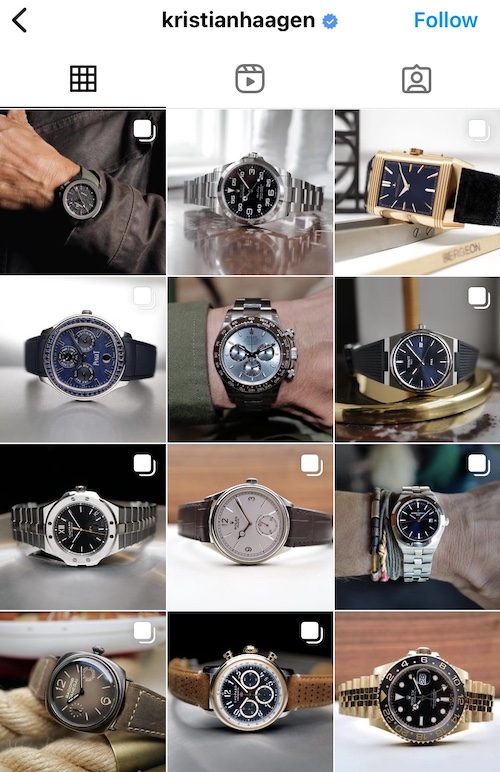 Source: @kristenhaagen
Automotive: ThatDudeinBlue
Automotive influencer, gamer, and car enthusiast David Patterson runs the popular YouTube channel ThatDudeinBlue, which currently has over 1.2 million subscribers. In his YouTube videos, Patterson presents the latest car innovations with precision and makes aficionados dream.
Source: @ThatDudeinBlue
Fashion and beauty: Chiara Ferragni
Digital content creator Chiara Ferragni is one of the most popular influencers in the fashion and beauty world. She has millions of followers, has founded her own brand, and inspires people with her success thanks to social networks.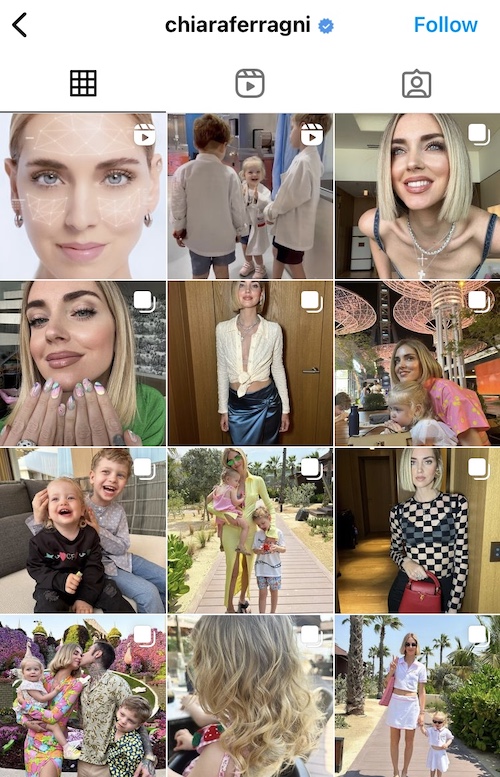 Source: @chiaraferragni
Travel and Photography: Chris Burkard
Explorer, photographer, and writer Chris Burkard travels all around the globe to capture the beauty of nature and share his findings with others. Between travels and photos, Burkard offers a visual escape that allows millions of people to see the world without moving from their sofa!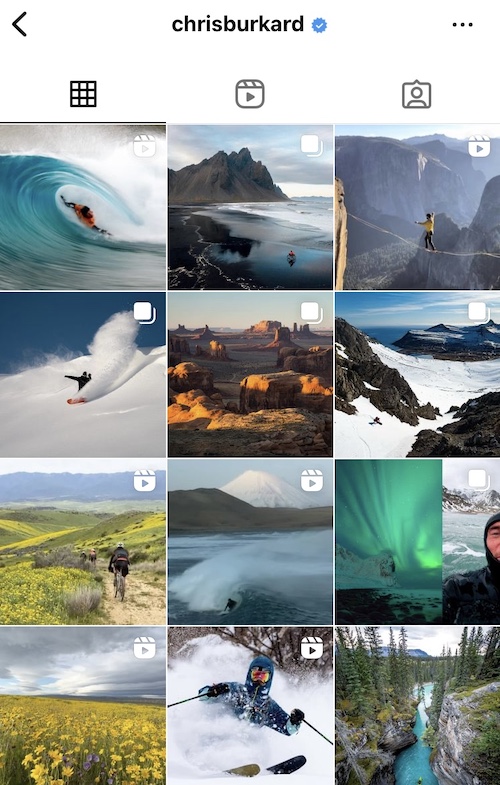 Source: @chrisburkard
Fitness: The Body Coach
Joe Wicks, aka The Body Coach, is a well-known fitness trainer who has been able to build a very large online following with the fitness- and health-related content he shares across different platforms. People following The Body Coach can enjoy weekly workouts they can do at home to become stronger, healthier, and happier.
Source: @TheBodyCoachTV
Décor: The Kwendy Home
Wendy, creator of the interior decorating blog The Kwendy Home, has also built up a significant audience on platforms like Instagram, TikTok, Facebook, and Pinterest. People following The Kwendy Home can find content involving all kinds of tips and inspiration involving how to beautify their living spaces.
Source: @thekwendyhome
Businesses and influencers: Tips for starting your influencer marketing strategy
How do you select influencer bloggers?
Before you start talking about your influencer marketing strategy, know that a blogger/influencer puts the content of their site first.
This should not be confused with an Instagram influencer or the influencer who prioritizes the quality of their Instagram, TikTok, YouTube, etc., social media networks and puts their blog second. An influencer with 150,000 followers on Instagram may generate fewer visits to their blog than a profile with 12,000 followers! And yet, the link to your site is going to be on the blog and not on Instagram...
Keep in mind that the goal of your blogger operation is to reach a new audience, increase your visibility, and get qualified links to your ecommerce site.
Whatever your industry, there will always be a blog that deals with the subject in question. To do this, type the relevant keywords on Google and note the top-ranking results to identify the most popular.
Be careful to choose a blogger specialized in a specific field for an effective influencer marketing strategy.
A blogger who talks about fashion, lifestyle, beauty, good deals, restaurants, hotels, etc. may have 80% of their community following them for their good restaurant deals. In fact, if your ecommerce business is specialized in fashion, you won't necessarily have any interest in working with this blogger because the editorial line is too generalist.
Finally, don't necessarily rely on the number of subscribers, followers, or likes on their posts. These may have been bought. Ask for concrete statistics (number of unique visitors on the blog, audience profile...), and rely on the score of the blogger in question with HypeAuditor, for example, to obtain data like the engagement rate.
How do you contact a blogger or influencer?
Bloggers aren't journalists. Send them your press release and it'll quickly end up in the trash...
When you reach out to influencers or bloggers, send them a personalized email to collaborate with them. Show them your interest with phrases like "Your blog is great!" or "12k followers on Instagram... Nice work!"
Also prove to them that you aren't contacting them randomly. If you propose this operation, it's because you've been following them for a long time, that you like what they do, and that you loved this or that article.
Of course, beforehand, you'll have started to establish a real long-term relationship with them by interacting via their posts on social networks. In this way, you already start to make yourself known to the blogger or influencer. So, once you write to propose a collaboration, you'll have a better chance of being successful!
What kind of proposal should you offer the blogger or influencer?
The traditional collaboration consists of sending a product for a test in exchange for a blog post or a social media post. The strongest advertisers are those who offer to send a product without even asking for a post in return. The blogger is going to appreciate this.
The most conscientious one already knows that they'll write articles if they like your product.
However, remember that a professional blogger unfortunately doesn't pay their rent in t-shirts, cosmetics, or shoes... Their work takes time and sometimes even financial investments, depending on their strategy. Ask them what their rate is, as how much influencers make per post can depend on many factors.
Then you have the legitimacy to ask them for an article in return. The post is thus "sponsored."
Finally, go further... Launch a co-branded product with an influencer or take a blogger as the muse of your ecommerce site or your brand to become an ambassador and opinion leader for example.
This type of partnership is ultra-beneficial for your business because the blogger is going to do their best to communicate about this new collaboration!
To conclude, remember not to neglect the "small bloggers." They'll be less demanding and are more likely to be happy to accept a collaboration. You'll always get visibility and a qualified link to your site!