In order to boost your visibility and increase the sales of your online store, there are many different methods: SEO, advertising on search engines or on social media... And also the use of one or several influencers.
These content creators offer incredible potential to companies to attract the most internet users as possible on their site. But you still need to choose them well and know how to reach out to them!
So how can you take advantage of influencer marketing? Here are some tips on how to work with influencers and appeal to these ambassadors with tons of subscribers.
Why work with an influencer?
Did you know that influencer marketing is an industry that's currently valued at between $5 and $10 million?
The investments in this field are colossal! Logically, if all the biggest marketers use it in their strategy, it's because this process offers many advantages...
Let's take a quick look at the main reasons why companies contact influencers and establish a partnership with them.
What is an influencer?
They're people who are particularly followed on platforms like Instagram, Facebook, TikTok, Youtube, and many others, specialized in a particular field.
As their status indicates, influencers have an opinion that matters via original content. Their posts influence their subscribers, also called followers.
Thus, when an influencer recommends a product or a brand, many internet users and consumers follow this advice... If it's about your website, influencer marketing can really bring you visibility on digital and make your sales jump!
There are several types of Instagram influencers today, including the following:
nano-influencers

, whose audience is quite small (1,000 to 10,000 followers);

micro-influencers

, followed by 10,000 to 100,000 people;

macro-influencers

, with 100,000 to 1 million followers; and

mega-influencers

, who are people who are really unclassifiable, like world-famous stars.
Of course, the more famous influencers are, the more money they're likely to bring you. On the other hand, they're also much more difficult to reach, both financially and because they're in high demand. As a general rule, you'll have to contact them through their agency.
What is the typical profile of an influencer in 2022?
To better understand the typical profile of influencers in 2022, let's take a look at a recent study by Small Business Trends.
Who are they? First of all, note that 71% of them want to be called something other than an influencer, with 34% preferring the term "creator," 17% preferring "content creator," 11% preferring "brand ambassador," and 9% preferring another name. If you're going to reach out to them, you might as well know their preferences to get off on the right foot!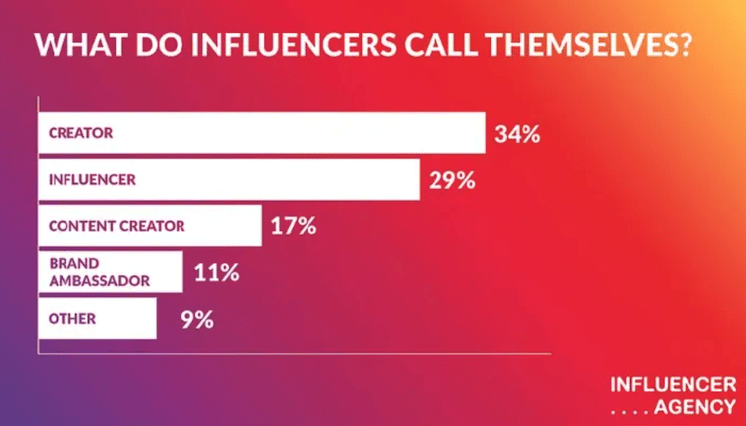 Image Source: Influencer Agency
In addition, a recent study by the French company Reech found that most influencers or content creators are women! Men represent only 25% of them. Furthermore, most of this population is quite young: 70% of influencers are between 19 and 35 years old, with an average age of 30.
On average, each influencer has 50,000 followers. However, only 15% of them work full time.
So what are their favorite topics?
8

7% of influencers publish lifestyle-related posts, i.e., related to fashion, travel, food, family, decoration, DIY, etc.

43% of them talk about leisure, whether it's art, sports, or entertainment.

10% of influencers are also concerned with culture or commitments to gender equality, environmental protection, animal rights, etc.
Note also that content creators are versatile. They generally don't like to limit themselves to a single topic. On average, an influencer deals with three different main topics.
What do they bring to companies?
Influencers can play an important role in your business today. Thanks to their fame, they can boost your sales and increase your turnover in record time. They offer several advantages:
Notoriety:

Influencers are followed by many people on the web. They can therefore relay your advertising message to a large, highly targeted audience. Thus, they multiply the visibility of your brand and give your voice a greater reach.

Interaction with the public:

Influencers are very active on social networks. After each publication, they encourage their community to react. If some people have questions about your articles, influencers are there to answer them. Some of them even attach videos or photos to their comments, which offers a better interaction with potential customers. This is an element that really encourages loyalty and can offer your prospects a more positive experience.

A new form of communication:

Influencer marketing is another way to communicate with your audience. It's a less intrusive advertising process. More appreciated than spam, a post on Instagram or blog articles are perceived more as recommendations. They work, in a way, as a form of word-of-mouth advertising. Through this form of communication, adopt a better outreach approach to your target.

An increase in sales:

By promoting a product, influencers encourage consumers to buy it. They promote your online store indirectly. If they add to that some positive advice or reviews, the marketing can make your number of sales explode. It's a business partnership that you'll find usually has much more impact than traditional web advertising for your product catalog.

An emotional connection:

The reason influencer marketing has an impact is simply because it creates an emotional connection with the audience. Followers who decide to follow a person on the internet trust and like them. They're therefore more interested in what they have to say and more likely to listen to their recommendations. In this sense, note that it's better to choose an influencer with a smaller community but with a strong engagement, rather than an influencer with a large following but little communication with their fans.
It's no wonder that cultivating relationships with influencers is one of the essential ecommerce tips to follow to help make your online store as successful as possible!
Steps before contacting an influencer
Like any marketing approach, creating an influencer campaign is a process that must be prepared in advance. If you want to obtain real, positive results, this partnership must be rigorously studied. This preparation starts well before the contact is made.
Your brand must be present on social networks
First of all, note that it's highly recommended to have a presence already established on social media for your ecommerce business.
You'll be able to contact the influencer you've selected through social networks using the name of your brand or by email to them directly or to their agency, depending on the type of approach you prefer.
The objective is to offer a professional image of you and your company. Remember that your profiles on the internet are your company's showcase.
Therefore, even before selecting your influencer, make sure that you're active and have a certain community established.
Logically, an influencer will be more inclined to look at the queries of a brand with a certain reputation than to turn to a page that isn't followed by anyone and that doesn't present any posts. Influencer marketing is therefore a long-term process!
Choose your future influencer partner well
Then, to get the expected results, it's essential to choose your influencer well. To do so, ask yourself the right questions and get to know the content creators related to your activity.
Look at the reactions of their community: what do they like? What do they hate?
For this step, also consider whether your future partner has a history of featuring products or brands. Have they ever done any sponsored events? Do they participate in brand events? Do they test products?
By getting to know your partner well, you can identify the best way to present your partnership. Likewise, it's by correctly identifying their audience that you'll put the best advertising campaign online.
The choice of a partner is studied in the same way as when analyzing a market or a customer target. Therefore, think about choosing them according to their identity, editorial line, and field of activity. Your future partner must be in agreement with your brand image.
In the same way, pay more attention to the quality of their community than to the quantity of subscribers. An influencer chosen with discernment will bring you better results than another contact selected only for their number of followers.
Pay attention to their other partners
Premium influencers are generally highly sought after by brands. For this reason, it's highly likely that your target is already in contact with other companies. Try to note what those brands are and how they work with other companies.
It's also very important to see if they're working with brands that may not be in line with your values.
For example, if you're a brand that claims to use natural products, avoid influencers who already collaborate with other brands that don't care about ethics or their responsibility toward the planet or animal protection...
Your brand image and credibility are at stake!
Determine your budget and the conditions of affiliation
The next step involves defining your budget. Although we all dream of collaborating with a world-famous star, making that happen is actually very complicated and comes at an exorbitant price!
In other words, if you just decided to launch your ecommerce business selling sports products, it's likely that you won't be able to take advantage of Cristiano Ronaldo's influence! If you prefer gourmet food to sports, don't count on Gordon Ramsey's support in the near future either!
To know which influencer to turn to, start by defining your budget and the affiliation conditions that you're ready to grant them. Remember that this professional isn't a service provider but a partner. The contract that you'll offer them must be based on a win-win aspect.
They'll have to promote you while maintaining their authenticity, in order to continue to satisfy their audience. Before contacting them, set up an action plan to find common ground and create a real working relationship.
Contacting: all about finesse!
According to a study conducted by Cision and published on French site Comarketing News, only 50% of bloggers are satisfied with the way they're approached by brands. To be on the right side of the scale, you'll have to act carefully!
Become a regular follower with your brand's account!
Because influencers are in high demand, they're not going to respond favorably to all requests from companies.
So if they don't know your brand, they won't necessarily be inclined to partner with you. Start by getting yourself noticed (in a positive way of course...)!
For a smooth outreach approach, avoid contacting influencers directly. Instead, establish a sincere and long-lasting relationship step by step.
To do so, be diligent with their posts. When they share content, like and share it. Don't hesitate to comment on it either.
On the other hand, on your page, don't hesitate to quote an influencer when the content lends itself to it... Make sure that you study your prospective influencer partners well and humanize your relationship from the start.
Email, private message, direct contact, or via an influencer platform: what's the best way to reach out?
Then, comes the crucial moment of your collaboration: the introduction! There are different ways to get in touch with an influencer:
By email:

Many influencers post their email address directly in their biography. This is an advantageous and practical way to contact them. Remember that if they provide their email address, it's because they like to be contacted through this channel.

Through social networks:

These platforms also have instant messaging. Through them, you can send a private message to influencers. Don't forget to use your brand's social account and choose the network on which the influencer seems to be the most active.

Through dedicated platforms:

There are also platforms specially designed to contact influencers, such as

Favikon

. On this platform, many influencers are registered in order to receive proposals from different brands. It's an especially favorable communication channel to use to reach out to them. Through these tools, influencers expect to receive partnership proposals. Moreover, most of these platforms are equipped with analysis tools that will help you better choose your partner and study the benefits of your collaboration.
A few writing rules to follow
Finally, when you find a potential partner and want to write to them, try to offer a personalized approach. Because content creators are increasingly in demand, personalization is the key to differentiating yourself from others and getting their attention.
Show this person that you have a genuine interest in working with them. Avoid outreach efforts that are too generic, those that you could copy and paste to solicit dozens of different influencers.
In addition, take the opportunity to introduce yourself and your company. Be precise, but don't go overboard, at the risk of discouraging them from reading your message. Present your proposal in a simple and concise way, and make sure that you emphasize the win-win partnership, for you as well as for them or their community.
2 Examples of emails for reaching out to influencers
When you send an email to the influencer, don't forget to call them by their first and last name and not their pseudonym: this will help prove that you know your potential partner.
For the subject of your email, be serious and explicit. For example, a subject line like this one would be good to use to get in touch: Collaboration offer [company name] x [influencer name].
Now, let's look at two email styles, templates to customize according to your style and requests.
Email #1: The formal message
Hello [first name],
I hope you are well.
I'm contacting you today because we've been following your updates at [Company name] for several weeks and we love your world. We've noticed that you're focused on [name the field/cause/focus] after publishing your [story/video/photo/blog post] content.
We share your vision. That's why I'm sharing our latest feature that you might be interested in.
[Present the content and news in a few lines and add, if possible, a press kit or photos of your products as attachments].
We would be delighted to discuss this topic with you. Would you be available to discuss it?
I remain at your disposal and wish you [a quick word about a recent update posted by the influencer to finish].
Sincerely,
[Your first and last name, your position, and your company with the link to your website]
Email #2: The friendlier approach
Hello [first name],
I hope you are well!
I am [first name], [job title] at [company name]. We've been following your updates at [company name] for several weeks now: we love your world and your content! [Cite the influencer's latest posts that motivated the email].
I want to introduce you to our latest news that might interest you. [Present the content and news in a few lines and add, if possible, a press kit or photos of your products as attachments].
I would be delighted to discuss a future partnership with you. Would you be available to chat with me about this?
I remain at your disposal, and don't hesitate to let me know if you have any questions.
Thank you in advance for your interest in this message. Have a nice day!
See you soon,
[Your first and last name, your position, and your company with the link to your website]
If you don't get a response from an influencer, don't hesitate to follow up. It's quite possible that your message got lost or that it went unnoticed, in the middle of other solicitations.
However, wait a few days before sending your reminder. In addition, don't be too insistent when trying to find out if the influencer is interested in a partnership with your brand. When it comes to influencer marketing, it's all about balance!