These days, ecommerce entrepreneurs have a plethora of options to choose from when it comes to social media platforms. The trouble is, it's impossible to maintain a consistent, successful presence on all the available channels out there. What's more, not every social network is going to be a great match for your business and the people you're trying to reach.
For the sake of making the most of your resources, namely time, and holding on to your sanity, it's in your best interest to narrow down your selection to just a few channels. So how do you go about picking the right ones?
In this article, we offer 7 tips designed to help you choose the best social media platform(s) for your business, allowing you to increase brand awareness, connect with your target audience, boost site traffic, and ultimately earn more sales!
1. Understand your target audience
When determining which social media platform or platforms to use for your business, the first and most important step is to identify the people you're hoping to reach. Having a good understanding of your target market will make any decisions regarding your social media marketing strategy a lot easier.
If you've already launched your online store, there's a good chance that you've already pinpointed your buyer persona. Nevertheless, when selecting what social networks on which you'd like to have a presence, it's advantageous to re-examine questions for your audience such as the following:
W

ho's your ideal customer?

What age and gender are they?

Where are they located?

What's their level of education?

How much money do they earn?

What are their hobbies and interests?
Although it's important for brands of any size to understand their audience, it's especially crucial for smaller businesses. If you're working with limited resources, for instance, you'll want to be sure to research your audience and their demographics carefully so as to not waste those precious resources on social media platforms that don't work to benefit your online store.
2. Take your business into account
While your current and potential customers should be at the forefront of your mind when choosing a social media platform, you also need to consider your business. What kinds of products or services do you sell? What image do you want your brand to convey? The answers to questions such as these should help you to narrow down which social networks are the best match for you.
For example, if you know that sharing visually stunning content makes sense for your business, then a channel like Instagram would likely be ideal. In contrast, for larger companies providing a professional service, LinkedIn is a must!
Keep in mind, however, that some social networks have wide-ranging appeal and can work for all kinds of businesses. Take YouTube, for instance. Regardless of the product or service that you offer, you can adapt the channel to suit your unique target audience, creating video content that either educates or entertains your viewers (or does both!).
3. Identify your goals for your social media marketing strategy
Social media plays a significant role in ecommerce. Besides being able to drive traffic to your online store and increase sales, it can also be used to boost brand awareness and credibility, strengthen your relation with current and potential customers alike, and even handle customer service requests.
As you go to select the best social media platforms for your business, it'll be essential for you to identify exactly what you'd like to accomplish with your presence on those networks.
For example, if your aim is to boost engagement with your audience and share content with your followers, then numerous channels should do the trick. If customer service is more your focus, then networks like Facebook and Twitter may be your best bet.
Want to combine social commerce with your ecommerce efforts? In this case, you'll want to ensure that your chosen channels can assist you with selling your store's products.
4. Know the different social media networks available
When determining the right social media platform for your business, you'll of course want to have a decent understanding of the various networks out there today. Although they may have several similarities, every platform has its own style and communication methods.
Before investing resources into a particular social network, it's advantageous to review the different channels that you're interested in creating accounts on. Ensure that you grasp how they function and their unique terms of use.
In case you're not familiar with any of the major social media platforms available today, here's a brief description of networks that are popular with internet users all around the world. Adding any of these to your list to try for your ecommerce business would likely be a great start to your strategy!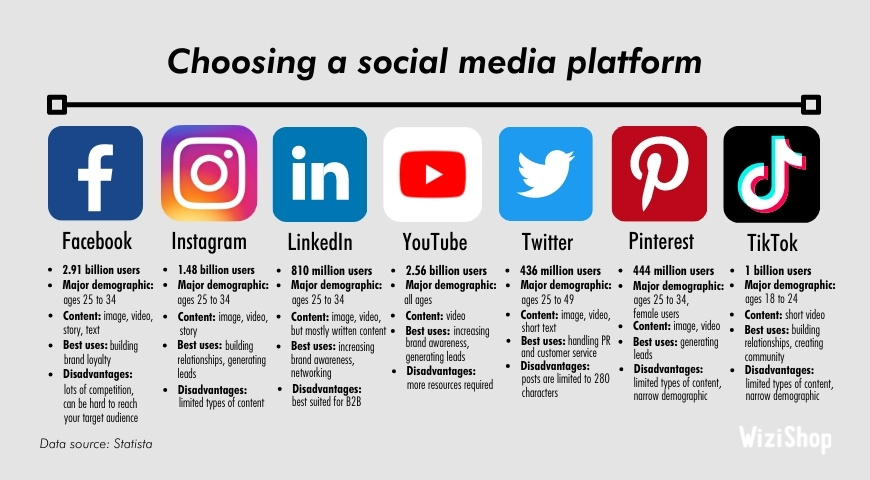 Data source for users worldwide: Statista
Facebook
With over 2.9 billion monthly active users, Facebook is the most-used social media platform worldwide. In addition, more than 200 million businesses use Facebook's apps and free tools.
It's easy to get started with a Business page on the platform, making it a no-brainer for many brands to incorporate the social network into their marketing strategies. Furthermore, you can pretty much distribute any form of content on Facebook—images, videos, Stories, and text—allowing for plenty of flexibility.
In terms of audience, Statista notes that the age group with the greatest number of users on Facebook is 25–34 years, accounting for 31% of users on the social network as of January 2022. Of this group, 18.4% are male and 12.6% are female. Facebook's overall audience also features a slight male majority at 56.5%.
Keep in mind that people tend to use this channel to keep in touch with family and friends and to build relationships. This means that while Facebook is great for connecting with your current customers and building brand loyalty, its immense popularity may make it difficult to expand your audience and reach new customers.
Instagram
Because Instagram falls under the umbrella of Meta platforms, it shares some similarities with Facebook, another Meta social network. However, there's more of an emphasis on visual content on Instagram, with the demand for video content beginning to surpass that of images.
Although Instagram boasts a smaller number of monthly active users than Facebook, 1.48 billion is by no means insignificant!
It's important to note that while the age group with the largest number of users on Instagram is, just like Facebook, 25–34 years, the channel's overall audience tends to be younger than that of Facebook. In fact, as stated by Statista, the majority of Instagram users, approximately 70.1%, are 34 years old or younger.
Furthermore, brands can usually reach a wider range of people on Instagram, allowing them to more easily generate leads and attract potential customers to their websites. However, content formats are a little more limited here, with only images, videos, and Stories available.
LinkedIn
When it comes to social media platforms, LinkedIn stands out in that it has a very specific focus: to help its 810 million users engage in professional networking, search for jobs, and find new employees.
Though LinkedIn is generally better suited for B2B markets, from an ecommerce perspective, it can be utilized for boosting brand awareness through the use of sharing company news and updates and for general networking purposes for further business development.
Regarding the platform's audience demographics, Statista states that 59.1% of LinkedIn's global users are 25 to 34 years old. In terms of gender, as of January 2022, 57.2% of people using the network are male and 42.8% female.
When using this channel, remember that it's important that your posts feature a professional tone to appeal to a wider audience.
YouTube
With 2.56 billion monthly active users, YouTube's success cannot be disputed. Although the age group with the largest share of users on the platform is similar to the previously mentioned networks, people aged 25 to 34, this winning percentage is only 20%. YouTube's popularity is more evenly distributed across different age groups, making it a viable social network to try no matter what your target audience looks like.
Furthermore, as video is becoming increasingly more in demand with consumers, YouTube can be a valuable tool for ecommerce entrepreneurs everywhere. Whether you opt to generate content that educates, entertains, or does both, your presence on this platform can do wonders for generating brand awareness and increasing site traffic.
However, creating high-quality video content can often be a time-intensive process that may be difficult to manage if you're running a solo operation. You may also need to invest in equipment for filming and/or hire people to assist you with production.
Twitter
With an audience of approximately 436 million users, Twitter is a great social network for sharing quick updates and news about your brand with your followers. A unique trait of this platform is that it prioritizes real-time information and sharing that news in 280 characters or less!
Twitter can also be helpful for building awareness, especially when you use hashtags effectively—both to search trending topics and to insert your brand into popular conversations happening all around the world.
In addition, many businesses opt to use Twitter as an additional channel for customer service, as it allows them to quickly respond to complaints and answer questions. The extra convenience and fast response times are of course also much appreciated by customers as well!
Regarding audience demographics for this channel, according to Statista, the largest group of global Twitter users fall into the 25–34 age group at 38.5%, followed by those aged 35–49 at 20.7%. Male users make up a larger portion of the population on Twitter, with 56.4% of them present on the platform vs. the 43.6% female users.
Pinterest
Another visual-based social network, Pinterest serves as a "discovery engine," providing people with inspiration and ideas for everything from recipes to DIY projects, interior decorating ideas, and more. It also works as a social bookmarking site, as Pinterest users, also known as "Pinners," can collect and organize content that inspires them, saving it to their Pinterest boards to share with others.
From a business point of view, Pinterest statistics show that this platform can be really great for generating site traffic. Brands can create inspiring Pins that encourage engagement from other users, linking directly to product pages on their online stores. According to Pinterest, 80% of weekly Pinners have discovered a new brand or product thanks to the network.
Something that makes this social network different from others is that female users prevail on the channel. Based on Statista data, the top Pinterest demographic was female users aged 25 to 34, comprising 29.1% of the platform's worldwide audience. What's more, 75.9% of Pinterest's global audience consists of female users.
TikTok
Although only launched in 2017, TikTok is one of the fastest growing apps and today has 1 billion active users. This social network allows people to create and share short videos, usually between 15 and 60 seconds long. In early 2022, however, TikTok extended the maximum length up to 10 minutes, which is a significant increase from the previous limit of 3 min.
The platform also features a wide range of sound effects, music snippets, and filters that TikTokers can add to their videos for extra appeal. Clips found on TikTok can involve all kinds of topics, from dance challenges to lip-syncs, tutorials, and much more.
As far as the audience goes, this app definitely attracts a younger demographic. As noted by Statista, people aged 18–24 make up almost 43% of TikTok's total audience! In addition, female users make up a slightly larger percentage of the platform's audience at 55.1%.
If you aim to attract younger consumers, then TikTok may be the perfect social network to implement into your marketing plan. By crafting interesting videos for your followers, you can help build brand loyalty and create an engaged community.
5. Research the competition in your industry
Yes, it's important to determine which social media platforms your target market is using, but you'll also want to figure out where your competitors have a presence. Before launching your ecommerce business, you likely performed a competitive analysis to discover your main competitors in your industry.
Now's a good moment to review their various social media pages to find answers to the following questions:
W

hat social networks do they use?

What kinds of content do they share?

How often do they post?

What kind of engagement do they have with their followers?
Through this info, you can better determine what practices are working well for your competitors and what they could improve upon.
Keep in mind that just because something works for the competition doesn't mean it'll be a good idea for you. This is where having a thorough understanding of your unique audience will allow you to better ascertain which actions will be most advantageous for your strategy!
6. Consider your resources
The key to any successful approach involving social media and ecommerce is consistency. When trying to choose which social networks to use to promote your business, you'll therefore want to think about what resources you have at your disposal to devote to your efforts on any platform.
Will you be the only person handling your various social media accounts? If so, think about all the other tasks you have to manage while running your online store. Perhaps you have somebody on your team who can devote several hours a week to your brand's social media presence, allowing for a bit more freedom in terms of the number of channels you can take on.
If you're not already well versed in a certain platform, how much time do you have to master it? In addition, consider your resources in terms of the skills you and your team possess. If you're a skilled videographer, channels like YouTube and TikTok will be much easier for you than if you're somebody who has trouble just working the camera on your smartphone.
Regardless of which networks you opt to utilize, remember that your results will directly depend on the effort you put in!
7. Experiment with different platforms and measure the results
Although it'd be amazing to know right from the start which social networks would be a guaranteed success, that's unlikely to happen even with the best of research. That's completely okay, though!
Don't be afraid to try out different channels that seem to be a good fit and examine their statistics every month to see what kind of results they bring. Remember that when you first launch a new account on a social network, it can take a while for your posts to get views and for your pages to see engagement.
If you find that your posts on a particular channel aren't doing as well as you'd hope, it doesn't necessarily mean that the channel isn't a match for your brand. You may just need to adjust the timing of your posts and/or the types of content that you create.
Once you determine when are the best times for you to post on different platforms and what kinds of content resonate most with your ideal customer, make life easier by incorporating a social media calendar. By creating content in batches and planning your posts ahead of time, you'll be able to stay organized and keep your marketing strategy on track!