With ecommerce statistics indicating that ecommerce growth isn't expected to significantly decrease any time soon, it's no wonder that new online stores seem to be popping up all the time. If you have your own ecommerce business, note it's important to stay up to date with all the latest trends and happenings in the industry if you want to boost sales for your online store.
Whether they're in-person or online events, ecommerce conferences offer excellent opportunities for expanding your knowledge on a wide range of topics related to online sales. What's more, they also make it possible to meet new people in your industry and grow your network.
Here's our list of 15 exciting ecommerce conferences happening around the world in 2023!  
Dates: January 15–17, 2023
Location: New York City, USA
Summary
The National Retail Federation is a retail trade association that's existed since 1911. Its members consist of department stores; specialty, discount, catalog, online, and independent retailers; chain restaurants; grocery stores; and multi-level marketing companies.
Retail's Big Show is an annual three-day event that takes place in New York City. The NRF conference assembles people from 90+ countries, with 37,000+ retail professionals and vendors in attendance.
Highlights for 2023
This year, the expo boasted over 950 exhibitors and included the NRF Innovation Lab to promote future-forward technology and the Startup Zone to highlight up-and-coming companies that hold lots of promise. 
In addition, with the theme of helping retailers "break through," the NRF provided 50+ keynote and featured sessions led by 170+ industry experts speaking on a variety of topics involving breakthrough experiences, breakthrough operations, breakthrough growth, breakthrough talent, breakthrough models, and purpose that breaks through. The lineup of speakers included a wide range of big names in the retail industry, such as the following:
J

ohn Furner, President and CEO of Walmart U.S.

Paige Thomas, President and CEO of Saks OFF 5th

Brian Cornell, Board Chairman and CEO of Target Corp.
Here's a recap of the 2023 conference:
Date: February 1, 2023
Location: Los Angeles, USA
Summary 
The Los Angeles eCommerce Summit is a live boutique-style event that gathers together numerous ecommerce experts and leaders in the industry to share their thoughts and ideas. Attendees can expect to hear from speakers from established brands, merchants, retailers, and solutions. 
This one-day conference includes presentations, panel discussions, and one-on-one meetings revolving around a variety of ecommerce-related subjects such as customer experience, loyalty, marketing, operations, payment and shipping solutions, strategy, etc.
Highlights for 2023
This year, the Los Angeles eCommerce Summit was held at the Westin Bonaventure Hotel. The event featured over 45 speakers, including the following:
Z

ach Smith, Senior Manager, Global Direct to Consumer Omnichannel at Levi Strauss & Co.

Kayleigh Clark, Co-Founder & CGO of CLEARSTEM Skincare

Garrett Sacks, Senior Manager of International eCommerce at GNC
Dates: March 1–2, 2023
Location: Toronto, Canada
Summary 
Dedicated to retail, marketing, and technology, DX3 is a key conference and trade show for retail sellers and digital marketers who want to learn more the effects of ever-changing technology on their industries in order to help their businesses adapt and grow. By providing provocative content and immersive experiences, DX3 joins leading tech brands around the world with the top agencies, brands, marketers, and retailers in Canada. 
Highlights for 2023
With the significant impact that COVID-19 had on the retail industry worldwide, the focus on this year's DX3 event was on how retailers and marketers can rise up in the face of challenges and better prepare for new shocks and changes that may start to occur more frequently in the future.
Attendees were able to experience a retail summit, a marketing and innovation summit, a virtual exhibition, and talks at the event, with 200+ industry experts and thought leaders present. Some of the speakers in the 2023 line-up included were as follows:
B

arbara De Laere, CEO of Saje

Gimmy Chu, Co-Founder and CEO of Nanoleaf

Lisa Mazurkewich, Head of Marketing at Subway
Dates: March 21–23, 2023
Location: Las Vegas, USA (or online)
Summary
The Adobe Summit is unique in that you can attend it in person in Las Vegas for a fee or virtually for free. This event focuses on the creation of experiences and aims to help attendees not just develop new skills and explore ideas but also get inspired as to how they can optimize the customer experience for their own businesses. 
Whether you're interested in picking up information about marketing automation, advertising, analytics, or other topics concerning ecommerce or traditional commerce, the Adobe Summit provides a vibrant community for learning and fostering connections.
Highlights for 2023
The 2023 Adobe Summit will offer over 200 sessions and hands-on labs concerning 11 tracks, including analytics for customer journeys, B2B marketing, collaborative work management, content that drives performance, customer data management and activation, trends and inspiration, and others.
Attendees of this year's Adobe Summit will be able to hear from an extensive array of speakers, with a wide range of backgrounds and experience, such as the following:
S

hantanu Narayen, Chairman and CEO of Adobe

Tig Notaro, Comedian, Actress, and Best-Selling Author

Susan Somersille Johnson, CMO of Prudential Financial
Dates: March 26–29, 2023
Location: Las Vegas, USA
Summary 
Founded in 2015, Shoptalk is an event held every year in Las Vegas. Aimed at big-name retail sellers and branded manufacturers, startups, tech companies, investors, media, and analysts, Shoptalk brings individuals and companies together. Here, attendees will get to enjoy plenty of opportunities for collaborating, evolving, learning, and networking. 
Highlights for 2023
This year, Shoptalk is making networking easier than ever for people attending the event by introducing Meetup. With Meetup, attendees can express interest in connecting with other attendees during the conference. If both parties agree to meet up, Shoptalk will facilitate a meeting between the two. 
In addition, attendees can look forward to various exciting activities, entertainment, and programs to discover valuable insights about the latest business models, events, technologies, and changes concerning consumer behavior. Furthermore, the 2023 edition of Shoptalk will feature 270+ top-notch speakers, including the following: 
B

ill Ready, CEO of Pinterest

Judith McKenna, President and CEO of Walmart International

Dave Kimball, CEO of Ulta Beauty
Dates: March 27–30, 2023
Location: Broadbeach, Queensland, Australia 
Summary 
Bringing together Australia's online retailer community, Retail Fest, organized by Retail Global, is a three-day event revolving around ecommerce. With speaking sessions, workshops, and an exhibition, learning and networking opportunities abound.    
Highlights for 2023
This year's Retail Fest will look quite a bit different from previous editions, as the event will have an extra day and give attendees even more chances to network and bond. The ecommerce-themed extravaganza will start off with a "MBA in a Day" workshop led by entrepreneur and keynote speaker Martin Newman. 
Retail Fest 2023 will also include two award ceremonies; in-depth workshops on topics like SEO and SEM, multi-marketplace selling, and tech-stack optimization; and exhibits from brands such as Amazon, Mastercard, Omnivore, Stripe, TikTok, and many others 
Here's a sneak peek of some of the speaker participating in this year's conference:
T

he Hon Julie Bishop, 38th Foreign Minister of Australia

Aaron Blackman, COO of Maropost

Laura Parr, Senior Strategy & Insights Manager at Google
Dates: April 26–27, 2023
Location: Berlin, Germany
Summary 
Geared toward senior ecommerce professionals, Savant eCommerce Berlin is an annual conference designed to maximize networking and the sharing of knowledge. During this 2-day event, attendees from all retail verticals can benefit from sessions involving industry-leading speakers and panelists along with design-thinking labs and pub-quiz networking sessions for additional interaction.
Highlights for 2023
The 2023 edition of Savant eCommerce Berlin will address a diverse range of topics such as the mobile customer experience, the use of AI in ecommerce, sustainability, the metaverse's role in ecommerce, and more.  
While this year's speakers aren't yet listed on the website, some of the top speakers who've spoken at Savant eCommerce Berlin in previous years include the following:
D

r. Andrea-Victoria Noelle, Global Head of Ecommerce at Bayer

Dr. Alexander Borek, Head of Data at Zalando SE

Melissa Weston, Head of Marketing - Central Europe at Ticketmaster
Dates: May 10–11, 2023
Location: Salt Lake City, USA
Summary
Combining learning, networking, and entertainment, Accelerate brings together ecommerce leaders who wish to learn more about the current state of online sales and what the future may hold. One of the top aims of the summit is to investigate complex problems and provide simple real-world solutions.
Highlights for 2023
Over a span of two days, Accelerate 23 is going to offer various workshops, over 40 speaking sessions, a special Casino Night, and more, all in an environment that prioritizes education, inspiration, networking, real-world application, and strategy. The summit's speaker roster consists of celebrities and high-profile thought leaders. Here are just a few of the names that you can expect to hear from if attending the conference this year:
M

ichael Phelps, World Champion and 23-Time Gold Medalist

Neil Patel, Co-Founder of NP Digital

Amanda Baldwin, CEO at Supergoop!
Dates: May 17–18, 2023
Location: Milan, Italy
Summary 
The biggest event in Italy involving the transformation of digital commerce and ecommerce, Netcomm Forum is a yearly gathering of international professionals. Here, they discuss the news, data, and trends affecting the evolution of ecommerce on both an Italian and a global scale, changes in consumer behavior, what business models are proving to be the most successful, internationalization strategies for Italian retailers, and more. 
Highlights for 2023
This year, the 2-day forum will feature six themes: payment and fintech; technology and platforms for commerce; marketing, data, and customer engagement; consulting, strategies, and agencies; retail tech and the digital in-store experience; and logistics, supply chain, and packaging. Attendees can look forward to speakers such as the following:
A

ndrea Boschi, Country Manager FLOA Italy at BNP Paribas Group

Luciana De Fino, COO at IEM

Federica Tomasini, Marketing Manager Italia at Partoo
Dates: May 23–25, 2023
Location: Fort Lauderdale, USA
Summary 
The Sellers Summit is an intense three-day workshop designed to provide ecommerce entrepreneurs with an intimate learning environment. Featuring knowledgeable speakers detailing their own experiences in online sales, offering sellers solutions and inspiration to help them achieve greater levels of success in their own ecommerce adventures. Ticket sales for the Sellers Summit are purposely limited to 200 people to facilitate a group-learning environment and make interacting with others easier.  
Highlights for 2023
The 2023 Sellers Summit will be split into two principal tracks to accommodate sellers with different kinds of online stores. Whether you're interested in growing your Amazon business or your own ecommerce website, this event is meant to teach you how to create a lasting brand. The host of this edition of the Sellers Summit will be hosted by Steve Chou, Founder of mywifequitherjob.com and other notable sites. Additional people speaking at the event include
B

randon Young, Founder of Data Dive

Mina Elias, PPC Expert at Trivium

Liz Saunders, Amazon Influencer and Jungle Scout's Chief of Staff
Dates: June 5–7, 2023
Location: Austin, Texas, USA
Summary 
Available as both an in-person and a digital experience, B2B Summit North America is one of the top events targeting B2B sellers and CMOs. With the aim of helping attendees to boost their revenue, the conference offers a wide range of sessions to align with the priorities of those in attendance, speaking sessions from leading brands and executives from around the world, and plenty of chances to engage in practical case studies and network with others.
Highlights for 2023
In 2023, people attending B2B Summit North America can look forward to a variety of session formats, such as analyst presentations, fireside chats, panel discussions, and others. The summit will also provide attendees with opportunities for networking to expand their community and meeting with solution providers to help them better achieve their business goals. 
Some of the main topics at this event will include account-based marketing, content strategy, customer advocacy and obsession, leadership strategy, portfolio marketing, sales enablement, and more.
A few of the expected speakers at the 2023 edition of B2B Summit North America are as follows:
D

ara Treseder, CMO at Autodesk

Cheryl Cook, Senior Vice President Global Partner Marketing at Dell Technologies

John Arnold, Principal Analyst at Forrester
Dates: June 13–15, 2023
Location: Chicago, USA
Summary
The Retail Innovation Conference & Expo (RICE) features content sessions and panels organized into different tracks, creating three separate smaller conferences to accommodate the wide range of needs and interests of the retail executives attending, be they start-up, mid-size, or big-box retailers. Involving the themes of ecommerce, design, and retail, these micro-conferences are fashioned to provide those in attendance with a welcoming place to collaborate with and learn from other attendees as well as engage in active learning and discovery. 
Highlights for 2023
Over 5,000+ retail executives are expected to attend the 2023 edition of RICE. Those attending will get to avail of 7 immersive activations for a hands-on experience involving what the future holds for connected commerce, over 300 exhibitors from varying backgrounds, 5 pop-up stages to provide insights and inspiration, and more. 
Furthemore, RICE 2023 promises more in-depth sessions and 12 workshops for added collaboration and learning. There are also going to be opportunities for certification and career development with tailored courses held by a number of the top educators in the industry. Here are a few of the people currently planned to speak at the conference:
J

ulia Berk, Head of Consumer Insights, North America at Snapchat

Nick Bodkins, Co-Founder and CEO of Boisson

Amber Bazdar, Director of Global Retail Design at Timberland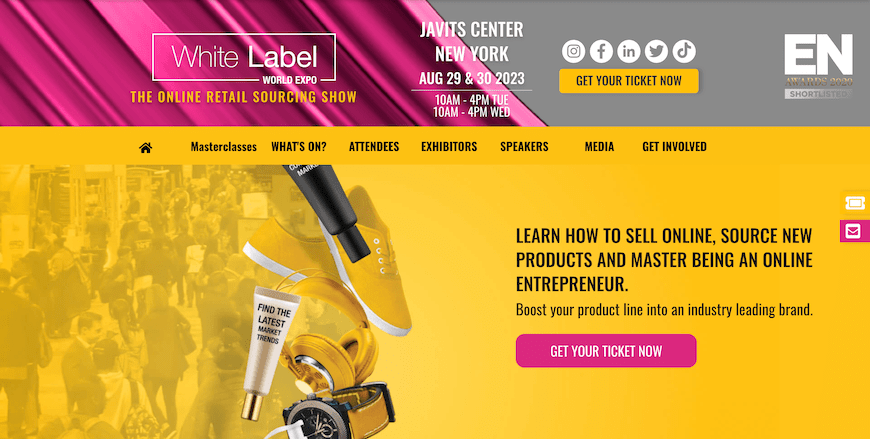 Dates: August 29–30, 2023
Location: New York, USA
Summary
The White Label World Expo is one of the top events globally when it comes to wholesale, ecommerce, and product branding. By teaching and exhibiting businesses and organizations in these various areas, the expo aims to help industry professionals achieve even further levels of success with their entrepreneurial endeavors.
Highlights for 2023
The schedule for the 2023 White Label World Expo in New York is set to encompass a plethora of topics concerning the ecommerce, retail, and selling/supplying industries, with the goal of boosting attendees' knowledge about how to sell online, source new products, and master ecommerce entrepreneurialism. 
Educational masterclasses, industry awards, summits, and loads of chances to network and invest are just some of the activities that people going to this year's event can look forward to. The 2023 expo is expected to have approximately 10,000 attendees, 400 suppliers, and 200 speakers, including the following:  
J

ason Dennison, Director of Sales at Alibaba

Kenisha Dennis, Social & Influencer Marketing Lead at Meta

Liran Hirschkorn, Amazon Expert and CEO of Incrementum Digital
Dates: September 19–21, 2023
Location: Paris, France
Summary
The largest gathering in Europe of professionals in the ecommerce and physical commerce realms alike, Paris Retail Week is a three-day event designed by Comexposium, one of the world's leading event-organization companies. Decision-makers across a wide range of activity sectors attend the conference to come together to learn about the latest happenings in omnichannel commerce as well as share best practices, ideas, and experiences. 
Highlights for 2023
Paris Retail Week 2023 is going to feature a format that's even more experiential than that of years gone by, with 19,500+ professionals expected in attendance over the course of 3 days and 370 exhibiting companies present. With conferences, workshops, awards, tours involving stores and ecommerce innovations, and other activities planned, the event is sure to be full of inspiration and excitement for those attending.
Some of the speakers expected at Paris Retail Week this year include the following:
B

astien Valensi, CEO & Founder of Cabaïa

Antoine Dubois, Senior Vice President Global Marketing Strategy at Accor Group

Maud Behaghel, Senior Director of Strategy and Research at Vinted
Date: November 28, 2023
Location: London, UK
Summary
Promoted as Europe's largest customer engagement event, the Customer Engagement Summit by Engage Customer is now in its 13th year. With the growing importance of the voice of the customer, it's more essential than ever that ecommerce businesses work to provide a positive, memorable experience that meets (or even exceeds) the expectations and needs of their customers. This event aims to inspire attendees and help them learn how to take their CX to the next level. 
Highlights for 2023
This year's Customer Engagement Summit will be held at The Brewery in London. The overall theme for the conference is "The Only Constant is Change: The Role of Human Experience and Technology in Transforming CX." Although the duration of the summit is only a day, it's filled to the brim with all kinds of content involving various elements of customer engagement.
Those who attend the event will be able to choose from over 100 presentations based on what best matches their interests and business needs, roundtable sessions, case-study presentations, and 1-to-1 meetings for optimized networking. While the speaker list is not yet available on the event website, previous people who've spoken at the Customer Engagement Summit include the following:
T

arv Nijjar, Global Senior Director, Global Strategic Insights CX & AI at McDonald's

Ceri Davies, Manager of Customer Centre - Digital Engagement Strategy at Virgin Atlantic

Alessio Bagnaresi, Head of AI & Advanced Analytics at Google EMEA