In the ever-evolving landscape of commerce, the digital realm has emerged as a powerhouse, reshaping the way businesses operate and consumers shop. Learning ecommerce has become not just advantageous but essential for those seeking success in the modern marketplace. In this article, we'll take a look at different methods to help you understand the intricacies of ecommerce, from its fundamentals to advanced strategies.
Whether you're an aspiring entrepreneur looking to launch your online store or an established business owner aiming to thrive in the digital space, we'll explore the key steps, tools, and knowledge needed to navigate the world of ecommerce effectively.
Ready to master the art of online commerce? Let's begin!
Why is it worth learning about ecommerce when starting an online business?
Elevating your knowledge of ecommerce when launching and running an online store offers a multitude of advantages. First, it empowers you to stay ahead of the ever-evolving digital landscape. You'll be equipped to adapt to emerging technologies, trends, and consumer behaviors, ensuring that your business remains competitive.
Moreover, a deeper understanding of ecommerce enhances your ability to optimize your online store. You can fine-tune elements like website design, user experience, and checkout processes to maximize conversion rates, ultimately increasing revenue.
Additionally, knowledge in ecommerce provides you with valuable insights into digital marketing strategies, enabling you to effectively reach and engage your target audience. It allows you to harness the power of social media, SEO, email marketing, and paid advertising to expand your online presence and drive traffic to your store.
In essence, boosting your ecommerce knowledge is an investment that can lead to improved profitability, sustained growth, and long-term success for your online store.
What ecommerce-related topics should you learn about?
Several important topics are crucial for success in ecommerce. Some of the most vital ones include the following:
Product selection: Be able to identify the right products to sell based on market demand, competition, and profitability.
Website development: Understand how to create, optimize, and manage a ecommerce website for user experience, navigation, and conversion.
Digital marketing: Learn various online marketing strategies such as search engine optimization (SEO), social media marketing, email marketing, and paid advertising to reach a larger audience.
Customer experience: Focus on providing excellent customer service, easy navigation, and a seamless shopping experience.
Payment processing: Know how to set up secure and efficient payment gateways.
Inventory management: Efficiently manage stock levels, reordering, and tracking inventory.
Supply chain and fulfillment: Understand order processing, shipping, fulfillment methods, and how to find the right suppliers.
Analytics and data analysis: Utilize data to make informed decisions, track performance, and identify areas for improvement.
Security and compliance: Ensure the security of customer data and compliance with data protection regulations.
Customer retention: Implement strategies to retain customers, such as loyalty programs and personalized marketing.
Mobile commerce: Adapt to the growing trend of mobile shopping and optimizing your site for mobile devices.
International expansion: Understand the complexities of selling globally, including currency conversion, shipping, and localization.
Legal and taxation: Comply with ecommerce-related laws and regulations, including taxation and intellectual property rights.
Trends and innovation: Stay updated on emerging trends and innovative technologies in ecommerce, such as artificial intelligence (AI), augmented reality (AR), and voice commerce.
Mastering these topics will equip you with the knowledge and skills needed to excel in the competitive world of ecommerce.
What are the best ways to study and understand ecommerce?
When it comes to learning ecommerce, just like with furthering your knowledge of any subject, there's no one-size-fits-all solution that suits every learner. A good strategy is to explore the various methods out there to determine what works best for you. You'll likely find that availing of multiple tactics is beneficial, allowing you to avail of a wide range of sources and perspectives.
To help you start off on the right track, here are some of the best ways to study and understand ecommerce today.
1. Check out reputable ecommerce blogs
Checking out reputable ecommerce blogs is a valuable strategy to improve your online sales strategy for several compelling reasons. To start, ecommerce blogs provide up-to-date information on industry trends, consumer behavior, and market dynamics. Staying informed is crucial to making informed decisions for your online store.
What's more, these sites often feature articles authored by experts in the field. You can gain insights and tips from professionals who have successfully navigated the ecommerce landscape. Many blogs also share real-world case studies of ecommerce businesses, showcasing what works and what doesn't. These examples offer practical lessons and inspiration.
In addition, trustworthy blogs highlight best practices in various aspects of ecommerce, from website design and user experience to digital marketing and customer service. They can also help you to stay up to date with the latest technology solutions, covering updates in ecommerce platforms, tools, and software.
If you're wondering where to start, feel free to explore the rest of WiziShop's Ecommerce Blog, where you'll find an excellent variety of articles regarding online sales and how to improve your chances of success in this field. All kinds of tips, guidance, and inspiration await you!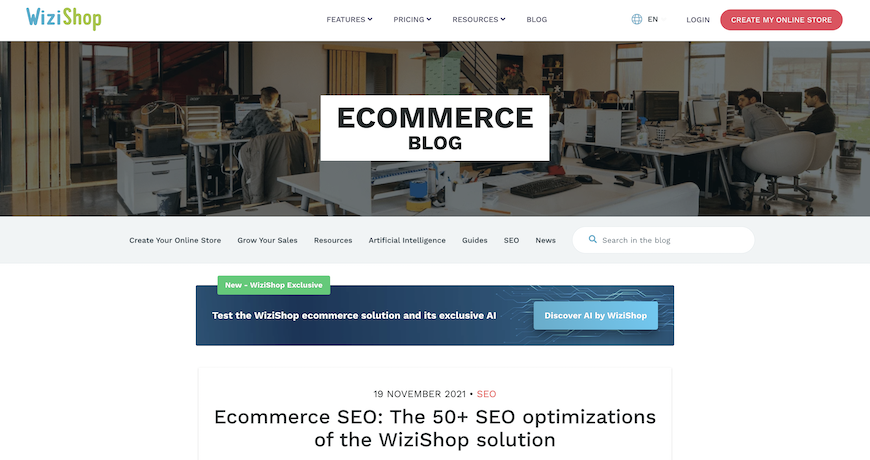 2. Sign up for ecommerce online courses
Signing up for ecommerce online courses offered by platforms like Udemy, Google, Skillshare, Coursera, LinkedIn, Hubspot, and other sites offers numerous enticing benefits for individuals looking to learn and excel in the field.
Online courses provide a structured curriculum that covers various aspects of ecommerce, from the fundamentals to advanced topics, ensuring a comprehensive understanding. Many of these courses are designed and led by industry experts who share their knowledge, experiences, and best practices, offering valuable insights and guidance.
In addition, some classes include practical exercises, projects, or simulations that allow you to apply what you've learned in real-world scenarios, enhancing your skills in ecommerce.
For aspiring ecommerce entrepreneurs who value flexibility in their education, enrolling in an online course is advantageous. This is due to the fact that online courses are frequently self-paced, allowing you to learn at your own convenience, making them accessible to people with busy schedules.
Furthermore, these classes often foster a community of learners where you can connect with peers, share experiences, and even collaborate on projects. There's also the benefit that completing an ecommerce course often results in a recognized certificate, which can boost your credibility and enhance your resume.
When considering an ecommerce online course, be sure to verify the instructor's experience and credibility in the ecommerce field. While they don't need to be famous or particularly well known, their background should indicate why they're qualified to teach a specific class. You can also read reviews and testimonials to gauge the course's effectiveness and relevance.
In addition, you might want to check to see if the course supplies access to forums, peer interaction, and instructor support, which are all quite valuable when it comes to e-learning. The course's cost, duration, and flexibility to fit your schedule are all important to evaluate as well.
Whether you're looking to learn more about Google Ads, email marketing, business management, Facebook Ads, SEO, content creation, etc., you're bound to find a course that matches your needs!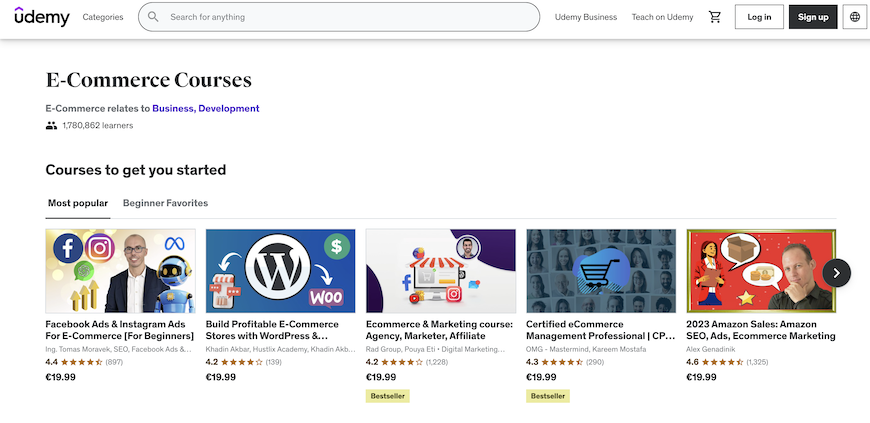 Examples of ecommerce courses available on Udemy
3. Listen to ecommerce podcasts
If you prefer to learn in a more auditory fashion, listening to ecommerce podcasts can be a valuable and convenient way to expand your knowledge on the go, while commuting, exercising, or doing household chores, for example.
Podcasts such as eCommerceFuel, My Wife Quit Her Job, and Ecommerce Influence offer a wealth of valuable information, inspiration, and practical advice in an easily digestible and convenient format, making them an excellent resource for anyone looking to learn and thrive in the ecommerce space.
This form of content often features industry experts, successful entrepreneurs, and thought leaders who share their experiences, strategies, and valuable insights. Listening to podcasts can help you learn from the best in the field!
In addition, podcasts frequently include case studies and success stories, giving you practical examples of what works and what doesn't in online sales. Podcasts can also keep you up to date with the latest trends, technologies, and market shifts, helping you stay competitive in a rapidly evolving industry.
Another advantage of listening to podcasts is that they often feature a range of guests with diverse backgrounds and experiences, providing well-rounded insights into various facets of ecommerce. Hearing about the journeys of successful ecommerce entrepreneurs can inspire and motivate you to pursue your own business goals.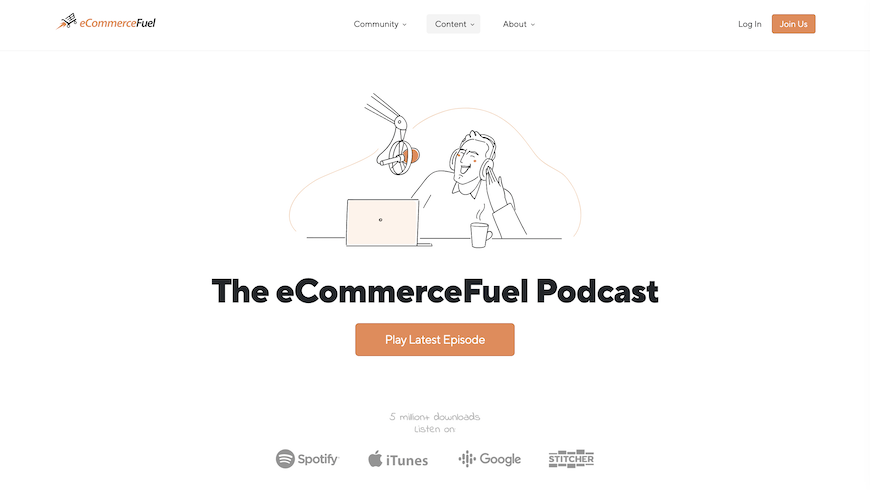 4. Go to ecommerce conferences
Learning about ecommerce doesn't have to just take place online. You can also attend ecommerce conferences like Retail's Big Show to enhance your knowledge and skills in the field.
Conferences feature keynote speakers, panel discussions, and workshops led by industry leaders who share their expertise, offering valuable insights into current trends, best practices, and emerging technologies.
Ecommerce conferences bring together industry professionals, experts, and fellow entrepreneurs. Networking at these events can lead to valuable connections, collaborations, and partnerships. Interacting with like-minded individuals and hearing success stories can inspire and motivate you to take your ecommerce business to the next level.
Furthermore, conferences offer a great opportunity to gain exposure to new ideas, as they often showcase cutting-edge technologies, innovative strategies, and fresh ideas that can inspire and inform your own endeavors pertaining to selling on the web.
Similar to online courses, many ecommerce conferences include interactive sessions and hands-on workshops that provide practical, real-world experience in areas such as digital marketing, website optimization, and customer engagement.
You can also gain valuable market intelligence by attending sessions focused on consumer behavior, market research, and competitive analysis, helping you make data-driven decisions.
5. Read ecommerce books
Reading ecommerce books is another great method for gaining in-depth knowledge and expertise in selling on the internet. They often provide comprehensive coverage of various aspects, from setting up an online store to marketing, customer service, and logistics.
This depth of information ensures a well-rounded understanding, regardless of if you wish to gain inspiration from ecommerce giant Amazon (The Everything Store: Jeff Bezos and the Age of Amazon by Brad Stone), strengthen your SEO strategy (The Ultimate SEO Ebook for Ecommerce by WiziShop), or discover tips on how to maximize your sales (Get Rich Click! by Marc Ostrofsky).
Ecommerce authors, often experts in the field, share their extensive knowledge and insights, offering readers practical advice, case studies, and real-world examples, distilling years of experience into works that can be consumed in just a few hours.
Whether ebooks or physical books, they can serve as reference materials, offering quick access to information, strategies, and best practices whenever you encounter challenges or need guidance.
In addition, ecommerce books supply a structured learning experience, allowing you to progress at your own pace and revisit topics as needed, making them suitable for both beginners and experienced entrepreneurs. They're also a cost-effective way to acquire valuable knowledge compared to formal courses or seminars, making them accessible to a wide range of learners.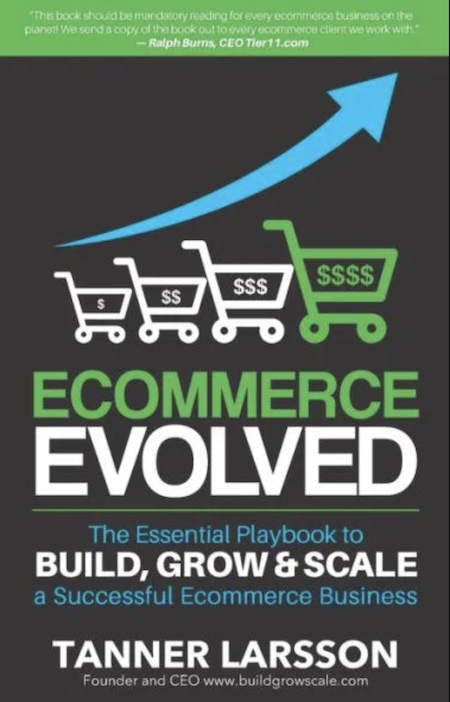 Ecommerce Evolved by Tanner Larsson
6. Attend ecommerce webinars
A webinar is a live, online seminar or presentation conducted over the internet, typically featuring a speaker or multiple speakers delivering information, insights, or training to a remote audience. Webinars are ever-popular when it comes to e-learning, and this is no less true for boosting your ecommerce knowledge.
Often led by industry experts who share their expertise, experiences, and up-to-date insights, webinars provide important information that can accelerate your learning. Furthermore, many webinars include Q&A sessions, discussions, and live demonstrations, offering an interactive learning experience where you can clarify doubts and seek specific advice.
When deciding what webinars to attend, look for options that align with your specific learning goals and areas of interest within ecommerce. Confirm the webinar's date and time to ensure it fits your schedule and that recordings or materials will be available if you can't attend live.
Be sure to check the credentials and expertise of the webinar hosts or speakers to ensure they are reputable and knowledgeable in the field. You might also want to seek recommendations from peers or read reviews to gauge the quality of past webinars hosted by the same organization or individuals.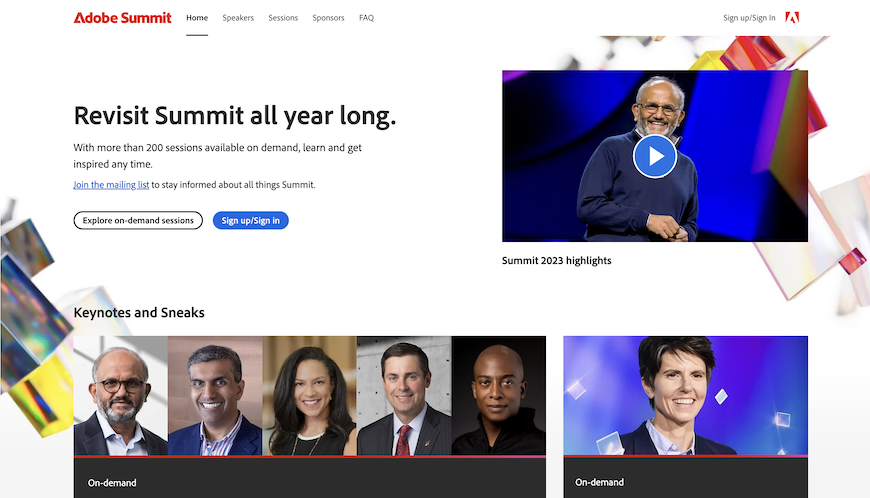 Example of an ecommerce webinar: Adobe Summit - Digital Experience Conference
7. Follow ecommerce accounts on social media
Following ecommerce accounts on social media networks like Facebook, Instagram, TikTok, X (formerly Twitter), and YouTube can significantly enhance your understanding of selling on the internet due to several key benefits. These accounts frequently share real-time updates on industry trends, news, and innovations, helping you stay up to date in this rapidly evolving field.
Posts from your favorite industry experts and successful ecommerce entrepreneurs, such as Sarah Huguet (@socialandstuff) Chase Dimond (@ecomchasedimond), and Ryan Kondolay (@kondolay) can offer insights, tips, and best practices that you can incorporate into your own strategies. Ecommerce accounts may showcase success stories and case studies, illustrating practical examples of effective ecommerce techniques and tactics. Following these accounts can also help you to discover a wealth of educational resources in the form of articles, reports, webinars, and ebooks.
In addition, social media offers a great opportunity for community engagement and networking. Engaging with these accounts and participating in discussions, you can connect with a community of like-minded individuals, ask questions, and learn from others' experiences. Networking with professionals in the field can help to open doors to collaboration and valuable connections.
8. Connect with others on ecommerce forums
Ecommerce forums such as those found on Reddit and other platforms create a supportive and informative community that fosters learning, problem-solving, and networking, making them treasured resources for both novice and seasoned ecommerce practitioners.
These forums serve as knowledge hubs where experienced entrepreneurs and beginners exchange insights, strategies, and advice, allowing you to tap into a wealth of collective wisdom.
Just like with social media networks, forums make it easy for you to engage in discussions and form connections with fellow ecommerce enthusiasts. This in turn can lead to valuable collaborations, partnerships, and networking opportunities that can benefit your business.
Ecommerce forums are rich sources of real-world experiences and case studies, providing practical examples of what has worked and what hasn't for others in the industry. When you encounter challenges or obstacles in your ecommerce journey, forums provide a platform to seek solutions and gain multiple perspectives on how to address specific issues.
Remember that ecommerce is a dynamic field. Forums offer a way to stay updated on industry news, best practices, and evolving strategies, promoting continuous learning and improvement.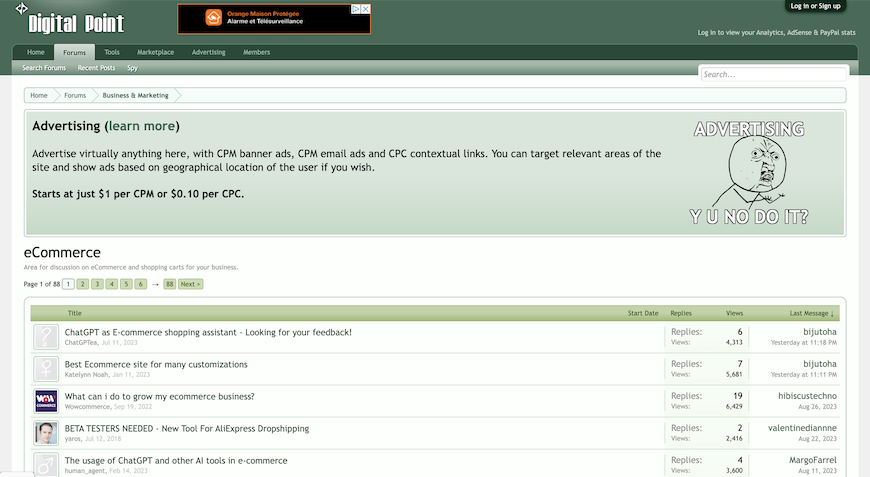 Source: Digital Point Ecommerce Forum
9. Build your own ecommerce website
Sometimes the best method to boost your knowledge on a topic is real-world experience!
Creating your own online store is a hands-on and practical way to learn ecommerce. It allows you to apply theoretical knowledge to real-world scenarios, gaining firsthand experience in areas like product selection, website design, payment processing, marketing, and customer service.
You'll encounter challenges and make decisions that deepen your understanding of ecommerce intricacies. This experiential learning approach provides valuable insights, helping you grasp the complexities of running a successful online business while honing your skills and problem-solving abilities.
Having your ecommerce website empowers you with the potential for long-term success in the digital marketplace, as it provides multiple advantages:
With your own website, you'll have much more control over your brand, products, and customer experience.
This means that you can choose which products you offer for sale and decide how to price them. You'll also be able to tailor your website's design and features to align with your unique business needs and vision. In addition, you can more easily create a strong online presence and brand identity, enhancing people's trust and recognition of your brand.
When you start an ecommerce business, you may envision it to look a certain way now, but this vision is likely to change over time, for example as you transform your venture from a side hustle into a full-time gig. Having your own ecommerce site will allow you to adapt and scale your website according to your business's growth and changing market trends.
Selling products on your own site makes it possible for you to keep a higher portion of your profits compared to selling on third-party platforms. By taking away the "middleman" so to speak, you'll be able to enjoy direct access to customers, eliminating fees and restrictions commonly found on third-party marketplaces like Amazon and Etsy.
Opportunities to strengthen customer relationships
When you create your own online store, you'll be free to create a communication strategy that best suits your target market. Build lasting relationships with your customers through direct communication and loyalty programs that reward shoppers for choosing to purchase products from your brand.
With your own ecommerce site in hand, you can gather a wealth of customer and web traffic data. You can then utilize these analytics to make data-driven decisions and optimize your ecommerce operations, enabling you to enhance the shopping experience for improved outcomes.
If you do decide to create your own web shop, you'll want to be sure to select a stellar ecommerce platform. With the WiziShop all-in-one solution, you'll have everything you need to succeed in online sales, including free ecommerce training on a wide range of topics related to selling on the web to assist you in obtaining the knowledge and necessary skills for your venture to flourish. What's more, our Business Coaches, a team of online-selling experts, are available to answer any question you have concerning your store.
From your back office on the WiziShop platform, you'll be able to quickly build an ecommerce site that suits the vision you have for your brand, choosing from an array of design templates and using our easy drag-and-drop system of WiziBlocks!
You'll also benefit from more than 400 pre-integrated tools built to increase your conversion rate from the moment you sign up on the platform. In addition, WiziShop takes care of all the technical SEO aspects of your site for you, with over 50 SEO optimizations on hand.
Finally, thanks to WiziShop's powerful AI feature, you won't have to worry about spending loads of hours per week on writing text content for your site. Generate translations, blog articles, product descriptions, titles, meta descriptions, and more in mere seconds!
Take the first step and test the solution for free for 15 days. Find out why WiziShop is the perfect solution for your future business!
Create your online store - 15-day free trial
Ecommerce education and training: An ongoing adventure!
When it comes to becoming a successful ecommerce entrepreneur, knowledge is your most potent ally.
Fortunately, it's evident that the digital marketplace is teeming with opportunities for those who embrace the journey of continuous learning.
From understanding the fundamentals of online retail to mastering advanced strategies, the path to ecommerce success demands a commitment to staying informed, adapting to change, and fostering innovation.
As you embark on your ecommerce venture, remember that education is an ongoing process. Stay curious, seek insights from industry experts, and be prepared to evolve with the ever-shifting landscape. With dedication and a thirst for knowledge, your ecommerce aspirations can become a thriving reality!