You've probably already thought of offering your products on YouTube. This social network is a real gold mine for your visibility, with more than 1 billion active users each month in the world. Based on videos, the platform born in 2005 is central for brand awareness and to gain visibility.
YouTube allows you to create your own video channel in the format of your choice. Thanks to this content, you'll be able to attract subscribers who can be transformed into customers.
If you want to get started with YouTube, you've come to the right place. In this article, we'll give you some tips on how to succeed in selling on YouTube in order to build your marketing strategy with a winning lever.
How can I sell my products through my online videos?
YouTube statistics are clear: the network is a gold mine for brands. Many levers exist on YouTube to give visibility to your products easily. At first, it'll be up to your own content to highlight your own products from your online store.
Here are some ideas for YouTube videos trends to be able to reach the sales objectives on your website.
T-shirts, decorative items, or services: tutorials are popular
The first, simplest, and most effective idea to feed your YouTube channel with high-potential videos is the tutorial video.
Perfect for promoting all kinds of online business ideas, these videos allow you to present a product or a service through its functioning and its appreciation either by a YouTuber or by the person who markets the product.
Through this type of content, subscribers can appreciate the "real" quality of the product or discover tips on how to use it in an optimal way.
For example, if you sell painting products like paintbrushes, your tutorial video could have several interests: show the size and quality of the brushes by zooming in on the details of the products but also use these brushes in action by showing how to use them in an optimal way by filming an artist painting in various ways with these products.
If you sell an online service for example, you can imagine proposing videos showing the functioning of your services, the functionalities of your solution with a concrete case in order to invite internet users to subscribe to your service that is very easy to use!
You'll likely have understood that tutorials are a good way to create quality videos without having to deploy financial and creative means that are too restrictive while making your product "attractive" and "unique!"
Vlogs for your brand image on the internet
"Vlog" is a combination of the words "blog" and "video." Thus, vlogs are often treated as an immersion in the daily life of YouTubers or brands.
These videos, very popular on marketing YouTube channels, will be able to provide information about your company, like an "About us" page on a website but in a more entertaining way.
Through this immersive content, your subscribers will be able to see your caring, transparent nature. You might want to create videos inside your factories, meeting your employees, or simply filming your typical day as an entrepreneur.
For internet users who don't know you yet, vlog content is very appreciated because it allows you to gain consumers' trust while boosting your brand image.
Of course, these aren't videos that will get billions of views, unless you manage to invite a big-name YouTube celebrity...
Nevertheless, this content will serve several purposes: in terms of SEO, when the user types "who is [your brand name]" on Google, your video will certainly come up at the top of the Google SERP if you've well optimized the title of the video as well as its description.
Then, you'll be able to add this content on your website, on your homepage, and/or on your "About us" page.
Finally, you'll be able to use these videos on your other social networks to create cross-channel content and trigger sales thanks to this gain in visibility!
An unboxing to create engagement
YouTube subscribers love videos that spark their curiosity. And nothing compares to unboxing videos, those YouTube videos showing a person unpacking the contents of a box filled with different products. These are also great ways to sell on Instagram in particular.
These "unboxing" videos are ideal to present the extent of your catalog in a few minutes. It's best to thematize the contents of the boxes, so group products that could be purchased together or those with complementary uses before filming.
If you sell women's ready-to-wear clothing, why not imagine an unboxing around your winter accessories published the day the sales start for example?
All your unboxing videos can be organized in a dedicated playlist, and this playlist can present the greatest number of your products as possible, like an interactive video catalog!
Don't forget to add the links of your product pages in the description of your videos so that the viewers can access your products in one click.
Live videos to build customer loyalty
Live videos are a good way to build customer loyalty. Why?
Because it's possible for your subscribers and loyal customers to exchange with you in real time, directly on your YouTube channel. This approach makes your company more human and your subscribers can ask all their questions in the comment space of the video.
During the live video, you'll be able to exchange with your viewers but also to present your products live, like during your tutorials for example.
By adding the links to the items presented during the live at the bottom of your videos, customers will have a direct link to your ecommerce site while viewing your online demonstration. You can also use this lever to sell on Facebook for instance.
Less manipulations, less clicks for a more easily converted audience: this is what this format will bring to your marketing strategy for more sales opportunities.
Advertising on YouTube
Once you've targeted your audience, you can easily create content that appeals to those future fans by running advertising campaigns on YouTube.
These ads come in a variety of forms: skippable ads called YouTube TrueView, non-skippable ads, Bumper Ads, Sponsored Cards, Overlay Ads, and Display Ads.
YouTube TrueView Skippable ads
This is the main format for YouTube ads: 8 out of 10 users prefer this type of ad over other YouTube formats. It's the ad that appears before the video that the user has chosen to watch but that can be ignored after a few seconds.
The link to the ad's brand website is displayed directly on the viewing area. In addition, the video ad is accompanied by an insert on the right menu to accompany the video, even if it's been skipped.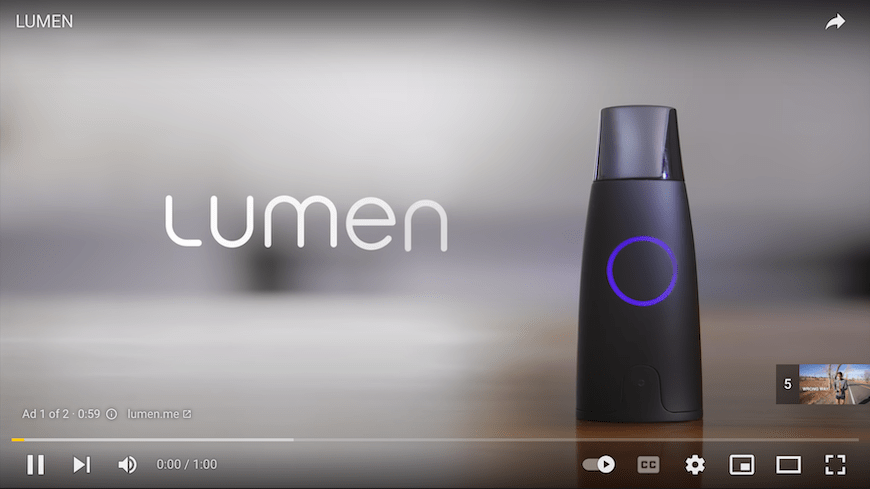 TrueView ads are also available in "Discovery" format: a text banner is displayed in the platform's search results.
This format is ideal for the financial investment it generates: advertisers only pay when their ad is seen by the internet user in its entirety. This way, you are sure to pay only for qualified audiences.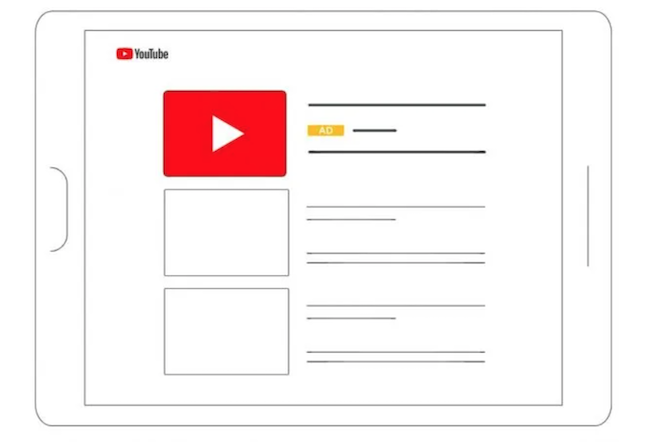 These ads are video ads that run before the user's desired video, except that these videos cannot be skipped.
Because these ads aren't popular with users, these ads are limited to 20 seconds, as YouTube has removed the ability to offer 30-second videos.
These videos can also be played in the middle of a video chosen by the user. These ads are billed on a CPM or "cost per mille" basis, which means "cost per thousand" ("mille" is French for "thousand"): the advertiser is billed for every 1,000 views of its ad, which means that it's necessary for the advertiser to determine their target beforehand.
These ads correspond to video ads of less than 6 seconds that are displayed before the YouTube video and impossible to skip. Advertisers pay for these ads on a CPM basis.
This format is ideal for branding: because of the very short duration of these videos, the best plan of action for the marketer will be to focus their ad around their brand name and its DNA to make the user want to visit the website, in just a few seconds.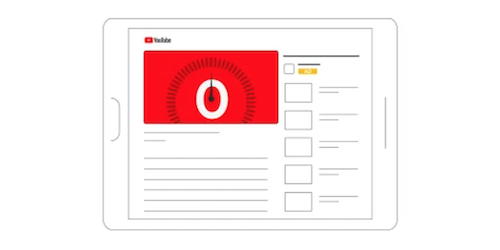 Sponsored cards are another format found on YouTube. More discreet, the cards are on the right side of the videos, in the form of a round icon with an "i" inside. When you move the mouse over it, the cards are displayed and you can see the advertisement in a larger size.
YouTube sponsored cards show either other YouTube videos or products via Google Shopping, so it's an ideal format for ecommerce.
YouTube InVideo Overlay ads have a simple format: they're banners that are displayed at the bottom of the video that's being viewed by the user.
They can be either textual or feature offers through visuals created by the advertiser.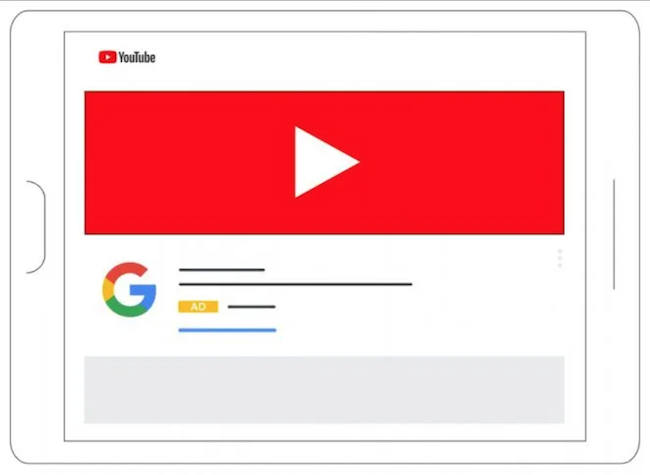 Display ads or standard YouTube graphics are the simplest format on the platform.
This format has been around for a very long time: it allows the advertiser to integrate an image related to the brand directly on YouTube pages, above the videos and suggestions on the right-hand side of the user's screen.
Ideal for merchants, it's possible to highlight a special offer or current promotions on an ecommerce site. This format offers several ad sizes to suit all connected devices.

Your content = your priority
Beyond getting the most publicity possible, the key is to think about your content first. The more qualitative it is, the more it shows elements of your products, the more creative you are, and the more you show your unique signature, the more likely you are to perform well on YouTube.
YouTube algorithms are becoming increasingly demanding and so are the users. For your brand to stand out, several values will have to come out of your video content: first of all, you'll need to remain authentic and true to who you are. Internet users are looking for transparency and sincerity from brands. That's why it'll be more appreciated by your subscribers if you show the true face of your company.
In addition, even if your competitors' content is good, your subscribers will expect your YouTube channel to offer videos that look like you. Your products are not the same as others' products: prove it by revealing all the facets of your catalog through fresh and innovative formats!
You can call on external agencies to create video content if you don't feel like a professional videographer. More and more companies of this type are emerging. It's very easy to hire pros who can meet all your branding requirements.
When it comes to advertising on YouTube, the observation is the same: before monetizing your videos to reach other audiences or to increase the views of your channel, you'll have to make qualitative content to be sure to touch the heart of your potential customers.
Just like any other channel you use to promote your ecommerce business, such as selling on Pinterest, when creating content on YouTube, it's better to think quality rather than quantity!
How do you create a YouTube store?
YouTube has launched YouTube Shopping. This service is basically designed for all the merchandising around music artists in particular.
If you're lucky enough to meet the requirements of YouTube, then follow the guide to create your store on the platform!
Requirements to create a YouTube store
Is my channel eligible? The requirements to create a channel on YouTube are the following:
Y

ou're entitled to

monetize your YouTube channel

You're located in a country participating in the

YouTube Partner Program

Your channel has

at least 10,000 subscribers

You

don't offer content for children

Your channel

doesn't have a large number of videos that disrespect the YouTube monetization conditions
You've never received a warning

for not respecting the rules concerning incitement to hatred.
These strict rules will then allow you to sell your products on YouTube, a boon that few merchants have access to.
Steps to start selling on YouTube Shopping
Activate the merchandising setting of your channel
In YouTube Studio, within the Monetization tab, click on the Merchandising section to link your official store to your YouTube channel. Follow the instructions and select an authorized YouTube reseller.
There are many solutions approved by the platform. As the products sold on the platform are often linked to artists, the authorized resellers are mainly focused on merchandising and goodies such as posters, smartphone cases, books, or mugs for example.
Resellers set their own prices: it's then up to you to adapt to your competition on YouTube and to your suppliers.
Once these steps have been completed, you're ready to create a YouTube store. Your subscribers will be able to see up to 12 products within your store. The order of display is set by default according to the popularity of the suppliers' products. However, you can change the order of your products as you wish on your channel or on a particular video.
To manage this merchandising part, connect to your YouTube Studio still in Monetization and then Merchandising, where you can organize your 12 products before saving your selection.
Other sections of your YouTube channel will be able to display your YouTube Shopping catalog.
This is the case for the store tab, which will be automatically activated when you publish your products. A real catalog on YouTube, this tab allows you to view all the items you offer for sale. It's an ideal section to redirect your subscribers in your video descriptions.
You'll also be able to display your products during a live showing: an actual live shopping area, your selected products can be displayed during your live presentation so that your viewers can click directly on your items for sale and buy them in a few clicks.
For your standard videos, you'll be able to highlight products at the end of them by configuring your YouTube studio.
Simply add a screen at the end of the video that will showcase manually selected items from your catalog.
YouTube Shopping is also a sales analysis space: you'll be able to follow the movements of your YouTube store in almost real time in order to adjust, modify, and manage your sales space in the best possible way and boost your sales!
Another alternative: create Google Shopping ads
YouTube is the video platform that's part of the Google ecosystem. Therefore, it's possible to create Shopping ads from Google Ads and display them on YouTube.
This allows you to highlight your items from your product feed configured from your online store. These ads are designed for ecommerce: product photos as well as prices and the most important features are displayed in dedicated tabs. The user thus has access to an optimized shopping interface directly on Google platforms.
In order to set up your ads on YouTube, you'll need to log in to your Google Ads account before creating a new video campaign. Then, select the Shopping campaign subtype and the associated Merchant Center account to bring up the products you want to highlight in this campaign.
In advance, you'll need to import your product feed from your online store to your Google Shopping account.
With the WiziShop ecommerce solution, all these steps will be simplified: WiziShop is officially a Google Partner. Configure your Google Ads, and in a few clicks, it'll be possible to import your product feed into your Google Ads account in order to quickly carry out all your campaigns.
As you can see, selling your products on YouTube is a strength for your ecommerce business. You'll be able to reach thousands of potential customers, helped by the platform's ultra powerful algorithms.
YouTube is a marketing weapon that must be taken into account in this content creation strategy. To help you gain visibility, advertisements are a great way to reach new targets and to establish your brand image in your sector.
WiziShop and Google will help you to promote your products to the most qualified audience. Test WiziShop for free for 15 days and create your Google account with to start selling on YouTube right away!
Create your online store - 15-day free trial