Are you hooked on Project Runway? Do you have notebooks filled with sketches of garments that you dream of seeing in your favorite stores' windows or selling on your own ecommerce website to people everywhere?
If you're obsessed with style, have a strong desire to create, and possess an entrepreneurial spirit, fashion design may very well be your calling.
When it comes to the fashion industry, it can sometimes seem a bit like the Wild West out there. What works to make one designer successful may do absolutely nothing to help another.
However, every fashion-designing icon was a beginner at some point, and there are certain steps you can take to increase your chances of achieving success as you carve your own path in the industry.
This detailed step-by-step guide provides helpful information and tips on how to start a clothing line and get your business up and running!
1. Develop your skills in fashion design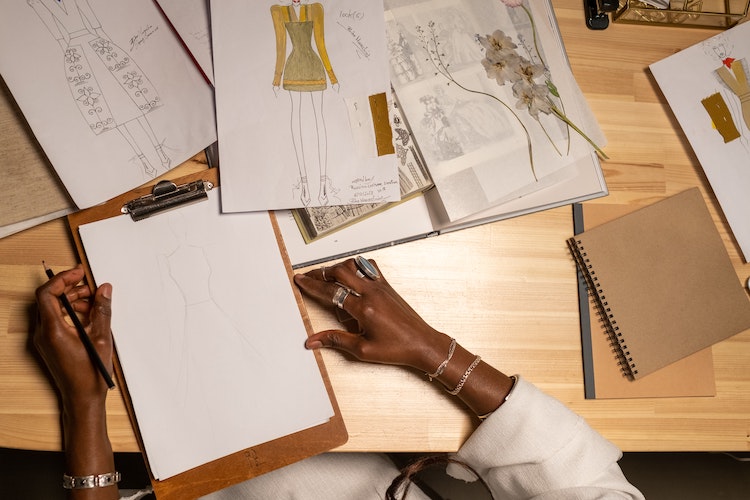 The fashion industry is competitive—there's no denying it!
Give yourself the best chance of success by ensuring that your skills are top notch. Successful designers generally have quite a varied skill set that they've honed over several years, but the exact abilities that you should focus on will depend on your chosen niche.
Nevertheless, here are several skills in which you'll likely need to have a reasonable level of adeptness:
Sewing

: You need to be able to construct high-quality garments in a professional and efficient way.

Creativity

: It's important to be able to think outside the box when it comes to fashion. You want your clothing line to be unique and stand out from the competition.

Knowledge of fashion trends:

As trends are constantly changing, a print that's in demand one month may not be so popular the next. Staying on top of them and understanding which ones are in line with your brand are key!

Sketching:

Whether you're drawing on paper or creating your sketches on a device such as an iPad, you should be able to convey your artistic vision clearly.

Problem solving:

Things can get pretty hectic in the world of fashion design, and things don't always go as planned. Knowing how to react and adapt accordingly can be very helpful.

Communication:

From giving instructions to the people on your team to creating your marketing messages and knowing how to talk to customers, it's essential to be able to communicate clearly and with all kinds of people.

Technology:

Today, fashion design involves more than sketching designs on paper and sewing garments. Understanding graphic design and computer-aided design (CAD) programs as well as social media can help you take your clothing line to the next level.

Business:

Good business sense is crucial for every entrepreneur, regardless of industry. While you don't need an advanced degree in finance or accounting, knowing how to stay in budget and market your brand's designs are required.
Universities, colleges, and institutes offer programs for fashion design all over the world. However, these can be expensive and are neither a guarantee nor a necessity for success.
If you are hoping to improve your skills but are limited in time and/or funds, you might alternatively look for part-time courses or classes that you can attend online. You can even head to YouTube and find training or how-to videos to help you develop your abilities further.
2. Check out fashion trends and identify your niche in the market
As mentioned above, keeping an eye on fashion trends is important when it comes to being a successful fashion designer. This is true whether you're a newbie or a veteran in the biz!
When you're just starting out, take a look at what's going on in fashion today. Is there something you love about a current trend but want to give your own spin on? Do you see products missing in the market that you'd enjoy creating for people?
Keep in mind that while it's essential to be up to date with fashion trends, you'll also need to have decent intuition as to which trends are fleeting and which are bound to stick around for a while. Furthermore, it's important to be able to determine if a trend is a good fit for your brand.
By learning about fashion, developing your skills, examining the current trends, and drawing inspiration from anything that awakens your creativity (films, current events, your community, friends, art, music, etc.), you'll be well on your way to discovering what you're good at and what niche you can fill with the creation of your clothing line.
Although it's a good idea to maintain consistency as you build your brand, you also want to be able to adapt to changes in the industry or the market's needs quickly.
3. Perform research to learn about your target market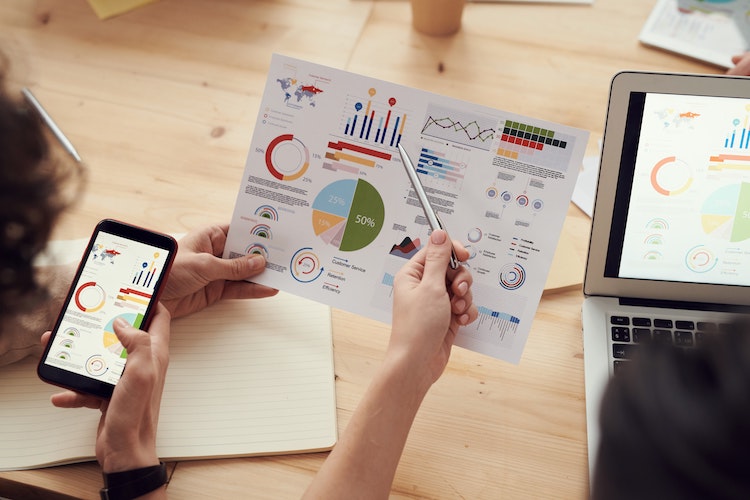 Once you decide on a business idea, it's time to dig a little deeper into your research to determine who your ideal customer, or your buyer persona, is and how you plan to sell to them. After all, even if you have the most creative, high-quality, stunning pieces for your clothing line, it'll do your bank account no good if you don't have anybody who wants to buy them.
Everything from the fabrics you use in your clothing to the marketing channels you choose will depend on your target market, so it's important to have a thorough understanding of this group before you invest in your business.
Fortunately, there are plenty of online resources available these days to help you with your research!
Google Analytics, your favorite fashion blogs, and even social media can all be of great assistance when it comes to researching your target demographics. Consider how your ideal customer spends money, their aesthetic and style preferences, and which social media networks they frequent.
You'll also want to check out your competitors to figure out their strengths and weaknesses and see how you can make your company, brand, and products stand out to customers.
4. Determine how you'll manufacture your garments
As a new entrepreneur in the fashion industry, you may be handling everything on your own, from designing and sewing to marketing, order packing, responding to emails from customers, and more.
One of the tasks that's likely to require a significant amount of time is the production and manufacturing of the items that your company sells. There are numerous ways to approach how you choose to produce and manufacture the garments for your clothing line.
For instance, you might opt to create custom pieces, each designed and handmade by you. This will give you the most control when it comes to product quality, but it's quite a time-intensive undertaking. To lessen some of the burden, you might start out by hiring a few employees to help you at home with the sewing aspect.
Another option is to hire workers to manufacture your garments at a production facility that you own or rent. As your business and budget grow, you may find that you prefer to outsource the manufacturing labor to a factory that's still in your local area or even have your entire clothing line produced overseas.
Consider that for many consumers, locally made goods are becoming increasingly popular. In addition, today's shoppers are taking an even greater interest in sustainability and whether brands employ sustainable and responsible practices. This can involve the manufacturers with whom they work, the people they hire, the shipping materials and process they use for every order, and much more.
If you choose a manufacturer based simply on the fact that their costs are lower to produce items for your business, you may find that this decision ends up being more expensive than you'd planned.
This might occur, for example, if after your launch, you discover that the manufacturer is starting to engage in less-than-stellar business practices and your brand's reputation takes a hit. The costs to rebuild customer trust and save your business may quickly surpass any savings you enjoyed in manufacturing.
5. Create your business plan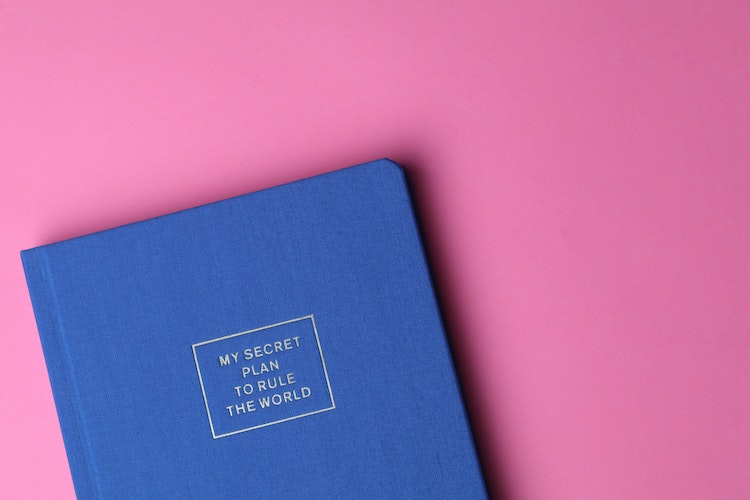 Developing the business plan for your clothing company will probably take some time, but it's worth the effort. It can help you to be taken more seriously by investors or buyers, secure financing, and serve as a roadmap for your business to keep you on track for success.
So what should you include in your business plan?
First, describe your business model, structure, and brand; what kinds of clothing you plan to produce and sell; and your goals for your company. Are you planning to sell your garments online yourself or pitch your line to big-name companies to sell in store?
Be sure to also add an analysis of the current market and talk about what you'll bring to the table that can help your brand and your products stand out as well as what you can do to improve upon your competitors' efforts.
Next, explain your target market and the various marketing strategies you plan on using to attract your ideal customer. Will you start off with paid advertising right away or focus more on organic marketing?
Don't forget to detail how you plan on funding your clothing line to get it up and running. As you determine your budget, consider one-time costs along with recurring expenses, both big and small. If you're hoping to obtain financing from an outside source, such as the bank, be sure to state this too.
6. Register your business
Once you have a general idea of how you want your business to function, it's important to register it as soon as possible.
It's a good idea to complete this step before beginning any major production efforts for your clothing line or working on your brand's marketing strategy…imagine finding out that your perfect business name is already taken after already securing social media accounts with that handle and posting tons of content!
The specific regulations for registering your business and the cost of doing so will depend on your country and/or region, but general things to consider include the following:
Business entity type

: Are the sole owner of your business or do you havve other partners invested as well? Though you can change this later, take the time to select the entity that's correct for your current situation, as it usually affects how much you'll pay in taxes.

Business licenses and permits

: The requirements here can widely vary based on your location and if you operate your business from or an office, but it's critical that you obtain any necessary documents before you launch so as to avoid getting hit by fines.

Employee identification number

: You may need to obtain this to register and pay business taxes. Note that this number might have a different name depending on where you live.

Business name

: Your country or region may not require you to register your business with the local government, but it's helpful to do so to prevent copyright issues down the road.
7. Build your brand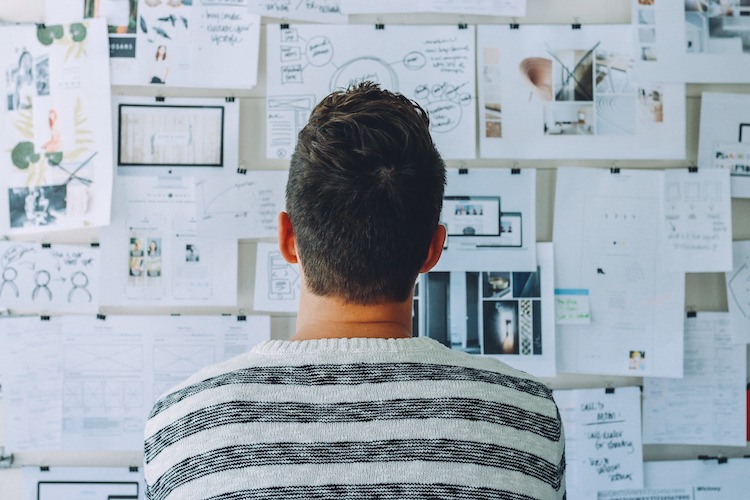 Building your brand involves discovering what's important to you as a business, sharing your story, and determining your mission and values.
The guidelines that you create for your brand will help you with all the decisions you make for your clothing line, everything from what materials you use for your garments to the design of your website, your messages on social media, and the attributes you look for in potential new employees and business partners.
It's a good idea to decide how you want your brand to look early on so that you can be consistent in your decisions and messaging. This in turn will help to increase consumer trust in your business.
Remember that your brand doesn't need to stay the exact same forever. As your goals for your business change, your brand is likely to evolve over time.
8. Create your logo and profiles on social media
The next step involves crafting how you're going to present your clothing line to people all around the world and getting started with some early marketing actions.
First, you'll need to design a logo for your business. A good logo should clearly convey the values of your brand and be attractive to your target market, simple, and memorable. It can help to have a decent understanding of color theory as you start to create your logo, as certain colors are likely to be more aligned with what your brand stands for and your messaging than others.
In addition, even if you aren't ready to start creating social media content for your clothing line, you'll want to secure your desired handles on the various networks as soon as possible after you've decided on a business name.
Note that you don't need to be on every social media platform, but your market research will come in handy here to help you discover which ones your ideal customer is most likely to be on and adapt your strategy accordingly.
9. Design the clothing for your line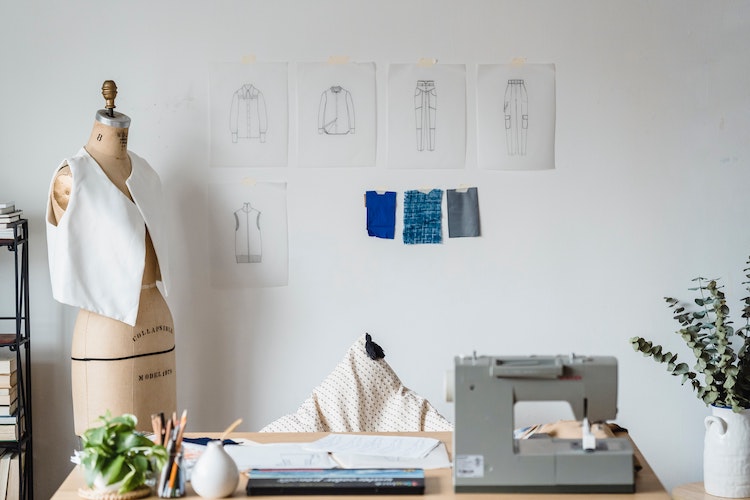 It's time to let your creativity shine and start developing the first collection of your clothing line to release to the market. This is where your research concerning your target market will come in handy and when you'll delve deeper into creating pieces that will attract your ideal customer.
Sketching designs for your first collection may result in the drawing equivalent to writer's block…don't worry—this is completely normal!
Because inspiration can strike anywhere, you may want to carry around a sketchbook if you aren't already doing so. In addition, don't be afraid to start small. What starts out as a silly doodle can turn into an innovative print for a new piece in your clothing line.
It may be helpful for you to create a fashion mood board filled with fabrics, images, and other materials that inspire you or that you'd like to incorporate into your collection.
Whether you craft a physical mood board or design one on Pinterest, feel free to add whatever colors and textures you're drawn to. Even if these components don't make it into your first collection, they might be of use down the road and inspire a print for a future piece of clothing.
Remember that your creativity is essential in this step. If other aspects of launching your business are causing too much stress or taking up too much of your time, you may want to consider outsourcing these other tasks to freelancers or an agency and/or hiring an assistant.
10. Source materials for your clothing line
As you begin to design pieces for your first collection, you'll also need to obtain fabric for your garments. If you're new to the fashion industry, this part may be a bit challenging, as there's no one-size-fits-all solution to sourcing materials. Nevertheless, with time and experience, you'll soon learn a process that works best for you.
After you decide what kinds of fabric you want to utilize, you must then determine how to obtain quality materials, preferably in a cost-effective manner.
There are several different kinds of fabric suppliers you'll come across in your search for materials for your clothing line.
Fabric mills
They create fabrics via various methods (e.g., weaving, knitting, etc.) from raw materials. Although you'll probably get the best prices here, you'll have to be ready to order lots of fabric in one go, as their minimum order quantities (MOQs) tend to be quite high. In addition, as you'll be purchasing raw fabric, you'll still need to get the fabric finished by taking it to a fabric house and/or factory.
Converters
These suppliers purchase raw fabric, what's also known as "greige goods," from mills, dye and finish it, and then make it available for purchase. Fabric bought from converters will be immediately available and won't have as high MOQs as mills. However, there's limited customization with this option, and other brands will have access to the same fabric as you for their designs.
Jobbers
Jobbers buy the leftover fabric from fabric mills and converters and resell it, usually at reduced prices. The MOQs are likely to be quite low with this option, and the fabric will be available immediately. The downsides, though, are that prices will be higher here, and there's a good chance you won't be able to reorder the same fabric once it's sold out.
Fabric agents
They represent numerous fabric suppliers and can serve as a liaison between you and the supplier. As a new designer, you may find the fabric-sourcing process overwhelming. Despite the fact that fabric agents will charge a small fee to help you obtain materials, the extra cost may be worth it in the time they'll save you.
So where do you go to actually purchase materials from these suppliers?
One option is to visit trade shows, where there will often be rows upon rows of materials for you to check out. You may want to go online beforehand to research suppliers and find your favorites.
Another option is to buy fabric from suppliers online. This can be done by heading to different trade shows' websites or the websites of the suppliers' themselves.
You can start by reaching out to any contacts you might already have in the fashion industry. Building your network and nurturing relationships with other designers will assist you not just with sourcing fabric but also with organizing future events and collaborations.
11. Set your pricing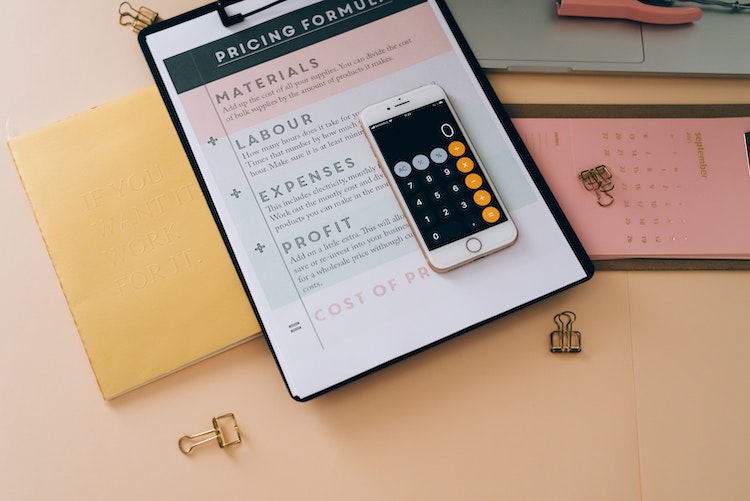 No matter how much you enjoy the creative aspect of starting a clothing line and seeing your designs brought to life, you'll need to earn a profit to keep your business going.
Though you may be itching to calculate potential profits as soon as you decide that you want to start a clothing line, it makes sense to save this step until after you have a better idea of your costs regarding materials, labor, marketing, etc.
The market research that you do will assist you in coming up with a price that your target market will be willing to pay but that will also allow you to earn a profit and grow your business.
Don't stress too much about getting pricing perfect, though—nothing is set in stone and can be easily changed after you launch your clothing line!
12. Establish where you want to sell your clothing line
It's important to determine early on how you'd like to make your garments available for consumers to purchase. You'll either be pitching your clothing line to fashion retailers, selling your pieces yourself, or using a combination of the two methods.
Although you would have already mentioned this in your business plan, it's now time to get into specific details.
If you opt to pitch your designs to fashion retailers, note that there are basically two ways to sell your clothing. There's consignment selling, which involves the retailer keeping your products in stock in their store and you getting paid only after your items sell. There's also wholesale selling, which involves the retailer purchasing a certain number of garments at a price that's less than retail.
Of course, you can also choose to start by selling your garments directly to customers on your own. Keep in mind that creating an ecommerce website for your business will probably require much fewer costs than launching a brick-and-mortar store.
Learn more about launching an online store further down in this article.
13. Obtain funding for your business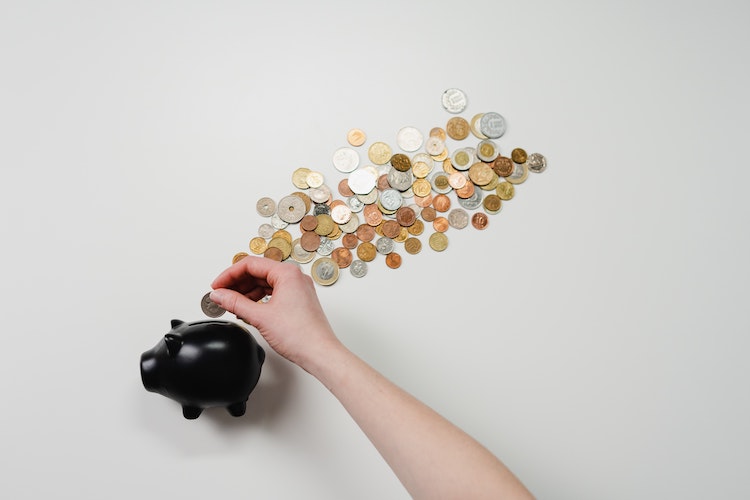 Unfortunately, your clothing line won't be able to run on your brilliant creativity alone! You'll need to secure financing to get your business up and running. There are several options from which to choose when it comes to financing your fashion venture.
Perhaps you've already got a hefty amount of cash set aside in your savings to make your dream of starting your own clothing line a reality. If not, you might be able to loan money from friends and family who are interested in helping you bring your vision to fruition.
Borrowing money from loved ones can get tricky, though, so you may decide that going the bank route and taking out a small-business loan is best for you. However, if you're a new entrepreneur without a lengthy positive financial record to prove your reliability to lenders, this can be a time-consuming and difficult process too.
Another option is to try crowdfunding sources, such as Kickstarter. Although you likely won't be able to finance the start of your business completely with this strategy, it can go a long way when combined with other methods mentioned above.
Finally, after you get your money situation sorted, don't forget to open a business bank account and maybe even get a business credit card. In addition, ensure that you or somebody you trust is able to manage your accounting so that there's a clear line drawn between your business and personal income and expenses.
This is essential not just for the start of your business but months and years into the future!
14. Start planning your collections according to fashion seasons
As you've probably noticed, the fashion industry revolves around the different seasons, often grouping clothing into spring/summer and fall/winter collections. As you start to develop your clothing line, you'll soon find that your work will begin well in advance of the actual launch of a collection.
While the major players in the fashion industry tend to begin many months, even years, in advance of a collection's launch to allow for plenty of research and testing, newer designers usually work a little closer to the deadline.
You might want to consider key dates for important fashion events to help guide you, at least in the beginning. These occur all over the world, but some of the most well known are Paris Fashion Week, Milan Fashion Week, and New York Fashion Week.
Of course, your unique timelines for product development will depend on your goals and the requirements of any wholesalers with whom you work. Nevertheless, if possible, it's best to have your collections ready at least 6 months in advance.
Keep in mind, though, that you can also create garments that are timeless and that can be worn any time of the year, regardless of season. Items like a great pair of jeans, a comfortable cotton tee, or a classic cardigan, for instance, can become staple pieces in your clothing line and be included in your collections for years to come!
15. Create your online store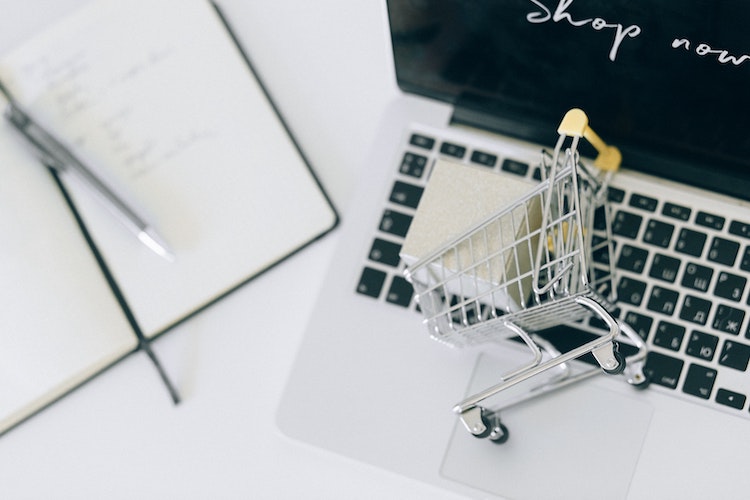 Building your own online store is a great way to take control and start selling your pieces to consumers directly. What's more, your ecommerce website can also serve as a showcase of your work to present to potential investors and wholesale buyers.
Online sales are booming, and there's no limit to how much you can make in ecommerce.
Because starting a clothing line involves a lot of effort, you'll want to be sure to choose an ecommerce platform that's easy to use and makes running your online retail business as simple and efficient as possible. The last thing you need is to be dealing with tech issues on your site while trying to finish packing orders for customers and brainstorming ideas for your next collection.
This is why WiziShop is the perfect ecommerce solution for your new business!
When you create an online store and build your ecommerce website from scratch on our platform, you'll start by choosing from a slew of templates to craft a site design that matches your one-of-a-kind style and brand. After adding your business details, logo, shipping and payment information, and product details and photos, you'll be ready to start selling.
If you're new to the wonderful world of online sales, don't worry! We offer dedicated ecommerce training and a help center to ensure your store's success.
Furthermore, you can chat with our Business Coaches as often as you'd like. This professional team has been trained on a wide range of ecommerce topics to assist you in achieving your goals for your business.
Lastly, the WiziShop platform is very powerful when it comes to SEO. The solution features 50 different SEO optimizations to help your online store reach those coveted positions in Google's rankings.
Tempting, eh?
Try WiziShop for free today, and you'll soon discover all the benefits yourself. Your 15-day free trial comes with no commitment and no hassle. Simply click here to get started!
16. Market your new business
After you start the production and manufacturing of products for your company, you're now ready to develop your marketing strategy. It's the moment to get the word out about your clothing line and begin attracting customers!
Don't have a huge budget at your disposal for marketing purposes? No problem.
Many entrepreneurs begin with free marketing methods until they have a decent amount of revenue coming in and feel comfortable with the cost of venturing into paid-marketing territory.
For example, simply being active on your chosen social networks and connecting with your audience is an excellent way to strengthen your relationship with current and potential customers alike. Learning their preferences for everything from aesthetics to types of content to share will help you to increase engagement as well as site traffic.
If you find that your online store is not selling like you'd originally planned, you might want to start by taking a look at the content you create. Does it offer any real value to the people that you want to turn from site visitors into loyal customers?
Work on sharing high-quality content that aims to help consumers rather than just advertises your business. This can be done both on social media and on a blog that you create on your ecommerce website, always keeping SEO at the forefront of your efforts, of course!
17. Learn from leaders in the fashion industry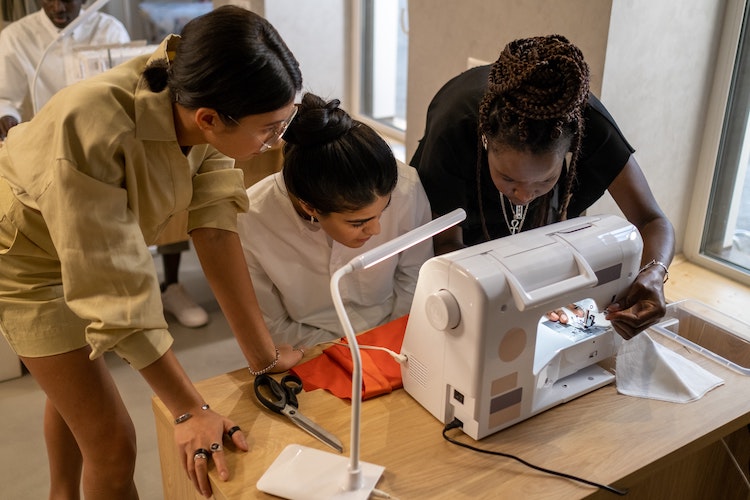 No matter how much passion and creativity you possess, launching a clothing line is likely to come with its fair share of challenges. What's more, the fashion industry is constantly changing, which can sometimes be overwhelming, especially for new designers.
Working with a mentor can help you to learn the ropes of the industry when you're getting started as well as help you to build a network of connections for your business. Whether you opt to talk to a friend who's an experienced designer or pay a consultant, go with somebody who you can trust.
Furthermore, don't hesitate to continue your education through courses taken offline or online or by attending seminars and workshops that will assist in strengthening any potential areas of weakness—be they related to design, marketing, business, whatever!
Starting your own clothing line may not be the easiest career path, but hopefully this guide has inspired you and helped to make the process seem a little less daunting.
Go forth and be bold in sharing your style with the world!