There are many different things for businesses to consider for social media marketing and when establishing and maintaining a presence on Instagram. Brand and product promotion are definitely important, but audience engagement must be a priority here as well.
With the multitude of brands touting their wares on the social media network, how do you make yours stand out?
If you're feeling stuck for ideas regarding what types of content to share, don't worry. Keep reading for a bit of inspiration that's sure to help you liven up your Instagram feed in no time!
1. Product teasers
Build anticipation for a new product that you plan on launching by announcing its arrival on Instagram. Whether it's via your posts or Stories, whet your audience's appetite by giving them a peak of what's to come for your online store.
Add a few juicy details to your post or let your followers' imaginations run wild by sharing a cryptic yet enticing photo that will make current and potential customers alike curious, as recently done by beauty brand Farmacy Beauty when posting a product tease for their new lavender-hued night mask.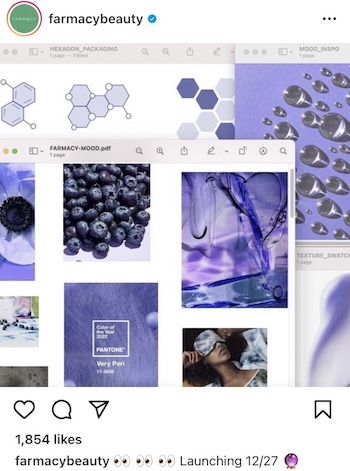 Source: @farmacybeauty
2. Challenges
Participating in a challenge that's currently trending on social media or even creating one of your own can be a great way to connect with your audience on Instagram. Either way, make sure that the challenge makes sense for your brand.
Back in 2014, Burberry participated in the popular Ice Bucket Challenge to promote ALS awareness, giving their version a creative spin. Filmed outside the company's headquarters in London, the video shows the participation of several team members, many who were sporting the brand's classic trench coats.
Please fill in all fields and validate the captcha to send a comment.
Your comment has been successfully registered. Thank you!
The most popular articles
Launch your online store
15-day free trial - No credit card needed - Access all of our features
Your email
is already used
Please login to create the store
Do you already have a WiziShop account? Login