Organizing contests is advantageous to exploit in your ecommerce marketing strategy, especially to boost communication around your ecommerce store. To help you, you can use tools for social media networks.
It's then up to you to establish your contest's mechanics and the rules that your audience will need to follow to be able to participate in the drawing to win gifts or prizes.
Organizing a special offer such as a contest will allow you to set up a loyalty, commitment, and attachment mechanism to your company: a positive marketing strategy that offers the opportunity to name winners every time!
Here are some ideas that'll help you manage the creation of your contest.
Why organize a contest?
The advantages of a brand or company contest
You'll find several advantages to organizing a contest:
c

ommunicate about your store at a lower cost,

make your store or brand known,

create traffic to your online store,

increase your online sales,

boost customer loyalty,

animate your community,

increase your number of followers,

develop follower engagement, and

acquire email contacts for your newsletter.
Be careful: although all these objectives are intertwined with each other (if we acquire emails for our newsletter, it'll necessarily allow us to increase traffic to our store, for example), it's best to define in advance what the main objective you want to achieve is with this kind of marketing strategy.
As for any implementation of a communication plan, you shouldn't begin blindly, without having determined the fundamentals of your approach.
Product launch, important holiday, etc. When should you create a contest?
Although it's not necessary to find a pretext to launch a contest, this type of event should be a celebration.
So, to announce the launch of a new product, the opening of a pop-up store, a collaboration with another designer, or simply to celebrate Mother's Day or to boost sales at Christmas, why not launch a contest for people to enter on your social media networks?
Internet users tend to expect this kind of idea from their favorite brands during national holidays or special days. Moreover, this initiative will boost your online presence by showing your prospects your reactivity and your commitment to current events.
You can also imagine creating contests to announce special days such as before a sales period to win a voucher on your site to be used during the sale, for example!
How do you engage the audience? Contest mechanics
The public is used to this kind of initiative and will tend to appreciate simple ideas for a fun aspect to participate in your contest. Depending on the type of contest organized, several solutions are available to you, on social media and beyond!
On social media networks,

users can follow you and then like your post and tag their friends in a comment so they can participate.

Via your newsletter

, if you organize an internal contest, you can ask your customers to participate by answering your email and adding the email address of one of their friends. The reward might be either a free gift for both participants or a gift card.

On your website,

you can create an emergency bar or an insert with a call-to-action or a form asking your visitors to subscribe to your newsletter with email address and phone number to enter the contest and try to win your prize. You can also set up a voting system to win the new product on sale among a choice of several potential products.

In store,

you can offer customers the chance to participate in a draw by inviting them to leave their details on a piece of paper in order to enter the next drawing. 
Application, social network, software... How do you organize a contest?
There are several kinds of contests. The initiative of the contest in the newspaper is interesting for a punctual animation of the community. But it has its limits. On the other hand, with a dedicated external application, you can do the following:
collect precise data

and information about the participants,

develop a qualified opt-in list

for your emailing,

create a visual identity

for your contest,

benefit from

detailed statistics

,

increase follower count

because participants are obliged to like your page in order to participate in the contest,

develop the virality

of your contest through sponsorship, and

create a user experience

for your subscribers.
Here are some of the best ideas when it comes to contests on social media:
c

ontest by drawing lots,

instant win,

photo contest,

video contest,

quiz contest,

calendar,

etc.
The choice of the type of contest will depend on the objective that you've set for yourself. Some are better adapted than others to reach a particular objective. Depending on the involvement that the contest requires from the user, it'll influence the number of registrations and the level of engagement.
If you want to generate traffic to your store, you should use contests such as instant-win versions, where customers must simply log in to see if they've won. 
Of course, the more interesting the prizes in your giveaways, the more chances you have to increase the number of entries. Be generous! Offering a nice gift will allow you to animate your community.
You might also consider encouraging user-generated content in your giveaway, as this is a great way to increase engagement with the people in your audience and obtain more content for your various marketing channels, free of charge! Depending on the social media platform, you could, for example, request that users share images or videos of them using a product sold by your business. The winner or winners may then be chosen randomly or based on the creativity of their post ideas.
Offering discount coupons will allow you to boost traffic to your online store and increase your sales... Choose a prize that's in line with your store, the products, and brands you offer, with a fun aspect for your followers. 
Creating contests is a great way to use social media for ecommerce, whether you're looking for Facebook post ideas, Instagram content, etc. to promote your business. On the other hand, don't be surprised if the engagement rate drops once the contest is over. Some users will like your page, just to benefit from the gift or the promotion and may unsubscribe right after.
How do you create your contest?
Instagram, Facebook, TikTok: organize an operation according to your objectives
What will be the objective of your game campaign? Do you want to attract as many customers as possible to your online store? Promote one of your products? Make your brand known to as many people as possible?
Depending on the objective you have chosen, you'll be able to determine the mechanics necessary to reach your goal. When choosing a social media platform for your giveaway or other type of contest, consider where the people in your target audience are most likely to be. Once this step is determined, you can then choose which jackpot to promote.
At the end of this operation, you'll be able to analyze the results thanks to the statistics tools to see the number of followers collected, the rate of engagement perceived, or even the revenue made during the contest period.
Photo, video, story: how do you choose and organize your operation?
Many levers are available to allow you to reach a maximum number of internet users. There's no exact answer regarding the type of operation to organize. The typical answer would be to say that it depends on your sector of activity and the chosen support.
For Instagram, for example, users are used to participating on feeds, under engaging photo or video content. The same goes for Facebook.
In your Stories, you can ask your participants to share the post of your contest by tagging your brand, for example, so you can choose a winner among your private messages. You might also want to create a hashtag related to your business's social media marketing campaign to increase awareness of your giveaway and view the content created by participants.
The only advice we could give you is to choose the platform and content that is easiest for you to use and that you are most comfortable with. Pinterest for ecommerce, Instagram Shopping, Facebook... Choose an excellent way to engage your followers without the headache!
What are the terms and conditions for participating in your game?
How do you participate in your operation? Subscribe to the newsletter, participate in a challenge on TikTok, comment on a post on Instagram... Don't forget to communicate as well as possible about your contest to make it known. Don't hesitate to share it on your blog, your social media networks, and even on your online store or in store.
If you have a small communication budget, you can bet on Facebook Ads with a link pointing directly to the contest registration page and invite people to like your page before playing. You can focus the communication of the contest around commercial events of the year (Valentine's Day, sales, holidays, back to school, the soccer World Cup, etc.) and propose formats with a fun aspect.
SocialShaker, the game contest platform
Our favorite has previously been mentioned on this blog. It's SocialShaker, a complete solution. On the one hand, it offers a large number of contests, on Facebook as well as on Instagram and Twitter. On the other hand, the administration and visual customization possibilities are very complete and quite easy to understand.
You have control over all the parameters of your contest (dates, texts, visuals, information requested from the customer...), and SocialShaker takes care of all the technical aspects. Statistics allow you to follow the number of participants in your contest, the number of new subscribers to your Facebook page thanks to the contest... You can export the database of participants and your opt-in list, in CSV format.
SocialShaker also gives you the opportunity to create drawings in a very simple way.
Example of a winning contest by medium
Herbivore Botanicals on Instagram
To promote their newest product, beauty brand Herbivore Botanicals launched a giveaway, with winners receiving a complete set of items from one of the company's product lines. Basic and effective, users were able to participate simply by following the brand's account, tagging two friends, and liking the post. Easy and fun!
e.l.f. Cosmetics on TikTok
On TikTok, video is king, with a participation principle similar to Instagram. To perform, makeup brand e.l.f. Cosmetics launched the #EyesLipsFace challenge in 2019, requesting that users put their best makeup looks on display, with the winner's prize being $250 in e.l.f. goodies. 
The brand even collaborated with the social media network to create an original song As the company's name stands for "eyes lips face," the challenge, which went viral, did wonders for boosting brand awareness and generating user-generated content for the company.
Memory contest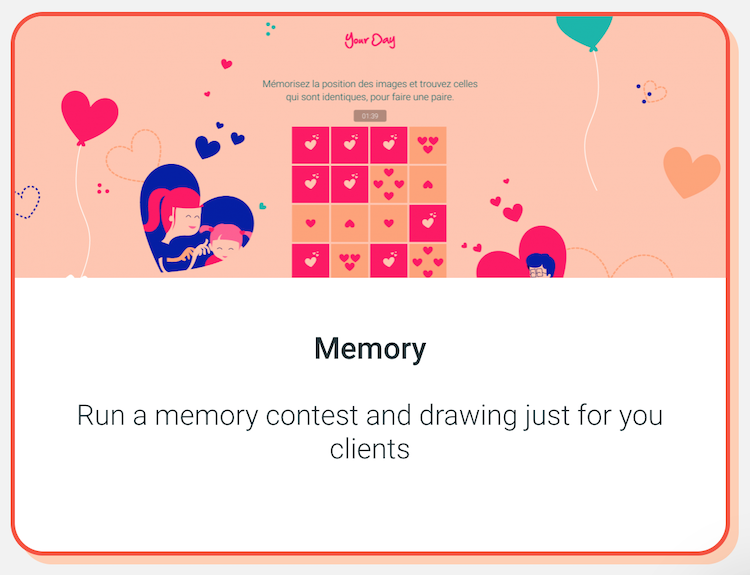 This game can be installed on your social media networks or your website. After filling in a form, the Memory game allows users to play to find pairs of images in a given amount of time. To learn more about the Memory contest, visit the SocialShaker website.