The hashtag has become indispensable in our use of social media networks, and even beyond.
This clickable word is an essential tool for brands and professionals. Events, advertisements, games, news... Hashtags have become a way to share the most information possible with the public in a quick and fun way, while boosting your brand image.
However, some conditions must be considered in order not to miss a great commercial initiative. Instagram, Twitter, TikTok, LinkedIn, Facebook... How do you create a successful branded hashtag? How do you build a professional hashtag? Which hashtag should you choose? #WeTellYouEverything!
#Disclaimer: the following tips aren't based on a precise user guide; they're mainly the result of the work of community managers and network professionals who've helped advance the codes of communication 2.0.
Subjective, they can evolve and be applied to various degrees depending on the activities concerned. It's all about "testing and learning," testing and moving on!
What is a hashtag?
Definition of a hashtag
Hashtags appeared in chats and on forums in the 2000s, but it's really with the advent of social media networks that they've become much more prevalent.
Preceded by a #, the word becomes a link. This link is created to allow users to write a keyword, an expression, related to their posts and to list all posts related to these terms.
How do you use this essential online symbol?
The ever-growing role of social media in ecommerce means that online-store entrepreneurs must be sure to understand how to make use of the unique tools and features available to them on the various networks, including hashtags!
Hashtags have several uses. First of all, they allow you to highlight your content within the same link created by specific keywords, supposed to interest users.
Used in this way, they're able to offer greater visibility to your business's posts in order to increase your rate of engagement or conversion.
Hashtags make it possible for you to situate your publication, to give more information about the context of your content, using location hashtags, for example.
Also, the hashtag being a technique to group publications in a single link, a dedicated page, it's very often used in the context of temporary events or during promotional campaigns by brands, especially for contest posts.
How do you do a hashtag campaign?
Hashtags must serve your company, your brand, to be able to fulfill their role as a traffic acquisition and subscription lever on your pages.
Obviously, depending on the targeted social network, the nature of the post and the construction of your hashtag won't be identical on all platforms.
You may think that creating a hashtag is child's play, #andyoureright! However, as you can see, it's not recommended to use or abuse it when writing a post on social networks. Counterproductive, the hashtag can quickly become an obstacle and put your business in a negative light.
As in everything, balance and finesse are required for a successful strategy when you want to find the best hashtags to reach more people on social media.
Creating a hashtag: rules to respect for your brand
In the 2010s, hashtags worked every time, without restriction, and users consumed very generalized hashtags, especially on Instagram. The rate of likes was always proportional to the number of hashtags used. But that's over!
Algorithms have changed a lot in the last few years. Every 3 to 6 months, platforms change their policies and shake up the codes, especially when it comes to hashtags.
More qualified, the publications shared and highlighted on social media networks via hashtags must be qualitative, offer an interesting visual, a positive post. And above all, the number no longer defines the position of your content, or even devalues it.
Today, a maximum of 10 hashtags is enough, and you shouldn't only use ultra popular hashtags but mix them with other more "niche" ones, at the risk of being penalized by the various platforms.
To start to create a hashtag, the first step involves imagining a second reading of your keyword. You can no longer just add "#[brand] #France #Surf" to your content related to your activity of selling surfboards, for example, to create engagement.
The use of hashtags is now an invitation to share and interact, to highlight the unique DNA of your activity or temporary campaign.
Instagram, Facebook, Twitter, LinkedIn... how do hashtags work?
The interest will be to propose that your followers and prospects participate in your initiative, adhere to your brand: like a "call to action" (CTA), you allow your audience an exchange, either through a challenge, or simply by sharing a message or a visual, a video of them using the codes of your brand.
To be powerful at first glance, forget about long expressions. For example, say that your brand has a link with surfboards "made in France": using the tag #surfboardsmadeinfrance isn't readable.
In addition, forget special characters and spaces, which aren't taken into account by platforms, to create hashtags. Accents are allowed, but for the convenience of your followers and yourself, we advise you not to use them. Keep in mind that accent-free hashtags make it easier for people to search for and find your content, which will help your business to reach more people with your marketing efforts.
Shorten and rewrite the main terms: #SurfMadeInFrance or even #SurfinFrance allow you to highlight a central element of your brand while creating a kind of signature, an element characterizing you, not your competitor!
When and why launch a branded hashtag for your company?
The question will thus be less "how" but rather "when," because the temporality will help define the goal, the "why" of your hashtag campaign.
If you want to promote your brand over time, like to "sign" your posts and allow your brand to be anchored in the public's mind, your hashtag must resemble you, without necessarily using your brand name.
Let's return to our example of a "made in France" surf store called "Wave": on each post created on your social networks, you can imagine using a tag like #SurfWithWave or several successive hashtags like #Wave #SurfMadeInFrance. It's up to you!
You can even go much further by imagining your own phrase, as a way to define the "soul" of your brand. For example, why not use the hashtag "#OnTheBeachAllYear" for your brand?
One expression for dozens of ideas: TikTok challenge, Reel video on Instagram, press-kit sharing on LinkedIn, promotional offer highlighted on Twitter... Let your creativity run wild!
If you want to create an event, there's nothing like accompanying your news with a dedicated hashtag.
Product release, collaboration, new website, new blog post, Instagram live, ephemeral TikTok challenge... Anything that has a limited lifespan related to your products or brand deserves its hashtag.
#ISurfWithAimee

could match if you collaborate with influencer Aimee Song or if you organize an event, such as a Live with her.

#Contest #WinTheWave:

these hashtags could accompany your competition set up on your Instagram account, while adding the mention "Follow The Wave" for a complete customer prospecting initiative.

#BeachBoysChallenge:

what if you imagined a dance challenge using one of the Beach Boys' songs to invite people on TikTok to follow you and, why not, win a gift from your "made in France" surfing ecommerce business?

#PimpYourWave:

this hashtag could invite your audience to draw their surfboard, to share it on social media network publications like Instagram with the dedicated hashtag. The profile that drew the best design would have their work produced exclusively in your store.
You see, the hashtag lends itself to 1,001 great communication plans that you can implement in your online store as a step to help to generate sales, subscriptions, or prospects to increase your audience. Supporting news on your site or creating something new: hashtags are unlimited creative levers!
The best practices of hashtag marketing
In addition to being a "best practice" of Instagram, Twitter, LinkedIn, Facebook, and TikTok, hashtags have become a real strategy, regardless of the specific social media platform you choose to include in your marketing efforts. Relevant, engaging, oriented: your company will benefit from significant recognition thanks to the use of these free tools.
Hashtags have an important place on social networks, especially on Instagram, TikTok, and Twitter.
Although they're used on Facebook and LinkedIn, they're more about sharing information and images than about making a real impact on engagement.
When it comes to Facebook post ideas, you can use your "branded" hashtags, for example, and replicate the posts you create on Instagram. Stories are relevant to share between Instagram and Facebook. Reel Videos or IGTV don't have a particular impact on Facebook.
On LinkedIn, posts are meant to learn more about your business and the actions that you're taking, less to sell your products and services.
Don't hesitate to share your business activities (collaboration, new materials, new providers, work methodology, surveys about your activity, etc.) by using the dedicated "image" hashtags.
Above all, be sure to check that the hashtags you want aren't already used for other purposes, on other accounts. It would be a pity to mix your brand with content that doesn't resemble you at all!
Examples of popular hashtags: case studies
To take it a step further, let's go into the world of branded hashtags to discover what can be created with just a hash symbol to help boost your marketing efforts!
Zalando hashtags
#ZalandoStyle on Instagram: a permanent strategy
On Insta, the European multi-brand giant invites followers to share their looks with #ZalandoStyle.
Having the chance to be reposted by these accounts allows people to interact while allowing the brand to be accessible to its customers. What's more, users can search this hashtag on the social media platform to find inspiration and discover what looks are trending.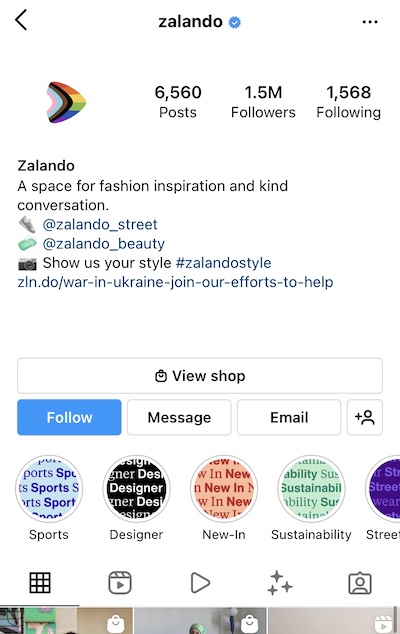 #ActivistsOfOptimism on TikTok: a creative contest to win prizes
Zalando's DNA is rooted in an optimistic and inclusive vision of fashion but also of society. By inviting prospects on TikTok to stage themselves around a fun challenge, users enter a unique "community" and commit to the brand.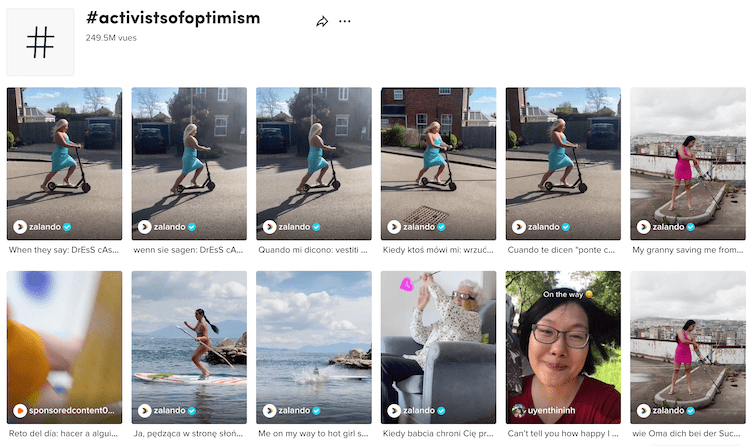 Ulta Beauty hashtags
#UltaBeauty on Instagram: to gather creative content
Simple and effective, all user content related to the beauty giant is followed by this hashtag, allowing everyone interested in Ulta Beauty to discover the brand's content on the platform.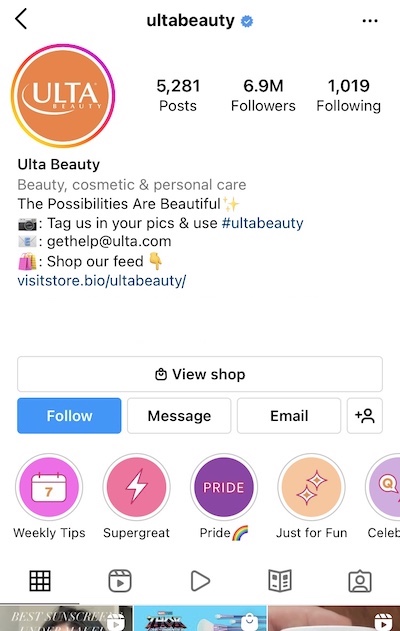 #Ulta21DaysOfBeauty on TikTok: to promote the brand's annual sales event
Every year, Ulta hosts a 21-day sale, offering shoppers big savings on a wide range of brands. TikTokers make use of this hashtag to share their top finds during the sale and to provide tips on what to purchase from the start of the event to the very end. People can then also search this trending hashtag to find ideas to help them to perfect their shopping strategies during the sale.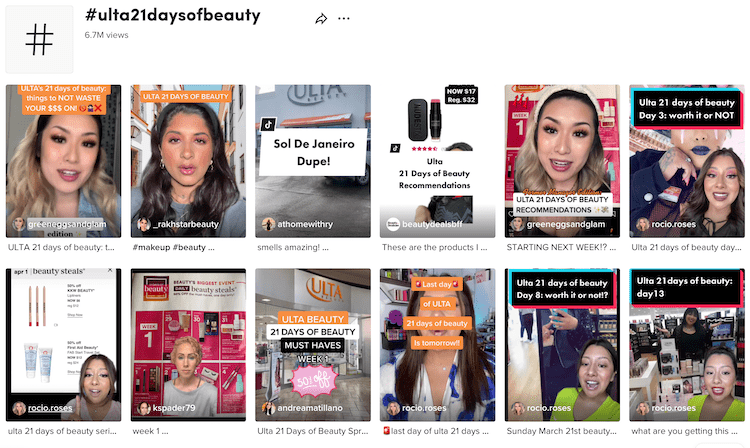 WiziShop hashtag
#TakeItWizi on Instagram: a corporate hashtag for the WiziShop teams
The life of our company is full of twists and turns, something to share on social media networks. Thus, WiziShop's internal teams share their daily life with #TakeItWizi, to combine brand image and corporate communication!
When you search for this hashtag, you can be sure to find a wide range of content, content that can include everything from interviews to challenges, celebrations, and more.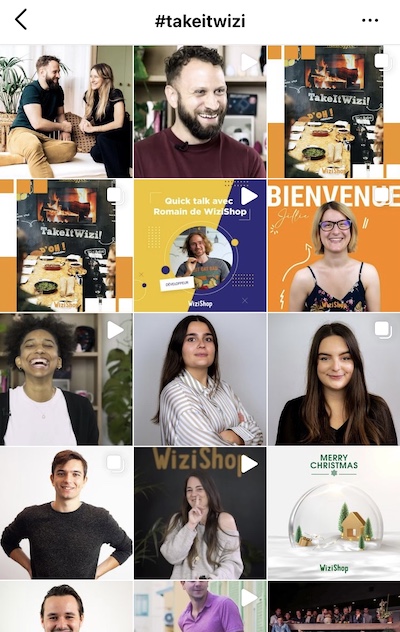 Concerning social media and ecommerce, the hashtag is an essential lever for your business. This tool, accessible to all, is a communication complement that can help bring you great opportunities for conversion and acquisition. What will be your lucky word?