On a website, and more particularly on an online store, it's common to have to apply address changes to cope with annual events as well as changes in stock.
Between seasonality, product catalog renewal, flash sales, sales, etc., the ecommerce sector is constantly changing, and you must continually adapt your site.
To manage these changes and help preserve the user experience and SEO, webmasters often resort to 301 redirects.
Also known as permanent redirection, it makes it possible to keep the maximum SEO despite the changes of a site.
What is a 301 redirect?
The 301 redirect, or permanent redirect, is a status response code that indicates that the content of a page is no longer available and has been moved to another URL.
When this redirection is set up and an internet user arrives on the old URL, it makes it possible to redirect them in a completely automatic way without them realizing it. Thanks to 301 redirects, the browsing experience remains perfectly fluid and enjoyable.
Another important aspect of 301 redirects is for search engines and for your SEO. When you delete a page or change its URL, you must notify the crawlers and indexing robots of this change of destination.
By configuring a permanent redirection, you prevent the various robots that browse your pages from landing on a 404 error. With the 301, they'll be able to delete the old URL from their database and replace it with the new one.
If you don't take this action, you'll lose the positions of your old page and send negative signals to search engines.
As the name suggests, 301 redirects are permanent. When you use it, it means that you're telling the robots that your old URL has been permanently moved to a new webpage.
The 301 redirect is not the only type of redirect. There is also the temporary redirect, also known as 302 redirect. This status code indicates that your URL will reappear and that this change is temporary.
Why set up a 301 redirect?
For the user
As you can see, the 301 redirect allows the user to navigate in a fluid way, without even realizing that they've been redirected to another page. They're automatically redirected to the new URL address.
This also prevents them from landing on a 404-error page on the website.
For SEO
301 redirection is also of real interest for SEO.
It can help you to prevent search engine robots from landing on a 404 error but also to keep, in principle, the power of the old page. The objective is to preserve the site's position on the different keywords.
With the 301 redirect, the site transmits the popularity and authority of the previous pages. The search engine robots then keep the reputation of the old page in memory, which helps preserve the SEO.
I said "in principle" because a redirect is always sensitive. It can sometimes occur that your new page drops in ranking after the implementation of a redirect.
Some examples that require the implementation of a 301 redirect
Several cases of figures can generate the implementation of a 301 redirect. Here are some examples.
The version with www and without www
If you frequently browse the web, you've probably already noticed that some URLs have a "www" prefix, while others don't. In fact, websites aren't required to start with www.
On a purely technical level, the www version is a subdomain, while the version without www is the root domain. For the creator of the site, it's simply a visual and communication choice.i
When he makes his choice,t it's necessary to set up 301 redirects to avoid making your site accessible from two different versions. Otherwise, you risk duplicate content.
The version with HTTP and HTTPS
Similarly, you're probably aware that there are HTTP and HTTPS sites. These are two options that distinguish standard or secure web pages.
All URLs that begin with HTTP use a simple hypertext transfer protocol. In other words, these pages simply aim to display information, without worrying about how the data moves from one place to another. It's a protocol that doesn't guarantee optimal security. On HTTP pages, data is more vulnerable.a
HTTPS pages, on the other hand, are much more secure and more difficult to hijack.m
HTTPS was developed to secure transactions on the internete. This protocol uses a superior security layer and meets a real demand from consumers, especially in ecommerce, when visitors are required to provide sensitive data, such as their banking information.
Many companies have therefore decided to invest time and money to ensure the migration of their site to an HTTPS version. The goal? To help accommodate the growing demand for security of internet users while meeting the new expectations of search engines.t
As for the versions with or without www, ,this modification implies the implementation of 301 redirects on all the pages of the site. Without these redirects, you risk having a site accessible in HTTP and another in HTTPS, which will generate duplicate content.
Change of domain name
A website can also have to change its domain name. This can happen if you decide to change the name of your brand.
If you change your domain name, you'll do what's called a "migration." During this step, all your old URLs must be redirected to the new ones, via 301 redirects.
Changing a domain name can be quite complex depending on the profile of your site and your number of pages. It's preferable to be accompanied by professionals when completing this process to succeed in your migration and preserve your SEO.
Change of URL
On a showcase site or an ecommerce site, it's not uncommon that pages are created or deleted, and others are modified. This can be the case if one of the following occurs, for example:
You change one of your product categories.

You decide to lighten some of your URLs for readability reasons (see our article dedicated to the SEO optimization of your URLs).

You transform some URLs.
Let's take an example: let's imagine that you sell spare parts for the automotive industry and that you work with a supplier. In this case, it's possible that your URL includes the name of the manufacturer. You then suddenly decide to change your supplier.
So you still offer the same spare part for the same car model. However, your URL changes to show the name of your new manufacturer. The use of 301 redirection makes sense.
By using 301 redirects, you're setting yourself up to retain the SEO benefits of your previous page.
Furthermore, if some of your loyal customers have bookmarked your old URL, they'll automatically be redirected to the right page and not land on a 404 error.
To ensure that you're optimizing your URLs to improve your rankings on search engines, check out our articles on URL structure and SEO and on the sitemap.
Product no longer in stock or expired
Similarly, when a product is no longer in stock or expired, it's possible to set up a 301. But then, to which other page should you set up your redirection?
If you have a similar product, use the 301 redirect to it.

If you don't have a substitute product in your catalog, set up a 301 redirect to the top category.
When it comes to ecommerce SEO, the management of out-of-stock and expired products is quite complex. It's important to carefully analyze your URLs to define the best action to take.
That's why with the WiziShop ecommerce solution, instead of deleting your well-optimized products and setting up redirections, you can simply keep them online with the "Product unavailable" status.
When you select this option, your product is no longer displayed in your category, but the URL remains online, with a 200 status code. Internet users continue to arrive on the product page via search engines but can no longer order the product.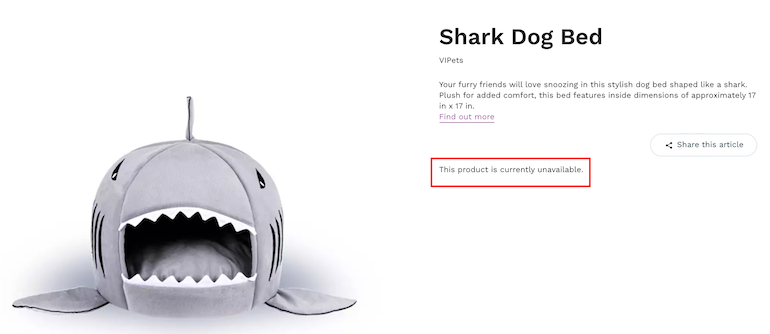 You're then free to propose cross-selling to help redirect traffic to an equivalent product and continue to generate sales on your website.
Common mistakes related to the implementation of 301 redirection
The 301 redirect is unstoppable for SEO and user experience. However, for it to be really positive and efficient, it must be well created and correctly used.
When the 301 redirect is poorly mastered, it can be counterproductive and penalize your site. Therefore, be careful not to make the following mistakes.
Creating redirection loops
It's better not to have redirect chains...A page A shouldn't be redirected to a page B, which is itself redirected to a page C. This method is totally counterproductive.
In this case, the authority of page A isn't fully transferred to page C. Faced with this excess of links, Google is unable to optimally explore page C. Moreover, the loading of this page can be considerably slowed down.
Abusing 301 redirects
Although 301 redirects are particularly useful, you shouldn't abuse them. They tend to lengthen the time of your pages and slow down the exploration of the indexing robots. Use them when it's really necessary.
Creating an irrelevant 301 redirect
As said before, the 301 redirect must be relevant to be effective, both for the user and for the SEO.
If you plan to set it up from one page to another completely different page, it's a bad idea!
The subject matter on page B should be similar to that on page A, both for the visitor and to maintain SEO consistency.
Not changing the internal links that point to the old page
If you use 301 redirection in your site, remember to also change all your internal links that point to your old page. Without this, your internal linkage becomes less efficient.
While this change may seem trivial, depending on the number of URLs involved on your site, it's an action that has some impact on your SEO performance.
Removing the redirect a few days later
Once your redirect has been set up, you might say to yourself, "Now I'm going to remove it because the search engine has taken the new URL into account." It's not as simple as that!
First of all, maybe your old page is getting backlinks from other sites. If you remove the redirect, you lose the power of these links. I therefore advise you to keep them to help avoid unpleasant surprises.
Then, if your page doesn't receive any backlink, it'll disappear gradually. However, to be really sure that Google isn't visiting it anymore, you'll have to analyze your logs. If you realize that the search engine hasn't crawled this page for several months, then you can remove the redirection.
I remind you that on our ecommerce platform, you can analyze the logs via the Seolyzer tool. You just have to create an account on the tool and then connect it to your site, directly from the "Tags & External Services" tab. A freemium offer is available with 10,000 URLs per month.
How do you set up a 301 redirect on WiziShop?
Depending on the platforms you use, it can be quite complex to set up redirects. You'll have to access sensitive information such as the .htaccess file or install extensions that may slow down your site.
On WiziShop, everything is done in your administration area. Click on the cogwheel to access your settings and then "Manage Redirections."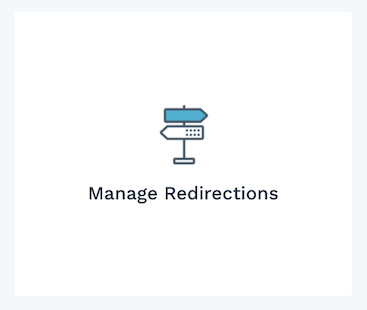 Then, you just have to go to "Customized redirection" to set up your different redirects.

In the field, indicate your old URL to redirect as well as the new one: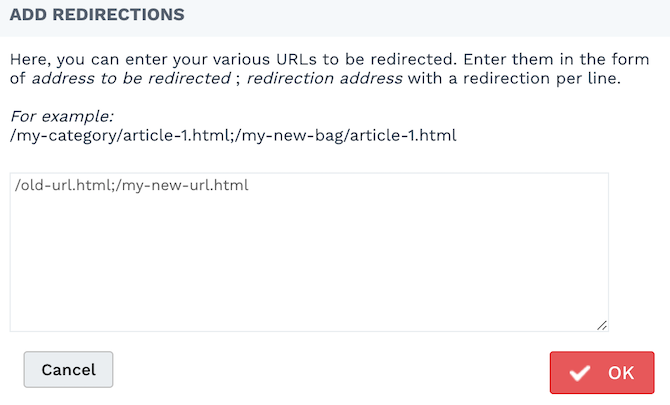 Press "Ok." Your 301 redirection is now active!
As you can see, setting up a 301 redirect allows you to modify URLs while maintaining your SEO. On the other hand, a URL change is always a sensitive step. It's never 100% sure that your positions on search engines won't be impacted.
It's therefore advisable to perform these redirections carefully, in order to prevent SEO problems on your site, and only when it's mandatory.