If you're both a physical merchant and an e-merchant, chances are that your main activity is focused around the physical location of your store. The "catchment area" is an important point where the majority of your customers are concentrated. It's therefore crucial to work on your visibility in this geographical area to create commercial attraction around your business!
Local SEO is one of the major levers in SEO to attract traffic in store but also on your online store. Today, the web provides you with many very effective tools to efficiently work on your marketing strategy. One of the most popular tools to improve your local SEO is Google My Business.
This free tool, offered by Google, is quite useful and effective to gain visibility. Discover in this article a complete guide to create and optimize your Google My Business listing in order to benefit from a better ranking in local search results.
What is Google My Business?
Formerly known as Google Places, the current Google My Business tool allows you to manage business listings that appear on the Local Pack and on Google Maps.
The companies that appear and work on their profiles effectively can therefore
stand out in the first results of the search engine and also let other information related to their activity (hours, exact address, customer reviews, photos etc.) show up.
What is local SEO?
When we talk about local SEO, it means the positioning of a site on search engines during queries involving geolocation.
This could be, for example: "hairdresser," "cat café," "dance studio," "pharmacy," "gym," etc.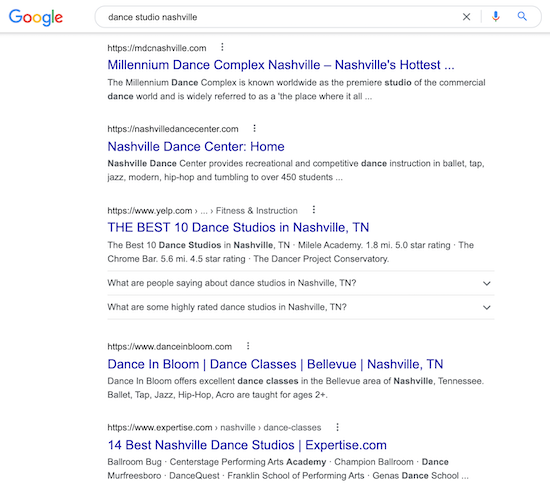 The main objective of local SEO is to work on the positioning of one's site to appear in the best results when internet users express local requests.
What are the advantages of Google My Business?
There are some must-know statistics about local SEO.
In this article from Ahrefs, you'll learn that 76% of people who search on their smartphones for a product or service in their location visit a business in 24 hours or less.
In addition, mobile queries containing the words "Where to buy" + "near me" mobile queries increased more than 200% in the period from 2017 to 2019.
Even better, 28% of local searches result in a purchase!
Local SEO, and more specifically Google My Business, is therefore rapidly becoming an essential tool that allows you to considerably improve your visibility.
Particularly intuitive, it offers many features and has multiple advantages.
Maps and Local Pack display
Google Local Pack is a specific area of the search engine that is exclusively dedicated to local results. It was born from Google's desire to offer internet users answers that are increasingly adapted to their expectations.
Local Pack is composed, at first glance, of three companies, which respond to the user's request and are located in the direct vicinity of the place where the user is searching.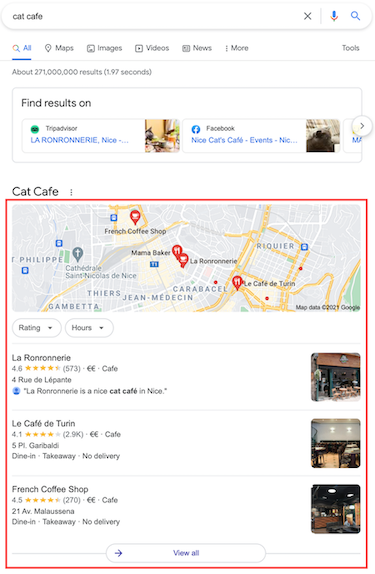 It contains not only the names of the businesses but also other helpful kinds of information, such as the address, opening hours, phone number, and reviews.
Calls-to-action can also be present next to the businesses to be able to call the merchant or go directly to the website.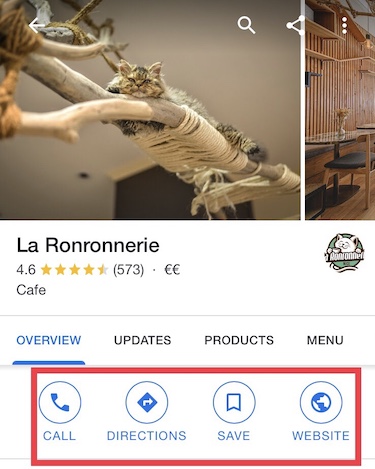 Local Pack is a tool that greatly facilitates the navigation of internet users. With a simple query, they can find the companies that meet their needs and are located within their geographical area.
Need an example? If you want to drink a coffee in a bar that's currently open, just ask Google by typing "drink a coffee" in the search box. Local Pack will show you nearby places where you can drink coffee. Pretty efficient, right?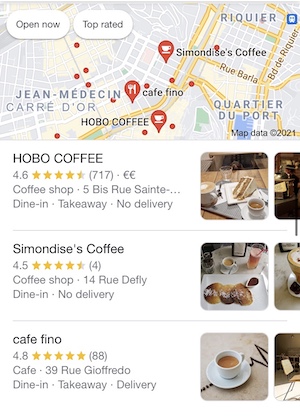 Especially relevant for the internet user, Local Pack represents a real advantage for professionals. It's a direct way to boost their visibility and of course to improve their sales revenue!
Like Local Pack, Google Maps is the mapping product offered by Google. It's complementary for the positioning of companies.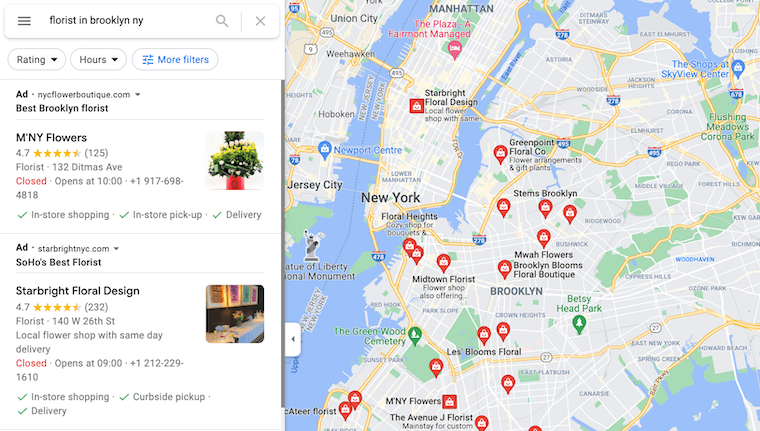 As soon as your Google My Business listing is created, it'll be referenced in Google Maps automatically.
At the same time, this tool also allows internet users to discover businesses or places by simply moving around on a map and searching by area.
Another interesting statistic noted by Safari Digital is that 86% of consumers use Google Maps to find the location of a business.
If you run a physical business in parallel with your ecommerce site, not appearing on the Local Pack and Google Maps is a serious mistake! Without these supports, you deprive yourself of important visibility on the internet.
With Google My Business, you appear on these two main tools for local SEO, and you can effectively manage your online visibility and information shared with users.
Intuitive tool
Google My Business is now one of the most used tools on the web. Very appreciated for its simplicity of use, it has a clean interface and is accessible to all.
Google My Business allows you to do the following:
u

pdate information about your brand or business;

interact with your customers;

collect consumer reviews;

analyze the requests of internet users to find your establishment;

track statistics related to users' actions toward your business (call, website visit, route request, etc.);

integrate unique content on Google, such as photos, a virtual tour of your business, a portfolio of your products, etc.
Manage your information
Google My Business is an easy-to-use tool that lets you update your business information so that people can contact you, visit your website, or find your address.
All this information can be regularly updated. It's proof of your seriousness as a business and is very useful to your potential customers.
For example, during different seasonal periods or on public holidays, it's quite possible that your opening hours may change, so don't forget to update them!
Collect and display customer reviews
Google My Business also allows you to collect and display customer reviews. Any internet user can, if they want, leave a review on your page.
With the collection of a significant number of positive reviews, it demonstrates the quality of your services and reinforces the trust in your business. It's an excellent advertisement, like a kind of word of mouth directly on the internet.
This is especially beneficial since internet users are increasingly looking for social proof!
Google reviews, of 4 stars or more, are therefore important allies that allow you to gain popularity, demonstrate your professionalism, and contribute to your business development.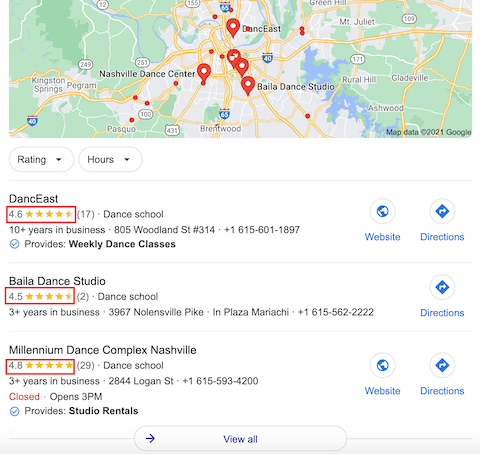 At the same time, be aware that these reviews are one of the ranking factors for the Local Pack and Maps results.
Communicate with users
Another feature of Google My Business that is still not widely used by users: Posts.
This section of the tool allows you to communicate directly with internet users by displaying information about your listing, directly in the search results.
The "Posts" section is specially designed to share content. It can include all kinds of elements, such as special promotions, events, or news.
The goal?
Share your latest information with all your customers and liven up your account!
Another interesting feature is the ability to chat directly with users.
By activating the "Messages" option, you give existing or potential customers the possibility to send you a text.
Google My Business also offers a "Questions & Answers" function. This allows users to ask the company questions.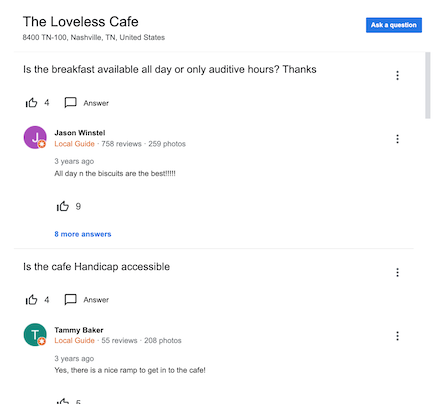 As soon as you receive the question, Google invites you to answer it. The answer provided can then be read by all internet users.
Attract traffic to your store and your website
Your Google My Business listing is, in a way, the online window of your brand.
It's not only a way to display your address or to be contacted. It's also a real means of communication with internet users. Much more than a simple display on the internet, it's a very powerful marketing tool.
Google My Business is without equal when it comes to boosting your local SEO. It's a direct opportunity to improve your visibility and propose your products and services to local prospects.
As a merchant, you know that it's unthinkable to leave your physical storefront abandoned. It's also not a good idea to neglect your Google My Business listing!
It's therefore important to fill in all the information and to provide the correct details.
To have the desired effect, it must also be maintained and made interesting for viewers, in order to bring the most traffic possible to your store and to your website.
Local statistics
Google My Business also has built-in analytical tools. Thus, it's an excellent way to get detailed information about your business activity and more precisely about your customers' searches.
These can be valuable allies in making the right strategic decisions.
As an example, Google My Business allows you to collect the following statistics:
t

he number of views of your listing, each of your photos, or each of your posts,

the search queries by which users found your business,

the engagement of your users,

the number of clicks on your website or phone number,

the number of route requests,

etc.
The 6 steps to create your Google My Business profile
Now that you're convinced of the usefulness of having a Google My Business listing, you still need to know how to create it...let me guide you step by step to optimally complete your profile!
1. Go to Google My Business and add your business
To start, go to the "Manage my profile" page of Google My Business and fill in the name of your business to check that it's not already present on the platform.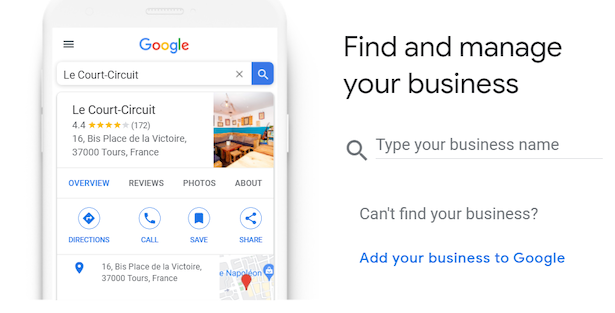 This will ensure that your business doesn't have a listing. If you can't find your business, click "Add your business on Google."
2. Indicate the "real" name of the business and the category
On Google My Business, you're obliged to use the real name of your business, i.e., the one that you've declared to the local authority in your city, region, or country.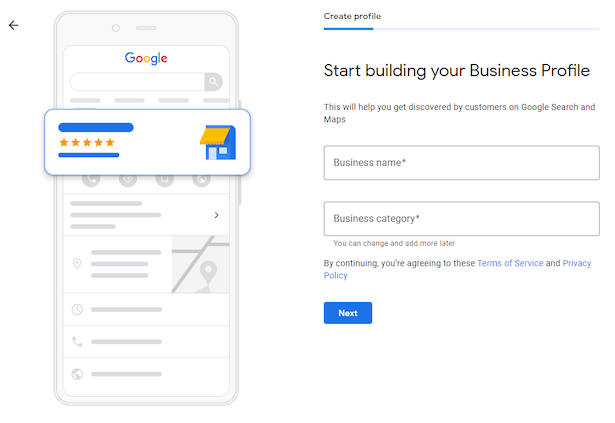 Google prohibits the use of keywords in the name. This can result in a suspension of your listing on Google My Business.
For example, if a bakery is called "The Old Bakehouse," it can't use the name "Bakery - Bread sale - The Old Bakehouse" on Google. It's not allowed!
Google My Business then asks you to choose the main category of activity that represents your business. If you have a multi-activity company, choose the one that corresponds best.
To help you, look at the businesses present on Google when you type in keywords related to your activity.
Afterwards, you'll have the ability to modify it or to indicate subcategories.
3. Enter the address
The address is the place where the public can visit. This information will be displayed directly on Google. Visitors will be able to click directly on "Directions" to go to the store.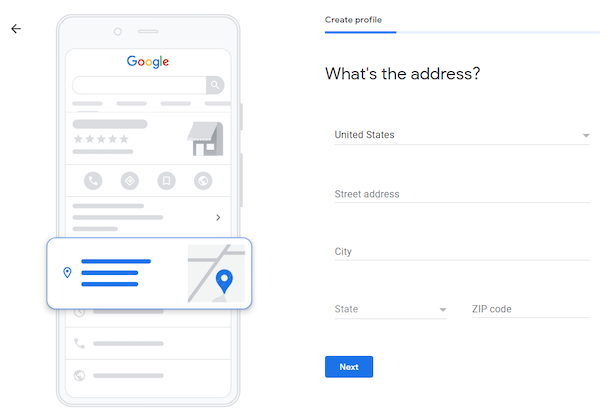 You need to be as specific as possible, so that your customers can find you easily.
4.a. Offer services outside the business
Google My Business offers you to check a box if you offer your services outside the address of your business.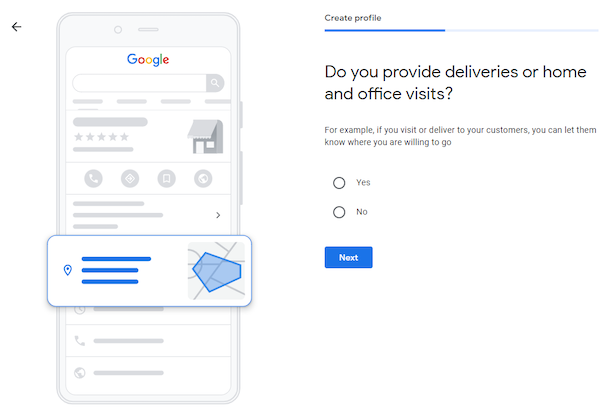 Let's take an example. If you have a pizza shop and do home delivery, you should check this box. However, if you're a mechanic and you only repair cars in your garage, you shouldn't check it.
4.b. Specify the areas served
If you've indicated that you offer services outside of your business, you must now select all the areas you serve.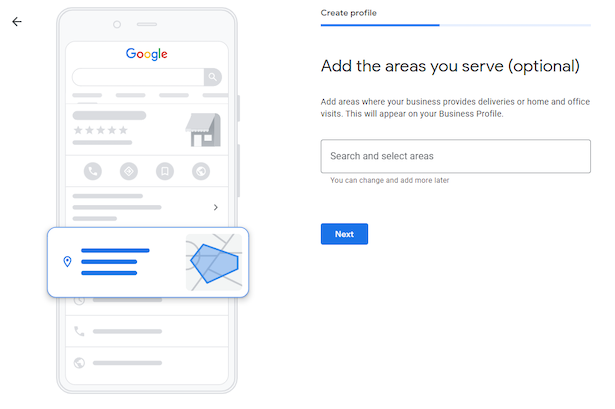 This step is important in order to stand out as best as possible in the different neighborhoods and cities you travel to.
5. Fill in the contact information
Google My Business prompts you to add your phone number and website address on your listing.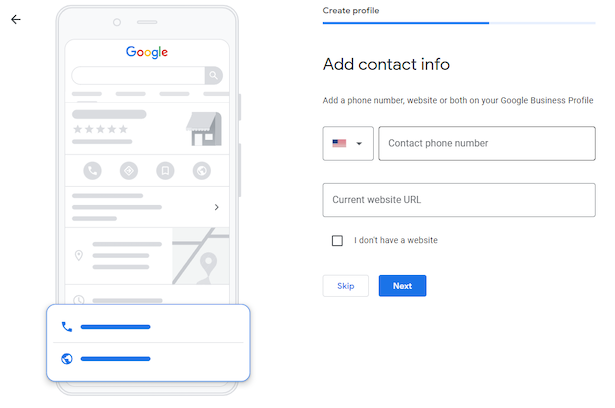 In addition, if you don't have a website at this stage, Google allows you to create one for free from your listing. Note, however, that this is a very basic site.
6. Have the listing verified
After these steps, you're finally just about finished!
Your Google My Business page is now fully set up, and all you have to do is to get it verified. There are two ways to do this:
an immediate phone call

,

which I strongly recommend to save time; or

an activation code that's sent to your address

, which can take up to a week depending on postal delays.
Once verified, your business will finally appear in Google Maps and eventually in Google's Local Pack!
How do you optimize your Google My Business listing?
To get the expected benefits from your Google My Business page and appear effectively in local results, it's strongly recommended that you fill in all the fields.
The more complete your page will be, the more likely that you'll be seen locally. Here's a quick overview of the different elements to indicate on the Google My Business of your ecommerce business.
Indicate the opening hours
The opening hours of your store must be indicated on your Google page. I'd like to point out that it's essential that you indicate your real opening hours, as they'll appear directly in the search results.
Internet users can, in a few clicks, see if your store is open or closed.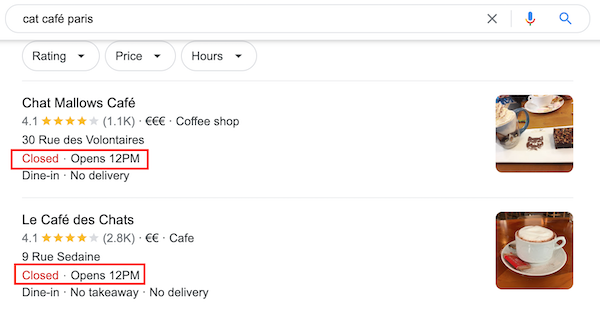 If your form indicates "open" when it's not the case, and somebody goes to your store, you may never see them again.
Several different time slots can be indicated in one day. Furthermore, on some specific days, it's possible to show special times. This is especially helpful if you're on vacation or if you decide to work on certain holidays.
Updating your hours is a sign of seriousness and credibility. So think about displaying them and making them correspond with the schedules indicated on your website or on other sources.
Fill in the website
If you want to attract the most visitors possible to your website, the address of your website must appear in your Google My Business listing. Internet users will be able to click directly on the "Website" link to visit your online store.

Add attributes
This part allows you to improve your visibility in local results by displaying more information. This is also very useful for users who're looking for specific services.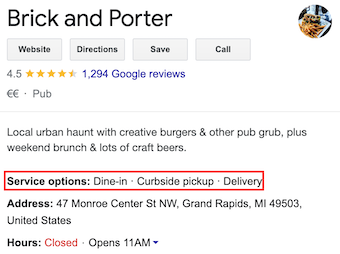 For example, if you have a wheelchair-accessible entrance, highlight this attribute and indicate it. It's also in this section that you can formulate information related to, for instance, COVID or the payment methods accepted by your business.
Google My Business also suggests some available services to add such as delivery, drive-through option, in-store pickup, etc.
Write a description of the business
Your Google My Business listing can include a description of 750 characters.
Relatively concise, this description shouldn't be neglected, and it's better to optimize it in terms of SEO with a varied lexical field, related to your business sector.
Indicate the opening date
The opening date is the date of the beginning of your activity.
If your company has been in business for a long time and has a long history of expertise, this is a great point to mention!
Upload logo and photos
Google My Business gives you the possibility to display your logo as well as various photos of your store and your products. These photos will help to make your listing more attractive and improve your visibility.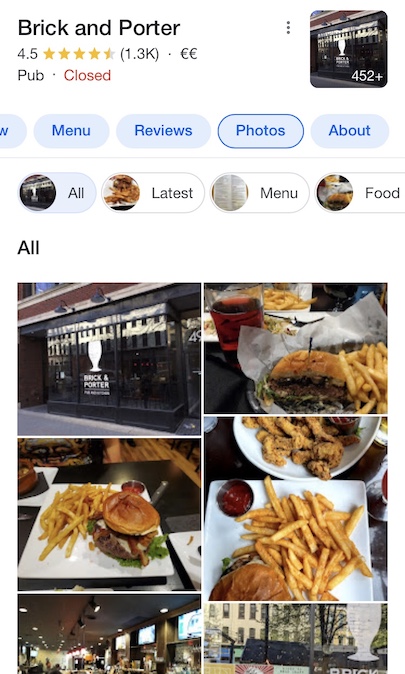 So choose your visuals carefully and be vigilant about their quality. Just like those on your site, consider optimizing your images for SEO.
In conclusion, your catchment area represents great potential and a market not to be missed.
In this context, the interest of Google My Business makes sense and you can't do without this tool.
You'll have to create your page by applying yourself but also maintain it on the long term. By updating your page regularly and collecting lots of reviews, you'll be able to considerably improve your positioning in local results.