For several years, the algorithms used by Google have been the talk of the town and contain a multitude of subtleties. Some are more popular than others and have considerably changed the search engine and the practice of SEO.
Today, to stay under Google's radar, it's important to know these main filters and their particularities to implement a sustainable and effective SEO strategy.
One of the best known of them: Google Panda. Deployed mainly to fight against poor-quality content, it's now an integral part of the Google algorithm.
What is Google Panda?
Google Panda is a name that may sound nice and sweet at first... But if you don't comply with it, you can quickly see your site downgraded or blacklisted from search engines.
Definition and launch date
Google Panda was officially launched on February 24, 2011 in the United States. Initially, like most algorithmic rollouts, it only focused on U.S. queries. Now, it's applied to all languages and worldwide. But what exactly is it about?
Google Panda is one of the Google algorithm's filters. Its objective is to fight against poor-quality content, such as spam, content farms, or scrapers (content looting). It's considered a "cleaning filter."
Since its implementation, high-ranking websites offer, for the most part, high-quality content.
Finally, regarding its name, you should know that it has absolutely nothing to do with the big black and white teddy bear that we know! Google Panda was simply invented by the Indian engineer Navneet Panda.
History of updates from 2011 to 2014
The initial version of Google Panda was introduced on February 24, 2011. With its deployment, many sites saw their visibility in Google drop sharply. Moreover, the launch of Panda was initially widely criticized because of the collateral damage caused.
Here are the other Google Panda updates that followed:
Panda 2.0 - 04/11/2011:

it's on this date that Google Panda was extended to the rest of the world, impacting English queries at first.

Panda 2.4 - 08/12/2011:

from August, Google extended Panda to the rest of the languages, except three Asian (Chinese, Japanese, and Korean). It's therefore on this date that it also arrived in France.

Panda 2.5 - 03/15/2013:

since this update on March 2, 2013, the new version of the Panda filter is an integral part of the Google algorithm. According to Matt Cutts, their two functions are synchronous, and Panda is therefore completely mixed with the rest of the search engine's SEO algorithm. In fact, Google no longer communicates any official update date about it.

Panda 28 or 4.0 - 05/20/2014:

this is the last update officially communicated by Google, which included some of the algorithm's evolutions and aimed to soften the impact of Google Panda on sites of VSEs and SMEs.
Why did Google launch the Panda algorithm?
Google Panda was born following a wave of spam and the development of many sites with low-quality content.
For the comfort of internet users and to ensure its credibility in the long term, Google wanted to do a significant cleanup. Google Panda has considerably improved the nature of its results, to the delight of internet users.
The ultimate goal? To make sure that Google remains the #1 search engine in the world!
That's why Google Panda limits low-quality content, duplicate texts, irrelevant information, content farms, or sites with too many ads as much as possible.
Google Panda is a powerful update that's caused quite a stir in the SEO world.
What is the difference between Panda and Penguin?
Google Panda and Google Penguin are among the most popular updates in SEO, but they shouldn't be confused!
Google Panda penalizes poor quality content, while Google Penguin is an algorithmic filter that punishes the creation of artificial links and, more precisely, poor-quality backlinks and over-optimized anchors.
Google Panda focuses on the on-site lever while Google Penguin works on the off-site lever.
Which sites are targeted by Google Panda?
Although Google Panda analyzes all the sites listed on the search engine, it targets certain categories of content more specifically.
Content farms
Content farms are editorial sites created from keywords searched by internet users. Their only objective is to attract traffic in order to generate income through advertising, affiliation, cost per click, etc.
They're generally sites with content that's of very low quality, often automatically generated, but whose pages are particularly optimized to target the long tail (keywords with several words).
Without the Google Panda algorithm, content farms would tend to appear in the first results of search engines. This filter aims to limit the display of these sites so as not to harm the quality of results provided by Google.
Content aggregators
A content aggregator site is
a site that takes content from another sit
e. It's nothing more or less than a copy and paste. Note, however, that it can sometimes be a legal practice, but this system is illegal when it's content that's recovered from another site, without the original owner's agreement.
The objective of these platforms is to take advantage of the content of other sites to position themselves on a maximum of keywords and attract a maximum of traffic.
According to Searchmetrics, some sites like Wikio have lost nearly 85% of their exposure in the search engine (Source: Le Monde).
Price comparison sites
Price comparison sites make it possible, as their name indicates, for users to compare the price of the same product on different sites.
As for content aggregators, these price comparison sites often retrieve content from other sites to position themselves.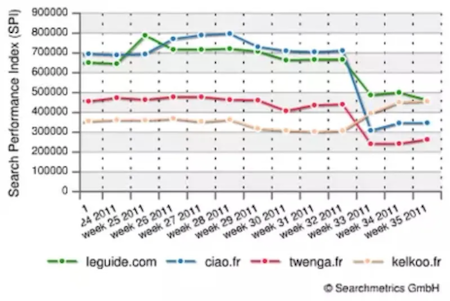 Source: JDN
For example, this diagram made by Searchmetrics shows the impact of Google Panda on the main French price comparison sites within the search engine. Only Kelkoo has benefited from this update during its deployment.
Forums and question and answer sites
Forums generally aren't very popular with Google. They're often low-quality pages, with little content and unverified information.
Since anyone can write and answer on these sites, it's quite difficult to know if the information is correct and relevant. In general, these question/answer sites are therefore impacted by Google Panda.
Sites with poor and duplicated content
As you'll have understood; with Google Panda, poor-quality content isn't appreciated.
Apart from content farms, aggregators, comparators, and forums, all sites with very poor texts (number of words, lexical field, duplication, etc.) are likely to be impacted by this algorithm.
This can be the case when
you have many pages with poor or low quality content,

you have many duplicate texts,

you scrape content from other sites,

you use content spinning techniques in the wrong way,

etc.
The consequences of Panda on SEO
As we've already mentioned, Google Panda isn't without consequences. In fact, it had a considerable impact at the time of its release. At the moment, it still has important repercussions.
Site penalty
In some cases, Google Panda may make a generalization and decide to apply a penalty to the entire site. In this case, it doesn't only downgrade certain pages but the entire website.
Bad indexing of pages
If Google Panda judges that the site or some of its pages are of poor quality, it no longer indexes them. Indexing is the basis of SEO! Without it, it's impossible to stand out in the search engine and attract traffic to your site.
Downgrading of the site in the search engine results
Google Panda can also simply choose to reduce your visibility by lowering your site in the search engine results pages. In this case, your site is simply downgraded.
Loss of SEO traffic
Of course, all the above mentioned penalties have a systematic consequence: you lose visibility and therefore traffic.
Since your pages are not as well indexed on the search engine, fewer visitors will go there. In the long run, this is a very detrimental element for a company.
Site less visited by robots
Finally, Panda can choose to limit the visits of Google robots on your pages. As a result, your pages will be not as well indexed, and your modifications or new publications will be less quickly taken into account by the search engine.
Who's been positively and negatively impacted by Google Panda?
It's undeniable that Google Panda has had an impact on all the websites ranked by the search engine. Some have benefited while others have been negatively impacted by its launch.
Overall, major brands' sites have seen their visibility increased by Google Panda.
Large sites with a multitude of pages, but without a known brand, on the other hand, have been severely penalized. As mentioned before, many forums, content farms, aggregators, and comparison sites have also been negatively impacted.
Finally, the small sites have undergone only minor changes.
For a better understanding, let's take a few examples of the big winners of the Google Panda strategy:
Y

ouTube saw its growth explode.

Large media sites have been propelled to the forefront. Google Panda does indeed give pride of place to journalistic style.

Large merchant sites have seen a significant increase in traffic.

Some niche sites have taken advantage of the collapse of content farms to stand out from the crowd.
How do you avoid being penalized by Panda?
If you want to avoid the Google Panda penalty, it's best to pay attention to the content you publish.
Your texts must be useful in order to answer the search intent of internet users and bring them real added value.
To make it simple, in order to not be penalized by Google Panda, I recommend the following:
S

tart by analyzing your existing pages. If you think that some of them are of low quality, optimize them or, failing that, delete them.

Write, for your new pages, quality and unique content.

Create a blog with relevant articles that answer the questions and problems of internet users.

Provide rich and interesting information for internet users, with a high added value.

Illustrate your content while working on the SEO of your images and videos.

Do everything possible to improve the experience of your users: through a responsive site, by working on the loading speed of your pages, and by absolutely avoiding overloading your site with ads.

Avoid scraping or spinning if you're not experienced in this field.
In conclusion, you'll likely have come to understand that what the search engine has been looking for for several years, and still today, is quality. If you work on your site effectively and write relevant content that correctly answers search intent, you're headed in the right direction.
At WiziShop, our ambition is to help you achieve success with your online store. Therefore, we want to do everything we can to ensure your visibility so that you can attract the greatest number of visitors to your pages as possible. That's why, in addition to providing you with 50 optimizations to improve your ecommerce SEO, we keep a watchful eye on all the evolutions of Google's algorithms, and we technically adapt our solution right on time.