Necklaces, rings, bracelets, earrings, anklets…jewelry in all of its different forms is a popular commodity all across the globe. While some people simply like wearing sparkling accessories, there are plenty of others who also enjoy designing and creating these items.
If you're thinking of launching your own jewelry business, whether as a side project or as your main means of income, now may be the perfect time to begin!
Even with the economic effects of the coronavirus pandemic felt around the world, jewelry is still very much in demand. While there are numerous big-name brands that continue to do quite well, new designers are popping up all the time to fill a niche in the market.
While there's no doubt that the jewelry industry is competitive, don't let that discourage you from launching your own line. Read on for our 11 steps on how to get started with your own jewelry business today!
1. Decide what type of jewelry you want to sell
There are all kinds of options available when it comes to the type of jewelry you can sell for your business. What materials do you want to incorporate into your pieces? What customer market do you want to appeal to?
You may be leaning toward offering luxurious items that may take more time to manufacture but will earn you more revenue per piece. Perhaps instead you imagine yourself selling jewelry that isn't costly to create and that you can easily mass produce. Of course, you may very well lie somewhere in between and dream of designing highly unique items, custom made for each customer.
Fine jewelry
Items in this category are crafted from precious and semi-precious metals and gemstones, including gold, silver, platinum, diamonds, emeralds, rubies, sapphires, etc. Frequently worn for special occasions, fine jewelry is usually linked to a luxury lifestyle.
Fine jewelry tends to have a higher price point than other kinds of jewelry, often starting around $100 per piece, but these items can go for much more, costing thousands or even millions of dollars. Prices are generally based on a variety of factors, such as the brand's reputation; size, type, and quality of materials; and where the materials are sourced.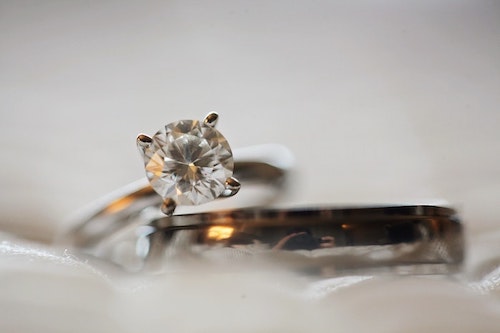 Fashion jewelry
Also known as "costume jewelry," fashion jewelry includes trendy pieces that are usually made from less expensive materials. For instance, plated metal, plastic, synthetic gemstones, beads, and wire are common items used to craft jewelry in this category.
Because the cost of producing these goods isn't as high, they're usually easy to mass produce, feature a lower price point, and are more accessible to the general public.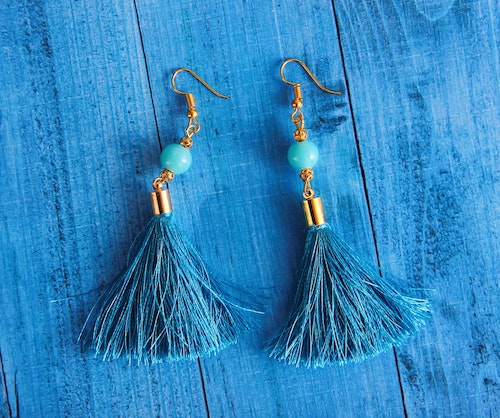 Other jewelry
Another option is to create jewelry that doesn't quite fit into either of the two aforementioned categories. Often handmade, these pieces are generally crafted from mid-range materials, including metals, semi-precious gemstones, textiles, and wood.
There's frequently an emphasis on design and craftsmanship with this type of jewelry, and pieces may be made to order or customized. These items tend to be priced in between fashion jewelry and fine jewelry, and they tend to be marketed toward customers looking to purchase a gift or searching for unique accessories.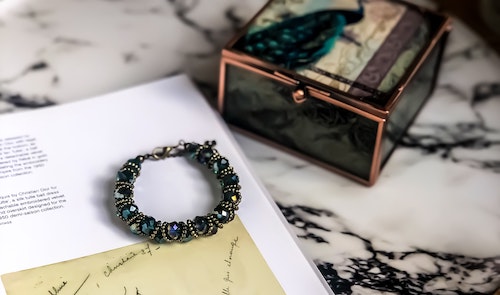 2. Find your niche
After you've decided on the general category of jewelry that you'd like to offer, it's time to get more precise with what kinds of jewelry your business will be selling. Even if you already have an idea of what pieces you want to create, it's advantageous to research the current trends in the jewelry industry.
This action can help strengthen your desire to go a certain route with your business, or it can help you to see that your plan may be in need of some modifications. To discover what's trending in the world of jewelry, head online and check out various blogs related to the type of jewelry that you're most interested in creating.
In addition, social media can be an excellent place to learn about trends and get inspired for your own designs. See what different jewelry/fashion influencers are talking about and identify what the current trends are and if the pieces you're interested in creating are likely to stay in style for upcoming seasons or fizzle out after a month or two.
Finally, don't forget about tools like Google Trends, Semrush, and Yourtext.Guru, which can help you to discover which jewelry-related keywords or search terms are trending.
As you do your analysis of the current market and popular trends, take a look at consumer preferences for the type of jewelry you'd like to sell to determine your niche. Are there certain materials that shoppers in your target market desire when it comes to accessories?
Keep in mind that consumers are becoming increasingly interested in purchasing from brands that follow responsible and sustainable business practices. Depending on your ideal customer, eco-friendly materials may be something that you'll want to seriously consider when it comes to crafting your jewelry line.
You should also check to see what styles, themes, or experiences are all the rage in the jewelry industry. For instance, astrologically themed accessories have seen a major boost in popularity recently.
People are also desiring more customization in the jewelry they purchase. To accommodate these shoppers, maybe you could offer an engraving service to offer unique truly products that feel all the more special!
3. Check out your competitors
Before you launch any new business, regardless of the products you plan to sell, it's beneficial to conduct a competitor analysis. Take the time to do some thorough research and find out what your competition is up to.
Look into who their audience is, how they price their jewelry, what social media channels they use, and where they sell their products (online, offline, or both). During your research, you'll discover what competing jewelry businesses are currently doing well and where they could make some improvements.
This in turn will help you to also determine how you can make your products and your business stand out from the crowd. Remember that even the little things can make a big difference with shoppers!
If you notice that your competitors don't offer a certain product, feature, or service, see if it's something you could easily provide to give your brand an edge over other businesses.
4. Start to build your brand and develop your branding
Your brand and branding are both crucial elements to the success of your business, but did you know that they're not synonymous?
Building your brand involves finding your voice and telling your story. It also means deciding what your vision and mission are for your business, beyond earning revenue. Customers often become loyal to a brand when they feel an emotional connection to it.
This is why it's so important that you think about why you want to launch your jewelry business and make the effort to convey your messages and personality throughout your website and social networks.
For example, SOKO is a jewelry company based in San Francisco that works to empower Kenyan artisans and prioritizes fair trade practices and sustainable materials. The company's "About Us" page describes the brand's story and what matters to them.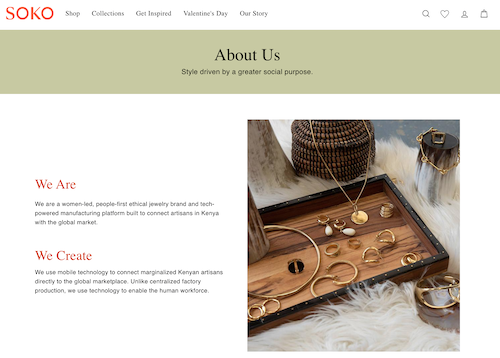 Source: SOKO
Branding, on the other hand, involves the visual elements that represent your brand. This includes everything from your website and logo to the packaging for your orders. When you decide to launch a business, you may be mostly focused on your products, but how you present yourself to the world is crucial.
Determine what aesthetic goes with your vision for your company and keep that in mind as you create your website and social media accounts. Maintaining consistency across your various channels is very important, especially for a new business!
As shown in the example below, for instance, SOKO's Instagram has the company's logo as the profile image, and their Story Highlight icons feature the brand's colors, orange and white.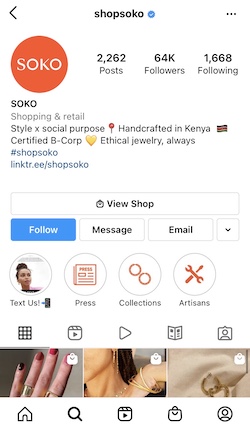 Source: SOKO Instagram
For your logo, you can opt to either design it yourself or hire a professional to do it for you. Fortunately, there are plenty of options out there for a wide range of budgets, so even if your artistic skills lean more towards jewelry design rather than graphic design, you can score a winning logo that accurately reflects your brand.
Finally, don't forget to sprinkle a bit of personality into your product packaging! The unboxing experience is a real opportunity to delight your customers further, so why not take advantage of it? Think about using colored tissue paper in your brand's colors, adding your logo to the box, or branded stickers to help keep your brand at the forefront of shoppers' minds long after they've left your website.
5. Write your business plan
This may not be the most exciting part of launching your jewelry business, but you really shouldn't overlook it. You might be itching to get to work on making your jewelry so those sales can start rolling in, but a well-designed business plan will help ensure that you're on the right track from the beginning.
A business plan is even more important if you're going to be reaching out to banks or investors to get funding for your business. After all, these institutions or people will want to see that you're serious about your business and have some directions as to how you intend to be successful with your venture.
Do you want to start with jewelry but later expand in the world of fashion? Perhaps you aim to even start an online boutique to launch a clothing line to accompany your jewelry line in the future. Detail your goals for your business, both for the short and the long term.
Additional information you'll likely want to add to your business plan includes the following: a description of your business, an analysis of the current market (noting what your business has to offer that differentiates it from the competition), product details, funding plans, and your marketing strategy.
6. Create a budget
Another crucial pre-launch task for any business is to set a budget. Before you go spending tons of money on super-flashy business cards or the most expensive packaging around, you'll want to have a good idea of where you stand financially.
Think about all the different costs required to start your online boutique as well as regular expenses that you expect to incur on a monthly basis. You'll then need to examine your current resources (cash, savings, loans) and estimate how much you plan to have coming in so that you can determine what you can afford to spend for various areas of your business.
It may be wise to play it conservatively in the beginning—at least until your jewelry business takes off and you start to have regular sales.
7. Design your jewelry
This is where you finally get to let your creativity shine and where all your market research will come in handy!
After you have a strategy in place for your business, you can begin designing pieces for your jewelry line. While you'll want to consider the current trends in jewelry, you'll also need to find a way to make your creations stand out.
Similar to if you were to start a clothing line, it may be best to launch with a collection instead of just a few individual items. A jewelry collection can help convey your story and help customers better connect to your brand, which is especially important for a new business.
Remember that inspiration for your jewelry can be found anywhere, so you might want to carry a sketchbook with you or even create inspiration boards on Pinterest to pin ideas that you can use for future designs.
8. Determine how you'll produce your jewelry
When it comes to how you'll actually make your jewelry, there are numerous methods available for your business. Do you aim to craft each piece of jewelry yourself or want to outsource the labor to a manufacturing factory? You could alternatively hire a small team of people to create jewelry with you in your studio or workshop.
Making jewelry yourself
If the idea of handcrafting each piece of jewelry that you'll be selling is one of the reasons that you wanted to start a jewelry business in the first place, you'll want to be sure that your jewelry-making skills are up to par!
The specific skills you'll need will of course depend on the type of jewelry that you want to make and the materials you'll be working with. Nevertheless, some of the most frequently used skills for jewelry designers include casting, gemstone setting, gold/silversmithing, laser cutting, leather tooling, soldering, and weaving.
If you're not confident about any particular area of expertise, that's completely okay! There are plenty of courses available, both online and offline, to help you develop your skills and better prepare you for launching your jewelry business.
Another essential element to think about if you'll be making your jewelry yourself is your workspace. Will you be crafting items at home or inside a separate studio? Either way, here are a few things to consider:
Size of the space:

Depending on the amount of equipment you'll need to create your jewelry, be sure that your work area has enough room to accommodate everything and allows you to move around with ease.

Equipment and tools:

While the crafting of some jewelry simply involves wire cutters and pliers, other pieces may require a more extensive list of equipment. Do some research on the internet or check with other designers you trust to see what you'll need to produce high-quality items.

Safety:

It's very possible that you'll be working with tools and/or chemicals that can be dangerous if not used properly. Ensure that you're up to date on any necessary safety procedures and local laws regarding the use of these items.

Supplies:

You're going to of course need to keep a steady stock of supplies on hand if you'll be making your products yourself. Depending on the type of jewelry you have in mind, you might require supplies like wire, beads, leather, gemstones, metal, etc.

Storage capabilities:

When working with lots of small pieces and intricate items, it's crucial that your work space stays organized. Contemplate adding storage boxes, shelves, or cabinets to help keep your supplies, tools, and finished products in place.
Working with an outside manufacturer
If you opt to instead outsource the production of your jewelry line to a manufacturing company, you can either go with a local manufacturer or one located overseas.
A local factory would have the benefit of being easier for you to build a relationship with and ensure that it uses responsible business practices. Furthermore, your products would likely ship faster from a local factory, and the fact that they're made locally might appeal to your customers.
However, a local manufacturer would likely be more expensive, and you might not have many options available, depending on where you're based.
In contrast, an overseas manufacturer could be a more cost-effective choice, and you'd be able to select from a wide range of factories all over the world. Keep in mind, though, that there could be various barriers to manage, such as differences in language, culture, standards of ethics, and manufacturing regulations.
Finally, it would be more difficult for you to keep an eye on things, and you may need to plan to visit the factory several times a year to ensure that you and the manufacturer are on the same page.
9. Choose your pricing strategy
This step can be a bit tricky, but it's important that you take the time to select the correct price point for your products. If your jewelry is super cheap, shoppers may think it's of inferior quality or you may not be able to earn enough of a profit per sale for your business to continue. In contrast, if you charge too much, people may not be willing to purchase anything from your store.
To choose the right pricing strategy for your business, there are some essential questions to ask yourself.
First, how much does it cost you to create your jewelry? Try to think about everything that is part of the cost of making your products: materials, labor, production, etc. After that, it's important to consider your additional business costs, such as marketing and shipping. If you have your own studio or warehouse that you use to manufacture or store your jewelry, don't forget about rent and utilities.
Next, what is your target market willing to actually pay? This is why it's so important to create a buyer persona for your business. For instance, if your ideal customer values high-quality, customized goods, you'll likely be able to charge more for your jewelry. However, if they're particularly price-sensitive shoppers, you'll need to adjust your strategy accordingly.
Finally, what are your specific goals for your business? At the start, you may be more interested in building brand recognition and getting the word out about your products. In this case, you might charge a bit less for your jewelry than your competitors and increase the price as your business grows.
10. Build your online store
There are various ways to sell your jewelry creations and start earning revenue for your business, but launching an online retail business is an excellent place to begin. A professional ecommerce website will make it easy for you to showcase your products and reach more potential customers.
As a busy entrepreneur, you'll want to be sure that you use a high-quality online store builder—one that makes it easy to not only start your ecommerce business but also help it grow down the road.
WiziShop has got you covered!
With our all-in-one ecommerce platform, you'll have a large variety of design templates to choose from, meaning that you'll be able to easily create a website that matches your brand's aesthetic and image that you want to convey to your audience.
Furthermore, you'll be able to enjoy extensive training on a range of ecommerce topics and access to our wonderful team of Business Coaches, who are dedicated to helping you achieve success in the world of online sales. Chat with them any time you have a question, big or small…it's all included in your subscription!
In addition, WiziShop's SEO-powered ecommerce solution provides 50 SEO optimizations to help your website move up the rankings in Google search results and attract more visitors to your store.
Sign up today to become an online retailer and enjoy a 15-day free trial—there's absolutely no commitment and no hassle!
Create your online store - 15-day free trial
11. Work on your marketing strategy
Because the jewelry industry is so incredibly competitive, it's very important that you develop an effective strategy for marketing your products. It'd be a shame to put so much effort into creating your jewelry collections and launching your new business and not have anybody know about it!
There's no one-size-fits-all approach when it comes to how you should market your business. Fortunately, with many different paid and free options available, you'll definitely be able to find a way to get the word out about your new venture regardless of what your budget looks like.
Different channels you may want to incorporate into your marketing strategy include the following:
Social media:

Find out which social networks your target market is active on and use those platforms to share photos and videos of your jewelry, behind-the-scenes content, and tell your story. Also think about working with influencers to help expand your reach and connect with more users.

Email:

Well-crafted emails with personalized messaging are great for connecting with your customers and keeping them informed about your business's latest happenings. Build your email list by offering a discount for a future purchase after your site visitors provide their contact information.

SEO:

Having good SEO practices in place is crucial for any business, but especially if you're just starting out and don't have a huge marketing budget. It doesn't cost anything to work on your SEO, and although it can be a bit time-consuming, the long-term benefits and extra site traffic you'll see are well worth the effort.

Paid advertising:

Google Ads, Google Shopping, Facebook, Instagram…if you're ready to take your marketing a step further, note there are numerous paid strategies out there for your business. There will likely be some trial and error with these various channels, but you'll soon determine which ones make the most sense for your brand.
It's safe to say that starting a jewelry business comes with its fair share of challenges. As you'll have come to understand, the market's already saturated, so any newcomers are likely to have quite a bit of competition on their hands.
That being said, launching a business that allows you to be your own boss, share your artistic flair, and develop connections with people all over the world via your dazzling jewelry creations is pretty amazing.
Though unexpected issues will likely arise from time to time, having an excellent plan in place from the get-go is the best way to keep your business on the right track.
Use the information in this guide to get started with your jewelry business and get to work on making your entrepreneurial dreams a reality!