Have you ever thought about tracking your website's keywords? Maybe you think it's not important or that it won't bring you anything concrete. But believe me, this is a mistake!
Keyword tracking is one of the most crucial steps to improve your SEO and increase your revenue.
Whether you have a blog, a media site, an online storefront, or an ecommerce store, it's absolutely essential to regularly check your rankings on search engines. This will allow you to obtain valuable data to optimize your SEO strategy and maintain or improve your rankings on Google.
In this article, I'll explain in detail why keyword tracking is so important in your SEO routine and present to you some powerful tracker tools, free and paid, to help you to do it easily and efficiently.
Why track your rankings on Google?
SEO, SEA, social networks, emailing, marketplaces... To carry out a successful marketing strategy on the internet, you need to track and analyze indicators.
In SEO, one of the main key performance indicators (KPIs) is the ranking of your pages on search engines.
On search engine results pages (SERPs), the click-through rates are very variable depending on your ranking. Your goal should be to get into the Top 3.
Many studies, like the one from Backlinko on more than 4 million search results, show some interesting statistics on the subject:
T

he first position has an average click-through rate (CTR) of 27.6%.

The first three results get 54.4% of all clicks.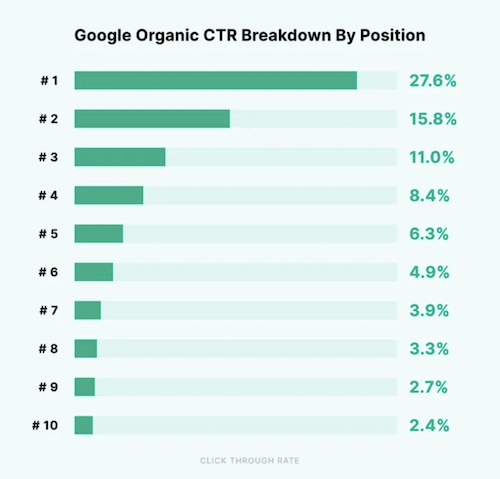 These elements demonstrate the importance of checking your keyword ranking on search engines to ensure that your SEO strategy is effective!
There's nothing more frustrating than putting in the effort to write content that doesn't rank well in the results and doesn't generate any traffic...
The other main reason to track positions is the evolution of the SERP. The results pages will change and evolve from when you first used your favorite keyword research tool to determine the most optimal queries to include in your content. A top position at a given moment doesn't guarantee that you'll stay there indefinitely.
It can happen that the search intent changes or that competitors redouble their efforts to pass you by.
Positioning tracking allows you to keep a close eye on the ranking of your pages to adapt quickly in case of change.
Finally, this position monitoring work can be done manually, but it can quickly become time consuming when your number of pages and targeted keywords increases.
It's therefore recommended to use a dedicated tool that allows you to analyze, in real time, your ranking. You'll see in the listing below that some of them are even free, so why deprive yourself?
12 Keyword rank checker tools
Google Search Console
One of the first tools available to everyone and completely free is Google Search Console.
It allows you to access a significant amount of relevant information about indexation, loading speed, structured data, or even... keywords!
Go to the "Performance" report. Here you have access to the number of clicks, impressions, average CTR, average position, positioned keywords and pages that generate the most clicks.
There are a few drawbacks. The rank checker doesn't make it possible to have real-time data. There's a delay of about 2 days.
Then, the analysis is logically limited to the Google search engine. The traffic information from competitors does not come up.
To go further in the tool, here's a complete article on the index coverage report.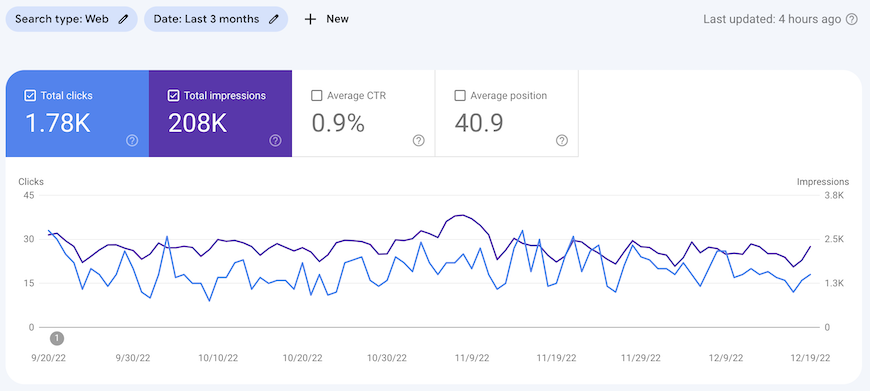 Semrush
Semrush is one of the most complete and powerful tools on the market.
Oriented to SEO but also online marketing, it offers a complete range of features to improve the visibility of your website on the internet.
One of the tool's specialties is the search engine positioning tracking.
Semrush goes far beyond helping you to analyze your ranking and your keywords, it also allows you to analyze those of your competitors, discover opportunities, know the difficulty for ranking, and enlarge your lexical field.
Other advanced functions are integrated in the tool to audit your site, identify your backlinks, manage your e-reputation, manage your local SEO, or analyze your logs.

Ahrefs
The Ahrefs tool is the direct competitor of Semrush.
It allows you to track all the keywords positioned for your website and to go further with advanced features: study of competitors, keyword difficulty, search volume, report generation, search for related topics, etc.
Ahrefs also offers another no-cost tool: Ahrefs Webmaster Tools.
To access the interface and get a lot of relevant information about your ranking and your site, you just have to link your Search Console to the tool.
The dashboard is more ergonomic than the one in Search Console, which makes it easy to follow your results.
The tool also allows you to retrieve information about your site's health and backlinks.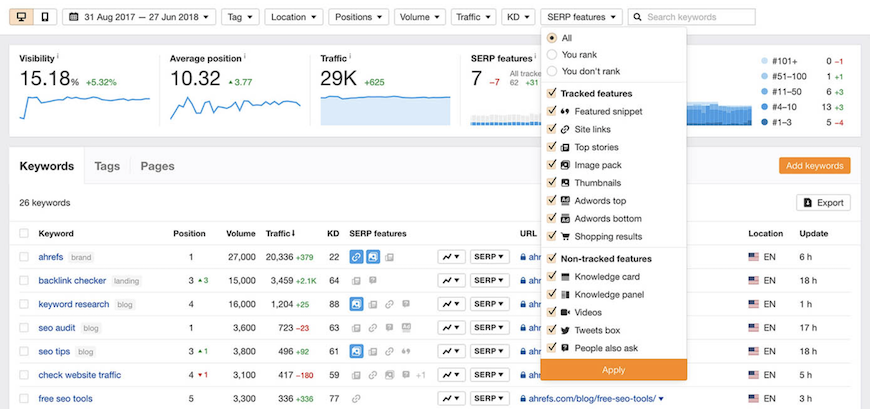 Monitorank
Monitorank is a French tool (also offering an English version) dedicated to the follow-up of your rankings on various search engines.
It allows you to easily and quickly follow the evolution of your positioning, as well as that of your competitors!
The rank checker doesn't stop at the classic SERP of search engines. It allows you to highlight your positions on Maps, in the videos and images tabs, or in the Ads sections.
The ranking of your website can also be analyzed on YouTube, Amazon, etc.
Monitorank offers the tracking of 10 keywords for free.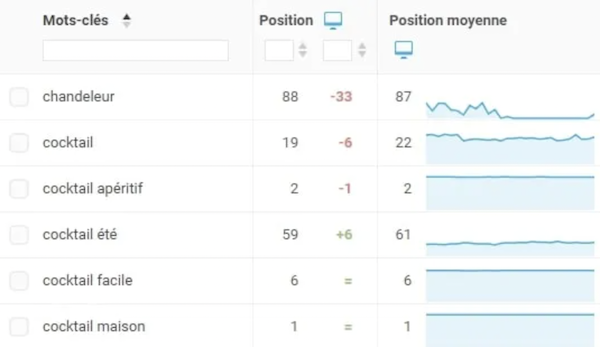 MyPoseo
Dedicated to SEO and SEA positioning monitoring, MyPoseo is a rank checker that allows you to have an overview of your online visibility.
Some additional features are also proposed to manage your migration efficiently, analyze your local SEO, perform a competitive analysis, and find new keywords to target.
It's possible to test the tool for at no charge for 15 days.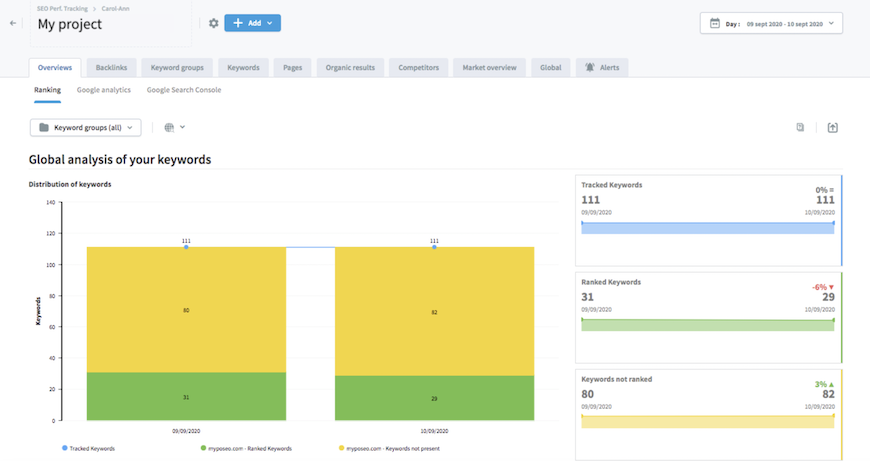 Check Position
This rank checker goes to the simplest by proposing a solution entirely dedicated to the follow-up of your rankings on Google.
In order to be as precise as possible in the positioning, Check Position recovers information from several data centers.
Accessible also from mobile devices, the fluid interface makes it possible for you to consult your rankings quickly, from anywhere.
Check Position also allows you to check the indexation of your website's URLs.
You can track 10 keywords for free.
SE Ranking
SE Ranking is a position tracking tool but also an SEO audit tool.
An all-in-one tool, it allows you to track your position in several search engines.
To go further, you can use it to analyze the technical elements of your site (HTTP codes, depth, indexing, etc.), monitor competitors, or implement on-page optimizations.
SE Ranking offers a free 14-day trial.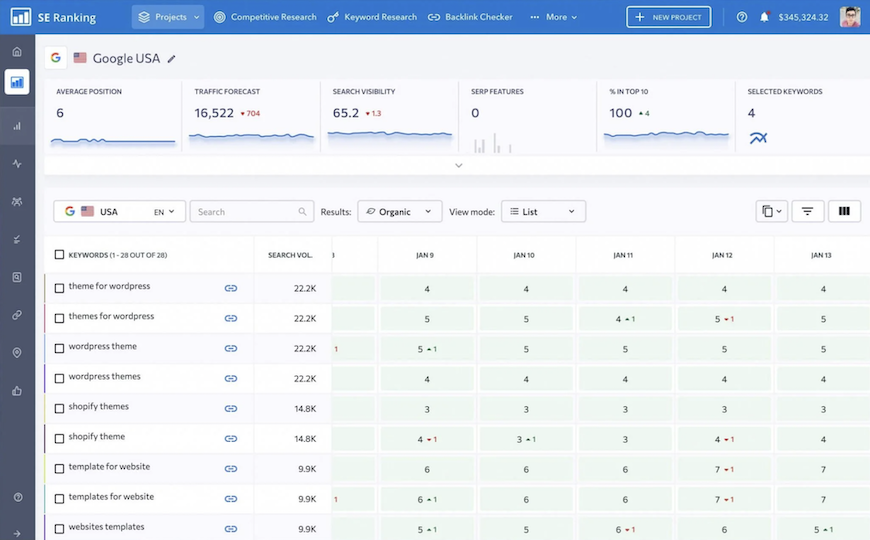 Ubersuggest
Very popular in the field of SEO and marketing, Ubersuggest, the tool created by Neil Patel, has become a reference in just a few years.
You can easily track the different keywords positioned. The rank checker also shows you your top pages and your main keywords.
Ubersuggest has other capabilities, such as permitting you to analyze your competition, perform a site audit, and review a backlinks overview.
The freemium version allows you to perform three complimentary searches per day.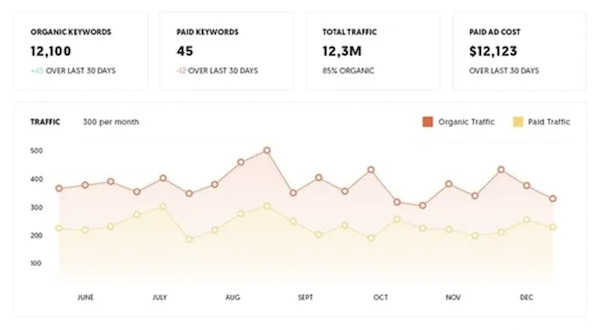 WooRank
Another useful tool that's worth testing! WooRank is ideal for tracking your site's position in search engines while comparing yourself to the competition.
The tool also allows you to find opportunities and prioritize your SEO actions according to the potential of keywords.
Like many of the tools mentioned above, additional features are offered to perform a technical audit or perform an on-site analysis of your different pages.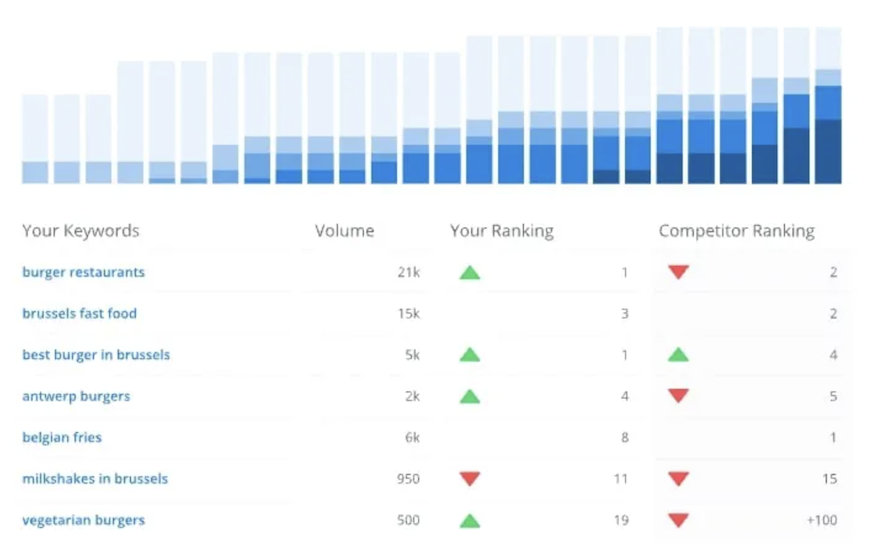 Lighting SEO
Lighting SEO is another popular keyword tracking tool.
By visiting the site, you can enter a URL and quickly analyze the leading keywords for free.
The paid version allows you to go further by tracking your positions, finding new keyword opportunities, running health checks or analyzing your inbound links and those of competitors.

In SEO, keyword tracking is an essential step for companies wishing to improve their visibility and performance on search engines. SEO tools are precious aids for gaining efficiency and speed in this task.
As you've seen in this non-exhaustive list, there's a wide range of keyword tracking tools on the market, from free tools to more advanced paid solutions.
Most of the solutions allow you to track the important keywords of your site, detect great opportunities for your ecommerce SEO, and follow the competitors in your niche closely.
My advice is to take advantage of their freemium offer to test them. You can then choose the tool that best suits your needs in terms of features, ease of use, and cost.