Managing out-of-stock products is an issue that all online retailers face from time to time. At some point, one of the items in your inventory will be sold out, and at that moment, you'll have to make the right decision for your customers and your business.
The impact is important for the internet user and therefore the customer experience, but it's even more important for your SEO!
In this article, I'll advise you on the best practices to adopt for the efficient management of your products that are temporarily or permanently out of stock.
What are out-of-stock products?
An out-of-stock product is an item for which the stock or supply is at 0. This out-of-stock situation, also known as a "stockout," can be temporary or permanent.
In ecommerce, stockouts are recurrent. They can be linked to an increase in demand and therefore an influx of sales, to seasonality, to suppliers, to the end of production of a range, etc.
Some e-merchants have the habit of leaving the page with a message displaying the unavailability, of creating 301 redirects, or even of completely deleting the product page from the website to temporarily "hide" the product and putting it back online the day the item comes back into stock (if it's offered for sale again).
But you'll see that, depending on the case, these actions can sometimes have repercussions on your site and your sales…
Out of stock: the problems that arise
Your visitor's frustration
Inability to buy the product
The first problem that arises with stockouts is when the visitor arrives on your page from search engines. When they realize that they can't buy the product, they're likely to be disappointed.
The first reflex for most shoppers? Click on the "back" arrow to return to the results page to check out their other options and go to competing retailers' websites to purchase the product in question.
Pages that can't be found
The second problem that can appear is when you delete the product pages that no longer have any stock.
At first glance, this is quite logical, as your visitors would otherwise see hundreds of items that they can't order.... But on your online store, even if the products disappear from your categories, it's possible that some links in the content are still going to point to these products as 404 redirects.
If people visiting your website arrive from a link found on another website, they may be frustrated to land on a "page not found."
The risks for your SEO
Accumulation of 404 errors
The first problem caused by deleting out-of-stock product pages is the accumulation of 404 pages on your website. If you don't apply good practices when deleting pages, you risk accumulating too many errors on your site.
This situation can be devaluing in the eyes of search engines like Google.
During robots' crawling of your site, if a significant number of 404 pages are encountered, it can negatively impact your SEO.
This isn't a huge deal if you have only a few cases of errors, but it can become serious if you accumulate them... When search engines analyze your ecommerce website, they analyze it as a whole. All visited pages are taken into account.
If you have many URLs that respond in code 404, you lower the quality of your site, and it's your SEO that will suffer...
The second problem when you delete pages is that they may be positioned for keywords in search results. The same keywords that may bring you qualified traffic.
So without a thorough analysis of the page, you may be deleting pages from your website that are bringing you potential customers.
Once the page is deleted, it'll disappear from the SERPs, and you'll lose your SEO ranking completely.
I mentioned the impact of internal links that refer to 404s within your site, but it's also possible that the product pages you delete may have links from other websites.
Backlinks are often the lifeblood of SEO, and they can be complicated to obtain. It's therefore a shame to delete pages that receive them.
These links bring power to your product page but also distribute it to the other pages of your site due to your internal linking.
It's your entire website that's potentially impacted when backlinks you receive point to pages as 404 redirects.
So, how should you handle these stockouts so that it's as pleasant as possible for your online store's shoppers and for search engines?
Here are some best practices depending on the situation that you're facing. You can also find these tips in an infographic at the end of the article.
What do you do when an item is temporarily out of stock?
Let's focus first on the products in your catalog that are unavailable for a few days or months.
Here, you must avoid deleting the product file and sending a 404 error or even redirecting it in 301 or 302.
You'll keep the product online by clearly indicating that the item is currently unavailable. You don't want your customer to be able to order the product and end up waiting weeks for delivery.
Their frustration will be such that they'll no longer trust your store and will talk about their dissatisfaction to other people, leading to a potential loss in sales for your business.
You have to be transparent from the beginning. The add-to-cart button should be grayed out or you should hide it so that it isn't functional for customers landing on the page.
Here's an example on a store from the WiziShop ecommerce solution: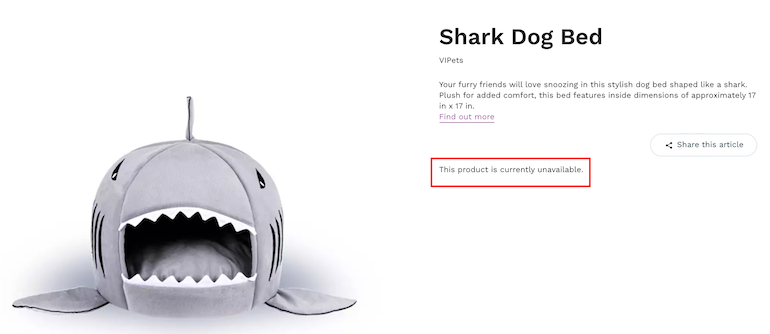 To minimize your visitors' frustration while waiting for restocking during stockouts and provide the best customer experience possible, you should also do the following:
p

rovide information on the approximate date of return,

allow visitors to add their email address to receive an alert when items are back in stock, and

add a list of complementary products to encourage the purchase of other items.
By applying these recommendations, your customer may wait for a return to stock and not order elsewhere or even turn to a similar product.
Ideally, your ecommerce solution should also allow you to stop displaying the product in the category in order to reduce the chances of shoppers often stumbling upon it. Remember to keep some internal links to the page.
On WiziShop, when dealing with stockouts, you just have to select "unavailable" as the item's status to benefit from these options. The page remains accessible, answers in 200 code, and is present in the sitemap. By working this way, no SEO problem will occur!
Discover all our SEO features for ecommerce in this article.
Create your online store - 15-day free trial
What do you do when an item is permanently out of stock?
When a product is definitively out of stock, you shouldn't continue to display it to the visitor to avoid frustrating them and to be attentive to their online experience.
But you'll see that depending on certain situations, it may be beneficial to keep your page accessible...
To make the right decision, you'll have to answer a few questions and analyze some key elements.
Question #1: Is your product well optimized?
First of all, you'll need to check if your product is well optimized. To find out, you'll have to follow these steps:
1. Open your Google Search Console tool
2. Go to the "Performance" tab
3. Filter the date range over 12 months to avoid seasonality effects
4. Click on "+New", select "Page" and add your URL
5. Analyze the results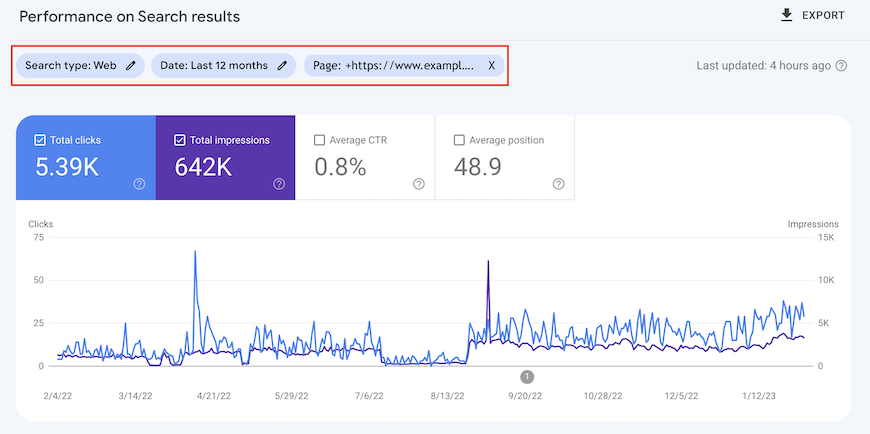 In a few clicks, you'll see if your page is ranking for interesting keywords and generates clicks from the Google search engine. Also remember to check the SEO of your images/videos. In ecommerce, it's common to see images that bring a lot of traffic!
Is the answer YES? Go straight to Question #2.
Is the answer NO? There are several possibilities:
Case #1: The product page has no backlink
To find out, there again, a few steps to follow:
1. Open your Search Console
2. Go to the "Links" tab
3. Click on "Top linked pages" in "External links"
4. Open the filters and click on "Target page"
5. Enter your URL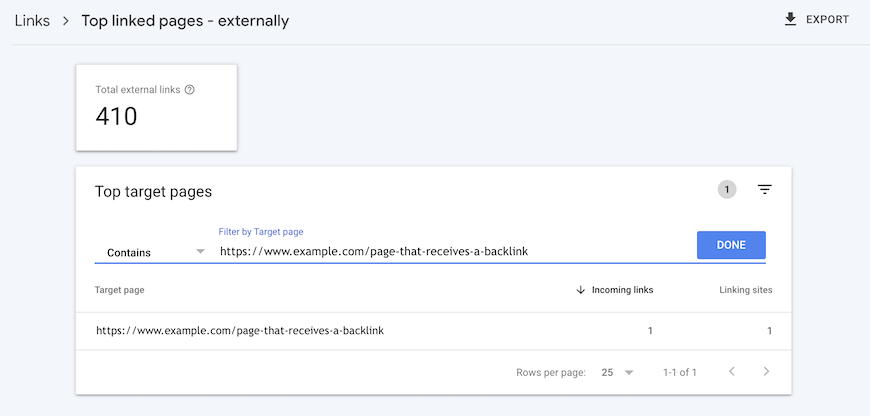 Is the answer YES? Go straight to Case #2.
In the case where no result is returned, there's a good chance that no backlink points to your product page.
Sometimes some links aren't returned in the Search Console tool, but you can also use other online software to double check: Semrush, Ubersuggest, Ahrefs, Majestic SEO ... Most of these tools offer freemium versions, so take advantage of them.
After this analysis, if your product page isn't positioned for any keyword, doesn't generate any traffic, and has no backlink, you can delete it, but before... one last step!
You'll need to make sure that no internal link in your website points to this page. The risk is to find yourself with the same problem mentioned above: 404 errors.
To do this check, you'll have to use a crawling tool, also called a "crawler." These tools allow you to launch a robot on your online store to explore all the URLs. It'll then discover the different links that point to your product page within your site.
You can turn to our partner Seolyzer, which offers a free version that can analyze 5,000 URLs. If you have a site with more pages, you'll have to use paid versions.
Now that you've made sure that your page doesn't contain any internal links, you can delete it.
The 404 code is suitable, but if you have the option, you can also indicate a 410 code.
Case #2: The product page has backlinks
In the case where your analysis has shown that your product page has one or more backlinks, you'll have to adopt another approach.
If you delete a page that has an external link, the link will point to a URL in 404/410, and the backlink won't bring you any more link juice (PageRank).
To minimize the loss, you'll set up a 301 redirect from the deleted product to a similar product. If this isn't possible, you can opt to send the 301 to the product category.
Question #2: Will your product be replaced?
Is the answer NO? Proceed immediately to Question #3.
Is the answer YES?
If the product is replaced by another one in your inventory that's almost identical and the page is well optimized, then you can conserve it and slightly modify its content to adapt it to the specificities of the new product.
This strategy allows you to continue to benefit from the SEO of the old product.
Question #3: What if you still benefit from the traffic?
If you have a product page on your site that's well positioned and generates organic traffic, it's a shame to deprive yourself of it, isn't it?
Instead of deleting it or redirecting it in 301 and losing your ranking on search engines, you'll conserve it while implementing best practices to encourage visitors to buy other products.
This solution may not appeal to everyone, but it can still be very beneficial to your traffic and your business's bottom line.
Of course, people may end up on products in your online store that are no longer sold, but if you do it right, it can be beneficial.
To maximize your chances of conversion, you should do the following:
c

learly display that the product is no longer sold,

stop accepting orders,

use cross-selling to keep generating sales, and

remove the product from the category listing and from the internal search engine results to reduce the possibility that site visitors will come across it.
Since the product is no longer displayed in the category listing, there's a good chance that the internal linkage of the page will be impacted. You should therefore make sure that other links to the URL are present or added.
Some online stores go so far as to create category pages dedicated to products that are no longer sold. These pages are discreetly linked in the site and make it possible to send link juice to all the products.
You can also find my advice in this infographic:

These different practices for managing out-of-stock products must, of course, be adapted to your business. Depending on your theme, your brand identity, the needs of your customers, or even your technical possibilities, you have your own organization and well-honed processes.
In any case, the most important thing to remember for managing stockouts is that each page deletion on your site requires an analysis in advance. You must take the time to do everything to minimize the loss of ranking and backlinks.