When it comes to SEO, internal and external links represent one of the pillars of a good SEO strategy. The different links that point to your pages directly impact the visibility of your site in search engines.
In this context, there are two main attributes to name links: dofollow and nofollow.
These two concepts make it possible to give indications to search engines about the value of the link. In other words, if you want to help improve your visibility on the SERP and boost your ranking with search engines like Google, it's a great idea for you to master the subject!
What is a dofollow link?
Dofollow presentation
Dofollow is, on the vast majority of content management systems (CMSs), the designated attribute by default.
Dofollow tells Google to create a link between your page and the URL indicated. It'll therefore be taken into account in the Google algorithm and allow PageRank to be transmitted.
In simple terms, PageRank represents the popularity of a page on the web. Depending on the different internal and external links that point to it, it will be more or less popular with a more or less important PageRank.
As soon as a page has a dofollow link to another page, it'll transmit PageRank.
The power transmitted will then differ depending on the relevance of the site, the page, the location of the link, etc.
It's basically a way to pass authority on to another website or to help give your own site more authority if the link in question is internal.
The dofollow attribute is often the default one because if you decide to indicate a link on one of your website's pages, it's probably because it seems relevant.
How do you add a dofollow link?
A dofollow link is simply a link that has no attributes. By default, if it doesn't contain "nofollow" or even more recently the "sponsored" and "ugc" tags that I present a little later in the article, it'll be considered as dofollow and therefore followed by search engines.
By adding, for example:
<a href="https://www.yoursite.com/" rel="dofollow">Anchor Text</a>
This isn't necessary because it will simply be ignored
What is a nofollow link?
Although the dofollow reference is present in the majority of sites by default, another reference exists: nofollow.
Nofollow presentation
Nofollow means, in contrast to the previous attribute, "do not follow." This attribute indicates to search engines like Google that they shouldn't follow the link.
The nofollow attribute was created in 2005. For nearly 15 years, it was offered by Google to help fight against spam or to report sponsored or affiliate links. Providing two different attributes for links gave Google a better understanding of links across the web.
When a Google robot detects a nofollow link on a page, it's supposed to pretend it didn't notice it and continue to analyze the rest of the content. I say "supposed to" becausesince March 2020, it's not as clear as it used to be.
What's new as of September 2019
The first changes were made in September 2019. It was then that other attributes appeared, to complement the two existing ones: rel=sponsored and rel=ucg.
The rel="sponsored" link attribut

is used when it's a question of sponsoring another page, i.e., in return for financial compensation. In this case, we're talking about a "paid link." For example, it can be a link to a sponsored article or an advertisement;

The rel="ugc" link attribute

is used when the link is located in content created by a user of the site, not its editor. This is especially the case when it comes to comments or a forum.
They can also be combined. It's quite possible that a sponsored link is also noted as nofollow. In this case, the content creator tells Google that this link is sponsored and that it shouldn't be considered.
What's new as of March 2020
As Google explains, as of March 2020, the search engine can now decide to crawl certain nofollow links on a website. Note, however, that this operation isn't done systematically. It's at the discretion of Google, and it's impossible to anticipate or predict it.
More concretely, since March 2020, when a page A has a nofollow link to a page B, Google can decide to ignore the nofollow and follow the link.
When should you use nofollow?
The nofollow attribute was initially intended to be placed on the following, for example:
b

log or forum comments,

sponsored or affiliated links,

links to pages that don't match your content,

sites that you want to quote without contributing to their visibility,

etc.
From my point of view, it's now unnecessary to use nofollow on your site.
Since this attribute is intended to be placed on a link that points to a page that doesn't really help your SEO, then you might as well avoid adding this link.
The only case where nofollow can still be present is in the comments of your blog articles, forums, or in the noindex tag.
Another important element to consider if you're still thinking of optimizing your PageRank with this attribute is that the nofollow causes a loss in your internal linkage.
To make these statements less ambiguous, let's imagine that your website has a page A, and that on this page, you add a dofollow link to a page B and a nofollow link to a page C: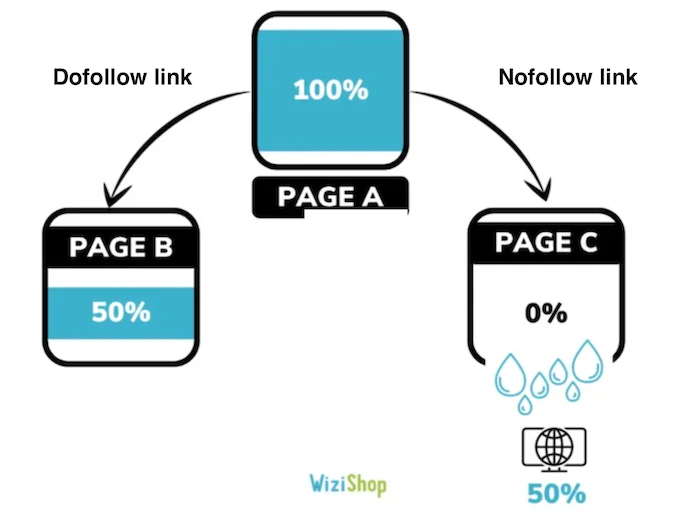 The nofollow prevents page C from receiving PageRank from page A. The 50% are redistributed to the entire web. This is called a "PageRank Sink."
The other problem is that page B is also impacted because the PageRank it receives is decreased. Instead of receiving 100%, it'll only get 50%.
What does a nofollow link look like?
The nofollow mention is added to a link thanks to the rel="nofollow" tag. To use the example previously mentioned, it corresponds to:
<a href="https://www.votresite.com/" rel="nofollow">Anchor Text</a>
If you happen to be link building and getting backlinks from other sites, you can easily check if the link is dofollow or nofollow. Just right-click on the page, click on "inspect" and select the backlink. If the link is nofollow, you'll see it appear like this: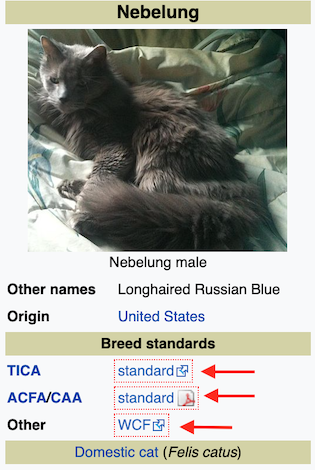 Nofollow on WiziShop stores
Following these announcements from Google, we've completely banned the nofollow attribute by default on all of our e-merchants' stores.
Since this attribute causes a loss of PageRank, we prefer that your site contains only dofollow links in order to optimize your internal linking.
As you've probably come to realize, over the years, the nofollow attribute has lost its interest. Today, it's recommended to simply avoid creating links to pages that aren't beneficial for SEO rather than adding nofollow links.
The majority of links within your ecommerce website should point to high-quality, strategic pages that are good for your business.
In addition, keep in mind that to optimize your SEO for ecommerce and help improve your website's ranking on Google, it's crucial that you examine a wide range of other aspects of your online store, including URL structure, images, H1 tags, the content that you post in blog articles, and much more.